70 Super Bowl Party Ideas & Recipes
How do you host a great Super Bowl party? Follow these fun ideas and tips for decorations, food, drinks, and activities!
Super Bowl 2022 is Sunday, February 13, so it's time to start planning. There are game day parties, and then there's THE biggest game party of all. And here are the best ideas and tips for making it awesome.
This post contains affiliate links.
Food buffet ideas
Set up a food table that feeds the fans. Use these ideas and decorations to inspire you whether you're hosting a party for adults or families.
Set up a football themed popcorn bar so guests can create their own custom snack mix.
No party is complete without a charcuterie board. Create a game day charcuterie board for easy grazing.
Fill your game day snack table with easy pickup items like these DIY football themed snack cones.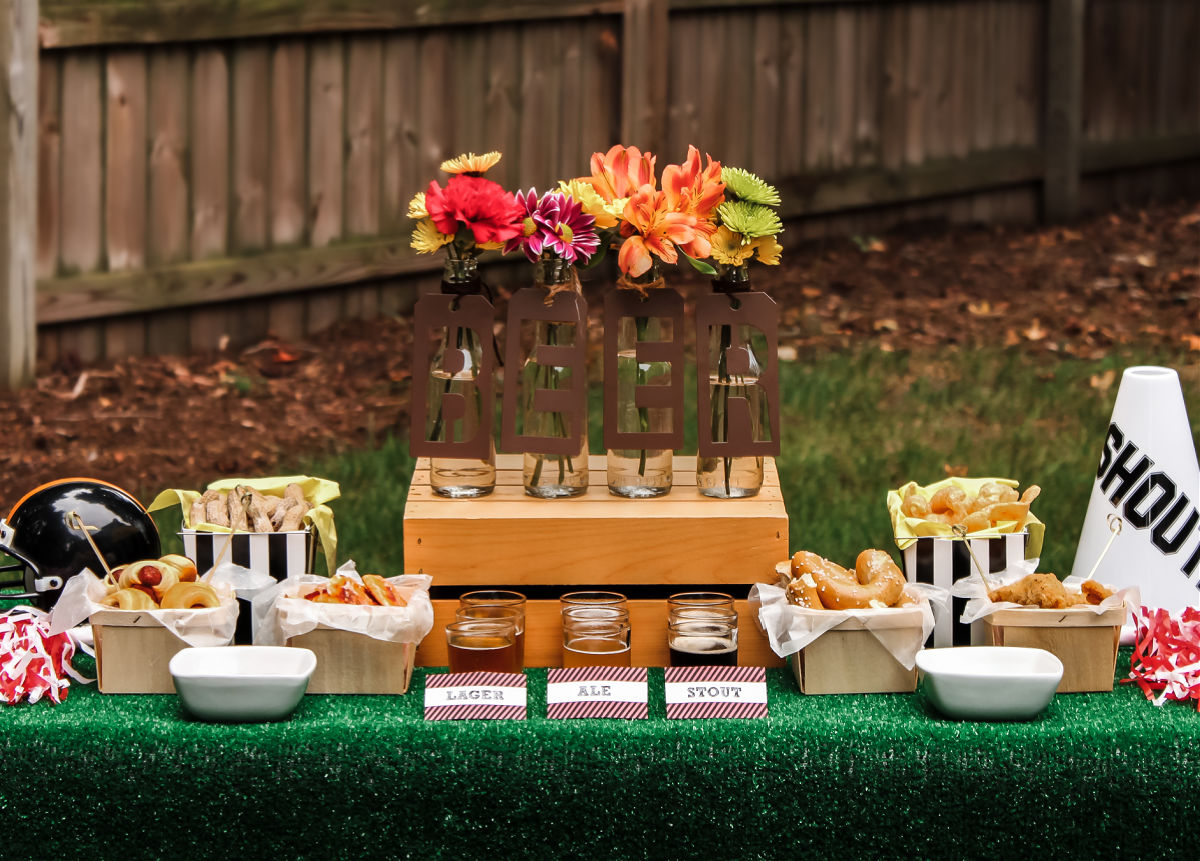 Wash down all that food with a football themed beer bar that takes it's cue from stadium snacks.
Pizza is perfect for the Super Bowl so why not have a pizza and beer party.
You can also set up a sweet dessert buffet with a game day themed ice cream bar.
Serve food that looks like a football. You can shape a cheeseball, pizza, and sheet cake to look like a football, and use sour cream, cheese, or frosting as the stitching.
Set up a chili bar for a hearty meal where guests can make their favorite combinations.
Prepare a hot dog bar with all the toppings.
Super Bowl party decorations
Get as festive and creative as you like. Decorations can be simple when you use banners, table covers, and themed decorative items.
Decorate party tables with turf grass. You can find it at home improvement stores where they cut it by the foot.
Create table decorations with a silver urn or trophy cup filled with a football and pennant flags.
Use team colors and mascots in the party space. Complement those with black and white stripes for referee uniforms, and small yellow touches like napkins, for the penalty flags.
Hang a simple DIY pennant banner the you can use year after year.
Draw football game play diagrams on small chalkboards and add them to food or drink tables.
If it's warm where you live, set up a tailgate party outside. Or prepare the food buffet to look like a tailgate.
Place pompoms around the room so guests can cheer for their team.
Big foam fingers are also a fun item to have around.
Use decorations like a football field runner as the base for any food or drink table.
Use this inflatable snack stadium for food or fill it with ice to keep beer and drinks chilled.
Party recipes
The best thing about the party is the food, and it has to be rustic, hearty, and delicious. Here are some of our favorite tried and true appetizers for a football party. We've got finger food, sandwiches, dips, and snack mixes.
Finger food
A buffet of small bites and finger foods gives guests variety and options. There's no room for fancy hors d'oeuvres at a football party. These are delicious and rustic.
Sandwiches
Party sandwich appetizers are hearty and filling so they're an ideal pairing for cocktails and beer.
Dips
No game day party is complete without at least one dip recipe.
Snack mix
Noshing on snack mixes keeps guests sustained throughout the whole game. You can make most of these ahead of time and store in an air tight container until ready to serve.
Party desserts
Super bowl party desserts should be easy to pick up and consume. No forks or plates required for these recipes.
Super Bowl punch recipes
It's a good idea to have beer on ice, but these pitcher recipes can feed a small crowd making it easy on the host, and delicious for non-beer drinkers.
What do you do at a Super Bowl party?
Watching the game is the main event, along with eating food and watching the half time show. But if you gather together before the game begins you have the opportunity to do some fun activities.
The game doesn't have to be the only competition in the room. Here are some ideas.
Place your bets. Grab this betting pool poster and initial each square you want to bet on. Give out prizes for each winner at the end of the quarter, halftime, and final game.
Play cornhole. Add these football theme decals to decorate traditional cornhole boards.
Check your aim. Set up a football toss game and see who can rack up the most points. Or try this blowup version and use a nerf football.
Hang a piñata. Use a football piñata as a centerpiece or hang it in an open space. Fill it with mini liquor bottles for adults, or candy snacks for a family party.
Test your knowledge. Play this football trivial game and give out small prizes or trophy cups for the winner.
BINGO! Print this football bingo set to play throughout the game.
If you like this post, PIN, Share, or sign up for our Newsletter at the top of the page. And don't forget to follow CAH on Instagram or Facebook. Cheers!