Easiest Hot Corn Dip with Cream Cheese
Hot corn dip with cream cheese and jalapeno is sweet and spicy, and baked to perfection. You only need 6 ingredients and one baking dish to make this party dip recipe that's a crowd favorite. Serve with tortilla chips or corn chips.
Creamy jalapeno corn dip
This baked corn dip is a party staple and we've been serving it for 20 years! People literally BEG for this recipe to show up at Super Bowl parties, game day parties, and casual gatherings.
It's made with whole kernel corn, cream cheese, goat cheese, and jalapeno pepper for a sweet and spicy combination you can serve with tortilla chips or Fritos scoops.
Why you'll love it
People love this dip! It's a real crowd pleaser.
Sweet corn is balanced with spicy jalapenos for a sweet & spicy combination.
Mix, bake and serve all in one single dish.
It's rich, creamy and crunchy.
Corn dip is rustic and feeds a crowd.
This is a simple and easy appetizer for girls night in, or for a Mexican theme dinner party.
Ingredients & tips
Yellow corn. I use a 16-ounce bag of frozen corn, but you can substitute with canned, drained and rinsed, if you like. Let the corn sit at room temperature for about 30 minutes to thaw slightly.
Cream cheese. This makes the dip super creamy. I like to stick with a name brand like Philadelphia cream cheese, because generic brands sometimes have a chalky flavor. You'll need a block and a half, or a 12-ounce tub. Don't use whipped cream cheese for this.
Garlic and Herb goat cheese. One of the key ingredients of this dip is the garlic & herb flavored goat cheese. It adds more creamy texture and flavor.
Butter. A stick of butter gives this corn dip a richness that takes it to the next level.
Diced jalapenos. You can use half of a 4-ounce can of diced jalapenos (NOT diced green chilis) or dice one fresh jalapeno.
Garlic salt. Most of my recipes use garlic powder, but this one uses garlic salt. If you don't have that on hand, you can mix 1 part garlic powder to 3 parts salt.
Dippers. Serve with flour or corn tortilla chips, Fritos scoops, bagel chips, crostini, Wheat Thins, Club crackers, or Ritz crackers.
PRO TIP: You can control the spice level by adding more or less jalapenos with seeds. Using half of a 4-ounce can of diced jalapeno should give a medium heat level.
Using a fresh jalapeno pepper has given me less accurate results since some peppers seem to be milder than others, even with the seeds used.
Extras to try
Want to add even more flavor to hot corn dip? Try one or more of these addins.
Mix in cooked and crumbled bacon during baking.
Add in diced red pepper before baking.
Stir in fresh chopped cilantro after it's done cooking.
Sprinkle in sliced green onion during or after baking.
How to make it
Use a deep-dish pie dish like I did here, or a medium sized baking dish.
Preheat oven to 375 degrees.
Place cream cheese, goat cheese and butter into the dish.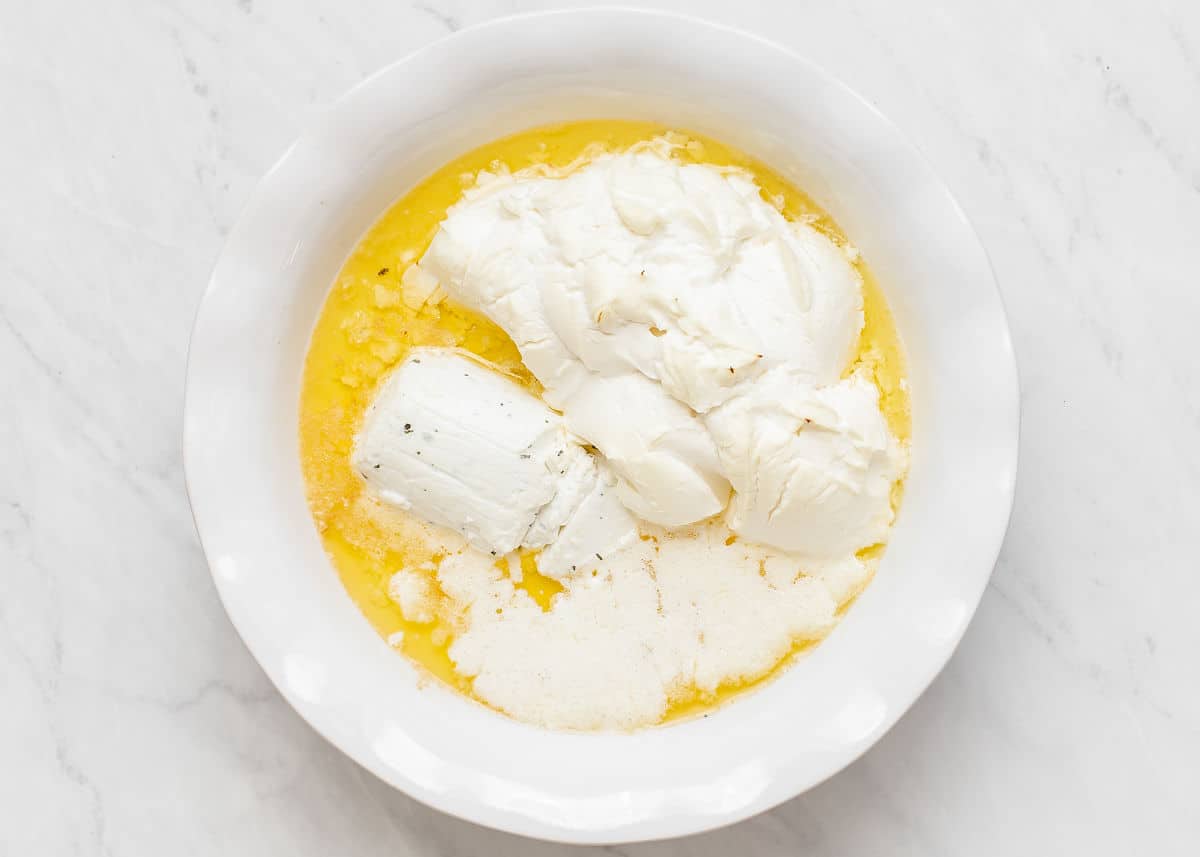 Place in the oven to heat up, soften and melt, for 20 minutes.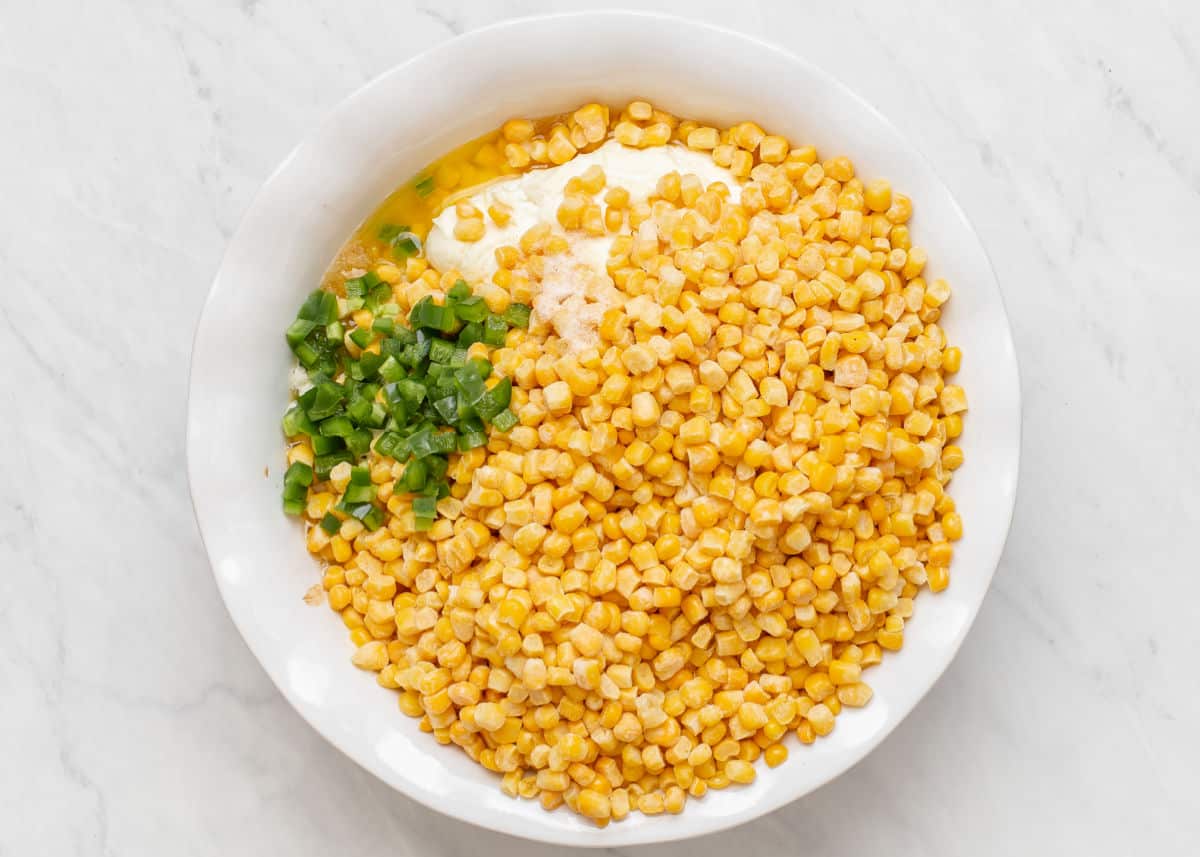 Remove dish and add corn, diced jalapenos, and garlic salt.
Stir to combine and add back into the oven and bake for about 30 minutes, stirring occasionally.
It's done when it's bubbly and you can see the ring of melted butter around the outer edge.
Stir once more and serve with corn chips, Fritos scoops or tortilla chips.
PARTY TIP: Make this in a chafing dish or transfer it to a chafing dish after it's done, to keep it warm on your party buffet table. You can also keep it warm in a slow cooker.
If you like this post, PIN, Share, or sign up for our Newsletter at the top of the page. And don't forget to follow CAH on Instagram or Facebook. Cheers!
Easy Corn Dip with Cream Cheese
Easiest baked corn dip with cream cheese and jalapenos, served with corn chips. The secret ingredients is garlic and herb goat cheese, and generous measure of butter.
Ingredients
16 ounce bag of frozen yellow corn kernels
12 ounces cream cheese ( 1 1/2 blocks or 12-ounce tub)
4 ounces Garlic & Herb goat cheese
1 stick butter
2 ounces diced jalapeno (1/2 of a 4-ounce can)
1/2 teaspoon garlic salt
Instructions
Preheat oven to 375 degrees.
Place cream cheese, goat cheese and butter into baking dish and place into hot oven. Heat for 20 minutes to soften and melt ingredients.
Remove dish and stir in corn, jalapeno, and garlic salt. Combine well and place back into oven.
Cook for 30 more minutes stirring occasionally.
Dip is done when it's bubbly with melted butter visible around the edge.
Remove and serve with tortilla chips or Fritos corn chip scoops.
Notes
Store leftovers covered in the refrigerator. Reheat in microwave or oven at 350 degrees.
Double the recipe for a big crowd.