35 At-Home Valentine's Day Ideas for Couples
Valentine's day ideas for couples to celebrate at home, including dinner ideas, activities, and things to do to celebrate love.
Celebrate February 14 at home with these Valentine's day ideas. You can turn date night into something special with this list of things to do to celebrate love.
These tips can work for new couples who are dating, or long time married couples. It's all about spending time together and making each other feel important.
How to make it special
It doesn't take a lot of money or ambition to make the date special. Just add one or more of these touches.
Get dressed up. Even for a night at home it's important to get dressed up and made up for Valentine's day.
Order flowers. Take the pressure off of the "will he or won't he" send flowers, and just order some yourself. They'll look beautiful displayed in the room or on the dinner table.
Put on romantic music. Create the mood with music. Make a playlist of smooth jazz, love ballads, classical music, or whatever gets you in the mood.
Hang string lights. Turn the lamps and overhead lights off and turn on some string lights for a low glow that makes you look great and feel relaxed. You can use removable wall adhesive strips to hang Christmas strings lights that add just the right amount of lighting.
Light candles. You can also set the mood with candles. Use pillar candles that are nice and stable. Add a little or a lot, and be sure to put them out before going to sleep.
Floor seating. Sit on the floor with pillows and blankets and have an indoor picnic style dinner.
Romantic Valentine's day ideas
Breakfast in bed. Start the day with breakfast in bed. It doesn't have to be elaborate; in fact it may be as simple as bringing your mate coffee in bed.
Leave post it notes. Go crazy with a pack of post-it notes and leave them all over the house. Write down things that you love about your partner, write down positive affirmations, write love quotes, etc.
Write a love letter. If it's been decades since you've sent or received a love letter, it's time to remedy that. Give each other a heart felt love letter sealed with a kiss! Bonus points if you send them through the mail.
Slow dance together. Remember when slow dancing gave you tingles? Why not recreate those days and put on some smooth music and slow dance together…right in the living room!
Sexy games. This site is rated PG so I'll leave it to your imagination when it comes to sexy games. Of course there are classics like strip poker and truth or dare, or you can find some couples cards games online. Enjoy!
Romantic movies. You can Netflix and Chill with one or these favorite romance movies. They're great for snuggling.
Give each other a massage. Who doesn't love a good massage! You can give one to each other right in the privacy of your home.
Make future plans together. One of our favorite things to do as a couple is to make future plans together. Things like a vacation or a shared activity (dance lessons, cooking class, etc.) or even a fun date night out on the town.
Leave a trail. Sprinkle rose petals on the floor in a trail leading to a special set up. It can be the dinner table, the bedroom, or a special activity you've prepared.
Read poetry. This may be a remnant of bygone days but it's still romantic! Grab a book of love poems and read aloud to each other. Here's a list of top 10 love poems to try.
Dinner ideas
Cook together. There's something so bonding about cooking together as a couple. Even if it's just making heart shaped pizzas, you can sip wine, chop food, and dance around the kitchen together just like they do in the movies.
Set up a table for two. Take the meal away from the kitchen or dining room and set up a small table for Valentines dinner for two. You can use a folding card table or a bistro table covered with fabric.
Fireside dining. If you have a fire place set up a small table for two in front of it for a gorgeous ambiance.
Eat with your hands. Instead of making a fancy meal you can eat appetizers and finger foods, or turn a party cheese board into a meal.
Fondue for two. This is similar to eating finger food but takes it to the next level. Eat cheese fondue as a main course and serve dessert fondue at the end.
Recipes
Sip on red Valentines day cocktails made with vodka, Amaretto, and cranberry juice.
Cook fillet mignon with balsamic glaze for two and serve with roasted carrots and mashed potatoes or riced cauliflower.
Add a Valentine's day salad to round out your meal.
Easy chocolate lava cakes can be made in single servings so they're a great Valentine's day dessert.
It doesn't get more indulgent than a delicious chocolate charcuterie board. Plus all the work is done ahead. Alternatively you can make it a chocolate and cheese board.
Cute ideas
Cupid's Arrow is an easy concept to insert (pun intended) into food or gifts. Just use wooden skewers and paper cutouts for a DIY arrow.
Fill in these printable "how do I love thee" cards. Download them here.
Create a treasure hunt where the prize is you!
Make heart shaped Valentines rice krispie treats.
Bake heart shaped cookies together with this easy shortbread cookie recipe.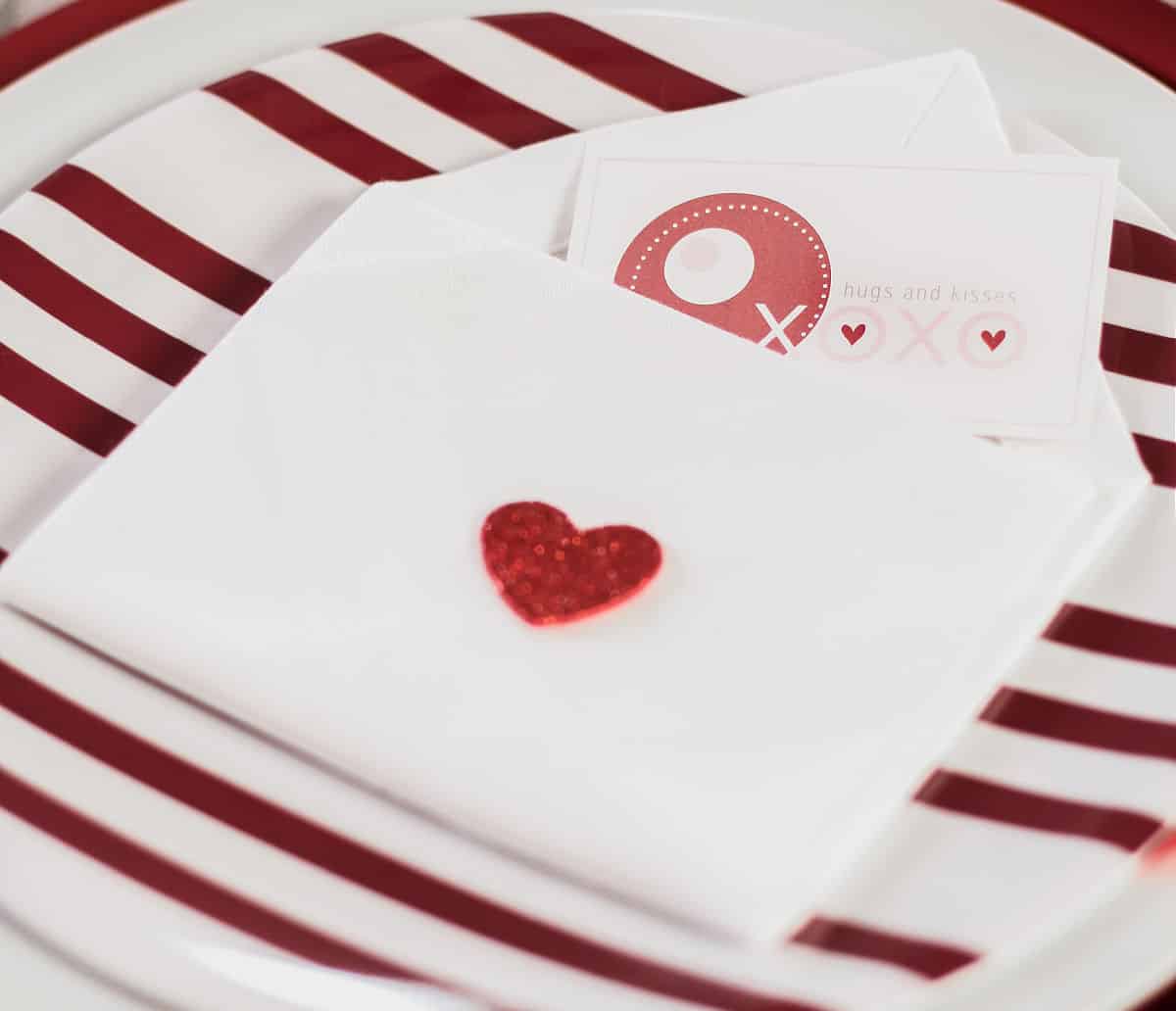 Fold napkin envelopes and tuck in your Valentine card.
Give yourselves home spa treatments and facials.
Get lathered up in a bubble bath for two. Fill it overflowing with bubbles and have fun.
Take a new updated selfie together. Bonus points if you print and frame it.
Grab these free Valentine's gift tags to print and add to a gift for your love.
What are your favorite Valentine's day ideas at home?
If you like this post, PIN, Share, or sign up for our Newsletter at the top of the page. And don't forget to follow CAH on Instagram or Facebook. Cheers!