A dessert fondue platter is perfect for a party! Make fondue at home for a themed dinner party, girls night in, or date night. See how to set up a dessert platter with dippers and two dessert fondue recipes, here.
Dessert Fondue Ideas
You should know by now that one of my favorite ways to entertain a large group or a party of two, is to provide large food platters with lots of options.
Turning a party cheese board into a meal can satisfy many cravings; so can a brunch cheese board. And serving dessert is no different!
With the food board trend going strong, I've created a beautiful and bountiful dessert platter with two sweet fondue recipes. Of course the more dippers you put out, the more people you can serve.
You can make this desert board for ladies night in or for a Valentine's day dinner for two. Add it to your list of dinner party menu ideas and host a party at home with friends.
Date Night Fondue
Hosting a fondue night for a party is such a fun retro idea. But it's also a terrific idea for date night at home!
It reminds me of the very first date my husband and I went on. He took me to The Melting Pot and thank goodness we got along. Because three courses of fondue over two hours could have been awkward if we hadn't!
Create a romantic date at home for Valentine's Day and beyond. This is the perfect spread for cozying up by the fire, or in front of the tv for a romantic movie night. Turn up the romance with flowers and a book of poetry or love poems
Make an entire night of it by starting the evening with cheese fondue for two as the main course.
Dessert Fondue Party Tips
Offer two types of fondue – one chocolate (recipe below) and one cheesecake fondue recipe for different flavor options.
Use a fondue pot or a mini crock pot to keep the fondue warm.
Include a variety of cookies, pastries, fruit, and salty dippers.
Add these heart shaped Valentine rice krispie treats for a fun twist.
Serve Rosé sparkling wine or champagne.
Get the printable directions for creating your platter, below.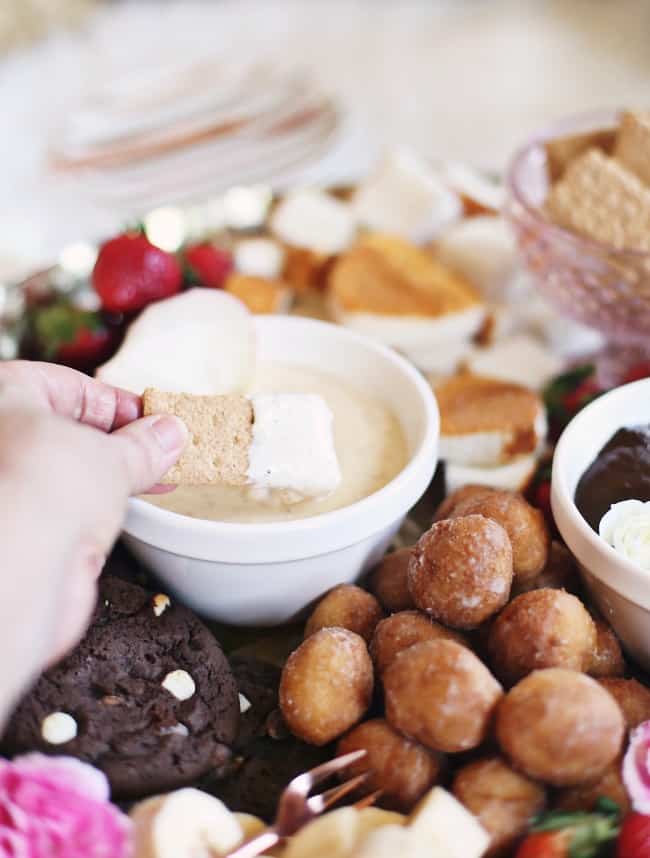 How to Make a Dessert Fondue Platter
Create a dessert fondue party platter for a crowd or for a date night at home. Serve an array of delicious dipping items and at least two fondue flavors.
Materials
Fondue
Chocolate-Caramel fondue recipe
Cheesecake fondue recipe
Dippers
chocolate cookies
pound cake or angel food cake
strawberries
sliced bananas
graham crackers
biscotti
marshmallows
doughnut holes
pretzel rods
Tools
Fondue Pots
Mini Crock Pot
Dipping Forks
Trays and bowls for dippers
Instructions
Make fondue recipes and keep them warm using a fondue pot or mini crock pot.
Divide dipping items into groups on a large tray, cheese board, or in bowls.
Dip cookies, pastries, and fruit into fondue using dipping forks.
Dessert Platter Ideas
Here are some more ideas for dessert boards for a party.
Chocolate-Caramel Fondue recipe
Chocolate dessert fondue with creamy caramel is a delicious treat for any party.
Ingredients
1 cup semi-sweet chocolate chips
1/2 cup whipping cream
13 caramels
Instructions
In a small sauce pan or fondue pot, heat chocolate chips, cream and caramels over low heat.
Stir until chocolate and caramels are melted, about 3-5 minutes.
Serve with dippers.