This Cheesecake Fondue Recipe is a delicious dessert fondue option when having a date night at home, or when entertaining friends. Get it below.
Several years ago I hosted a cocktail party and served dessert fondue as an interactive treat for guests. There's something so fun and unique about dessert fondue that you just don't get when you serve a cake or pie. This is the recipe I used and it turns the traditional flavor of cheesecake into a melted dipping sauce.
Perhaps the most enjoyable part of this dessert is all the options for dippers. The possibility are endless! Anything that relates to cheesecake would be terrific.
Keep it warm by serving it in a fondue pot or mini crock pot.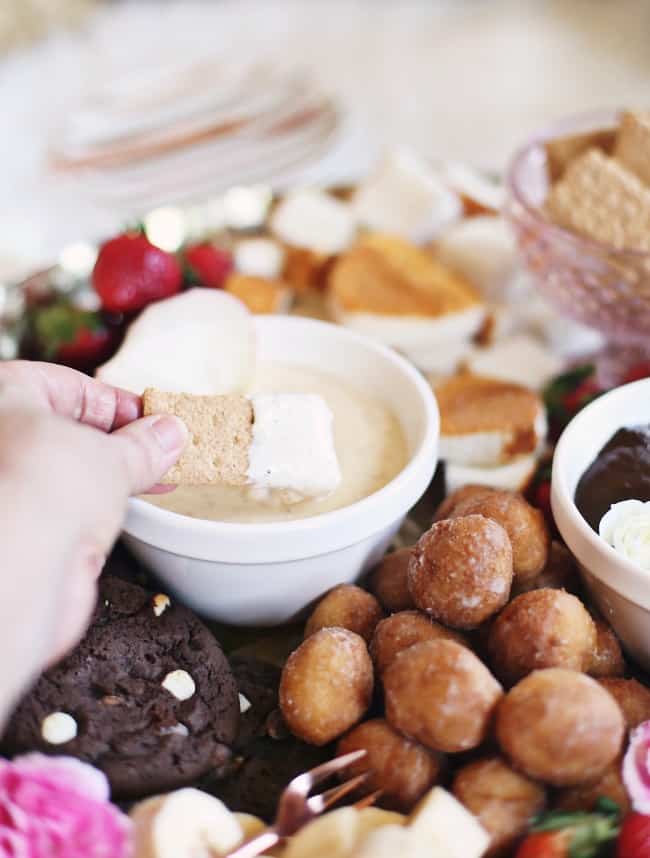 While this is a recipe for hot fondue, the chilled version is actually just as tasty. Leftovers don't go to waste when you take them right out of the refrigerator and place them next to fruit or cookies for scooping.
Cheesecake Fondue Recipe

1 1/2 cups whipping cream
1 1/2 blocks cream cheese (or 12 ounces)
1/3 cup sugar
3 teaspoons lemon juice
1 1/2 teaspoons vanilla extract
1/4 teaspoon cinnamon
1/8 teaspoon ground nutmeg

Cut cream cheese into 1-inch pieces.

In a small sauce pan or fondue pot, simmer cream over medium-low heat. Add cream cheese pieces and stir until melted and blended.

Stir in sugar, lemon juice, vanilla, and spices.

Serve in fondue pot over burner to keep warm.

Provide dippers like cookies, biscotti, graham crackers, strawberries, bananas, donut holes, pound cake or angel food cake.

Makes about 3 cups.
Bon appetit!
---