Breakfast Bar Ideas for a Party
Easy breakfast bar ideas for a party at home that lets guests help themselves. This make ahead food buffet is perfect for overnight guests and includes biscuits, flavored butter, individual yogurt parfaits, and oven-cooked bacon.
This is a sponsored post written by me on behalf of Truly Grass Fed. All opinions are 100% mine.
Breakfast bar for parties
A breakfast buffet is a fantastic way to host a group of ladies, a Sunday brunch for friends, or a family gathering. And the holidays are the perfect time to do it.
Follow these tips to create a continental breakfast table with food that can be prepared ahead. I've got you covered with fruit, protein, and carbs that'll give you energy for a day of shopping, decorating, or just enjoying company.
Get the full how-to for this breakfast bar, plus 2 flavored butter recipes and easy oven-cooked bacon in a printable card below.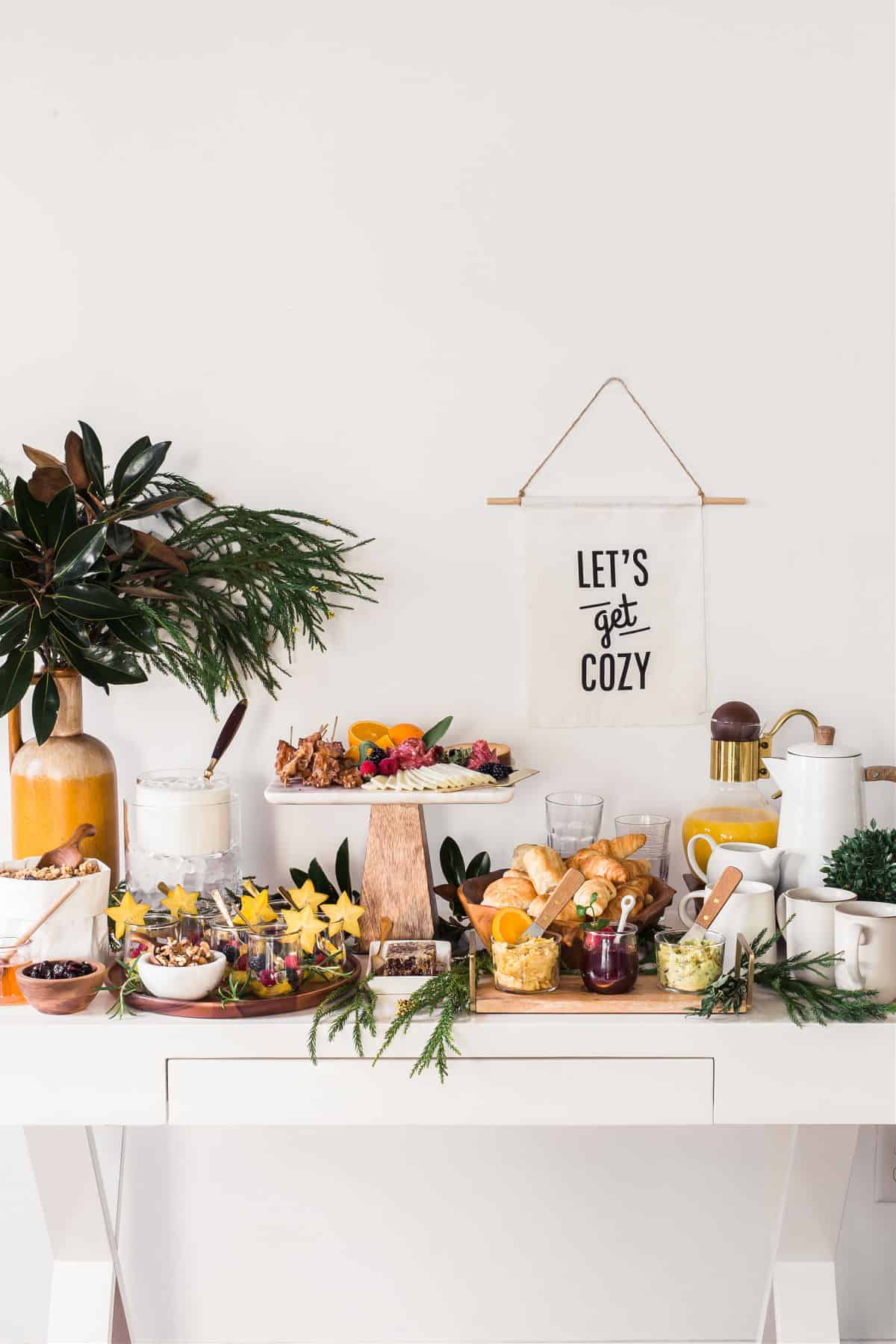 How to set up for a party
Create a brunch buffet with simple decorations for cozy vibes. Invite friends over for winter brunch, a New Years party buffet, or Easter brunch.
Follow a color theme or mood. The combination of white and wood grain make it a blank canvas for delicious food. It's neutral enough to use for fall, winter, and holidays.
Add levels for easy access to food. Use wooden boards, crates, and cake pedestals to elevate dishes and bowls so guests can grab food that's at the back of the table.
Keep cold food cold with this tip. Make a DIY ice bowl to keep yogurt cold during the party. Fill a larger bowl with ice and nestle a smaller bowl into the ice, and fill it with the yogurt.
Decorate with simple greenery. Add evergreens like magnolia, pine, or cypress branches to a tall vase for a care-free centerpiece, and place it at one end of the table.
Use interesting details. When you're entertaining it's all about the thoughtful touches. Add sliced star fruit to the sides of fruit cups, similar to garnishing a cocktail glass. And pour granola into a clean paper sack and roll down the sides for rustic charm.
PARTY TIP: Take a walk outside and cut evergreen branches for a gorgeous centerpiece that costs nothing. Place them in a tall vase so they add height to the table.
Breakfast food table themes
Easy food ideas
Make a brunch buffet with cold breakfast items and things that can be served at room temperature so there's no need to keep things hot.
Biscuits & croissants
Serve biscuits and mini croissants along with our flavored butter recipes. Frozen southern style biscuits are quick to bake, while croissants are readily available in the bakery section.
Flavored butter
Add special details like flavored butter to elevate your party. Use Truly Grass Fed unsalted butter for high quality you can taste. It's Irish made, where the climate is ideal for dairy farming and the cows are 95% grass fed as they graze in open pastures.
Make two flavors of butter, one sweet and one savory, to serve with biscuits and croissants. Get the recipes for herb butter and orange butter in the card below.
You may want to include the parmesan butter from this grilled corn recipe for another savory option. See the Truly Grass Fed product locator to find it at a retailer near you.
Make the compound butter up to 3 days ahead. The flavors will intensify as it sits in the refrigerator. On the morning of the party set the butter out at room temperature first thing in the morning so it can soften and spread easily.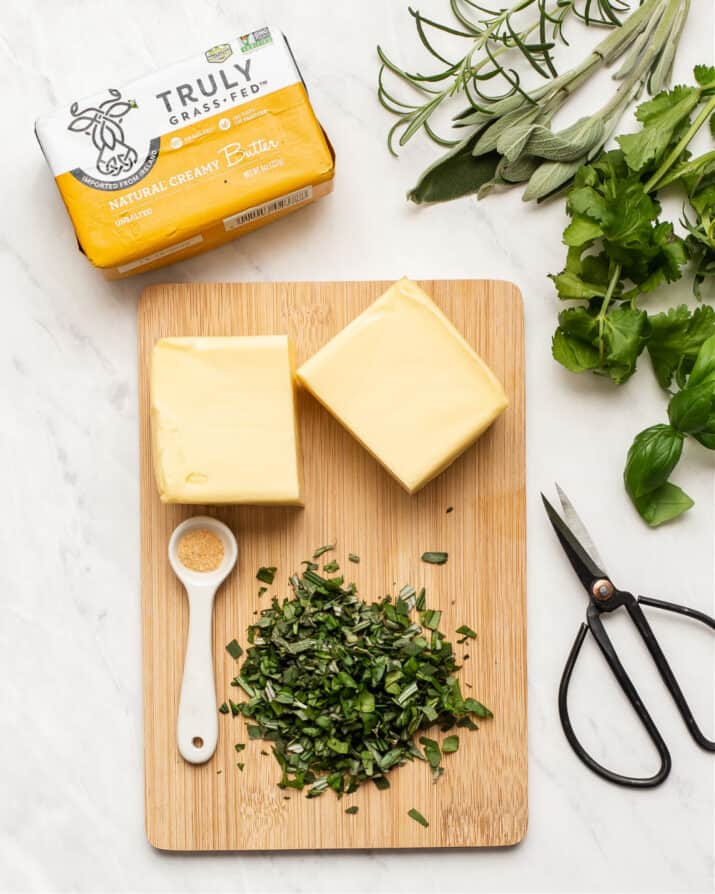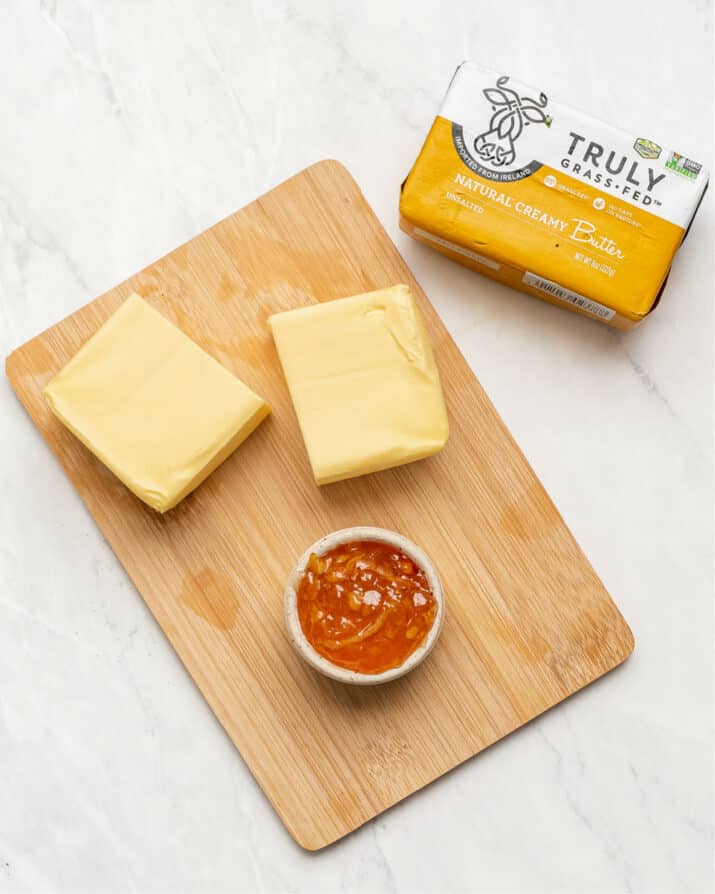 Bacon
Make oven-fried bacon so it's easier to cook a lot at a time. Clean up is also easier.
You can prep the bacon on the baking sheet the night before, cover and refrigerate. In the morning just pop it in the preheated oven for about 30 minutes. See full directions in the printable card below.
Hard boiled eggs or mini quiche are another protein option.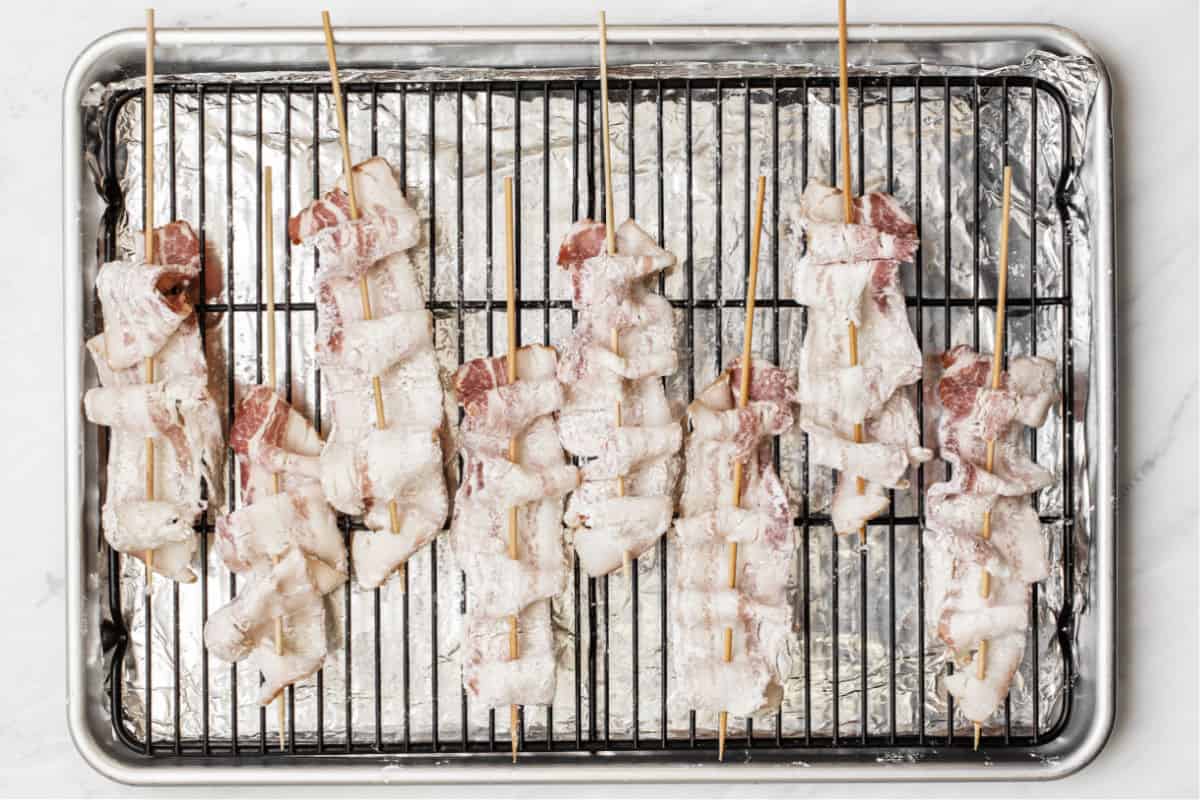 PARTY TIP: Thread the bacon on to wooden skewers for an easy-to-grab handle guests can pick up.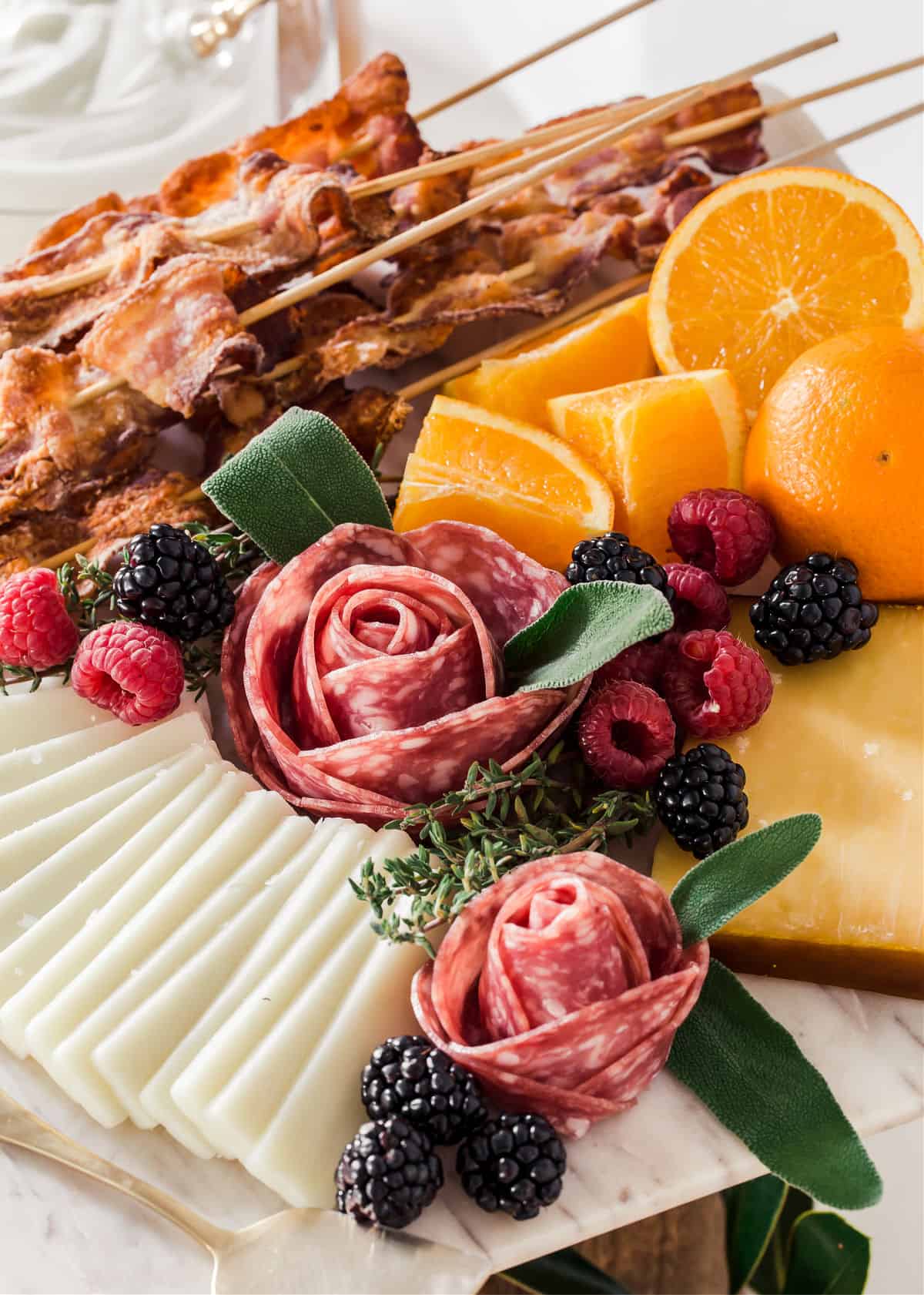 Charcuterie
A brunch charcuterie board gives a little international flair. This is how the Italians do it! Include salami, hard cheeses like aged gouda, goat's milk cheddar, and fresh berries.
Yogurt
A mini yogurt bar gives guests options and is a good way for vegetarians to get some protein. Include vanilla Greek yogurt, granola, dried cherries, cranberries or raisins, and nuts like walnuts, pecans, and sliced almonds.
PARTY TIP – Buy two different flavors of granola and combine them into one vessel for a delicious mix.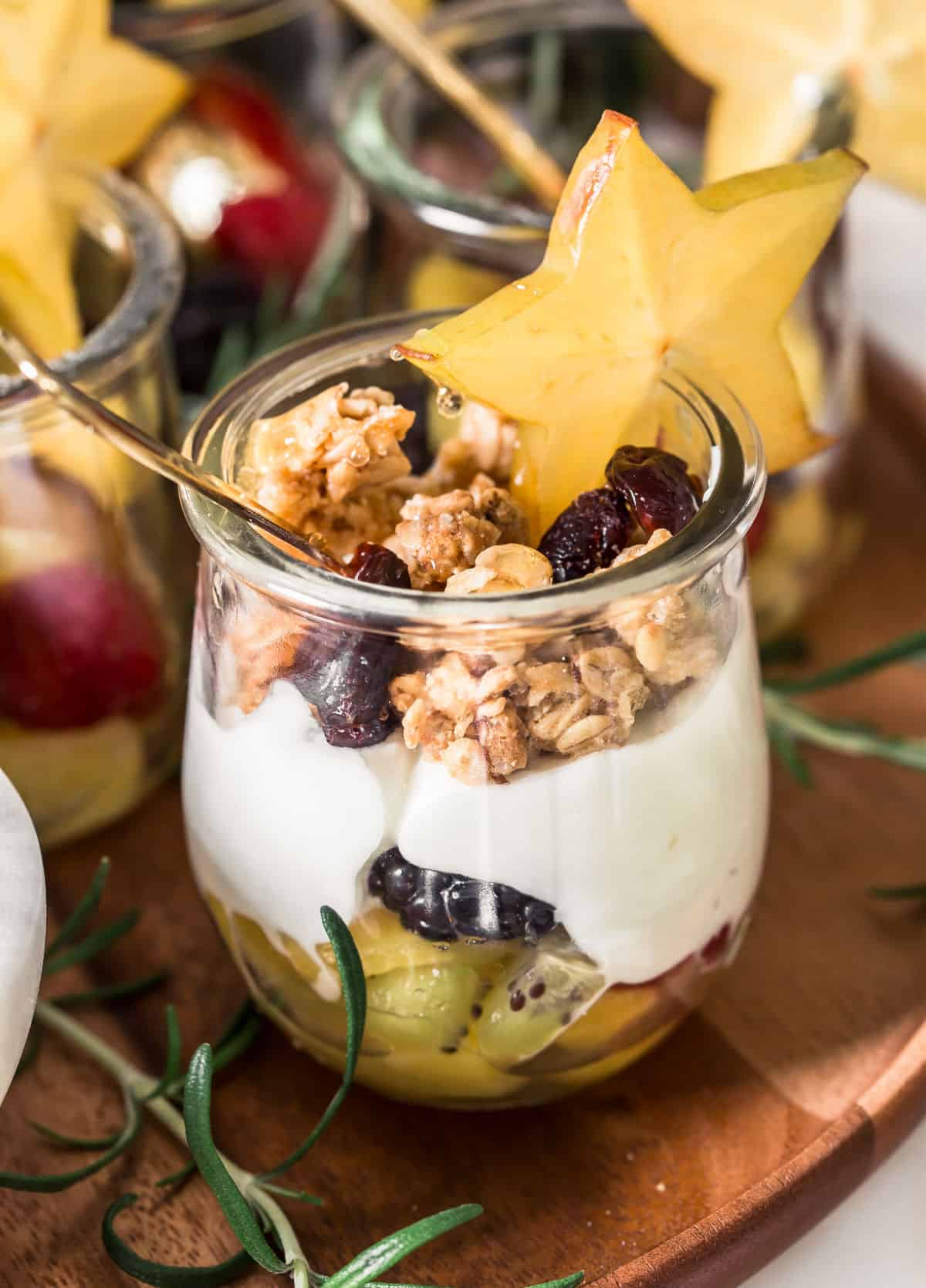 PARTY TIP: Use 2 clear cylinder vases (one large and one small) to create an ice cooler for yogurt.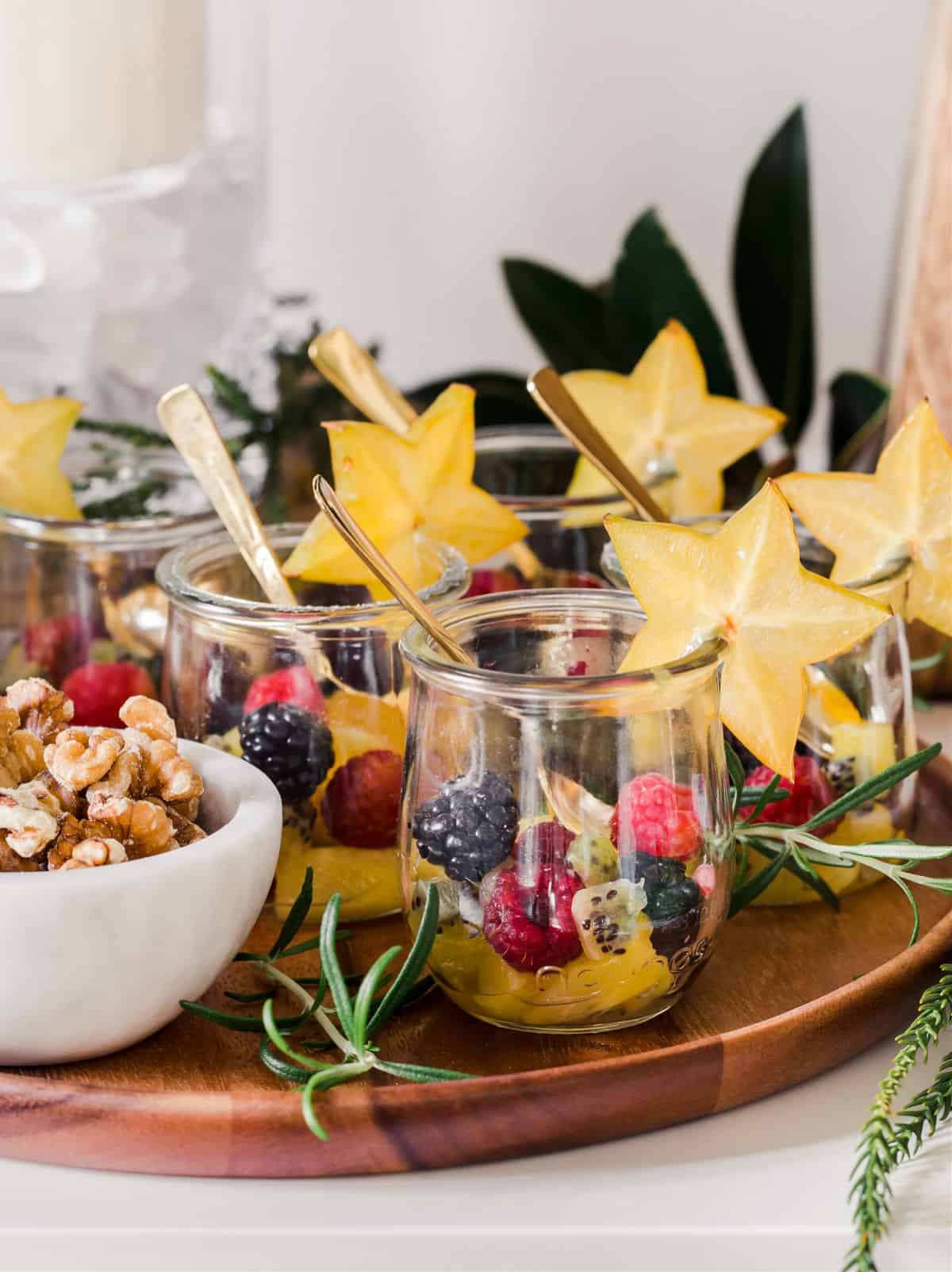 Fruit
Have healthy options like fresh fruit in individual cups. Guests can use these to make yogurt parfaits with, too.
Garnish serving jars with a slice of star fruit or orange wedge.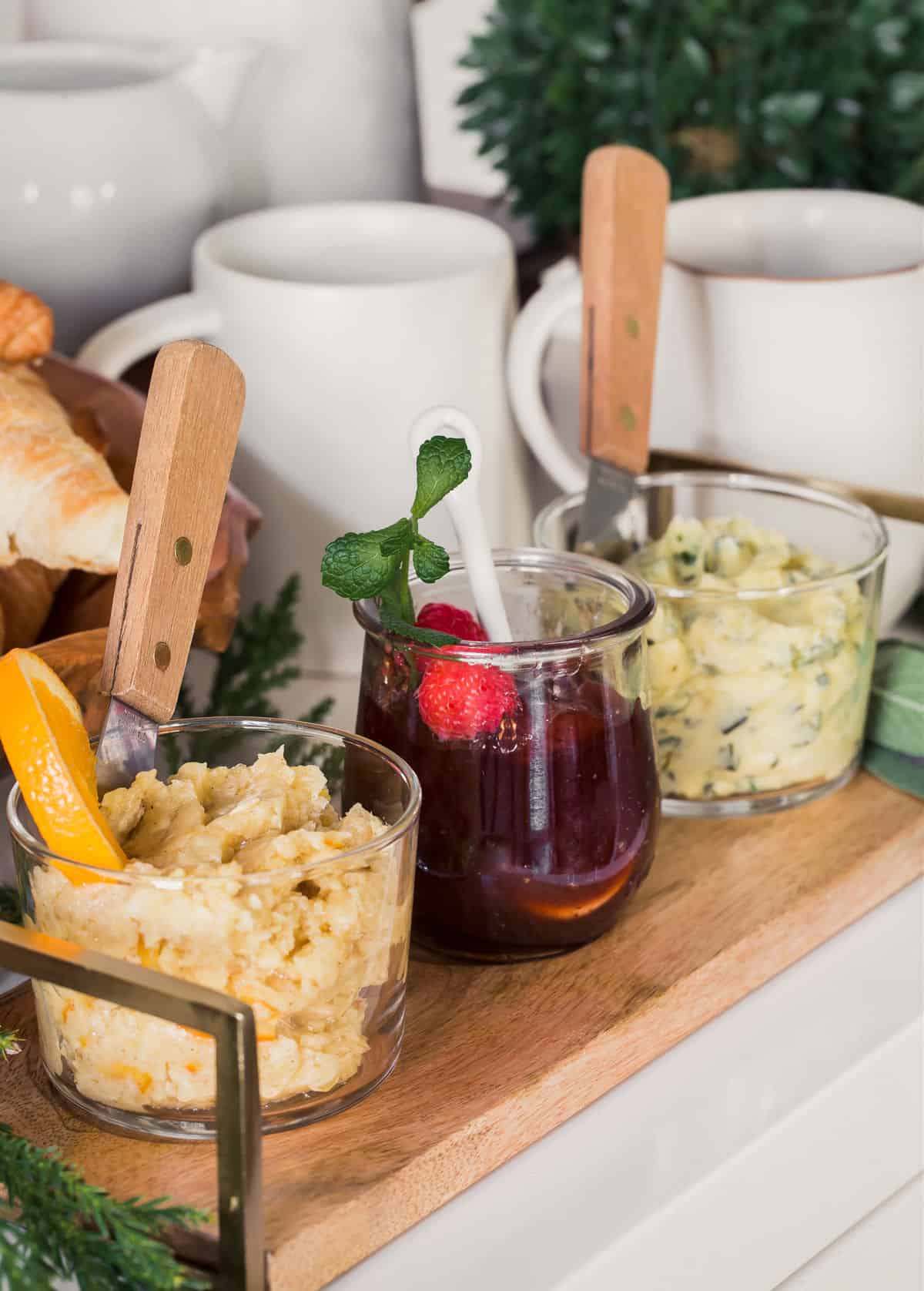 Condiments
Round out the table with condiments like honey and jam to add extra flavor to the breads and yogurt. For a special detail include whole honeycomb with a small knife or spoon to break pieces off.
Serve a different flavor jelly than you used to flavor the butter so you don't duplicate flavors.
Coffee & juice
Set up an area for drinks at one end of the table, for coffee and juice. If you run out of room you can always add it to a bar cart or side table. Pour the juice into a pretty pitcher, and add some flavored creamer for the coffee.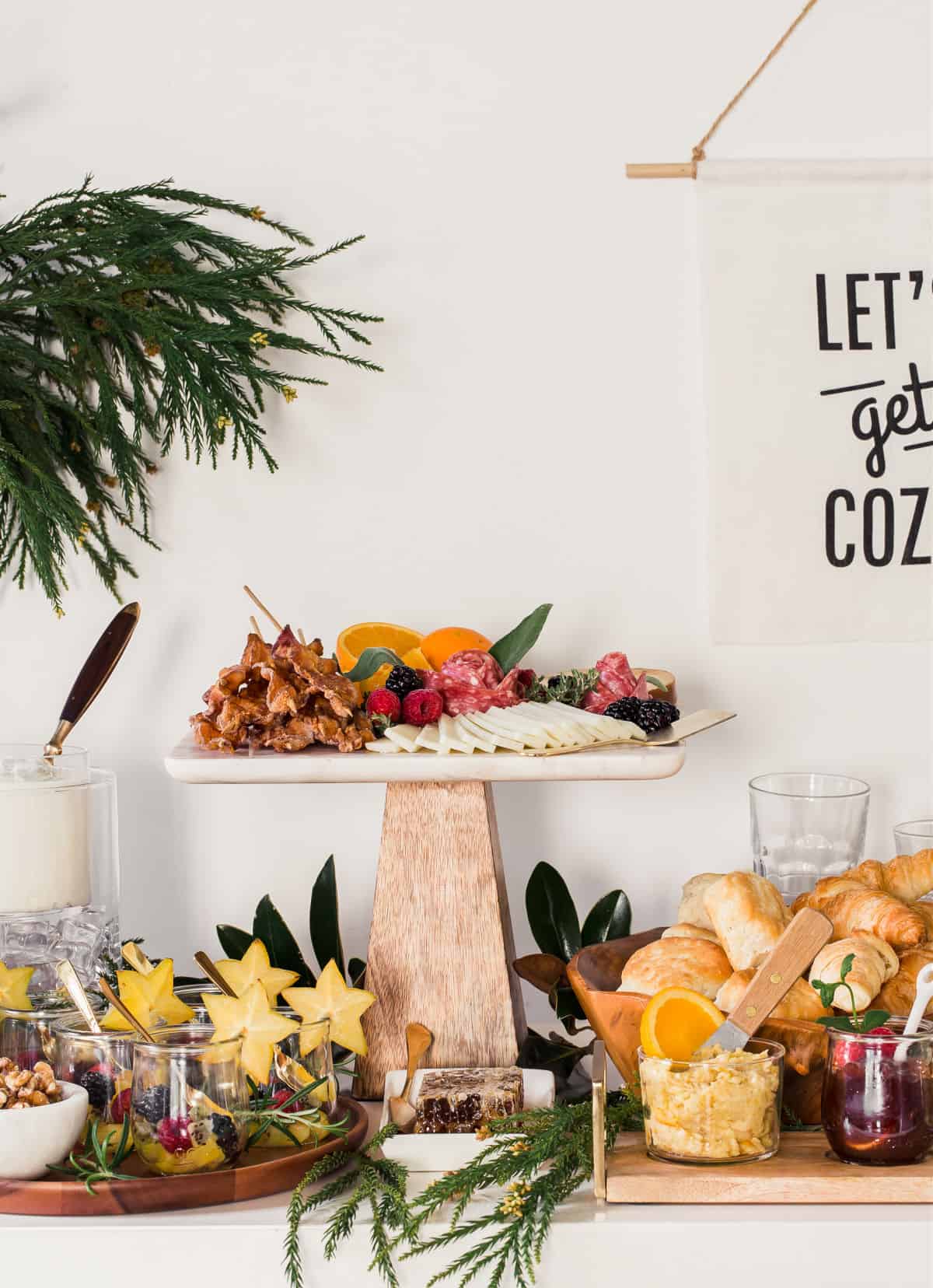 How do you make a continental breakfast at home?
A continental breakfast is the term used to describe a light breakfast consisting of baked goods, cereal, jams, fruit, and coffee. It's modeled after the offerings found by travelers to France and the Mediterranean in the 19th century.
What do you serve at a brunch party?
Food that's easy for the hostess to prepare a day or two ahead, and then put out in the morning. Some tried and true ideas are breakfast casseroles, fruit salad, quiche, homemade spice muffins, delicious coffee cake and quick breads.
Make ahead recipes
If you want to add some heartier dishes that can be served family-style, try these awesome brunch recipes.
If you like this post, PIN, Share, or sign up for our Newsletter at the top of the page. And don't forget to follow CAH on Instagram or Facebook. Cheers!
How to set up a breakfast bar for a party
Continental breakfast bar for parties
Additional Time:
30 minutes
Total Time:
2 hours
30 minutes
An easy make-ahead continental breakfast bar with tips and recipes for a mini yogurt bar, flavored butter and biscuit bar, and breakfast charcuterie.
Materials
Compound butter
12 ounces Truly Grass Fed unsalted butter (1 and 1/2 packages)
1 1/2 Tablespoon Orange marmalade
1/8 teaspoon allspice
3 to 4 types of fresh herbs (chives, rosemary, sage, basil, thyme, cilantro, parsley)
1/4 teaspoon garlic powder
1/ 8 teaspoon onion powder
Bacon
2 packs of bacon
1/4 cup flour
Yogurt bar
16 ounces vanilla flavored Greek yogurt
4 cups prepared granola
Fresh berries, kiwi, star fruit
8 ounce can pineapple tidbits
Dried cherries, cranberries or raisins
Sliced almonds, walnuts, or pecans
Charcuterie
Assorted cheeses like aged gouda, goat cheddar, Havarti, or sharp cheddar
1 large or 2 small packages of salami
Breads
1 package of 12 frozen southern style biscuits
1 package mini croissants from bakery
Strawberry, raspberry, or grape jelly or jam
Honey
Drinks
Fresh brewed coffee
Orange juice
Instructions
Make sure the butter is very soft. Let it sit at room temperature for a couple of hours before working with it. You can cut it into smaller pieces to help it soften quicker.
To make the herb butter, chop fresh herbs very finely and add 1 1/2 to 2 tablespoons to 6 ounces of butter.
Add garlic and onion powder and combine all the ingredients together in a small bowl. Use a fork or hand mixer to get the best integration. Cover and refrigerate at least 24 hours.
To make orange butter, combine 6 ounces of butter with 1 1/2 tablespoon of orange marmalade, and 1/8 teaspoon of allspice. Use a fork or hand mixer to integrate well. Cover and refrigerate for at least 24 hours so flavors can marry.
Let the butter come to room temperature again when ready to use, so it's easy to spread.
To make bacon, preheat oven to 350 degrees, and line a baking sheet with foil and lay a baking rack on top.
Pour flour onto a flat surface or shallow dish and dredge each slice of bacon in it on both sides. Lay bacon on prepared baking rack; do not overlap bacon.
Cook for about 30 minutes, checking after 20 minutes. Turn bacon over and continue.
For fruit and yogurt bar, combine pineapple tidbit with juice, berries, and diced kiwi, in a small bowl. Add some to individual jars or small glasses.
Transfer yogurt to a serving bowl. Add ice to a larger bowl and place yogurt bowl on top of ice.
Serve with fruit cups, granola, dried fruit, and nuts.
Add cheeses and salami to a serving board and garnish with berries and herbs if desired.
Cook frozen southern style biscuits according to directions, and heat croissants for a few minutes to warm through. Serve with flavored butters, honey, and jam.
Add coffee and juice to serving pot and pitcher.
Notes
Make butter up to 3 days ahead. Let it set out at room temperature to soften before serving.
Prep bacon the night before and refrigerate, covered, until ready to cook.
Cut fruit the night ahead, cover and refrigerate.
Set up breakfast buffet table 1 to 2 days ahead.