Gorgeous Breakfast Charcuterie Board
Create this gorgeous breakfast charcuterie board for a brunch party at home or overnight guests. This is an easy way to host while still including a satisfying meal of breakfast meats, cheeses, breads and fruits.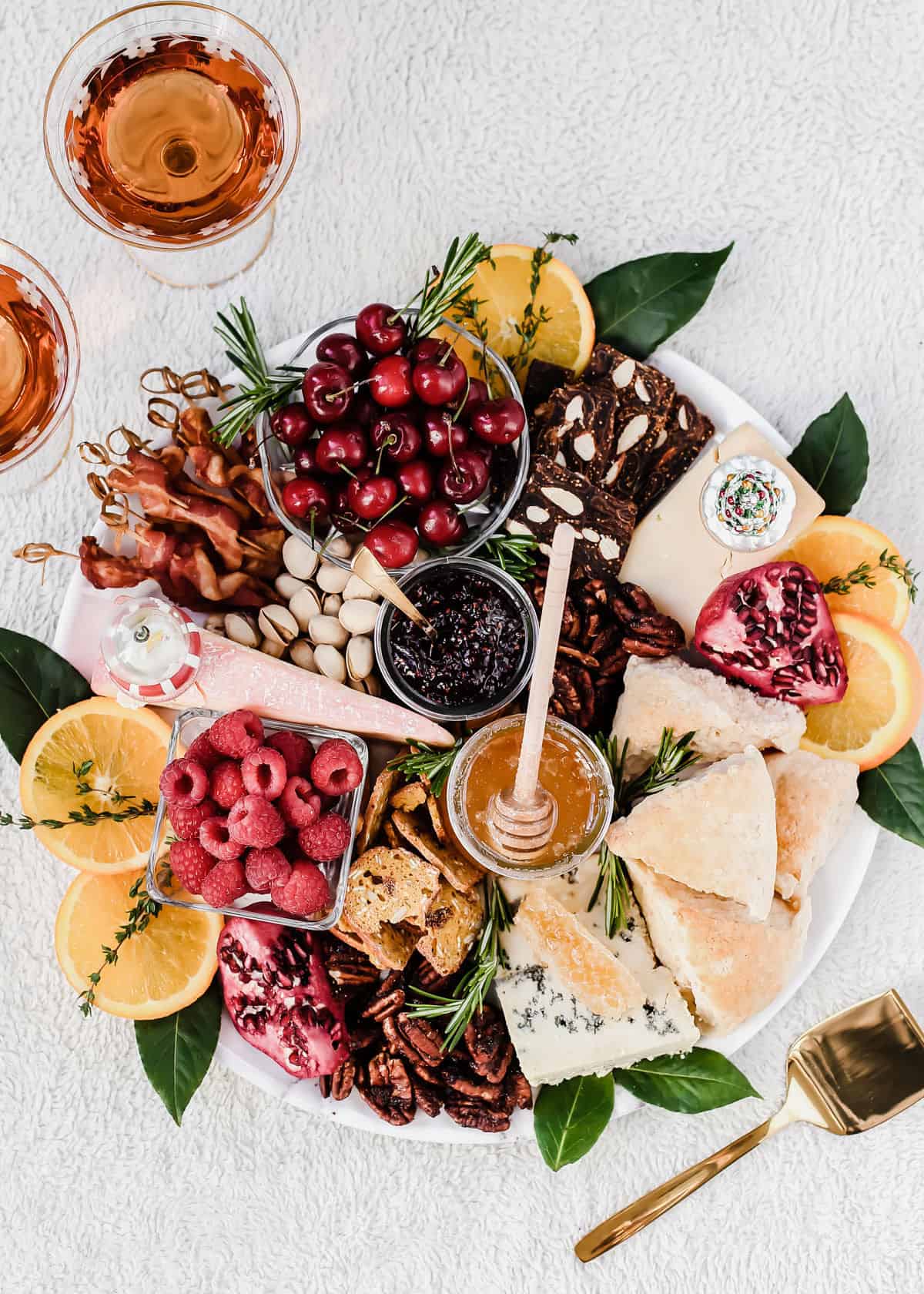 The classic charcuterie board just got an update with this beautiful breakfast idea. It's a crowd favorite and can be served for brunch parties as well as showers and luncheons.
Can You Have a Charcuterie Board for Breakfast?
You Bet! In Europe, hotels typically serve a breakfast buffet filled with cured meats and cheese, breakfast breads, fruit and yogurt. And as a person who loves the savory side of things, that really appeals to me.
You don't have to stop there, though. Add some sweeter options too, like waffles, pancakes or donuts.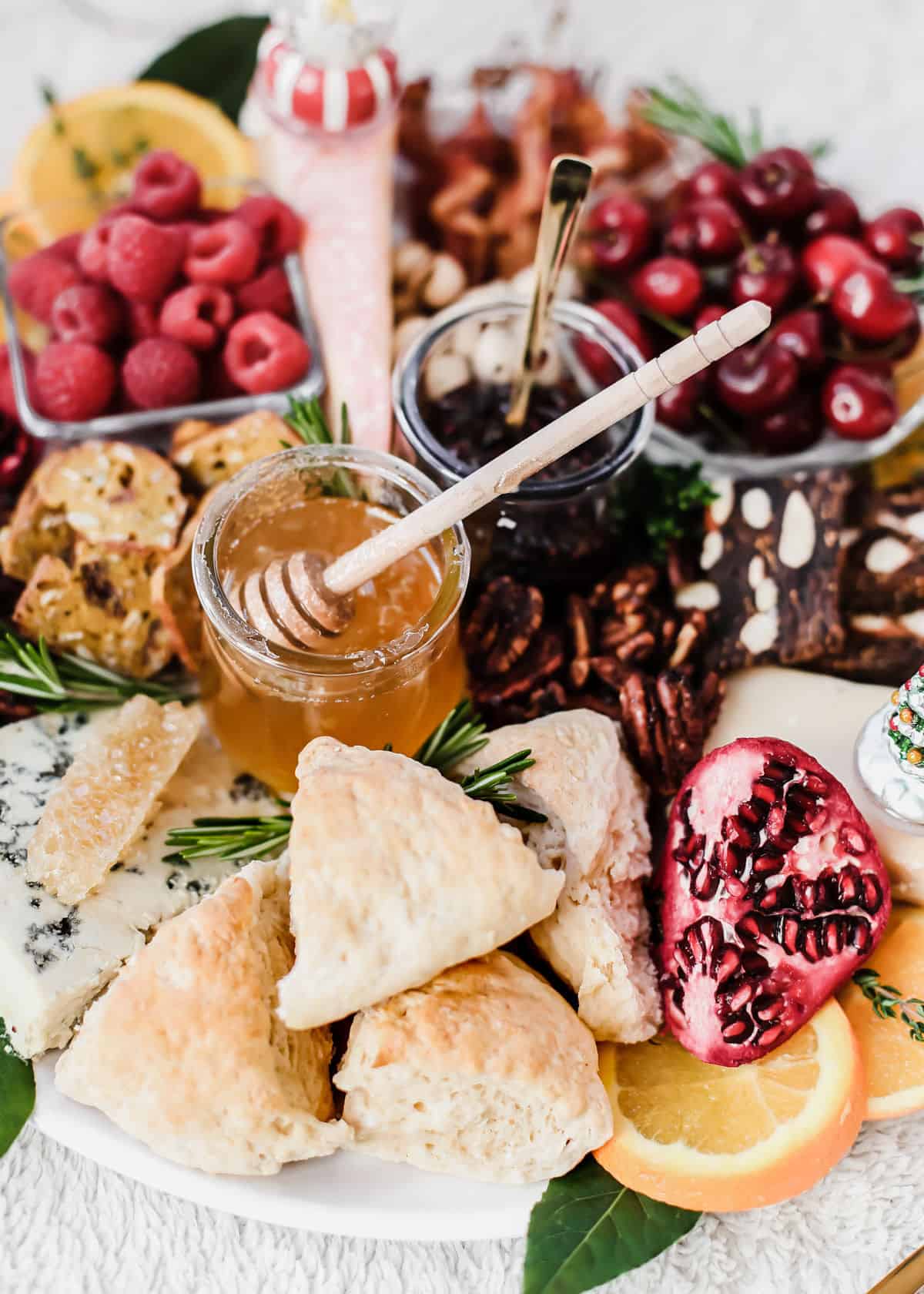 What to Put on a Brunch Charcuterie
You build a morning cheese board much the same as you do an evening one. All the flavors are complementary to one another and nothing is overpowering.
You want to have a variety of flavors and textures to choose from. See all my tips below.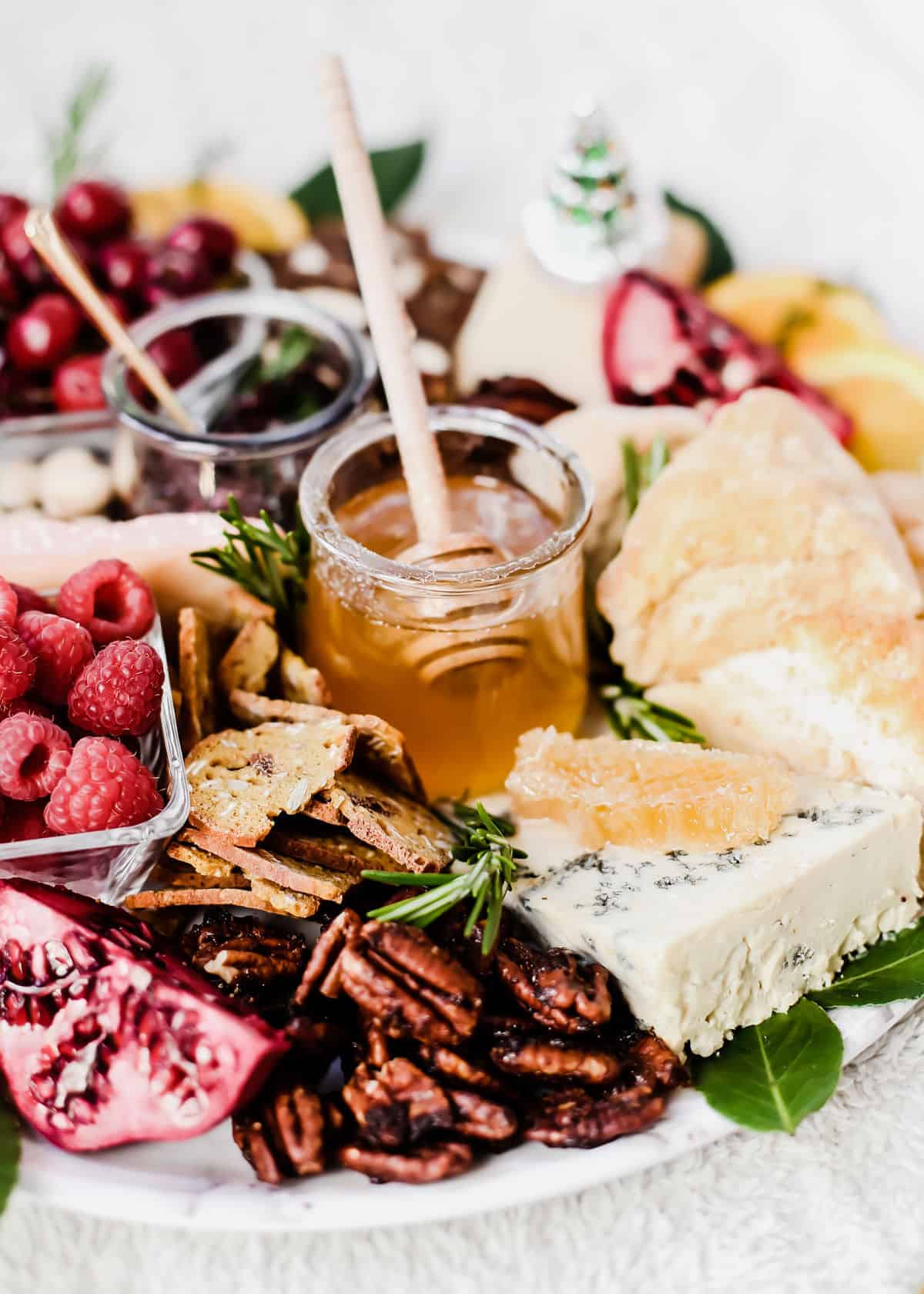 Cheeses
If you're making a cheese board for breakfast you don't want anything too overwhelming in flavor.
Start with semi-hard cheese like BellaVitano that's got a washed rind, white cheddar, Havarti, or gouda.
Incorporate a soft cheese like a mild blue Gorgonzola topped with honeycomb, goat cheese, or baked brie with toppings.
Breakfast Meats
Whether you're serving this platter to a small group or for overnight guests, a good source of protein is needed.
I like adding bacon skewers for a fun presentation, plus they're easy to pick up and eat. You can also add cooked sausage links or patties, and fried ham.
If you have the time to prepare bacon appetizers the night before, you can cook them in the morning and add them on.
Another fantastic addition are these bacon wrapped apricots. They're sweet and salty and a crowd pleaser.
Choose either version of these bacon wrapped crackers. One is sweet while the other is savory but they are both divine!
Canadian bacon is delicious and easy to add to a breakfast board, and in Europe they also include charcuterie like salami, sopressata, Iberico ham, and prosciutto.
Finally, smoked salmon is an ideal item to include, especially if you're serving bagels.
Breads
This is the time to include all those indulgent baked goods that are easy to make ahead or purchase.
Scones are terrific and you can make them from scratch, from a mix, or pick them up at the bakery section.
Biscuits are another ideal option. I like to use the frozen biscuits you can buy in a bag and bake as many as you need.
You can make oatmeal crunch muffins a day ahead. They are deliciously indulgent and add sweetness.
Specialty bread from the bakery; in this case I found a fig-nut bread that's just right for brunch.
Crispy fruit and nut artisan crackers are also delicious here, and add a crunchy texture.
Don't forget about English muffins and bagels too!
Fruit
Fresh or dried fruit adds a healthy option to the platter, and also adds beauty.
Fresh berries are a good choice. Try cherries, strawberries, blackberries and blueberries.
Sliced oranges can be skillfully placed to look pretty and are easy to pick up and eat.
Dried apricots, figs, and dates add color and flavor and are easier to handle than smaller fruits like raisins or dried cranberries.
Grapes are another lovely addition.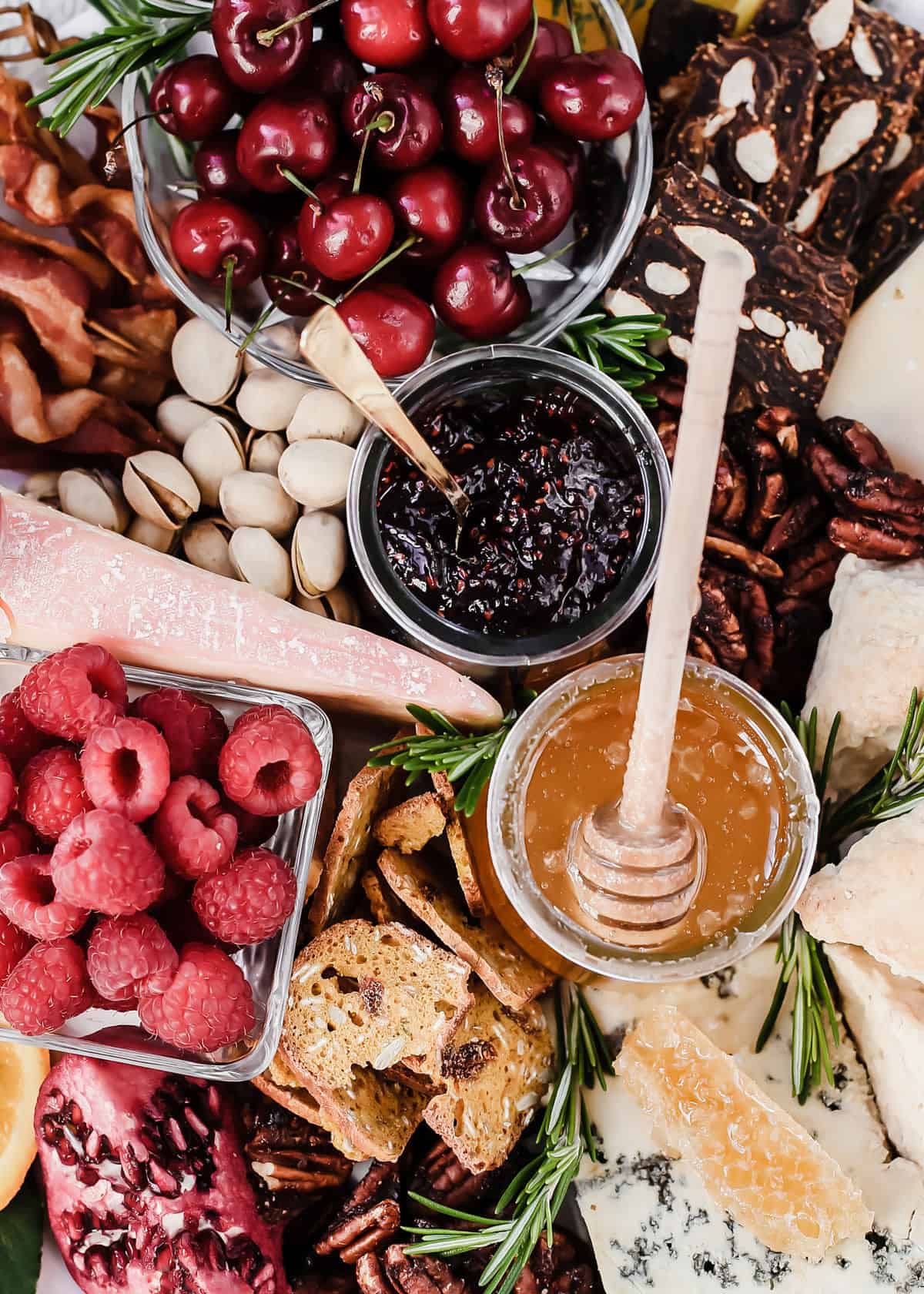 Condiments
Spreads and condiments like jam, honey, maple syrup or flavored butter help make a breakfast cheese board even more special.
Extras
Incorporate some tasty accompaniments like seasoned nuts. These sweet & spicy pecans are a holiday tradition in the South and are a fantastic addition to the board.
Other nuts that are good for breakfast are pistachios and walnuts.
Garnishes
Fresh herbs like thyme, bay leaves, and rosemary look festive and help to finish off the presentation.
You may also add some small edible flowers for decoration and color.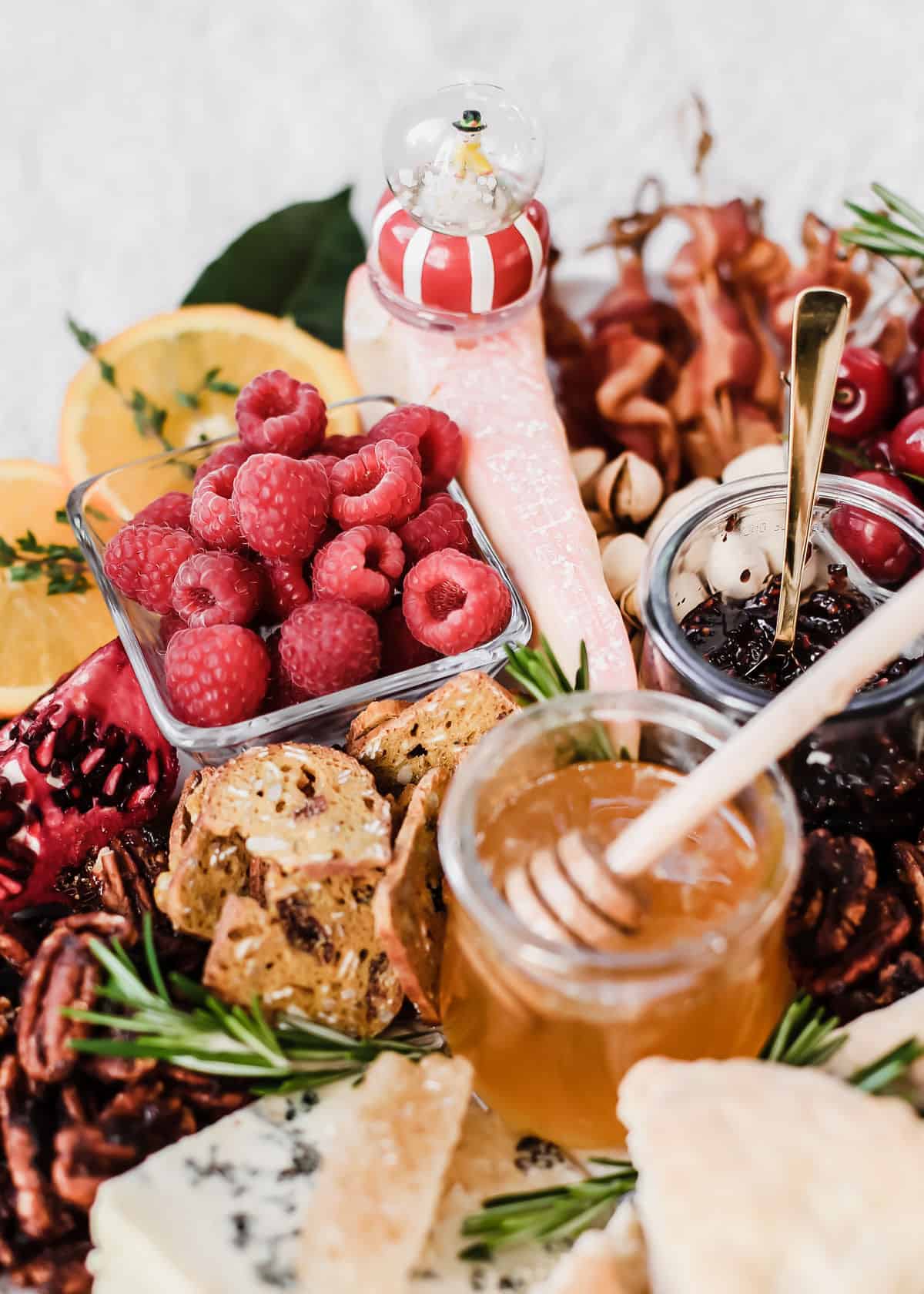 How Do You Set Up a Breakfast Charcuterie?
Start with the right size board. You don't want it too large or too small because you want to be able to fill it without it looking sparse, and without things falling off.
Place jars or bowls first so you can work around them.
Add the bulkier items next. That would typically be the breads, meats, and cheeses.
For similar items, form a triangle or place on opposite sides. For instance, place 2 cheeses across from one another.
Try to alternate colors so you don't have the same color food side by side.
Use parchment paper or wax paper as a layer between your board and your food. That keeps the wood protected from drippings, and makes for easy clean up.
Don't forget to add forks, knives and spoons for serving.
Holiday Brunch Board
*Post contains affiliate links
A breakfast charcuterie board is especially fun for holidays. One of my favorite brands, Sartori, has peppermint BellaVitano and it's so good for Christmas. The peppermint flavor is very subtle and confined to the outside rubbed area. It's delicious for this special occasion!
As for the fruit, try to focus on red fruit to go with the theme.
Add decorative cheese pins, spoons & forks, knives or picks to help make it festive.
If you like this post, PIN, Share, or sign up for our Newsletter at the top of the page. And don't forget to follow CAH on Instagram or Facebook. Cheers!
Breakfast Charcuterie Board
Beautiful and delicious breakfast board is perfect for Christmas, New Years brunch parties, or year round entertaining.
Ingredients
Meats
1 (12-ounce) package of bacon, plus 6 or 8-inch wooden skewers
Cheeses
8 ounces Peppermint Bellavitano cheese
8 ounces Cognac Bellavitano cheese
6 ounces Blue Cheese
Accompaniments
1 ½ cups Pistachios
2 cups Sweet & Spicy Pecans
Fruit
1 pint Fresh cherries
1 pint Fresh Raspberries
3 Pomegranates
3 Oranges, sliced
Breads
12 Scones
1 loaf Fig-Almond Bread, sliced
2 cups Fruit & Nut Artisan Crackers
Spreads
1 cup Fig Jam
¾ cup Honey
1 cup Raspberry Jam
Instructions
To make the bacon, preheat the oven to 350 degrees, and line a baking sheet with foil; lay a baking rack on top.
Thread each slice of bacon on to a wooden skewer and lay it on the prepared baking rack.
Cook for about 30 minutes, checking after 20 minutes. Turn bacon over and continue.
While bacon cooks, place cheese wedges or blocks onto board. Add groupings of breads and nuts.
Put fruit and spreads into bowls or jars as needed. Garnish with fresh herbs or fruit slice.
Notes
To make bacon extra crispy, dredge each slice through flour before adding it to the skewers, or cooking flat on the rack.