Easy Eggnog Bread Pudding
This eggnog bread pudding recipe is a must for your Christmas morning brunch menu. It's an easy holiday recipe made with commercial eggnog, crusty bread, and seasonal spices. No sauce needed, just top it with powdered sugar and whipped cream if desired.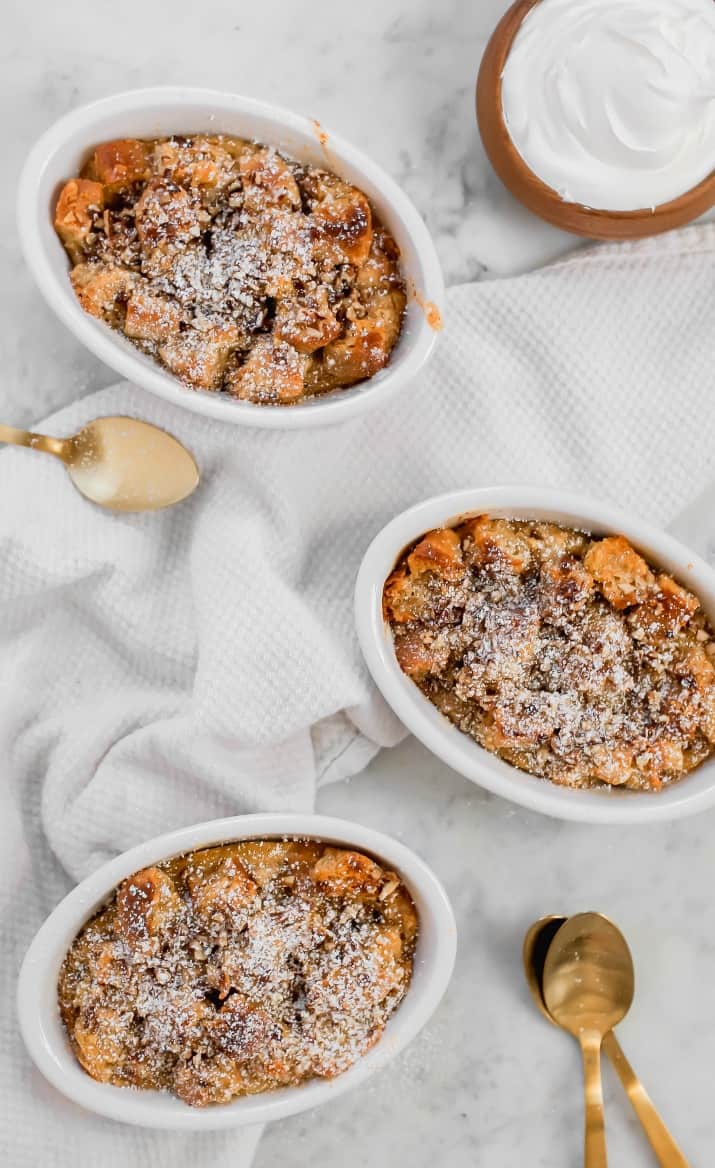 Christmas Brunch Recipe
Food is SUCH a big part of entertaining, especially at the holidays. And for us, Christmas brunch is a big deal.
I developed this bread pudding made with eggnog and I'm so proud of how it turned out. It's the perfect breakfast recipe for Christmas morning.
Here I used frozen sweet potato rolls and added holiday flavors like cinnamon and nutmeg. The combination is divine! You can use any crusty bread to make them.
This recipe got rave reviews and everyone kept comparing it to monkey bread. Give this a try before the eggnog is off the shelves!
PARTY TIP: Make bread pudding in small oval baking dishes so everyone gets their own individual serving size. 
Christmas Breakfast
Serve eggnog bread pudding along with these accompaniments.
As I mentioned above, this is a great way to ring in the new year. Host a midnight or late night party buffet for New Years Eve, or New Years day winter brunch party with family and friends.
Keep it open-house style, or small and intimate and be sure to have some celebratory champagne to make a special toast.
How to make Eggnog Bread Pudding
You can use a variety of bread types for this bread pudding recipe. The main thing is that it should be crusty on the outside and firm on the inside.
The recipe makes 6 small baking dishes or 8-10 small ramekins.
Sweet potato rolls, French baguettes, brioche, and challah all work particularly well.
Start with day old or stale bread. For a quick fix you can cut the bread into cubes and lightly toast it in the oven for 5-7 minutes, or just until dry but not browned.
Use commercial eggnog for a quick and easy recipe.
You'll need kitchen staples like butter, sugar, eggs, and vanilla.
Pantry spices included are cinnamon, nutmeg, and salt.
Grab a package of chopped pecans in the baker section of the grocery store. You only need 1/2 cup. I like the smallest chopped size for this dish.
Drizzle the bread cubes with melted butter and toss to coat.
Combine eggnog, eggs, sugar, vanilla, & seasonings and pour over bread and make sure all pieces are coated.
Let sit for about 30 minutes so bread can soak up the flavors.
Add the pecans to the bread mixture and bake in individual ramekins or 2-quart baking dish.
Serve warm and there's no syrup or glaze needed.
Overnight Make-Ahead Tips
Prepare this dish the night before. That way all you have to do is put it in the oven in the morning and let it cook.
Just cover and refrigerator overnight. In the morning put the baking dishes in a cold oven and turn it on. Cook as instructed.
As an alternative you can keep the mixture in a large mixing bowl, cover, and refrigerate. Then in the morning pour it into baking dishes and put into preheated oven as directed.
HOSTESS TIP: You can also bake this in one large 2-quart baking dish for about 40 minutes.
More Recipes with Eggnog
I love using commercial eggnog for food and drinks this time of year. These are some of my favorites.
If you like this post, PIN, Share, or sign up for our Newsletter at the top of the page. And don't forget to follow CAH on Instagram or Facebook. Cheers!
Easy Eggnog Bread Pudding Recipe
Additional Time:
30 minutes
Easy eggnog bread pudding is perfect for Christmas breakfast. It starts with store bought eggnog and bakes to perfection. No sauce needed.
Ingredients
8 cups day-old bread cut into cubes (sweet potato rolls, brioche, Italian or French bread, challah work well)
1 stick of butter, melted
2 cups commercial eggnog
1/2 cup granulated sugar
3 eggs, lightly beaten
1 teaspoon vanilla
1/2 teaspoon cinnamon
1/2 teaspoon salt
1/4 teaspoon nutmeg
1/2 cup chopped pecans
Instructions
Cut rolls into 1 inch cubes and place in a large mixing bowl. Drizzle with melted butter and toss to coat.
Combine eggnog, eggs, sugar, vanilla, & seasonings with a whisk. Pour over bread and mix until all bread is coated. Let sit for about 30 minutes so bread can soak up flavors.
Add chopped pecans to bread mixture and fill individual ramekins.
Preheat oven to 350 degrees.
Place ramekins on a baking sheet and bake for 20 - 30 minutes.
Check after 15 to 20 minutes and cover with foil when browning begins to occur.
Serve warm.
Notes
Alternatively, you can bake in an 8" x 11" baking dish for about 40 minutes.