The ultimate bagel bar brunch is an easy way to host a weekend party, holiday gatherings, or baby & bridal showers. Ideas include toppings for breakfast and lunch, both sweet and savory so everyone is satisfied. Feed a crowd with a make-your-own breakfast buffet where guests can help themselves to an endless array of combinations.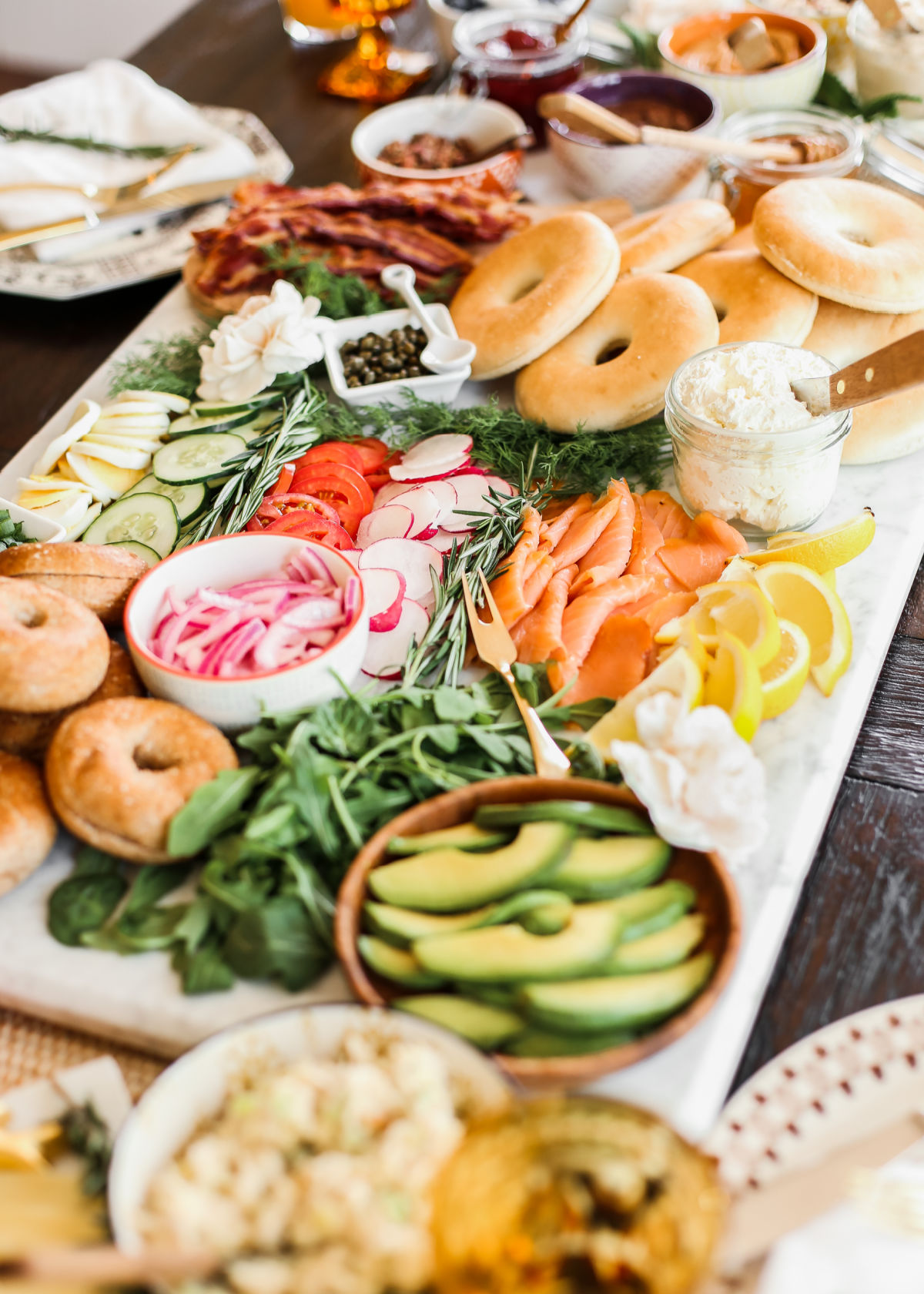 Set up a fuss-free brunch bar and let guests make their own masterpiece with an array of cream cheese flavors, fruit, proteins, and spreads. It's a fun interactive way to entertain and guests love making their own flavor combos.
Since brunch typically falls between 10am to 2pm, it's important to offer toppings for both breakfast and lunch, including bagel sandwich options. You'll also want sweet options for dessert!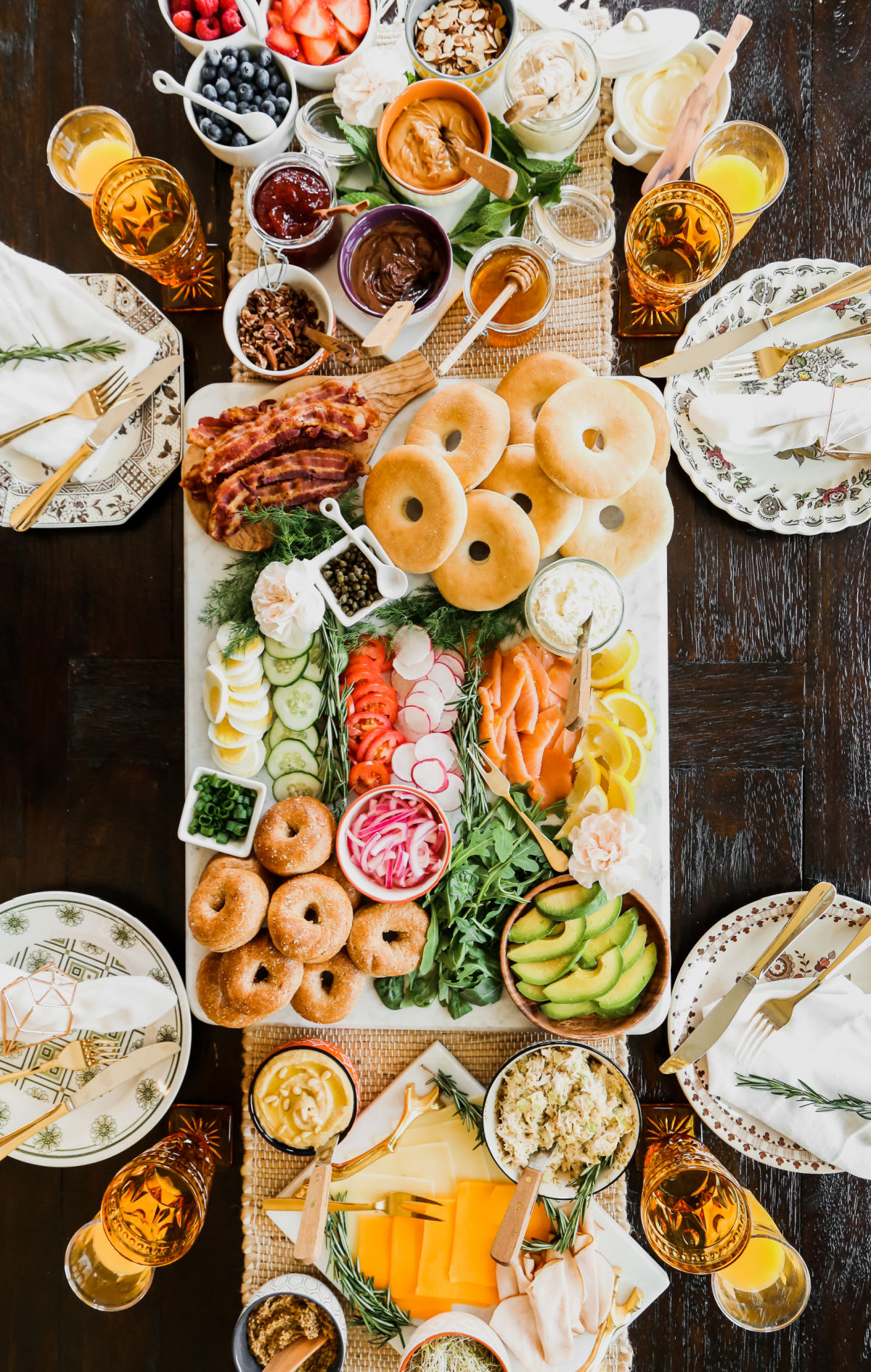 Occasions for a Bagel Bar
This epic bagel bar is perfect for so many occasions whether formal or casual. Invite friends and family for a Sunday brunch, a weekend brunch "just because," when you're hosting a special celebration or holiday entertaining.
Father's day breakfast
Christmas morning and holiday gatherings
Wedding brunch for traveling guests
What You Need
All the ingredients and options will allow your guests to mix and match for endless combinations.
Bagels
The best choice for the ultimate bagel bar is to use mini bagels and bagel thins. That way you don't get too full and can have more variety.
Also, I like to make the bar all about the toppings. If that's the case for you, stick to plain or whole wheat bagels so you have a clean canvas to build on.
Plain or wheat bagels are a must, but various flavors can include savory, and sweet options.
Savory options are sesame, onion, poppy seed and everything bagels.
Sweet bagels include cinnamon-raisin, blueberry, or cinnamon-sugar flavors.
PRO TIP: Make sure to have mini bagels and bagel thins so guests can try different flavor combos without getting too full.
Spreads & Schmears
In many cases the spreads will be the base layer for building your bagel. That includes cream cheese and some dairy-free options.
Cream cheese. Plain cream cheese is a must. I like to use the whipped variety that you find in the tubs because they're easier to spread. You can also add flavors if you like such as onion & chive, garden vegetable, brown sugar cinnamon or honey walnut.
Peanut butter or almond butter
Honey
Nutella
Jam or jelly – strawberry is a favorite
Butter or flavored butter
Grainy mustard for making bagel sandwiches
Veggies
Sliced tomatoes
Cucumbers sliced thin
Thinly sliced radishes
Microgreens, sprouts, arugula or spinach
Avocado slices
Pickled red onions
Capers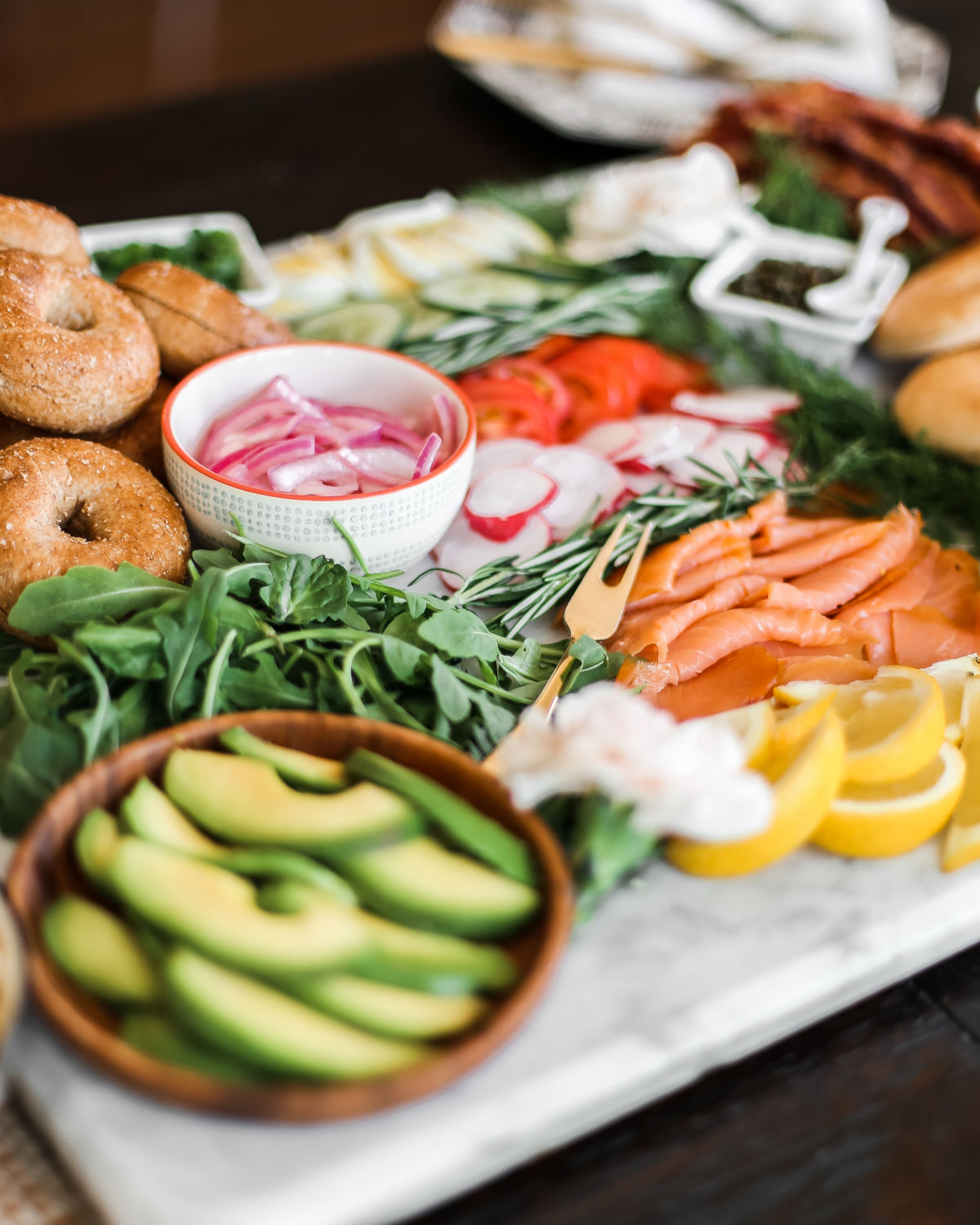 Meats & Protein
Smoked salmon or lox
Cooked bacon
Chicken salad, tuna salad, or egg salad
Thinly sliced deli meat (roast chicken, turkey, roast beef)
Hard boiled eggs, sliced
Sliced cheese
Fruits
Berries and thinly sliced apples are great for making a dessert bagel.
Strawberries, blueberries, blackberries and raspberries are the standard choice, but roasted grapes can add an extra level of decadence.
You can also have bananas but they don't hold up very long once they're sliced. It's best to set them in a bundle and let guest peel and cut them.
Finishes & Garnishes
Nuts such as chopped pecans or walnuts, and sliced almonds add crunch and flavor to sweet or savory bagels. Make sure to lightly toast them to bring out their full flavor.
Lemon wedges or slices are great to squeeze onto smoked salmon and cream cheese bagels.
Everything Bagel seasoning can provide an all-in-one flavor punch! I've tried a few different ones and I prefer the Trader Joe's brand.
Add a small bottle of balsamic glaze. It's great drizzled over fresh fruit and cream cheese.
Kosher salt or finishing salt and freshly ground black pepper can enhance many of your guests masterpieces.
Fresh herbs like scallions, fresh dill or chives add freshness and a finishing touch.
Make Ahead
Setting up a bagel buffet is easy and you can do it in under an hour if you start prepping the night before. It mostly requires opening containers and filling bowls.
Cut and slice vegetables the day before. Store covered in the refrigerator.
Cook hard-boiled eggs up to 1 week in advance or buy them already cooked and peeled from the grocery store.
Fill bowls, cover and store in the refrigerator if necessary.
Cook bacon in the oven and refrigerate.
Toast the nuts and keep in an air tight container up to 3 days ahead.
Mix or purchase chicken salad or tuna salad. Cover everything and refrigerate over night.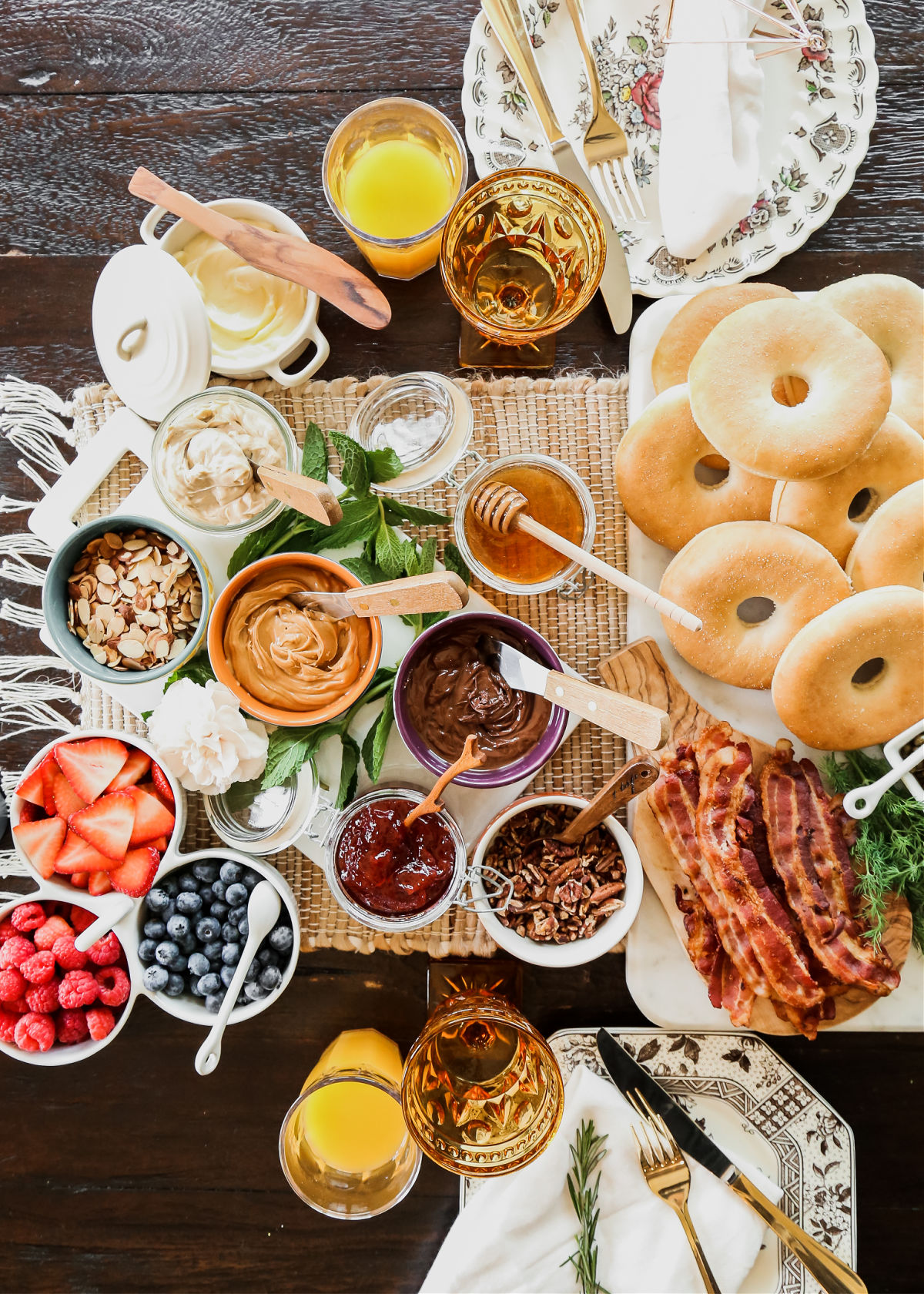 How to Set Up a Bagel Buffet
You can set up the buffet on a side table or counter top, but I loved the idea of making this a big family-style feast. The food is interesting and colorful and creates a centerpiece to a long dining table.
You can divide the ingredients in a couple of ways. Either sweet and savory stations, OR breakfast and lunch stations.
The beauty of a self-serve bar is that it can be scaled up or down to serve a party of 4 or 50. Here are the supplies you'll need:
Toaster so guests can warm up their bagel. Keep it close by or move the table against a wall where you can plug it in.
Stands or baskets so you can display the bagels. I love using small baskets so they have the look of a bakery (think Panera), or use a tiered cake stand.
Ramekins or bowls for the spreads, fruit, and loose toppings.
Knives for the butters and schmears. Wooden honey dipper for honey. Small spoons for capers.
Tongs to serve the meats and veggies.
Cutting board if you want to set up a charcuterie style lox station.
Trays if you want to corral similar items together. Set all the savory toppings together and all the sweet toppings together.
Signage if you want to add some extra decoration. You can include food labels and tags, Use a changeable letter board, chalkboard, picture frame or printables.
Plates and napkins for guests.
How many bagels for a party?
For full size bagels I would count on 1 1/2 bagels per person. For minis or bagel thins, I would count on 2 to 2 1/2 per person.
PARTY TIP: Use these topping ideas to create an all savory, or all sweet bagel bar for a theme party.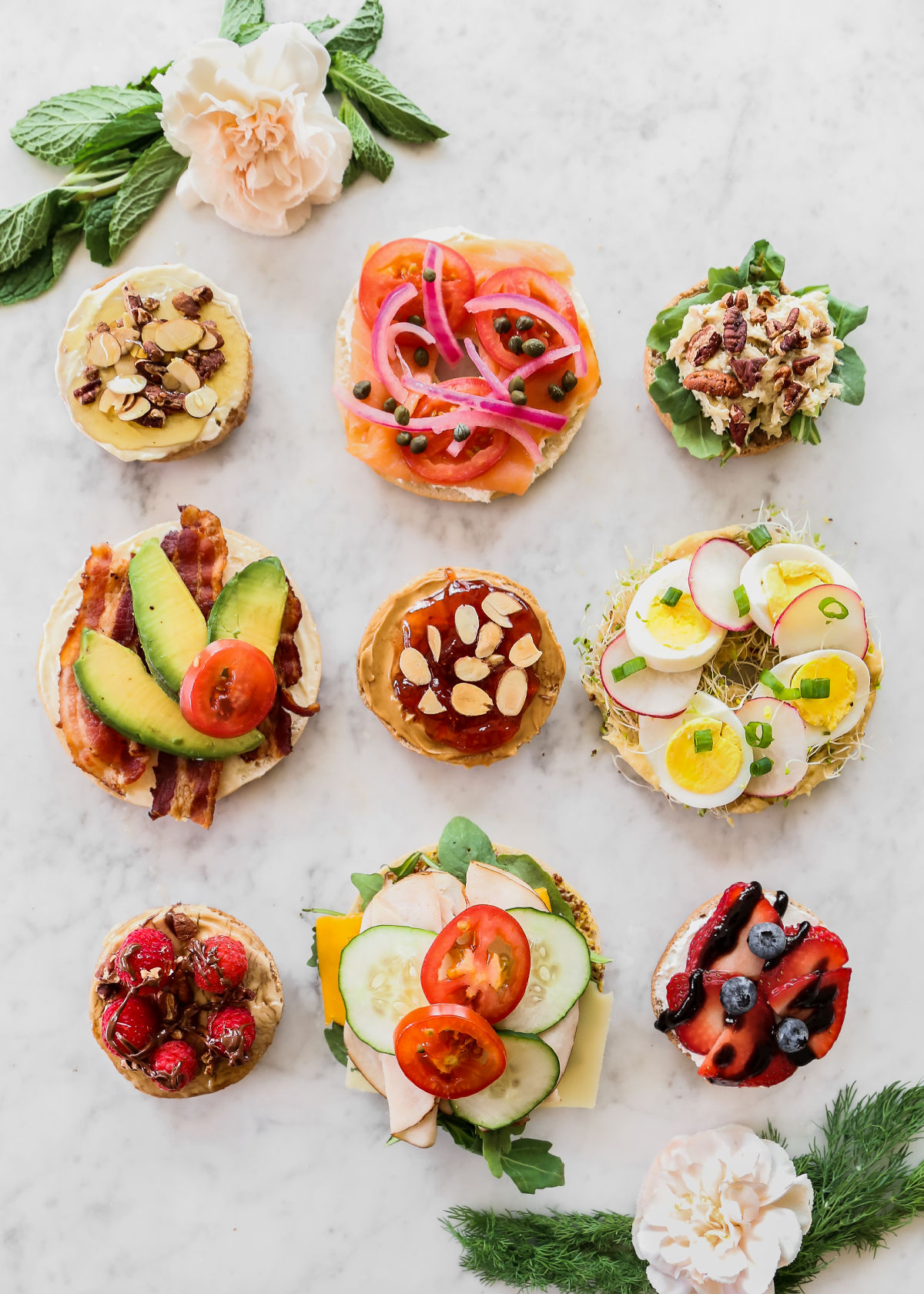 What to Put on Bagels
Remember, this is the ULTIMATE bagel bar. Pick and choose toppings to suit your taste. The possibilities are endless! Here are a few of my favorite topping ideas and combos.
Sweet Breakfast Ideas
Peanut butter + apple slices + chopped nuts
Peanut butter + raspberries + Nutella drizzle + chopped pecans
Brown sugar cinnamon cream cheese + honey drizzle + chopped pecans & sliced almonds
Cream cheese + sliced strawberries & blueberries + drizzle of balsamic glaze
Peanut butter + jelly + sliced almonds
Peanut butter + sliced banana + honey + chopped nuts
Bagel Sandwich Ideas
Cream cheese + salmon + tomato + pickled red onions + capers
Arugula + chicken salad + chopped pecans
Grainy mustard + deli turkey + cheddar cheese + cucumber + tomato
Hummus + sprouts + hard boiled egg slices + radishes
Butter or cream cheese + bacon + avocado + tomato
Hummus + sprouts + deli turkey + avocado + tomato
Bagel Board
Prepare a simple bagel board with lox or smoked salmon, cream cheese and a few toppings. You can prep that in under 30 minutes and still have a variety of options for guests.
PARTY TIP: Create a bagel charcuterie board for a paired down version of a bagel brunch.
Best Party Tips
Provide a toaster on a table or counter nearby so guests can toast their bagel if they want.
Make sure the bagels are pre-sliced so they're ready to grab and go.
Do all the prep work the night before.
Pre-fill bowls or ramekins with fruit toppings and spreads so you don't have to rush the next morning.
Use coordinating dishes, ramekins or interesting jars to hold spreads, schmears, and toppings.
Serve butter and cream cheese at room temperature so it's easy to spread. Add flavored butter to be extra fancy.
What to Serve with Bagels
Add some Greek yogurt to the buffet. Scrambled eggs are an option but then you have to keep them warm in a slow cooker or chafing dish. Include pastries, muffins, danishes, donuts or donut holes.
Beverages
Offer up some festive drinks to wash everything down.
Coffee. Set up a coffee bar and you're all set for the ultimate brunch theme party.
Champagne. Set up a mimosa bar or simply place bottles of sparkling wine or Prosecco on ice, along with a tray stocked with add-ins like St. Germain, Chambord, Blackberry liqueur, and flavored bitters.
Punch. Serve sunshine punch, easy peach punch, or 3-ingredient champagne party punch.
Bloody Mary. Create a bloody mary bar or just serve some sriracha bloody marys.
Juice. Serve drinks in pitchers or carafes. Choose from orange juice, grapefruit juice or cranberry juice. BONUS: they can also be added to the bubbly!
Milk. Regular or skim, soy milk, or almond milk.
More Breakfast Bar Ideas
If you love the idea of self-serve food buffets when you're entertaining then you're going to want to check out these other make-your-own bars.
I love brunch entertaining and this ultimate bagel bar brunch is perfect for serving a large or small crowd. It's got something for everyone whether they want breakfast, a luncheon, or something sweet.
If you like this post, PIN, Share, or sign up for our Newsletter at the top of the page. And don't forget to follow CAH on Instagram or Facebook. Cheers!
Ultimate Bagel Bar
The ULTIMATE bagel bar is perfect for brunch parties, bridal or baby showers, or holiday gatherings. Impress your guests with a fun buffet of bagels and every sweet and savory topping they could want for breakfast or lunch. It's an easy way to host a crowd!
Ingredients
Bagels
Plain, Wheat, Savory or Sweet, sliced
Mini Bagels
Bagel Thins
Schmears & Spreads
Whipped Plain Cream Cheese
Chive & Onion flavor
Garden Vegetable flavor
Honey Walnut flavor
Brown Sugar Cinnamon flavor
Hummus
Peanut butter or Almond butter
Honey
Nutella
Strawberry Jam or Jelly
Butter or Flavored Butter
Grainy Mustard
Proteins
Bacon
Smoked Salmon or Lox
Chicken salad, Tuna salad, or Egg salad
Hard Boiled Eggs
Deli Sliced Turkey
Toppings
Sliced Cheese, Cheddar or Swiss
Radishes
Tomatoes
Cucumber
Pickled Red Onion
Avocado
Capers
Arugula, Sprouts, or Baby Spinach
Fresh Berries: Strawberries, Blueberries, Raspberries, Blackberries
Apple, thinly sliced
Finishes
Chopped Pecans or Walnuts
Sliced Almonds
Balsamic Glaze
Fresh Herbs: Dill, Chives
Instructions
Place bacon strips on a wire rack on top of a foil lined baking sheet. Cook in the oven at 400°F for 20 -30 minutes or until the crispness is to your liking.
Cook eggs by adding them to a sauce pan and covering them with water. Heat them over medium-high heat. When the water begins a low boil, remove pot from heat and cover with a tight fitting lid. Let sit for 12 minutes, then drain and let cool to the touch before peeling.
Add chicken salad or other salad to bowls for serving.
Display the bagels on either bagel stands, in a basket, on a tiered cake stand or on a cutting board.
Place the meats and cheese on a cutting board. Place tongs on the side for serving.
Slice the veggies and place them on a cutting board or in bowls along with tongs or small fork. Put capers in a ramekin along with small spoon.
Add the fruits to small bowls and place on the bar with spoons for serving.
Transfer the various cream cheeses and spreads into bowls or ramekins along with knives for spreading.
Place a toaster on the bar or nearby where it can be plugged in and easy to reach.
Notes
Actual number of servings is approximate. Increase or decrease by altering the portion sizes.
Plan on 1 1/2 full size bagels per person, or 2 1/2 mini bagels or bagel thins.