Host the Ultimate Bagel Bar Brunch with these ideas, tips, and images to inspire you. I've even provided a printable checklist for you to print out and shop with.
I love brunch entertaining and this ultimate bagel bar brunch is perfect for serving a small crowd. It's got something for everyone whether they want breakfast, a luncheon, or something sweet.
We actually set this up for Easter brunch back in the Spring, and it was delicious! My only regret is that my stomach got full before I had a chance to try all the combos I wanted. Thank goodness for leftovers! I'm listing all the details below so get ready to host your next gathering and make it a bagel bar brunch!
If you're a sucker for brunch with lots of options like I am, I think you'll also love my donut bar with toppings, and this hot cereal breakfast bar.
The Ultimate Bagel Bar Brunch:
As you know, brunch is usually served late in the morning and can carry through to early afternoon. This means that serving food that appeals to the breakfast crowd AND the lunch crowd is important. We've been to many brunches in our day and the best ones always cater to both palates. That makes this bagel bar a great choice for brunch.
TIP: Use mini bagels and/or bagel thins for your bagel bar brunch. They're less filling than the classic sized ones.
My tips for making the ultimate bagel bar brunch are to use the small 'mini' bagels, and the bagel thins. That way you don't get too full and can have more variety. Also, this bar is all about the toppings so stick to plain or whole wheat bagels so you have a clean canvas to build on.
You can set up the buffet on a side table or counter top, but I loved the idea of making this one big family style feast. The food is so interesting and colorful it makes a centerpiece to the dining table all on it's own. Simple place settings are prepared with vintage dishes, linen napkins, and accents like herbs and mini geometric napkin holders (they're actually Christmas ornaments).
With the checklist I've provided, you and your guests can make classic "bagels & lox," bagels & "schmears," bagel sandwiches, and even dessert-style bagels. The combinations are endless!
To wash it all down, set up a mini bubbly bar with sparkling wine, Prosecco, or champagne, along with a tray full of add-ins like St. Germain, Chambord, Blackberry liqueur, and flavored bitters. Of course a coffee bar is always a good idea as well.
You can download and print your very own bagel bar checklist here.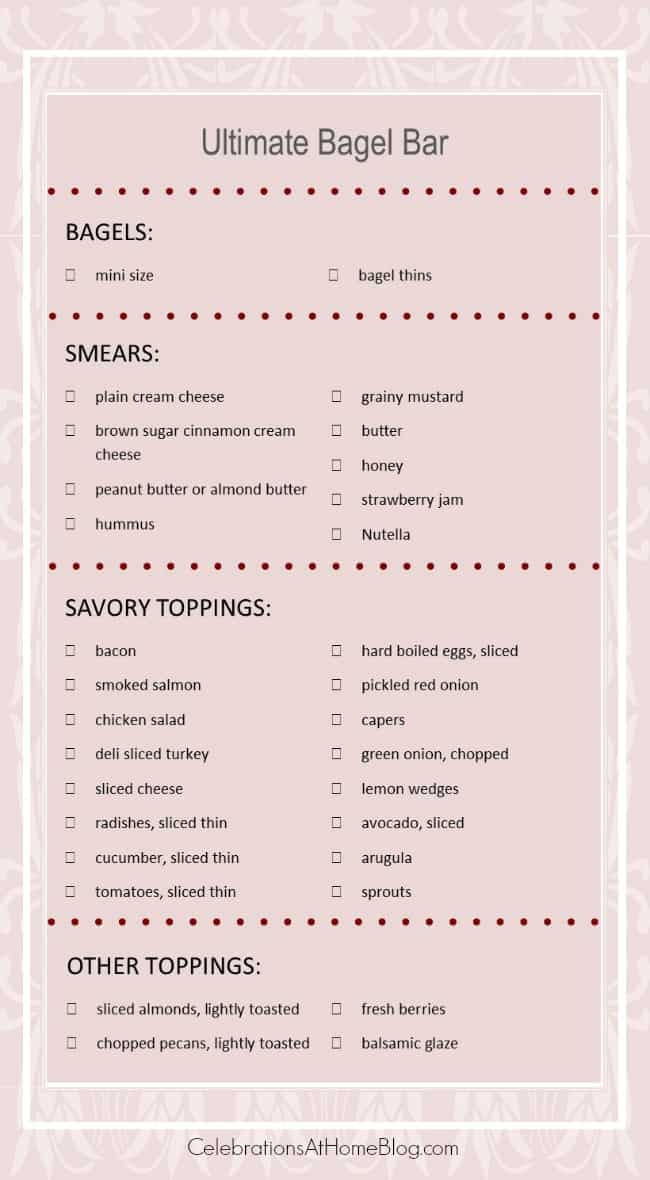 Let me know what you think in the comments below!
---