This sunshine punch is one of the best recipes for parties that I've made. It's got citrus flavors and it serves a crowd! This yellow punch is ideal for baby showers, bridal showers, or ladies luncheons and brunch.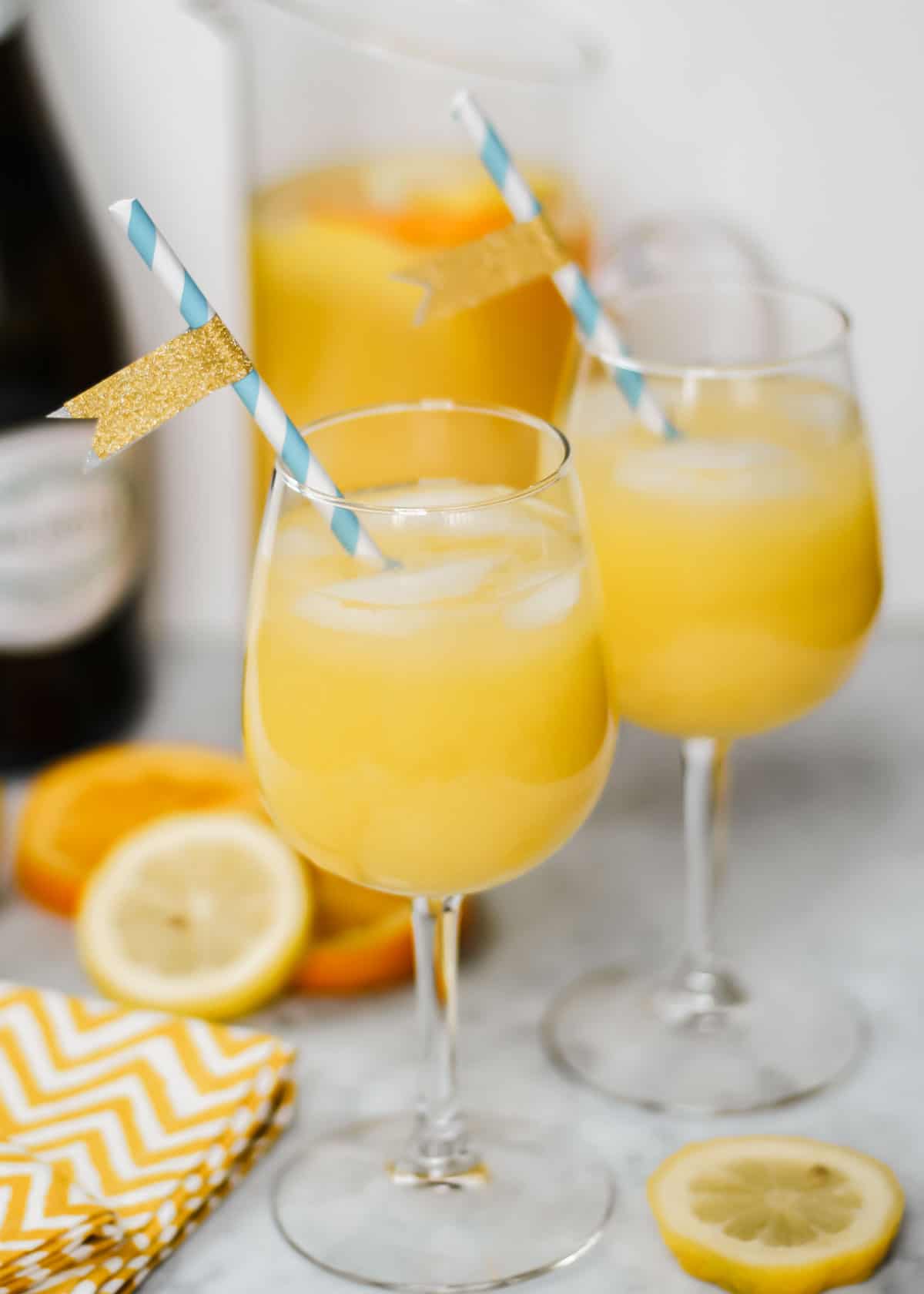 Punch For a Crowd
I served this delicious sparkling punch for a sip and see baby shower and it tasted even better than expected! It's a combination of lightly sweetened juices and Sprite and makes for a refreshing mocktail or cocktail to serve all year round.
This worked really well for the baby shower because guests who don't want alcohol can drink it as is, while those who like a more festive drink can add prosecco or sparkling wine to finish the glass.
When to Serve It
This sunshine punch is a pretty golden yellow color so it works well as a signature drink for any party with that color palette. And it makes a large batch so it feeds a crowd.
I served it from a large dispenser which is ideal, but you can also serve it from pretty pitchers. Just make sure you divide the soda evenly between pitchers.
How to Make Sunshine Punch
You'll need ingredients from the frozen aisle, plus juice and Sprite from the drink section of the grocery store.
Frozen lemonade concentrate
Frozen orange juice concentrate
Unsweetened pineapple juice – use a can or bottle with a label that says "unsweetened," such as Dole brand.
Cold water
2-liter bottle of Sprite
2 bottles of Prosecco or dry sparkling wine
Fresh sliced lemons and oranges for garnish
Thaw the frozen juice concentrate in the refrigerator overnight, and chill the other ingredients before using them.
Mix everything together in a large pitcher, except for the Sprite and champagne, and keep chilled until it's party time.
Then transfer mixture into a large dispenser and add the soft drink and sparkling wine just before serving.
EXPERT TIP: Place the juice and water mixture in the freezer for about 2 hours to get it slightly slushy. Then add the Sprite and prosecco before serving. This step will help keep the punch cold as it sits.
How to Make It Alcohol Free
You can make sunshine punch with all the ingredients except the Prosecco. Put bottles of the bubbly next to the punch and let guests top off their glass if they want the sparkling wine.
The self-serve aspect makes it much easier for non-drinkers or mom-to-be to sip without alcohol.
If you like this post, PIN, Share, or sign up for our Newsletter at the top of the page. And don't forget to follow CAH on Instagram or Facebook. Cheers!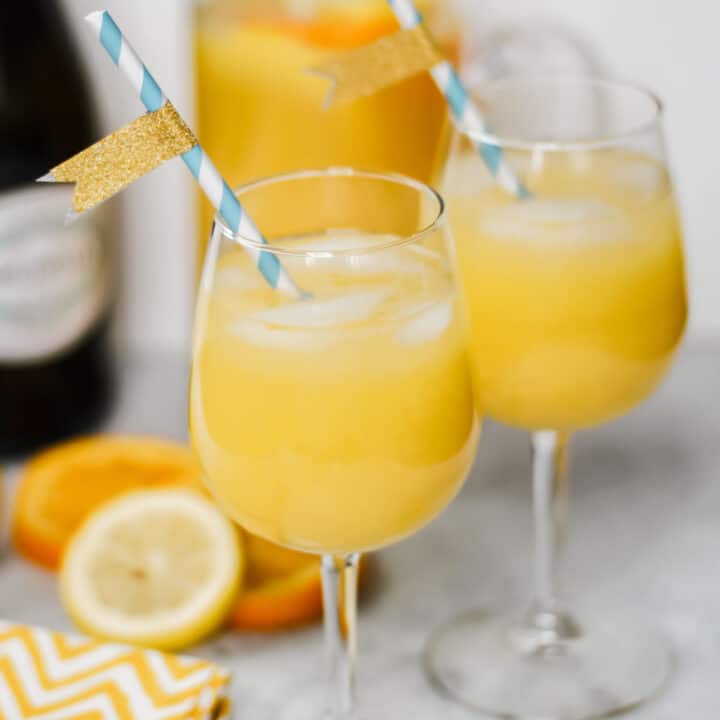 Sunshine Punch recipe
Additional Time:
2 minutes
Serve a crowd with this citrusy sunshine punch with prosecco. The yellow punch is ideal for a baby shower or bridal shower.
Ingredients
12 ounces frozen lemonade concentrate, thawed but chilled
12 ounces frozen orange juice concentrate, thawed but chilled
12 ounces unsweetened pineapple juice
7 cups cold water
2 liters Sprite, chilled
2 bottles Champagne or Prosecco
Instructions
In a large pitcher, combine lemonade, orange juice, pineapple juice, and water. Stir well and keep chilled.
OPTIONAL: Place in the freezer for about 2 hours, but not more, to get it slightly slushy.
Transfer mixture into a large dispenser, punch bowl or serving pitchers.
Add Sprite and sparkling wine to mixture just before serving.