Sparkling Fruit Punch Recipe with 3 Ingredients
Make a pitcher of our sparkling fruit punch recipe for parties and entertaining. Combine just 3 ingredients to make a non alcoholic punch or a cocktail for baby showers, bridal showers, or family holidays. Serve this golden yellow pitcher party drink as a signature party beverage for a special celebration.
Easy Sparkling Fruit Punch
This yellow party punch is a bright signature drink that serves a crowd. It's got two kinds of juice and fizzy soda or champagne. You choose whether you want it with or without alcohol.
When it comes to entertaining at home, a good party punch recipe always comes in handy. And this one is a great choice for spring or summer entertaining, baby or bridal showers, and graduation parties.
The yellow color is bright and festive and makes it a great signature drink for a yellow themed party. The flavors are so refreshing, and it's easy to adjust the ingredients to serve more or less people.
Pitcher Drink for a Party
Here are some occasions to serve this sparkling fruit punch recipe.
Best Party Punch
What makes this fruit punch a great party pitcher drink? For one thing it's refreshing and serves all ages, depending how you make it.
This sparkling punch has only three ingredients so it's super easy to make.
Make it ahead. Mix the juices together ahead of time and keep them chilled. Add the chilled bubbly ingredient just before serving.
You can serve this as a non alcoholic punch if you're serving underage guests or non drinkers.
If you want an alcohol version for a celebration, then you can make it with prosecco or sparkling wine.
Better yet, you can make up two pitchers with one being a mocktail and the other as a cocktail. That way everyone gets their choice.
PARTY TIP: Freeze extra juice in ice trays to keep the drinks cold without diluting the flavors as they melt.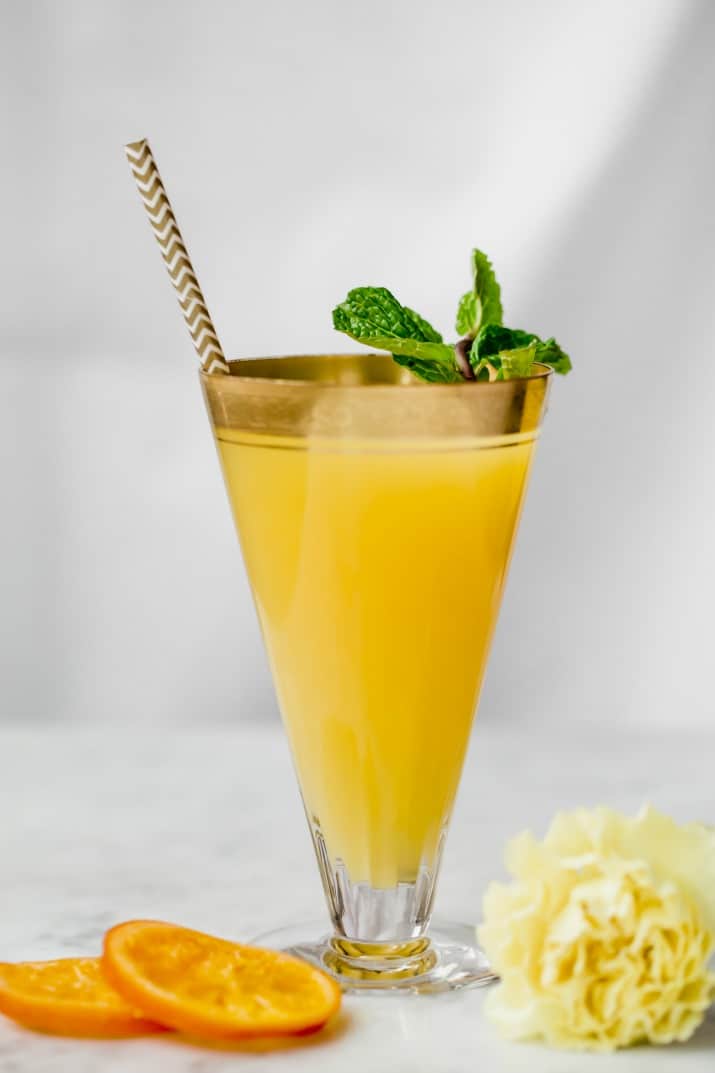 More Yellow Punch Recipes
Here are 3 more yellow party punch recipes to try!
Each of these punch recipes has a different combination of flavors. However the graduation punch is specifically made for the under age crowd.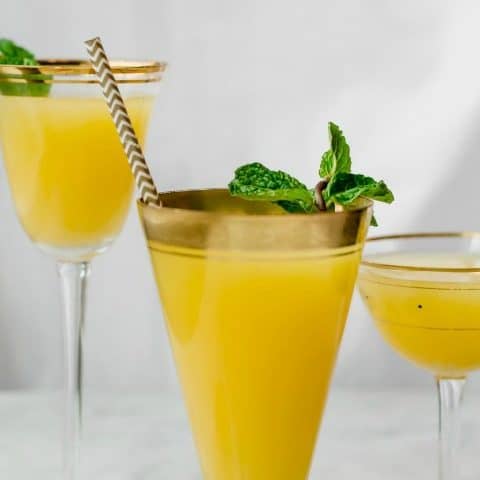 Sparkling Fruit Punch recipe
This yellow sparkling fruit punch can be made as a mocktail or cocktail for family friendly celebrations and holidays. It has only 3 ingredients making preparation quick and easy.
Ingredients
2 cups White Grape Juice, chilled
2 cups Orange Juice, chilled
4 cups Ginger Ale or Champagne, chilled
Instructions
Mix the juices together in a pitcher and add the ginger ale or champagne just before serving.