Graduation Party Theme (Keys To Success)
Design a Graduation Party Keys to Success Theme and celebrate in style. This graduation party is perfect for the college graduate or high school grad who is looking ahead to the future. Done in a shabby chic style, this graduation party table setting has lots of diy details that are totally do-able. Incorporate even more or our graduation party ideas for an awesome celebration.
This table setting has a foundation of fabric, paper place mats, glass jars for beverages, and small floral arrangements. The theme is in the details where I used vintage style keys and keyholes as accents. You don't want to miss this entire party which includes tablescape, and graduation dessert table, and a fantastic Keys to Success welcome table.
Host a graduation party Keys to Success theme for your graduate who's entering adulthood.
This spring I set out to create graduation party ideas with a "Keys to Success" theme. It needed to be a pretty, but relaxed party for a college graduate who's ready to enter the working world and needs to know the keys to success. I was inspired by the shabby chic or Anthropologie style and I love how all the elements came together.
This party design includes 3 separate areas including graduation tablescape, graduation dessert table, and a Keys to Success welcome table that really makes an impact! I'll start with the seated table setting. This is always a great place to get my creative juices flowing. To see the Keys to Success dessert table and the Keys to Success graduation party decor.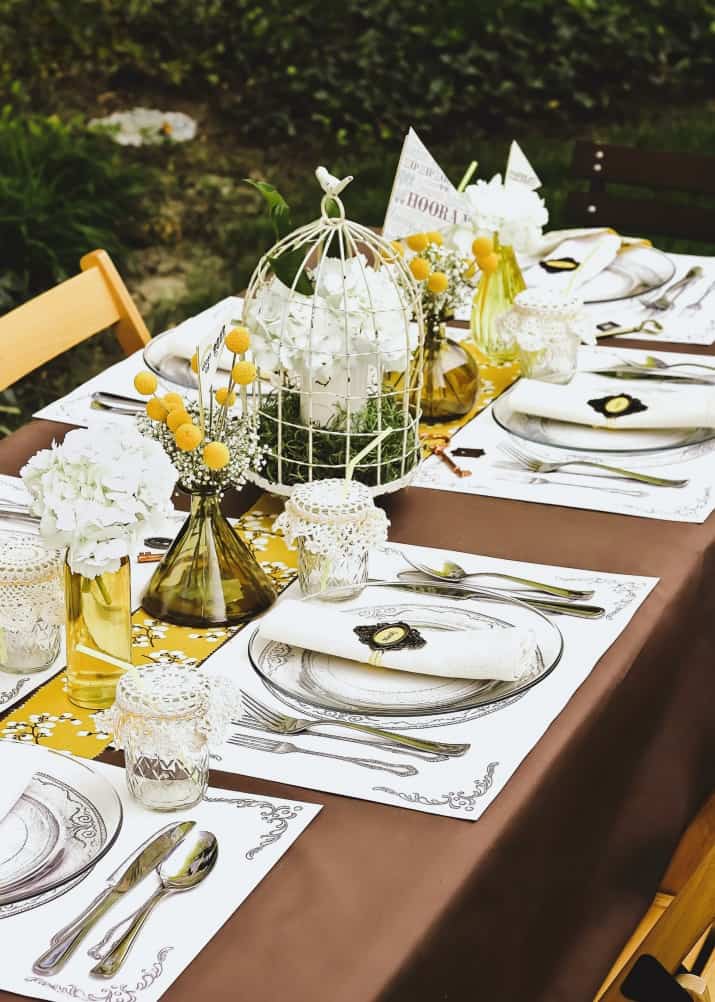 HOSTESS TIP: Begin collecting items you know that you'll need, about a year ahead of time. That way your budget doesn't get hit all at once. Stock up on plates, glasses/jars, centerpiece vases, napkins, etc.
How to decorate a Graduation Party Keys to Success Theme
I

started with a golden hued fabric

with a cotton plant graphic which is both modern and earthy at the same time. I

used

less than 2 yards to create table runners for each table

, which ties all the party spaces together visually.

Next, I had already spotted these fantastic

decorative paper place mats

and knew they would add the perfect touch to this table. They come in a pad of 50 so they're a smart and savvy item to use for large parties. Plus they make for easy clean up! The logical choice was to use my clear glass plates so the design would show through. Glass plates are only $1 at the Dollar Tree so you can stock up for all your entertaining needs. Otherwise you can use clear disposable plates.

One of my favorite details of this party design are the DIY

napkin rings that double as place cards

. I found metal frames/book plates at the craft store, added jump rings to each side, and looped ribbon through to tie around the napkin. Just print or write the guest's names on color coordinating card stock and attach it with double-sided tape. They can even be

used as take-home favors!

Another budget-friendly choice was to use canning jars for drinks. To dress them up I

topped them with a crochet doily and secured it with bakers twine

. The doilies keep bugs out of drinks, and the open weave holds a straw securely in place. As an alternative you could use small paper doilies and punch a small hole for the straw to go through.
How to Decorate for a Keys to Success graduation tablescape
To bring our "Keys to Success" theme to the table

I placed keys and keyholes around the table

. I've been collecting the keys for $1 each for about 2 years, and have amassed quite the collection. I knew I would find a great use for them "one day!" The keyholes were part of the metal scrap booking/crafting section at Michael's.

For the centerpiece I used

golden billy balls, white babies breath, and white hydrangeas

to match our party's color palette. These were divided among a collection of yellow vases lined down the center of the table.
HOSTESS TIP:

Did you know you can buy large hydrangea heads and divide them to get several arrangements.

Great money saver!
For the center of the table

a small wire cloche was used

to make the flowers even more of a focal point. Green mossy filler around the base adds more color and texture.

Pennants bring a collegiate element to the celebration

. These were printed out, attached to wooden skewers, and inserted into the flower arrangements. The large pennant was a free download that no longer exists, unfortunately.
I hope you're inspired with ideas for hosting your own graduation celebration.