Host an easy winter dinner party with mix and match neutral tablescape and menu for 6. Get inspired by this table set with an outdoor snowy backdrop. These dinner party menu ideas and recipes are fun if you're snowed in with your neighbors!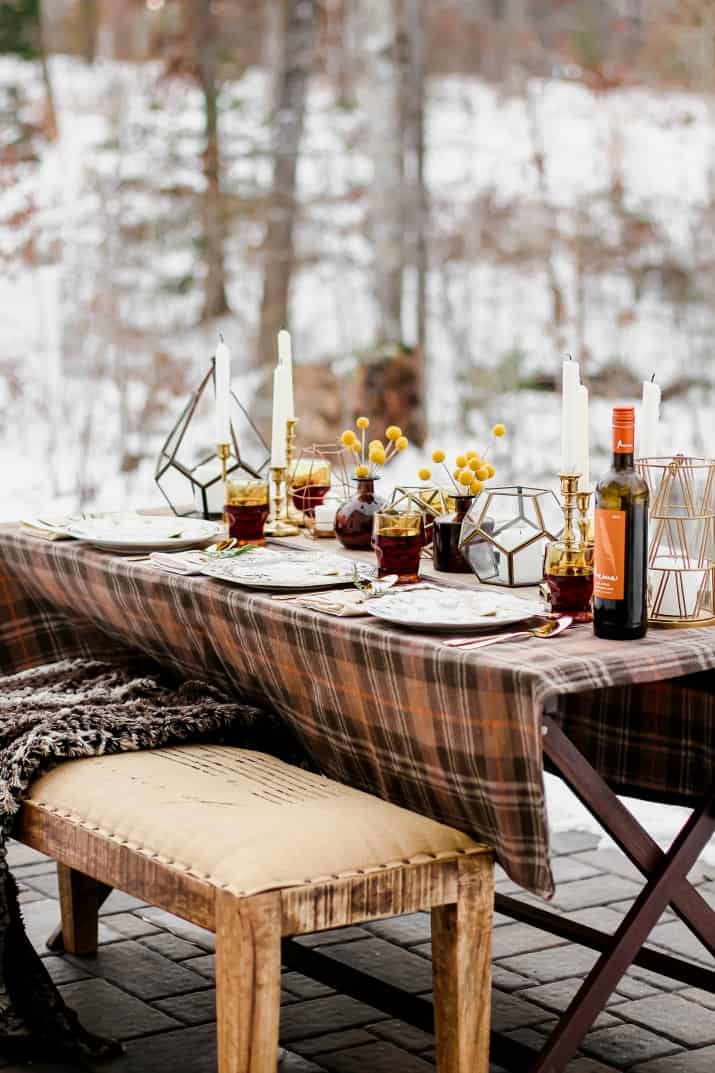 Winter Dinner Party Ideas
A while back we had the biggest snow storm I've seen since I was a kid. It was beautiful and forced us to stay home for days as it came down for about 36 hours straight.
Of course, knowing it was coming we stocked up on plenty of groceries to see us through. And we ended up getting together with neighbors to do a little socializing.
It all got me thinking about how people come together when wild weather hits and they can't get out and about. I decided a last minute snowed-in winter party would be the perfect inspiration for entertaining at home.
By the fourth day, temperatures were rising and the sun was shining. I brought everything out to the patio to capture a lovely backdrop of snow for this dinner party idea.
I found that with almost no planning at all, you can create fun last minute winter themed dinner party ideas. Use this as inspiration for January or February dinner parties and beyond.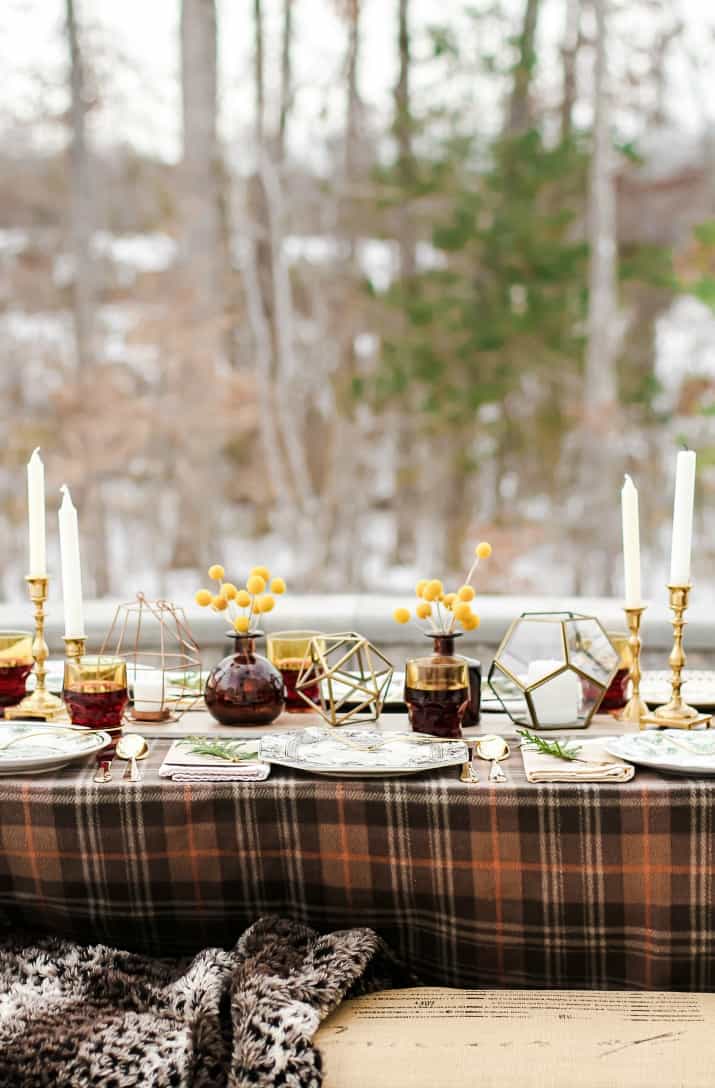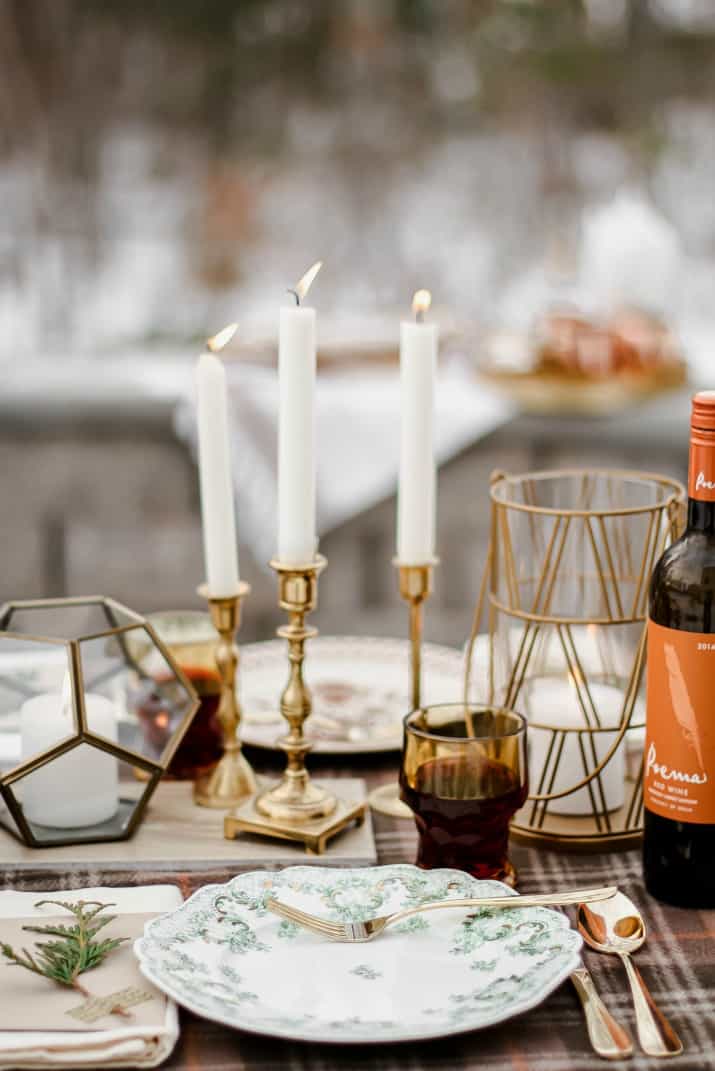 Simple Rustic Tablescape
I set the table with items I pulled from around the house.
Use a plaid flannel throw as a tablecloth. It adds instant charm and a cozy warm vibe.
I love using miss-matched vintage dinnerware on a table setting. I've collected this casual grouping of plates over the years and it felt right at home on this table. Place bowls of hot soup, chili, or stew right on top as needed.
Since this is a last minute type of party, no flowers for a centerpiece were on hand. Instead, I pulled candles and lanterns from around the house, and placed a couple of small vases filled with dry Craspedia (aka billy balls).
To bring a little bit of life to the table I snipped off pieces of evergreen and used decorative tape to attach them to card stock. These are strictly decorative, but you could also write names on the cards for place holders.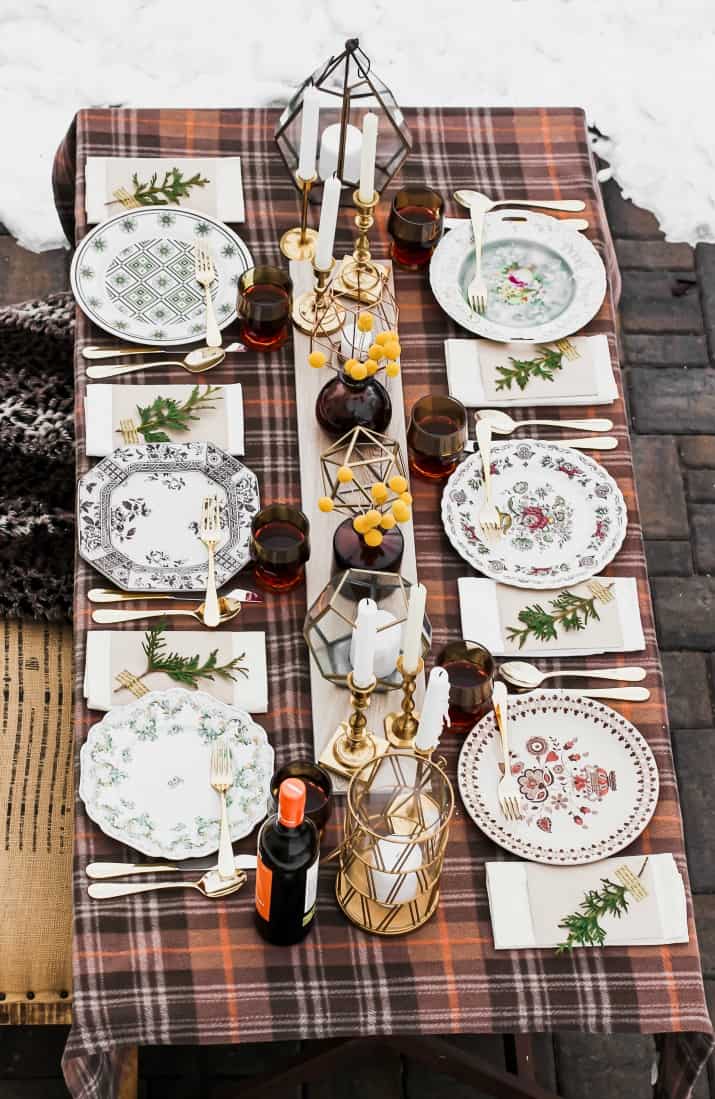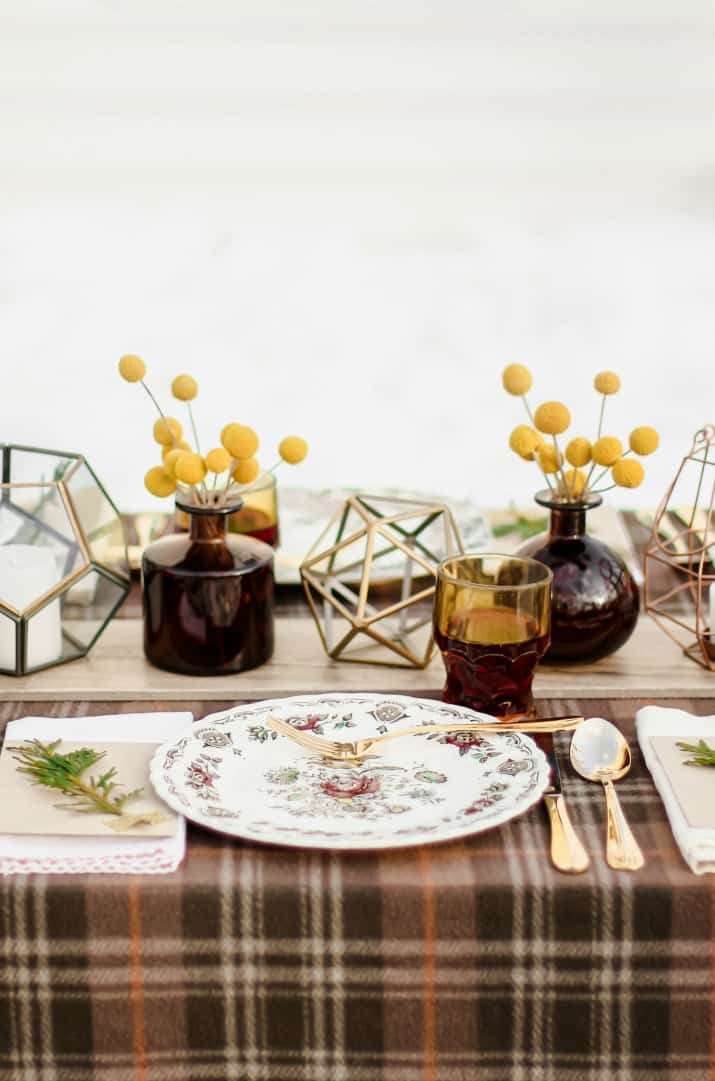 Winter Dinner Party Menu
I made a big crock pot of stew, which can feed a small crowd of snowed-in friends. And plenty of wine and hot cocoa are always on hand around here!
Everybody stocks up at the grocery store when there's snow in the forecast around here. Let everyone pitch in drinks and snacks for a real community feel.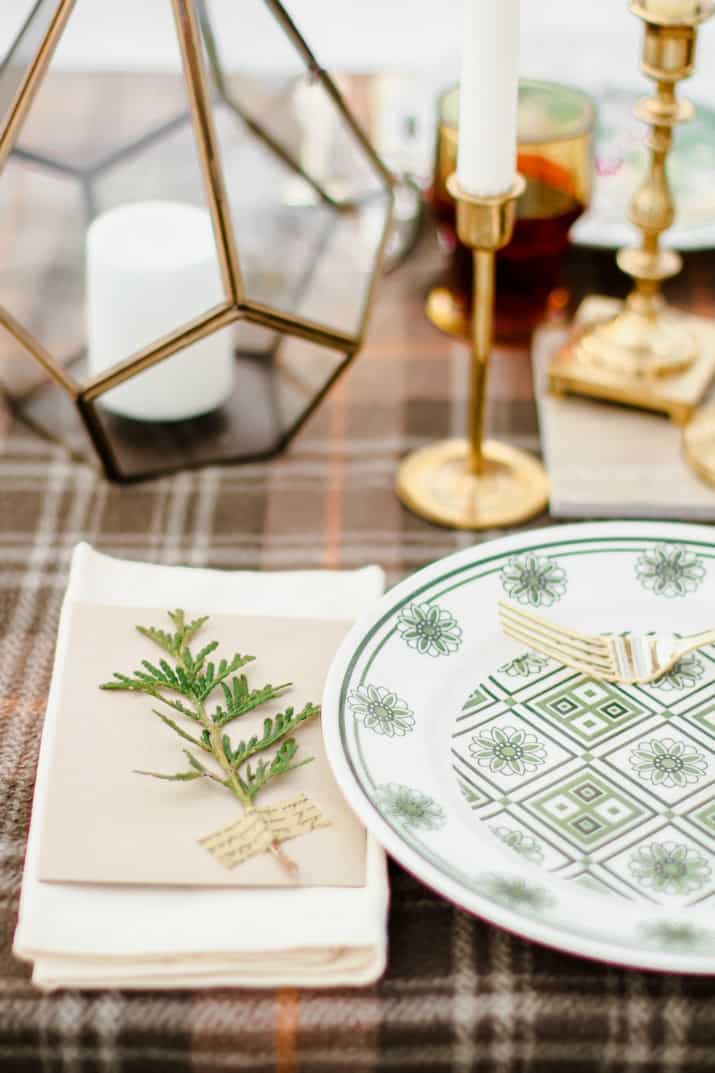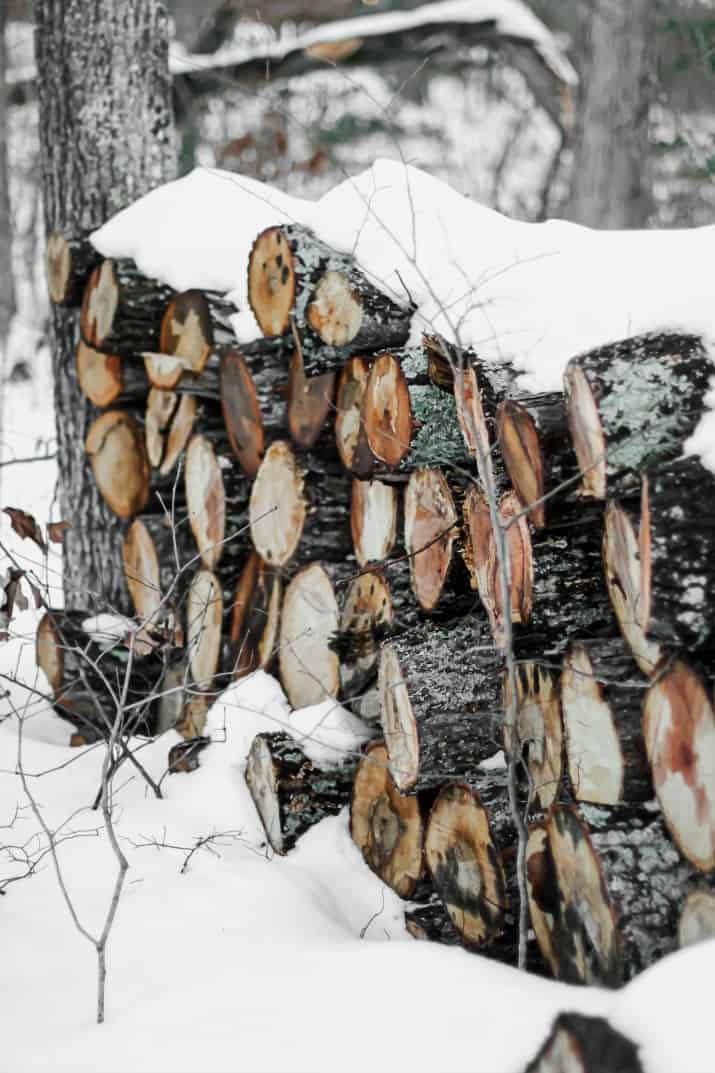 More Winter Dinner Recipes
Here are some other ideas and recipes for a winter dinner.
Main Course
Salad
Dessert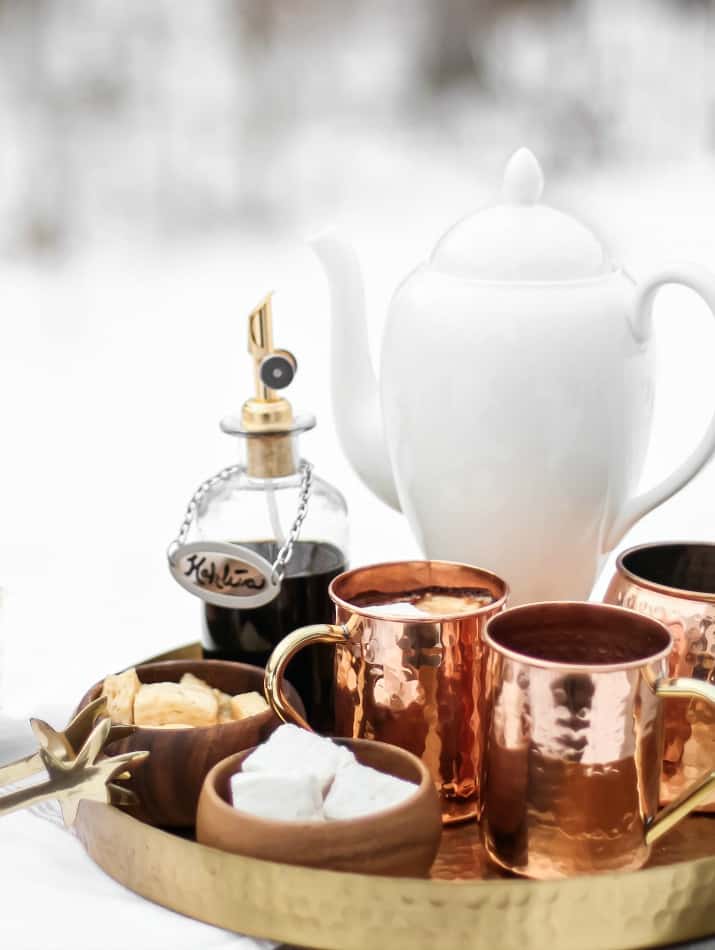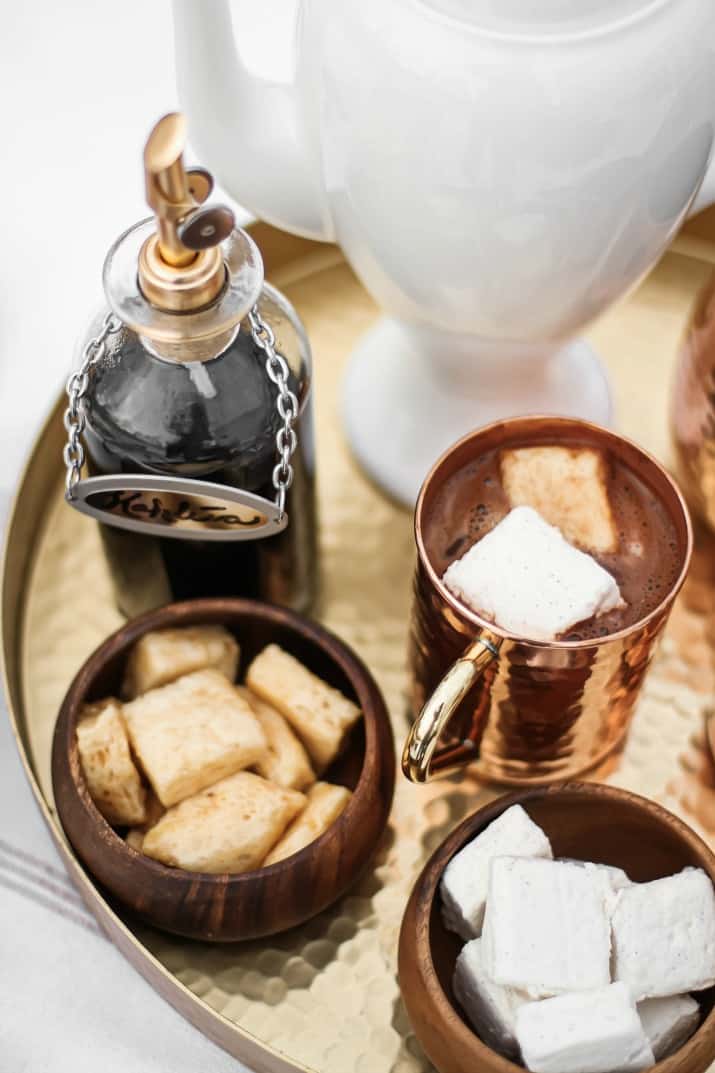 Winter Dinner Party inspiration
If you do live in a climate where you can be outside for a winter dinner party, make sure to add a few creature comforts as it gets chillier.
Have fire wood or starter logs ready to build in the fire pit.
Offer lots of throw blankets for guests to wrap around their shoulders or legs as the temperature drops.
If you have a space heater make sure it's got plenty of fuel to keep it going.
String lights hung above the table will add a beautiful ambiance.
How do you spend time when you're snowed in? If you like these ideas please PIN, Share, or sign up for our Newsletter at the top of the page. Cheers!