Chocolate Charcuterie Board
A wine and chocolate charcuterie board is a terrific dessert idea for adults. Serve a variety of flavored chocolates, nuts, and fruits for an easy party at home. Great for dessert tables, cocktail parties, girls night in, or date night.
Wine & chocolate party ideas
Looking for an easy dessert party idea for adults? How about a chocolate themed charcuterie board complete with wine.
This chocolate themed platter is filled with delicious chocolate and all the accoutrements that go so well with it. It's perfect for tasting, grazing, and INDULGING!
This party isn't meant to be stuffy or formal. The idea is to let guests choose small pieces of chocolate and taste it with a few different wines, as well as different fruits and nuts.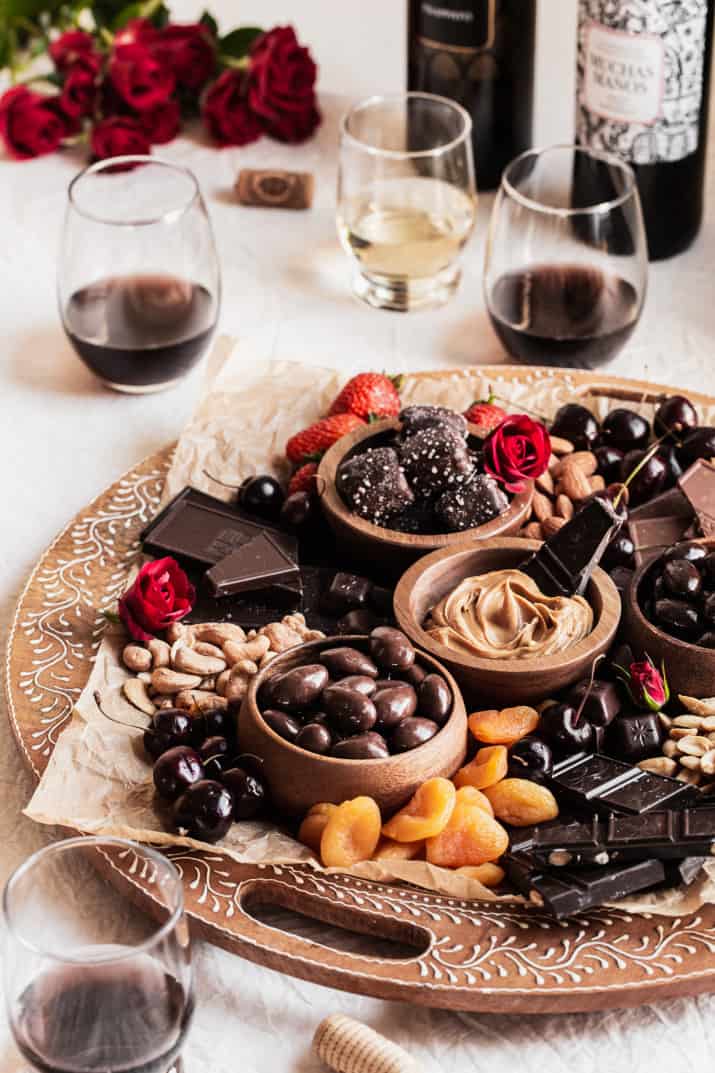 When to serve it
Any of these occasions would be perfect for a chocolate charcuterie platter. And what's more celebratory than wine and chocolate?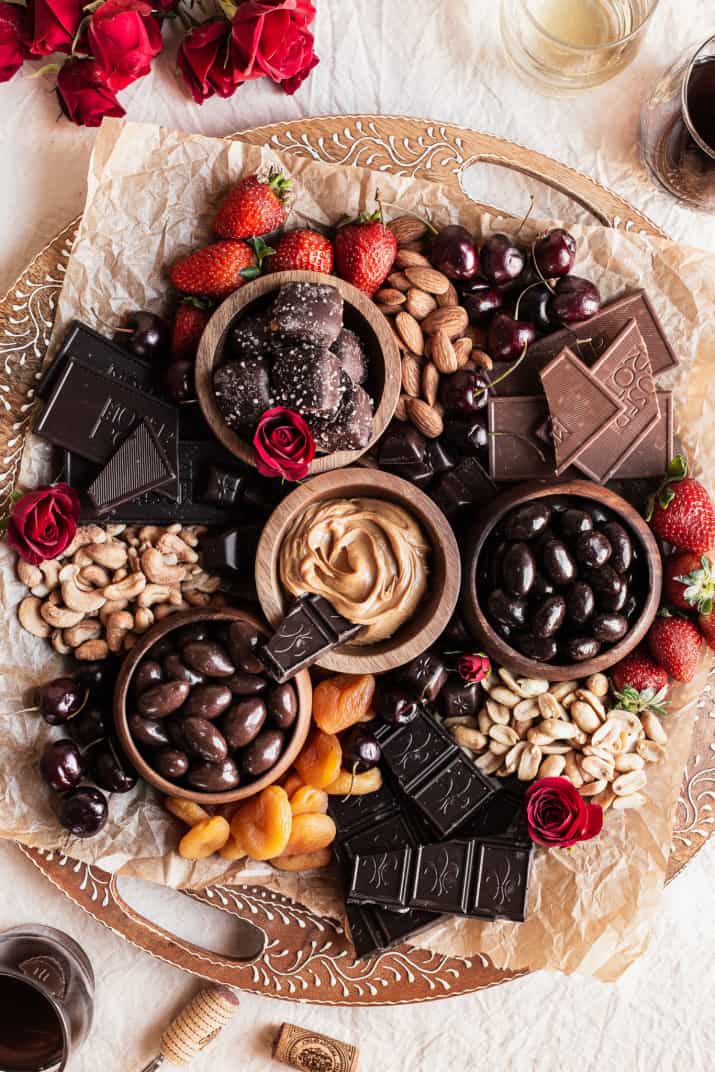 How to make a chocolate charcuterie board
Here are the essential ingredients you'll need to fill your tray.
Chocolate bars or bark – dark chocolate bars, dark chocolate bars with almonds, milk chocolate bars with toffee bits, etc.
Bite size chocolate bites – caramel-filled chocolates, dark chocolate covered almonds, milk chocolate covered cashews, salted chocolate caramels
Spread or Dip – peanut butter or caramel sauce
Dried fruit – dried apricots or cherries, raisins
Fresh fruit – strawberries and cherries, raspberries
Nuts – cashews, peanuts, almonds
Garnish – fresh flower buds or herbs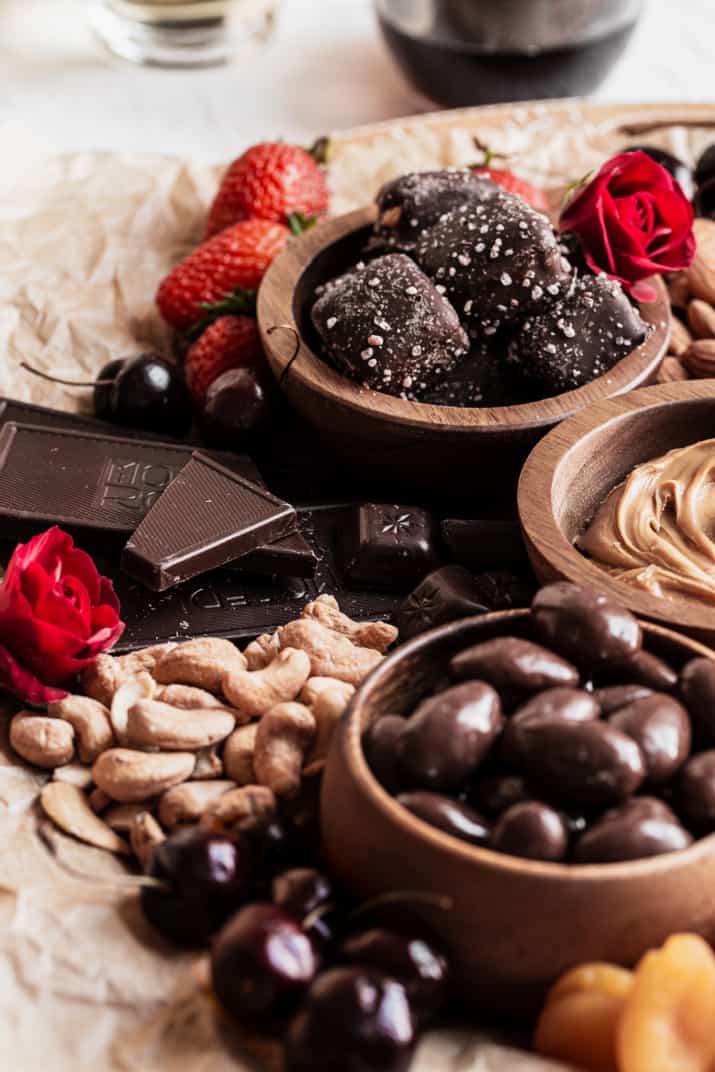 Tasting tips
A good rule of thumb is the wine should be as sweet or sweeter than the chocolate. Otherwise, you can end up with a bitter taste.
You'll also want to pair lighter or milk chocolates with lighter and sweeter wines like Zinfandel, Riesling, or Pinot Noir.
Fuller-bodied wines like Cabernet, Merlot, or Shiraz should be paired with darker chocolates.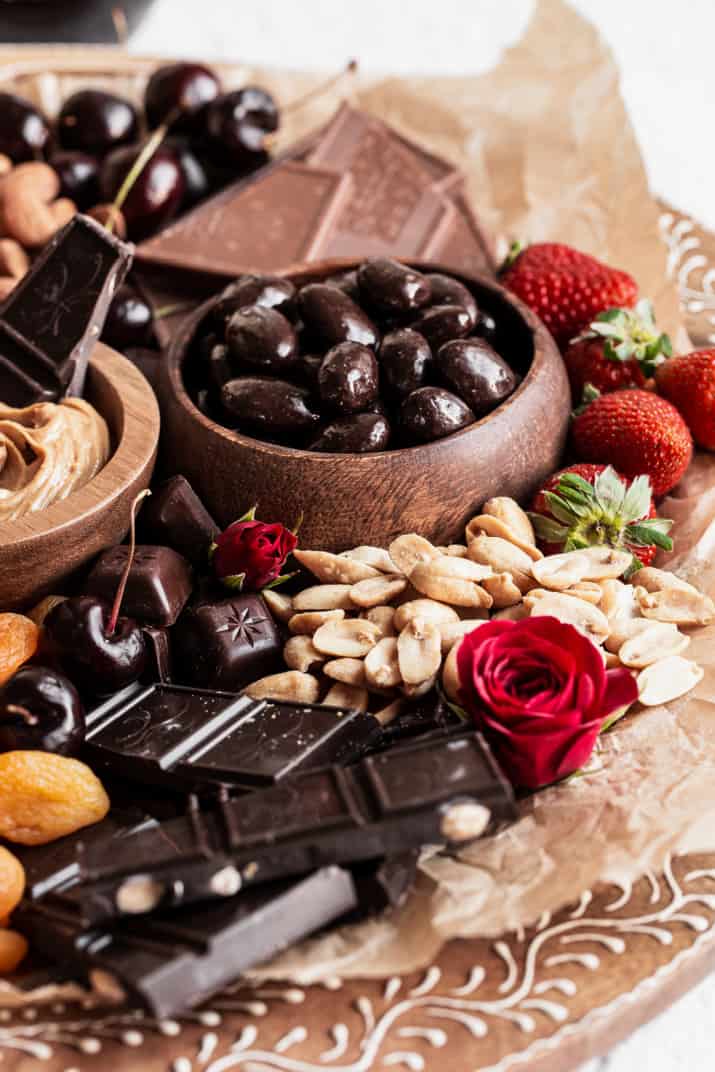 How to taste
The quality of your wine and chocolates should be good.
Gourmet chocolate bars are readily available at many retailers, and you can break them up into bite-sized pieces for tasting.
To add an extra layer of flavor, offer variations of the chocolate such as nut-filled, fruit-filled, and caramel or peanut butter-filled.
As you're tasting the two together, follow the steps below to get the best experience.
Start by tasting your wine and chocolate separately so you can fully appreciate how they pair together. Then follow these steps.
How to taste wine and chocolate together
Swirl

Swirl your glass of wine to help aerate it and release the aromas.

Sniff

Smell the wine for its bouquet.

Sip

Take a sip of wine as you smell its aroma.

Bite

Take a bite of chocolate and chew slowly, holding it on the tongue for a moment to taste the flavors.

Sip

As the chocolate starts to dissolve, take another sip of wine.

Mingle

Let the chocolate & wine mingle together in your mouth before swallowing.
More chocolate party ideas
We have even more ideas to help you indulge in your chocolate craving!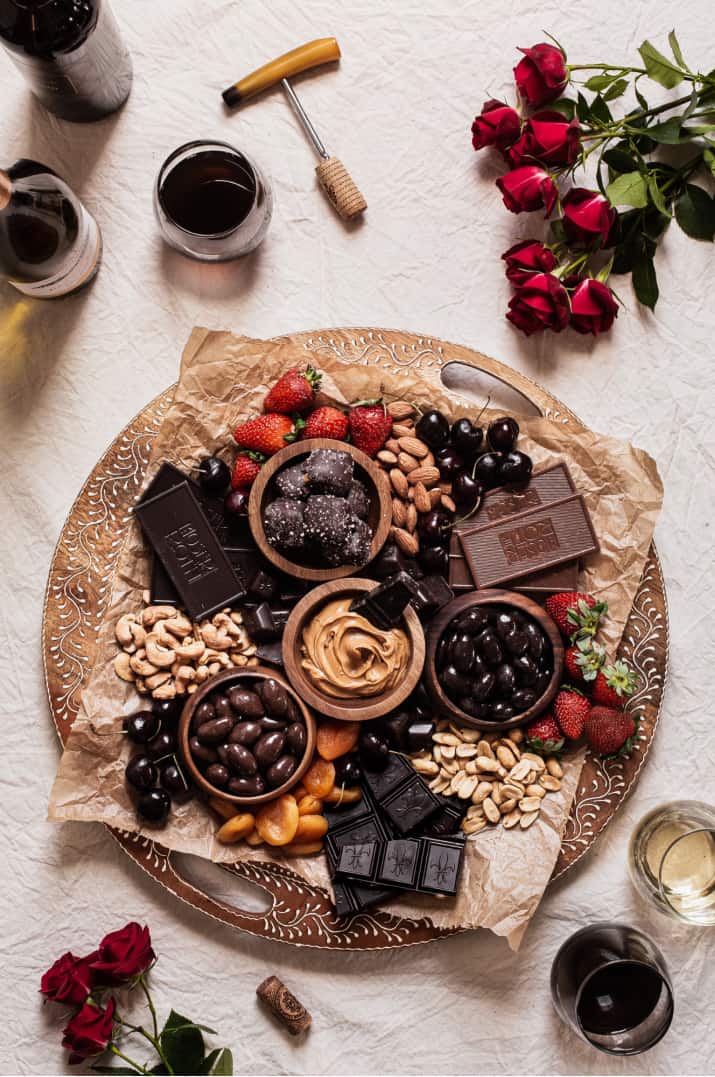 If you like this post, PIN, Share, or sign up for our Newsletter at the top of the page. And don't forget to follow CAH on Instagram or Facebook. Cheers!
Chocolate Tasting Charcuterie Board
This chocolate tasting charcuterie board has a variety of flavored chocolates, nuts, and fruits for an easy dessert or party idea at home. Great for cocktail parties, girls night in, or date night.
Ingredients
Chocolate
Dark chocolate bar with almonds
Milk chocolate bar with toffee bits
Caramel-filled chocolates
Dark chocolate covered almonds
Milk chocolate covered cashews
Salted chocolate caramels
Dip
Peanut butter (or almond butter)
Fruit
Dried apricots
Fresh strawberries
Fresh or dried cherries
Nuts
Cashews
Peanuts
Almonds
Garnish with fresh edible flower buds or herbs
Instructions
Place peanut butter in a small bowl in center of wooden board or tray.
Place small bowls filled with chocolate bites evenly around the board. A triangle pattern works well.
Arrange chocolate bars evenly around the tray, breaking some pieces apart.
Place mounds of nuts and fruit to separate chocolate bars.
Fill in gaps with more small bite size chocolate pieces.
Garnish with fresh edible flower buds or herbs if desired.