Host a Ladies Night Chocolate Party at Home
Start planning a ladies night chocolate party at home with these tips and ideas. This is a fun party for a birthday or any time. Indulge in flights of chocolate truffles, wash them down with champagne, and send guests home with chocolate themed party favors. You'll be everyone's favorite hostess when you throw a chocolate party!
*Post contains affiliate links
Ladies Night Chocolate Party Ideas
Looking for a party theme for adults or food tasting ideas? Well look no further than this decadent chocolate party. It serves up a chocolate truffle tasting complete with champagne or Prosecco. 
Let me set this up for you. Godiva has a line of truffle flights in several different flavor profiles ranging from nut lovers to dark chocolate lovers to Patisserie lovers inspired by cakes and pastries. There are 6 different truffles in each flight and the idea is to taste each truffle in order so you get a total experience.
Well, I can't think of a better way to spend an afternoon than with some awesome girl friends, some chocolate, and some bubbly. Can you? This is a fantastic way to celebrate a birthday or special occasion and indulge in the finer things.
How to Host a Chocolate Tasting Party
This is one of the easiest parties I think I've ever hosted. I made the cheese crackers the night before, and the other food and drink are "open and serve." This chocolate themed party would be a great activity for a bridal shower in addition to girls night in.
Keep the table setting minimal with a kraft wrapping paper table covering and chalkboard details. I love the combo of black and tan. If your kraft paper is large enough, fold it underneath the table and tape it secure so it's not hanging loose.
Use vinyl chalkboard runner down the center of the table. You'll be able to place food on it and label it with chalk.
Make DIY

"tasting notes" cards

with each girls name on it. It's a place to make notes about flavors and it also serves as place cards. I love the "opposite" effect of using white markers on the black cards instead of the usual black markers on white or cream. It ties in with the chalkboard runner nicely.
PARTY TIP: Make diy cards easily, using rubber stamps and white craft paint. Fold card stock in half to make a card and stamp the letter or shapes onto it.
Use

mini cutting boards to serve chocolate truffles on

. They are the perfect size!
Write directly on the kraft paper table cover to number the chocolate truffles in order of the tasting.
Add another sign to show the chocolate tasting order so guests can refer to it as needed.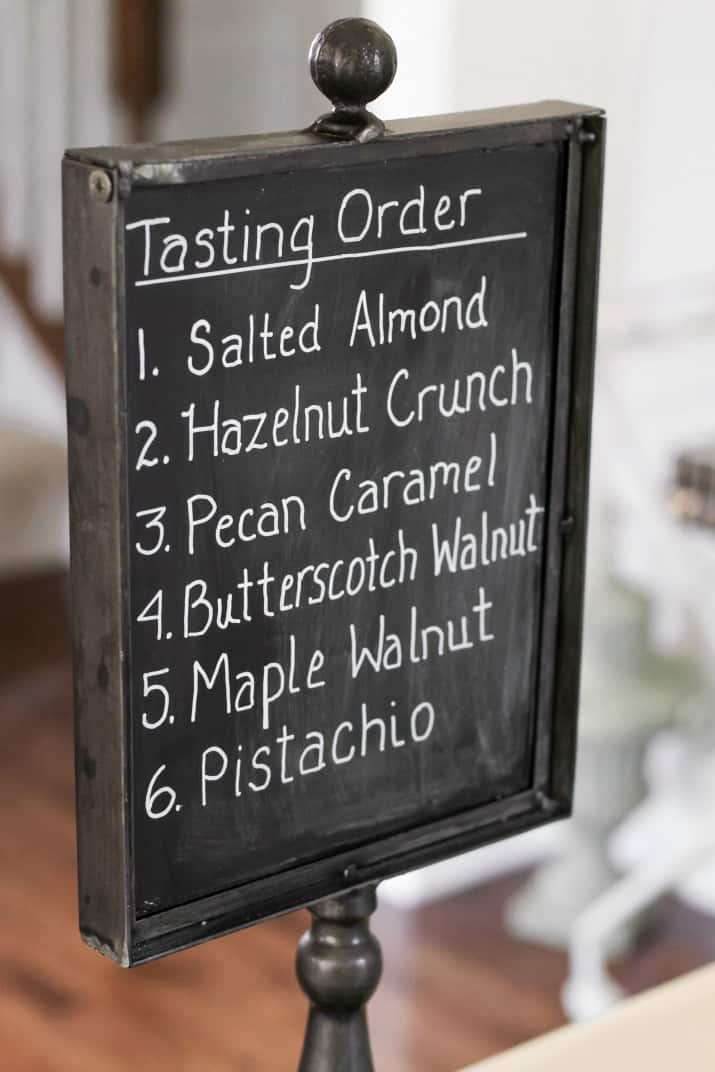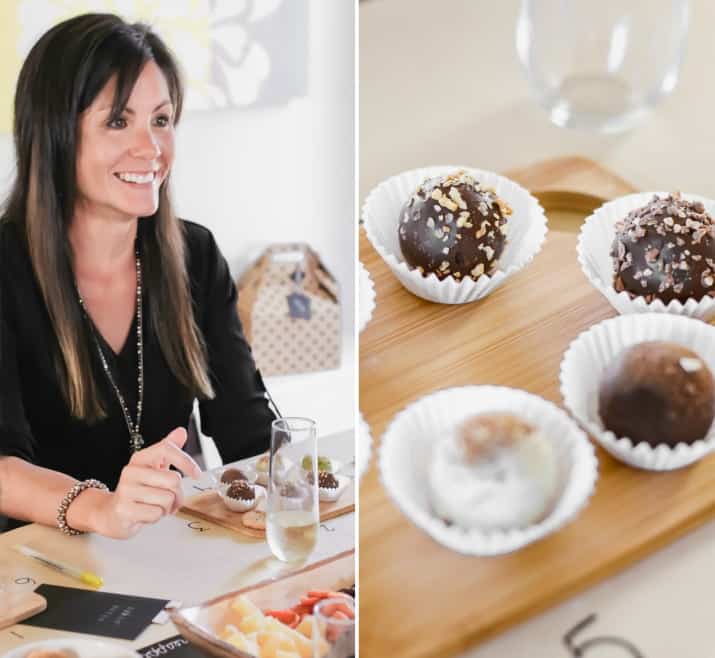 Food for a Chocolate Party
The star of this party is of course, chocolate. But you should serve some additional items that will complement the chocolate and champagne.
Nuts and fruit go great together, especially in chocolate. P

air nut truffles with an assortment of dried fruit

. Dried mango, apricots, pineapple, and raisins are piled into a wooden bowl in the center of the table so everyone can pick what they want. The mango paired particularly well with the pecan caramel, while raisins were good with maple walnut.
If your chocolate doesn't have nuts in it, by all means add a few dishes of almonds, pistachios, peanuts, and pecans or walnuts.
In order to offset all that sweetness, serve homemade cheddar cheese crisps. These are a nice palate cleanser between tastings, as well as a savory break when needed. I'm a huge fan of alternating between sweet and savory nibbles.
If you want more salty flavors to balance the chocolate, add pretzels and kettle potato chips.
And of course,

champagne

is the only thing to serve with truffles! Pop open a bottle of bubbly and sip.
Our chocolate tasting included the Nut Lovers flight. I think my favorite of the bunch was the very first one – Salted Almond, Yum! Pecan Caramel was also a big hit with the girls, as well as Pistachio. It doesn't really matter though does it? They're all amazing!
More Chocolate Ideas
Here are some more amazing ways to add chocolate to the party. You can also venture out and add red wine to the tasting. Merlot and Cabernet go great with chocolate.
Chocolate Party Favors for guests
I love the idea of preparing a favor box full of goodies that reflect the event. And that's exactly what we did here.
Make Godiva party

favors

for your guests to take home and enjoy later. Use gable boxes and fill with shredded paper filler.
Include a bag of the homemade cheese crackers, more Godiva truffles or homemade chocolate treat, and a mini bottle of wine or sparkling wine.
Guests can also take home any remaining chocolates they don't finish from their flight. The Godiva

truffles are packaged individually inside the flight box

so if you only take 1 bite you can store the remaining portion securely inside.
A flight of truffles would make a fabulous

hostess gift or holiday gift too
Is this an idea you'd like to try? If so, I hope you'll use these tips and ideas for a fun ladies night at home. Much like you would taste a wine flight, tasting a chocolate flight is a progressive exploration of flavors and textures.
If you like this post, PIN, Share, or sign up for our Newsletter at the top of the page. And don't forget to follow CAH on Instagram or Facebook. Cheers!