Easy Cocktail Party Ideas
Get all the ideas to host an easy cocktail party at home, including food, drinks, and even desserts. This cocktail party menu includes easy appetizers, ideas, and tips for adults. Send out those invitations and start planning a cocktail party now!
How to host a cocktail party at home
There are so many great reasons to entertain at home. My personal favorite way to entertain is with a cocktail & appetizers party.
The idea is to host a late afternoon to early evening get-together with food that's easy but has a sense of elegance.
These party food suggestions are simple to prepare. I've utilized some quick tricks using items from the grocery store, that don't require cooking. And for even more food ideas, check out these easy elegant hors d'oeuvres.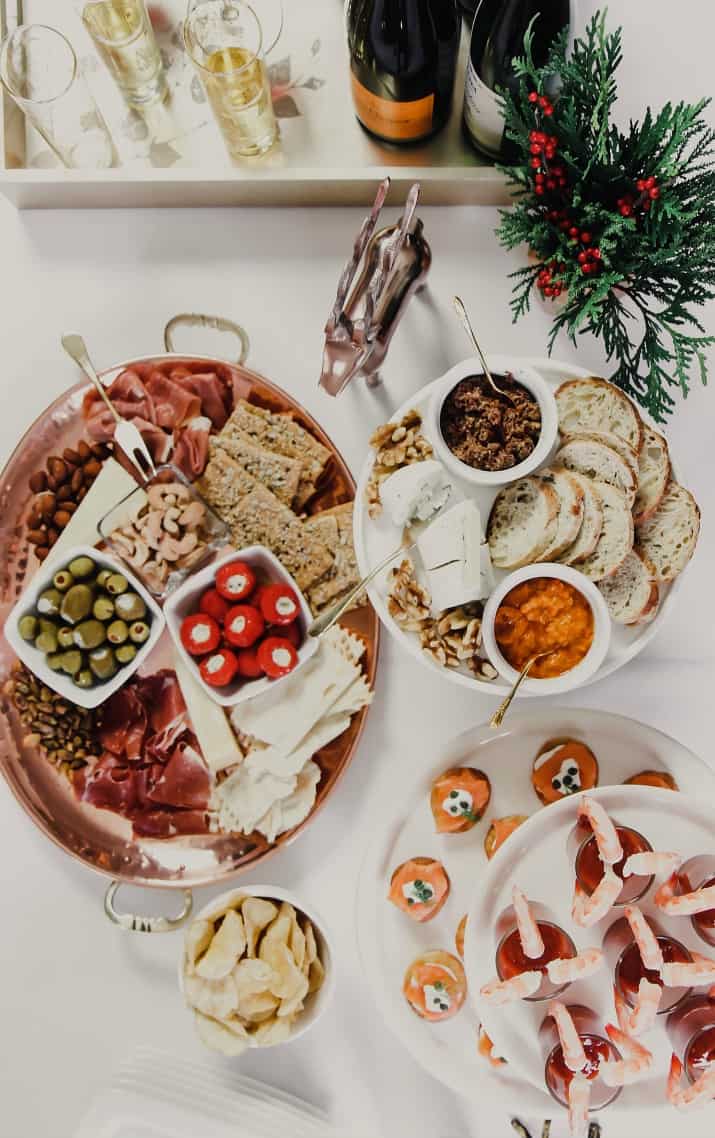 Where to set up the party buffet
Think outside the dining room and set up the cocktail party buffet in the family room near the Christmas tree.
Since the Christmas tree is at the center of holiday entertaining, bring in a folding table and set up the buffet in the same room as the tree.
If you don't have a place to put a table, use what you already have like book shelves, side tables, or entertainment console.
Party food recipes
There are a number of appetizer recipes I've been making for years. And they're part of my go-to menu items because people always love them.
Easy cocktail party food
A cocktail party menu should be full of flavor but not overly complicated to prepare. Take advantage of gourmet food items and pre-packaged party food.
Pick up a cocktail shrimp ring and make a pretty presentation of individual servings. The shrimp is already cooked, peeled, and de-veined so I just place some cocktail sauce in a mini glass and arranged a few shrimp around the edge.
Smoked Salmon canapes are one of my favorite things to eat. I made these on a base of thin refrigerated pizza dough. To make them, cut small circles using the rim of a glass, and bake according to package directions or until golden brown. Then place a dollop of sour cream on the base and add a piece of smoked salmon. Top with another small drop of sour cream, capers, and fresh dill.
Nothing says "party" like a charcuterie and cheese board! Stores like Aldi, Trader Joe's, and Wegman's have a fantastic selection of cured meats and specialty cheeses for the holiday. I particularly love to splurge on Iberico ham for Christmas parties. Also include prosciutto and a couple of cheese wedges on the tray.
Add other accouterments to fill out the cheese platter including stuffed olives, cherry peppers stuffed with herb feta, nuts, and crackers.
Introduce new flavors
Introduce new flavors and unexpected items to your party buffet. It may be the only time your guests get to try it.
Have you noticed everything is "truffled" this year? Truffle oil, truffle salt, truffle popcorn, etc. It adds a gourmet touch to anything and has an interesting flavor and aroma. I added truffle goat cheese along with a couple of prepared tapenades – olive and roasted red pepper – for a delicious treat.
I made crostini slices using purchased rolls. A slice topped with the truffle goat cheese, a dollop of tapenade, and a slice of Iberico ham makes a fabulous combination of flavors.
Put out a bowl of specialty flavored gourmet potato chips. These are Black Truffle and Olive Oil Kettle chips. Don't think chips are just for football games! With such gourmet flavors as truffle oil, or porcini & rosemary oil, they are elevated to a new level perfect for a cocktail party.
Set up a wine tray
No party of mine is complete without booze. Keep it simple by offering wine instead of an open bar. Gather the wine together on a tray and place it at one end of the food buffet.
The selection and prices on wine can vary drastically. Find some deals at stores like Aldi or Trader Joe's. Include a range of red, white, and bubbly.
It's fine to buy "too much" wine since you can always use the extra bottles for hostess gifts or for future entertaining.
Add in a few splurges like Frei Brothers Cabernet, and Veuve Cliequot Champagne if you can! Make a big deal of it and pour everyone a tasting glass.
More party ideas
If you're looking for more adult party ideas for Christmas, check out these posts.
Cocktail party dessert table
Set up a dessert bar in an adjacent room so guests can indulge in sweet snacks and beverages.
The holidays are the one time of year that I get really excited about sweets and desserts. Keeping the rule of "simplicity" I purchase holiday sweets that I could just open and serve.
Make a cookie plate filled with a variety of seasonal offerings like spice cookies, chocolate-dipped wafers and cookies, and dark chocolate almond Lacey cookies. The Laceys are my all time favorite! I remember eating them during the holiday when I was a kid so they always remind me of my childhood.
Create your own sweet popcorn mix with caramel corn, and coated or dipped nuts and fruits. Here we used dark chocolate covered cherries and Chai spice covered nuts. A terrific combo all available and ready to mix and match.
If you have lots of cookies from a cookie exchange party you can include those on the table too.
PARTY TIP: Provide small paper cups or bags for guest to fill with their treats. This makes it much easier to walk around or sit and hold.
Drinks to pair with dessert
Include seasonal beverages on the dessert bar for guests to indulge in along with their treats.
Since we already have wine for sipping with appetizers, I wanted some hot beverages on the sweets table. Brew some hot coffee (make it decaf if you like) and serve in a pretty coffee pot along with seasonal creamer flavors like Peppermint Mocha and Salted Caramel mocha.
Include hot mulled wine. I love drinking mulled wine at Christmas and it's easy to make. Keep it warm on the stove or in a crock pot.
Holiday entertaining should be fun and allow you to focus on the guests and the activities. You can incorporate these ideas to host an easy cocktail party, using specialty items from your local Wegman's, Aldi, Trader Joe's, or Whole Foods. Cheers to EASY entertaining!
If you like these tips please PIN, Share, or sign up for our Newsletter at the top of the page.