Naughty or Nice Christmas Party Ideas
These Naughty or Nice Christmas Party ideas for adults are sure to get you in the holiday spirit! It's perfect for a Christmas cocktail party with food ideas, and red and green decorations. This whimsical party theme is easy to create and has FREE printable table signs to help you decorate. 
Naughty or Nice Christmas Party for Adults
I hope you all had a relaxing and joyful Thanksgiving! Now it's full steam ahead with Christmas party planning and holiday entertaining. And I'm kicking it off with this Naughty or Nice Christmas party theme.
The overall concept of this party is simple. Carry out the theme by offering indulgent food and drink options for the "naughty," and light and healthy options for the "nice."
It's a fun play on words and will delight your guests.
This is an easy party theme for a holiday girls night in or as a grown-up cocktail party. Host this fun fete for friends whether they've been bad or good!
Party Food Buffet
The naughty or nice concept creates an opportunity for a fun Christmas party food theme. Create a cocktail party buffet with some finger foods that are "naughty" and some that are "nice."
Naughty Appetizers 
These are the indulgent party foods that we love. Our guilty pleasures so to speak.
Check out more easy party appetizers to try.
Nice Appetizers 
These are the party snacks that you can eat and feel guilt-free about. Although I personally think that the holidays are no time for guilt!
crudites with hummus
mini fruit cups
California sushi rolls
Here are some more easy & elegant hors d'oeuvres to consider adding.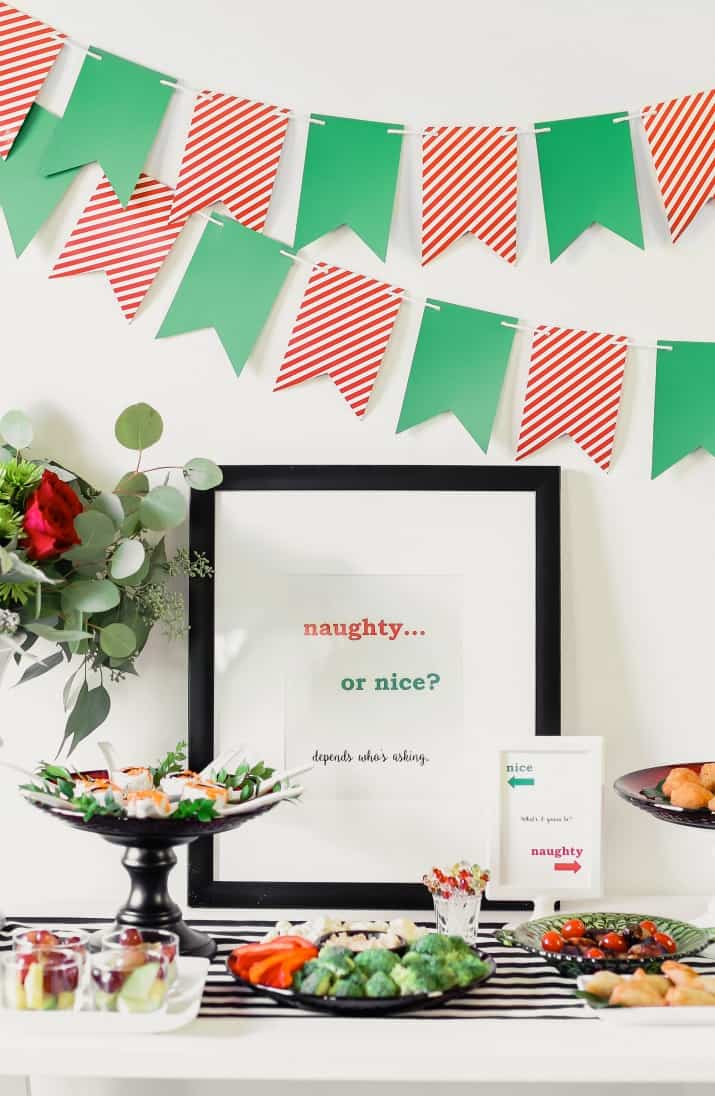 Free Printable Signs
I created these Printable Naughty or Nice Signs that you can download and print. You'll get these 3 table signs in one download.
Large sign to fit in a 8 x 10 frame. This is a great sign to set the tone for the overall party theme.
Small table sign to fit in a 4 x 6 frame. Use this to indicate which side of the table the indulgent food or drink are on, and the more "sensible" food and drinks are on.
Tent style dessert sign. You don't need a frame but you can certainly use one with this horizontal dessert sign.
Party Decoration
This party decor incorporate the classic colors of Christmas with red and green decorations.
But how do you update red and green and make it look fresh? You surround it with black and white of course!
While the red and green decorations are festive, the addition of black and white really gives the display a modern, adult feel.
I used my black & white striped table runner that makes everything on it pop with color!
PARTY TIP 1: Match your Christmas tree decor to your party theme. If the tree is in another room it will tie the two spaces together for a cohesive look.
PARTY TIP 2: Before the Christmas tree is inundated with gifts, fill the space underneath with tissue honeycomb balls.
See more tips for decorating your Christmas tree no matter what color or theme you choose.
Christmas Bar Cart
This is the perfect soiree for a bar cart display, and I have a great idea for you… an eggnog bar!
Eggnog is a fun & festive seasonal beverage, and it mixes well with a variety of spirits. All you have to do is make a batch of my easy eggnog punch (without the alcohol added) and serve it from a punch bowl or pitcher.
Then provide some tasty liqueurs for guests to add into their own drink.
Some great options are Godiva chocolate liqueur, Amaretto, Frangelico, Kahlua, spiced rum, or bourbon.
Sprinkle cinnamon and nutmeg over your eggnog for a spiced garnish, and add a few scoops of natural vanilla ice cream to the punch bowl or pitcher to help keep it chilled.
Holiday themed drink stirrers and napkins round out the bar cart accouterments, while apothecary jars filled with ornaments provides decoration.
Print and frame my small "Nice or Naughty" table sign (linked above) and place it on the bar.
You can also opt to serve a signature drink like a red Christmas cocktail with vodka, a Christmas mimosa, or a green champagne cocktail.
This Naughty or Nice party was inspired by invitations from Tiny Prints. Unfortunately they're no longer available. No worries; I'm sure you can do a quick search and find something you like. Then just follow our party plan to decorate and set up.
Christmas Party Desserts
Serve mini desserts for a Christmas bash. You don't want to slow people down at a cocktail party when they're mingling and having a good time.
This is a great way to share all those cookies you got from the Christmas cookie exchange party.
There are some great prepared food options in the freezer section of the grocery store. I found mini dessert cups, mini pie tarts, and mini cheesecake bites.
Other delicious options are these easy black & white parfaits. They even match the color scheme.
Bourbon balls are a bite size dessert classic at Christmas time. You could package them to give as party favors too.
These easy baklava cups are an all time favorite!
Dessert Table
Keep the party moving with stations set up around the home. Sometimes that means moving into vertical space!
Clear off a book shelf and turn it into a dessert buffet like I did here. When you don't have a large home, using vertical space is the next best thing!
Add an array of mini desserts that will satisfy the taste buds and allow guests to try different flavors.
Print out my "just be naughty" dessert sign (linked above) to add to the display.
Add some bottles of bubbly because it's a holiday celebration!
The overall concept of this party is simple: carry out the naughty or nice theme by offering indulgent food and drink options, as well as light and healthy options for balance. It's a fun play on words and will delight your guests.
If you like this post, PIN, Share, or sign up for our Newsletter at the top of the page. And don't forget to follow CAH on Instagram or Facebook. Cheers!