How to create a unique charcuterie party cheese board with grilled smoked sausage bites. This is a terrific outdoor party theme for fall gatherings and casual dinner ideas. See exactly what to serve and how to serve it, here.
This post is sponsored by Zatarain's Smoked Sausage
Charcuterie Party Board
Looking for a great outside party idea that makes entertaining easy? How about a charcuterie party cheese board with a twist! We're making Zatarain's Smoked Sausage the star of the board, and I'm sharing all the details and what food to eat with it.
Using smoked sausage as our charcuterie of choice makes this party platter hearty and filling enough to be served as a meal. We used two varieties – Zatarain's Andouille Smoked Sausage, and Cajun Style Smoked Sausage. You can find them nationwide at Sam's and Kroger stores.
I cut the meat into appetizer size bites that are perfect for dipping into Zatarain's Creole Mustard! Or try our smoked sausage appetizers in bbq sauce. This charcuterie party is good for serving 6-8 people.
Why is it called charcuterie?
Charcuterie is a French word that literally means "cooked meats". It can be thought of as the art of preparing various meats in order to preserve them and present them in diverse ways. Although the term generally refers to meats derived from pork, you can find some more exotic options made from wild boar, venison, bison, elk, etc.
When serving charcuterie for a party it's usually presented alongside cheese, bread, condiments, and other accoutrements.
What else to serve with a charcuterie board
Here are my tips for creating a charcuterie party board. Since this type of food platter highlights the meat, that should be your starting point. All other items should be complementary for a dinner-worthy meal.
MEAT
We started with two varieties of Zatarain's smoked sausage. Since it's already fully cooked we simply heat it on the grill for about 10 minutes to warm it through and give it some grill marks. Then slice it into easy serving sizes and place on the board.
Other options could include salami, prosciutto, jambon, saucisson, pepperoni, etc.
CHEESE
Add two or three types of cheese to compliment the sausage. Manchego cheese tastes delicious with these! Goat milk brie adds a different texture and flavor. Parmigiano Reggiano would also be a good addition to the board layout.
Some of my favorites for a charcuterie party are chevre, fresh ricotta, gouda, or smoked cheddar. Just think about what goes well with the meat you're serving.
PARTY TIP: Make sure you have proper cheese knives for cutting into the semi-hard cheese and for spreading the soft cheese.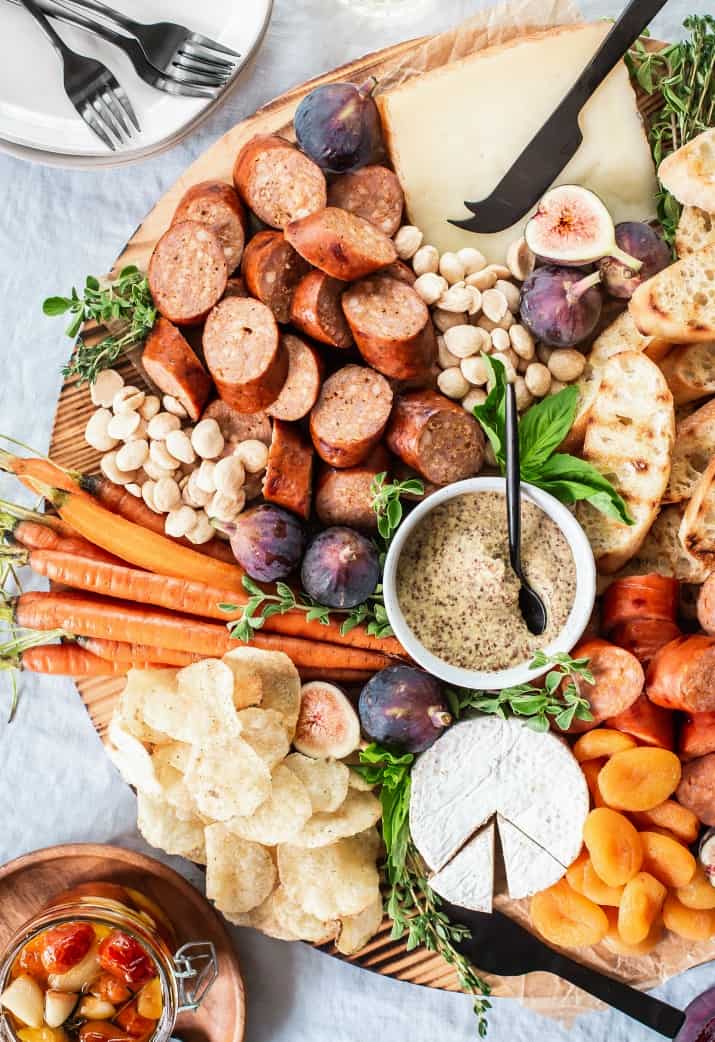 BREAD
A French baguette or Italian bread is the perfect vehicle to serve up all the flavors of a charcuterie board. Slice the loaf on the diagonal into slices between 1/4 and 1/2-inch thick. Brush each side with olive oil and lightly grill it on both sides.
VEGETABLES
Include vegetables that are either raw, pickled, or roasted. Some favorites are carrots, asparagus, sliced cucumber, even roasted beets.
For this board I've included roasted carrots and homemade tomato confit (yes, tomatoes are technically a fruit). Briny olives and sweet baby pickles are also a good addition.
ACCOUTREMENTS
All the little extras you add to a cheese board will certainly enhance the flavor experience. This is where things can get really fun and creative. The condiments should complement the cheese as well as the meat.
Hummus, tapenades, and Zatarain's Cajun Mustard are all at home on a charcuterie board. Don't forget honey, jam, and quince paste for some sweetness.
CRUNCHY
I believe adding some crunchy components helps bring a charcuterie board to life! Gourmet potato chips always hold a place on our boards, as well as nuts like marcona almonds, walnuts or pistachios.
FRUIT
Whether it's fresh or dried, fruit adds so much to a charcuterie and cheese platter. They help cleanse the palette while adding a sweet touch to the savory and salty components. Here we used fresh figs and dried apricots for a fall themed party.
Other good choices are sliced apples or pears, grapes, dried dates or figs, pomegranates, and fresh berries.
All of these items add flavor, texture, and a visual element for a unique charcuterie party. Variety is key so include some things that are spicy, salty, crunchy, sweet, pickled, and smooth.
Charcuterie & Cheese Party Ideas
Here are more unique party board ideas to try.
What to Drink
The beauty of this charcuterie party is that the smoked sausage lends itself well to a variety of alcohol beverages. Beer is a traditional pairing with the sausage. And the bubbles in sparkling wine, Prosecco and champagne help cut through the fats in the meats, making it another perfect pairing.
Wine is always a good idea to serve with cheese and charcuterie! Choose a semi-dry white wine, or a medium bodied red wine.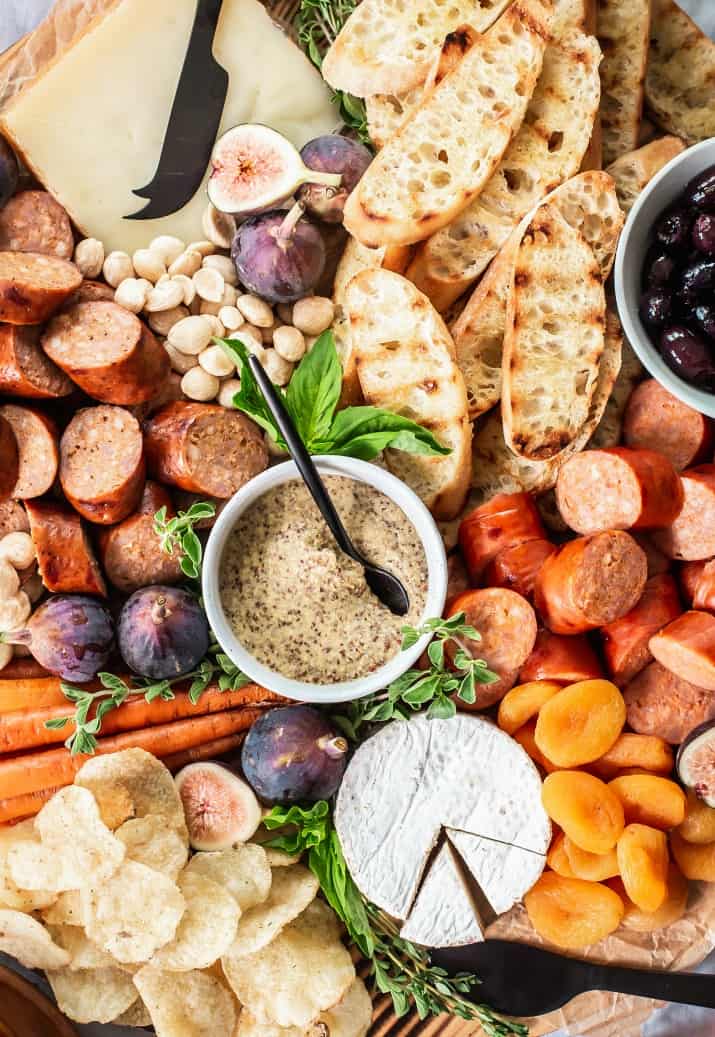 Charcuterie board set up
A charcuterie board for dinner is all about the presentation! The most pleasing displays always look full and abundant, and items are artfully placed and balanced.
First, pick the right size vessel like a platter, wooden serving board, or a tray with sides. You want it to be large enough to hold everything but not so big that it doesn't look full.
Decide what bowls you'll need for holding dips, condiments, pickles, olives, etc. Start arranging them on the board, thinking about balance and distance.
Begin placing the main items like the meat and cheese. If I'm serving more than one of each I like to place them opposite each other. For instance the 2 flavors of smoked sausage are across from each other, as are the 2 types of cheese. If serving three, place them in a triangle.
Consider color and try not to place the exact same color of items next to each other.
Finally, fill in small gaps with mounds of nuts, dried and fresh fruit, and sprigs of fresh herbs or edible flowers.
Charcuterie board dinner
When I'm making a cheese and charcuterie party board for a fall gathering outside, these are all my considerations for the menu and presentation. I love changing up the traditional cured meat options and using Zatarain's Smoked Sausage instead. It's filling, delicious, and easy to grill and serve. Are you excited about serving a charcuterie board dinner?
Cheese & Charcuterie Party Platter
How to create a cheese and charcuterie party board as an appetizer or a meal.
Materials
2 packages smoked sausage - Cajun style and andouille
1 wedge of Manchego cheese
1 wheel of goats milk brie
1 wedge of gouda or smoked cheddar
1 bunch small carrots, lightly roasted or raw
1 French baguette, sliced and toasted
Marcona almonds
Dried apricots
Fresh figs
Gourmet potato chips
Marinated black olives
Tomato confit
Creole mustard
Tools
Large platter, tray, or wooden board
Small bowls
Cheese knives
Appetizer picks or small forks
Instructions
Grill smoked sausage for a few minutes on all sides to warm through and get grill marks. Cut into bite size pieces and place the two flavors on the platter at opposite sides from each other.
Place cheeses on platter next to smoked sausage.
Add bread slices, carrots, and apricots in a triangular pattern.
Place bowls of mustard and olives on platter. Set jar of tomato confit next to board.
Fill in with potato chips, fresh figs, and almonds.
Garnish with fresh herbs like basil, thyme, oregano, or rosemary.
Notes
Follow this guide and choose your favorite meats, cheeses, and accompaniments.