Smoked Sausage Appetizer in Easy BBQ Sauce
This smoked sausage appetizer in an easy barbecue sauce can be made in a slow cooker or on the stove top. The homemade barbecue sauce is made with just 5 simple ingredients. Serve these party bites for a game day party and watch them disappear.
Easy barbecue smoked sausage party appetizer
The fall and winter seasons are not just about the holidays. They're also prime football seasons for fans of college and professional teams. So today's recipe is all about game day food that's perfect for Super Bowl parties.
I have a feeling you're going to love this appetizer recipe made with smoked Sausage. It's a delicious and hearty party food that goes great with tailgating on the road or at home.
I made this on the stove top in about 30 minutes. Most of that time was from sautéing the sausage medallions to get a nice crust on the outside. However, you don't HAVE to do that if you're in a hurry because the smoked sausage is already fully cooked.
You could cook the barbecue sauce and add the sliced sausage to heat up in the sauce. Or you can just dump everything into a crock pot and let it all cook together for about an hour and a half.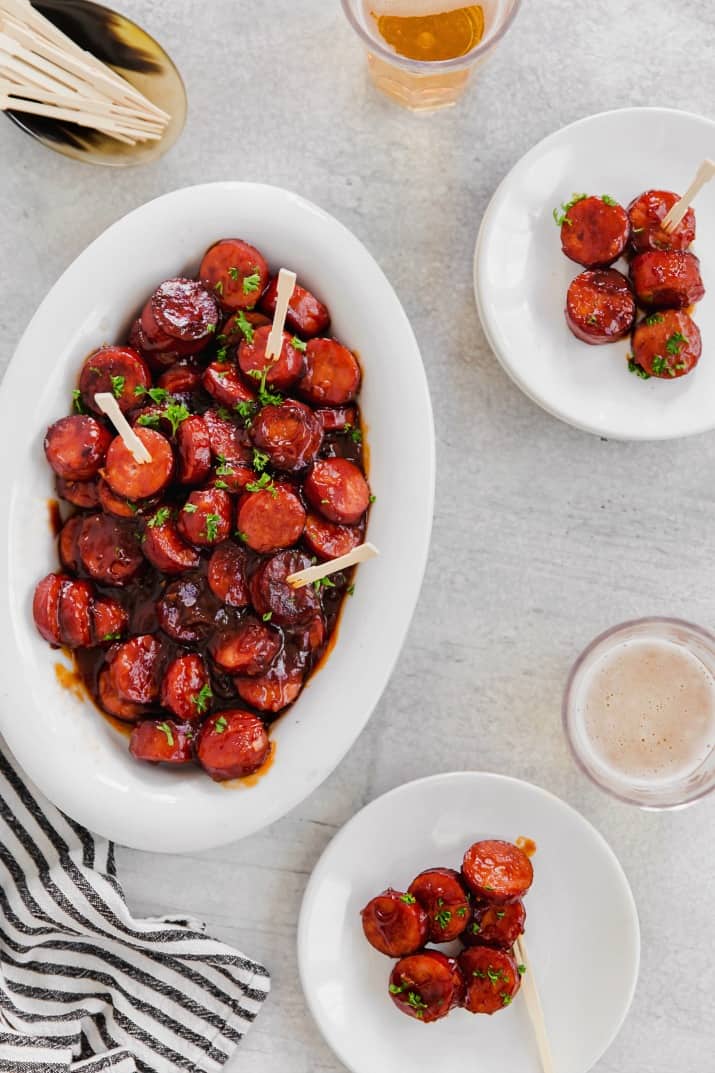 Quick & easy party recipe
This smoked sausage recipe is made with Zatarain's Andouille Cajun Smoked Sausages. It has that Cajun spice we all LOVE and it's great to add to a cheese & charcuterie party as well.
This appetizer recipe is a great marriage of spicy and sweet as the brown sugar in the bbq sauce balances the spiciness of the sausage.
These bbq sausage medallions also make a great dinner when served over a bed of rice. Add even more Cajun flavor with Jambalaya Rice, or Red Beans & Rice Mix.
This easy barbecue sauce is multi purpose. It could be used to make cocktail meatballs or brushed on to grilled chicken.
You can even serve these kielbasa hors d'oeuvres for a cocktail party. Similar to these cocktail kielbasa medallions.
More appetizers for game day
Is it even possible to watch football games without party food? I think not. Whether you're on the road tailgating at the game, or sitting at home in front of the big screen, you need game-watching food.
Grab a plate of these smoked sausage appetizers and never miss a play. Here are some more recipes that are perfect compliments and game day snacks.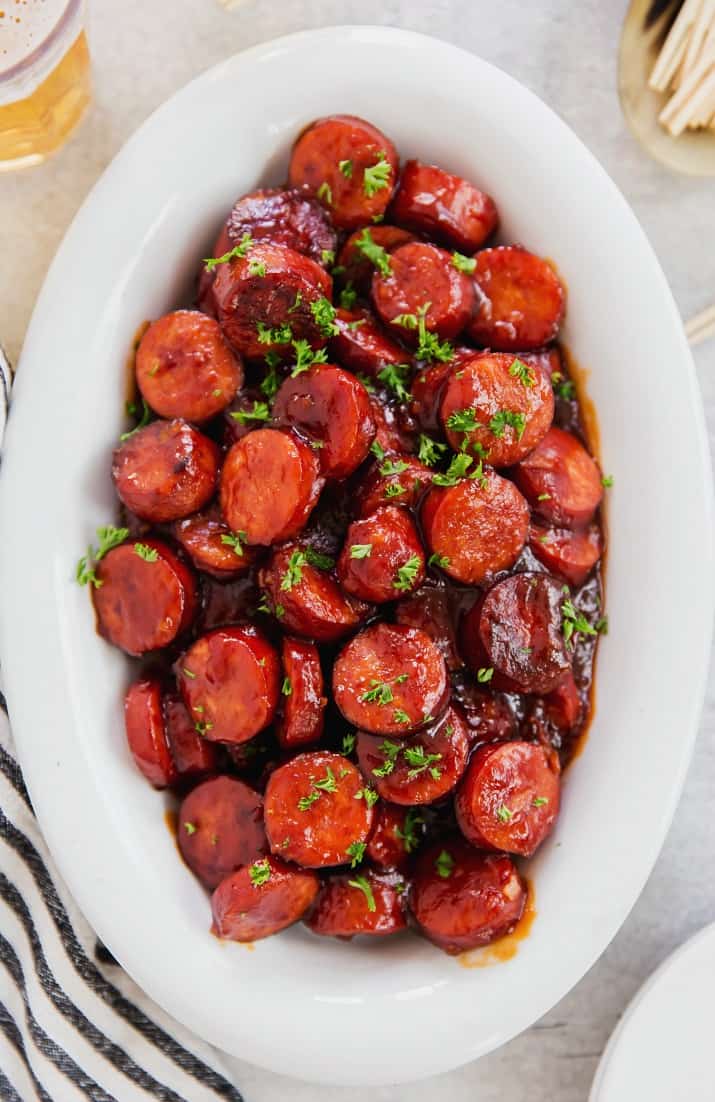 How to make it
Use the measurements here for a game day party to serve a crowd. You can easily cut the measurements in half for a smaller gathering of people.
Use two packages of Andouille Smoked Sausage. They're fully cooked and ready to use, but I love to give them a nice caramelized crust first.
Cut the sausage links into medallions about 1/4 to 1/2 inch wide. Add them to a saute pan and cook on medium-low heat for about 6-7 minutes on each side.
Remove the sausage and drain them on a paper towel. Pat excess oil off the top.
Give the pan a quick wipe with a paper towel to remove the rendered fat from the sausage.
Add the butter to the pan and let it melt. Pour in the remaining bbq sauce ingredients (ketchup, brown sugar, Worcestershire, dried onion flakes) and mix well.
Increase the heat to medium-high and bring to a boil. Reduce heat to low and let simmer for 5-10 minutes.
Add the smoked sausage medallions back into the sauce and stir to coat.
Keep the barbecue sausage bites warm in a slow cooker or chaffing dish.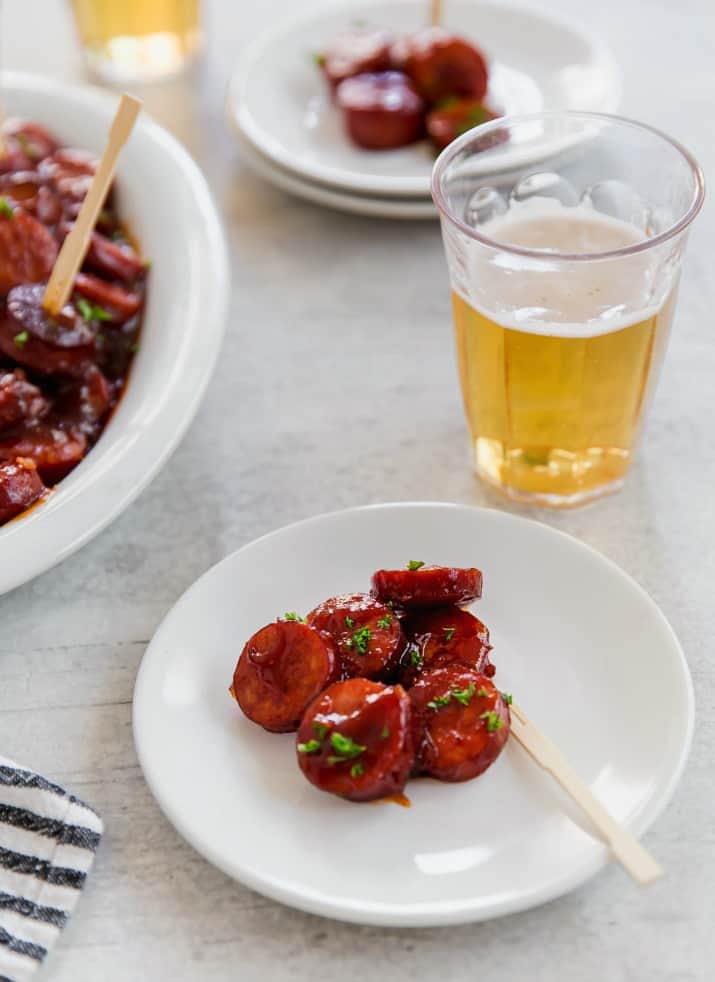 Slow cooker sausage bites
An alternative to the stove top method is to make these using the Crock Pot.
Cut the sausage into 1/2-inch bites.
Add the barbecue sauce ingredients to the slow cooker and mix them together. There's no need to melt the butter first, just cut it into small pats and add.
Stir the sausage into the sauce mixture, cover, and cook on low for 2 hours or high for an hour.
If you like this post, PIN, Share, or sign up for our Newsletter at the top of the page. And don't forget to follow CAH on Instagram or Facebook. Cheers!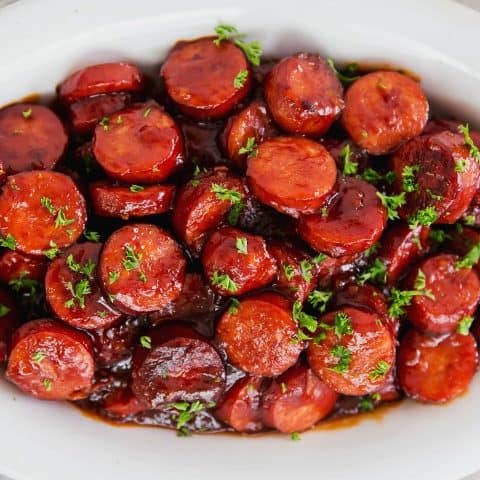 BBQ Smoked Sausage Appetizer Recipe
Make these smoked sausage medallions in barbecue sauce for game day parties and casual entertaining. They're easy, they're saucy, and they're delicious!
Ingredients
2 (14 oz) packages Zatarain's Andouille Smoked Sausage
2 cups ketchup
2/3 cup light brown sugar
1/4 cup Worcestershire sauce
2 Tablespoons butter
2 Tablespoons dried onion flakes
Instructions
Cut the smoked sausage into medallions about 1/2 inch thick. Cook in a large skillet over medium-low until a light crust begins to form on sausage.
Remove and drain sausage medallions on a paper towel.
Add butter to the hot skillet and let melt. Pour in the rest of the bbq sauce ingredients and mix well.
Cook over medium-high to bring to a boil. Reduce heat to low and let simmer for 5-10 minutes.
Add smoked sausage medallions into the sauce and stir to coat.
Keep warm in a slow cooker or chaffing dish.