Easy Cowboy Salsa (Redneck Caviar)
Easy cowboy salsa, also known as Redneck caviar, is a crowd pleaser! It can serve a large party and is a convenient make-ahead recipe that combines canned beans and corn with fresh ingredients, all marinated in Italian dressing. The result is this flavorful dip that works as a salad too! Add it to super bowl parties, potlucks, tailgating or summer gatherings.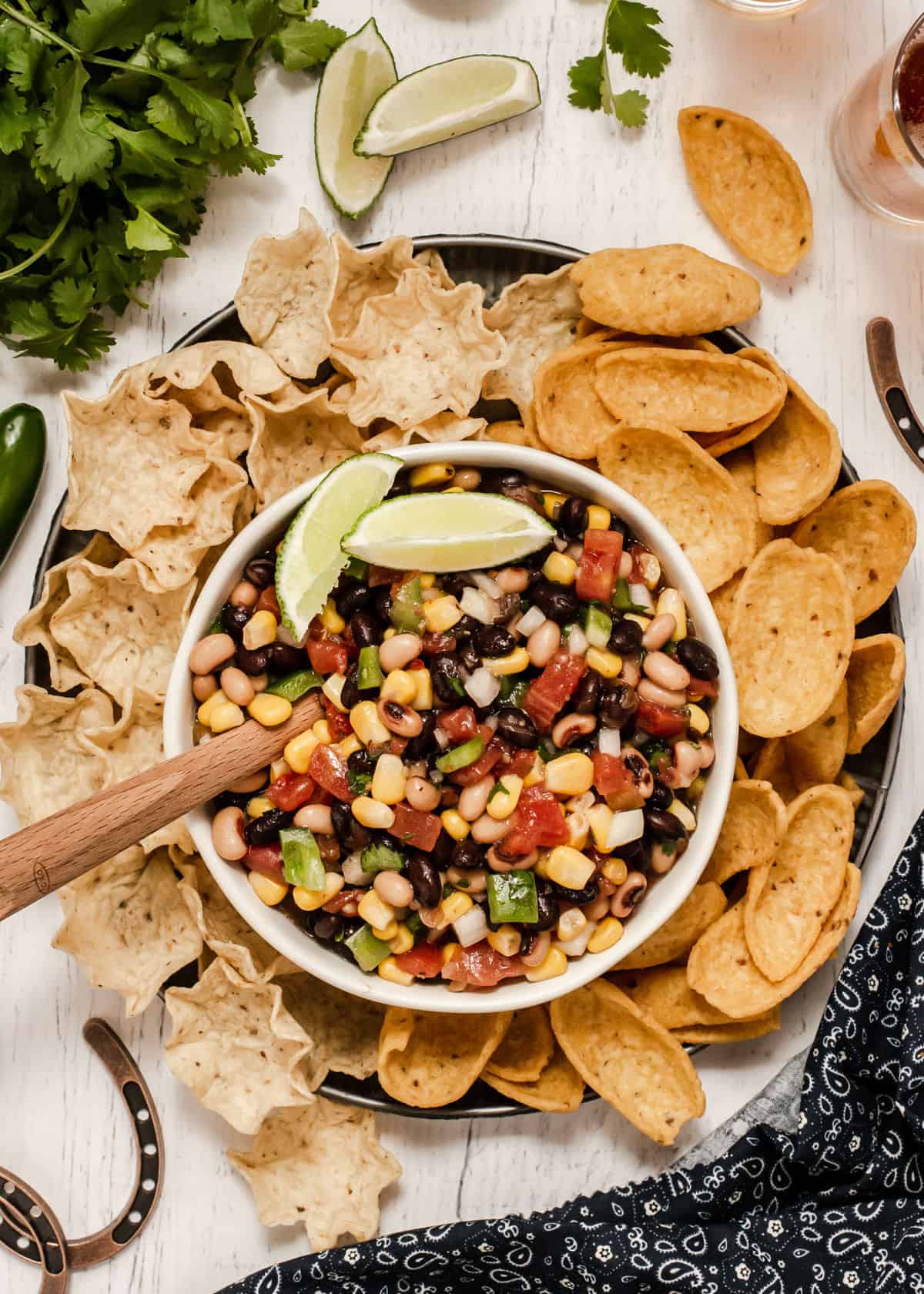 Easy Redneck Caviar
This delicious bean and corn salsa goes by many names. You might know it as Redneck Caviar, Cowboy Caviar, Texas Caviar, or simply Black-eyed Peas salad. It's a delicious appetizer dip that's great for all kinds of parties when you're serving a crowd.
It's quick and simple to prepare but be sure to make it ahead of time so the flavors can fully blend together. It's needs at least 8 hours to marinate, and 24 hours is even better!
The result is this colorful, chunky blend of texture and flavor. Serve it with tortilla chips or scoops.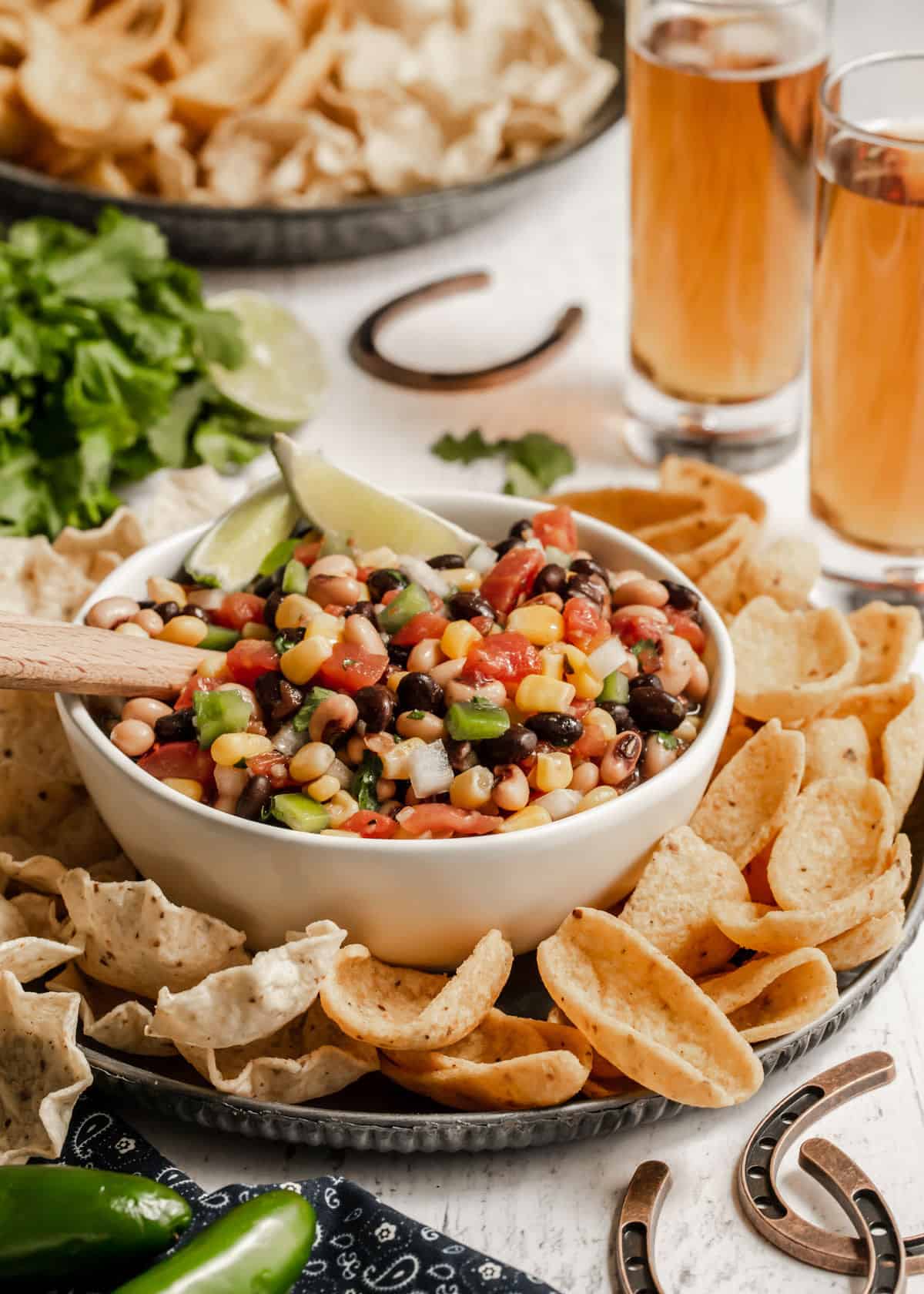 Party Dip for a Crowd
Here's what makes this recipe so great for occasions like a backyard bbq, a graduation party, a super bowl party, a Cinco de Mayo party, or a cowboy Western theme party.
Makes a lot. The recipe makes about 6 cups so it can feed any large gathering.
Make-ahead. Nothing makes entertaining easier than great make-ahead recipes!
Vegetarian. It can sometimes be difficult to find a recipe that's suitable for vegetarians or vegans that don't require specialty ingredients, but this one is!
Quick & Easy. It takes about 15 minutes to chop the fresh ingredients, and using bottle dressing is a great time saver.
Budget friendly. This cowboy salsa has inexpensive ingredients that serve a large group.
Room Temperature. No worries about keeping this dish hot or cold. It's served at room temperature.
EXPERT TIP: This chunky salsa tastes great on tacos, over rice, and with fish or chicken. Use a slotted spoon to drain most of the liquid before serving it.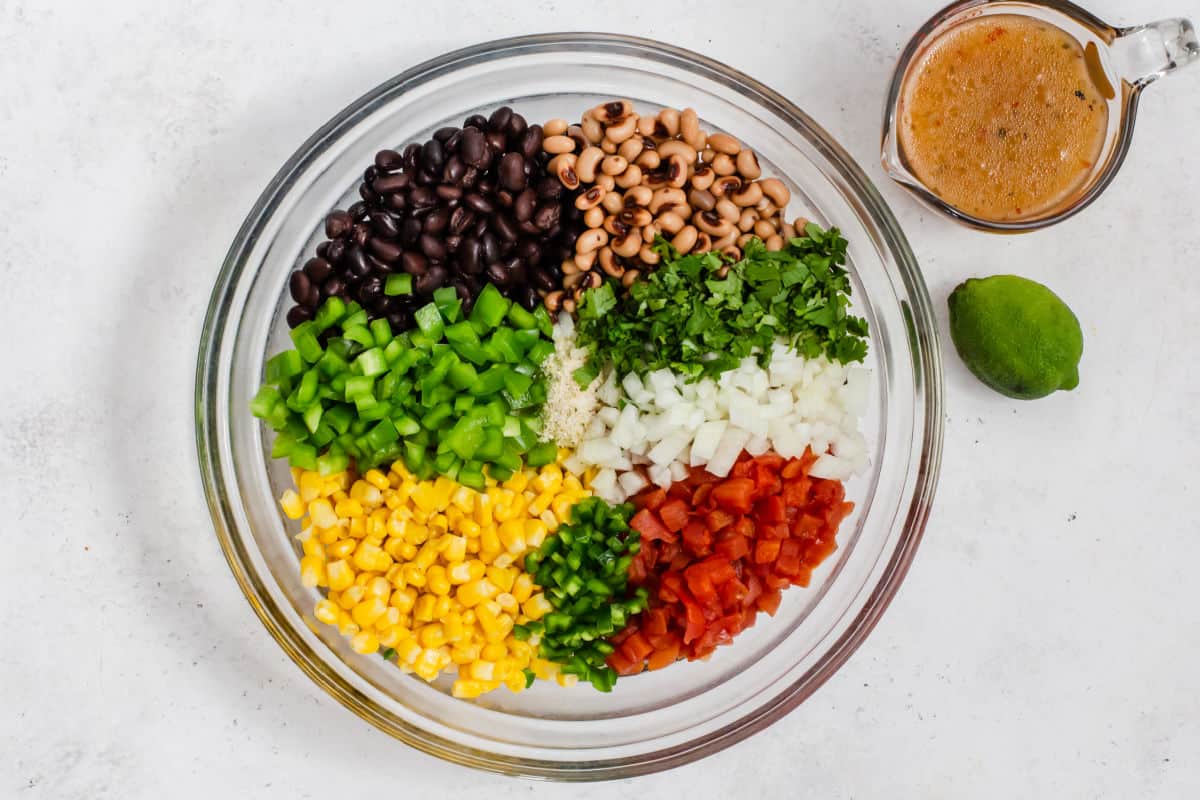 How to Make It
This is quite possibly the easiest party dip you can make. Start with canned goods and add some fresh vegetables and herbs to give it some vibrancy.
Make sure you make this at least 8 hours ahead. It needs time to chill in the refrigerator so the flavors can all blend together.
Drain and rinse a can each of black eyed peas, black beans, and yellow whole kernel corn.
Add chopped onion, chopped green pepper, chopped cilantro, and finely chopped jalapeno peppers.
Add a can of petite diced tomatoes WITH the juice.
You'll mix everything together with Italian salad dressing, fresh lime juice and garlic salt. Then cover and refrigerate.
Serve with tortilla chips or corn chip scoops.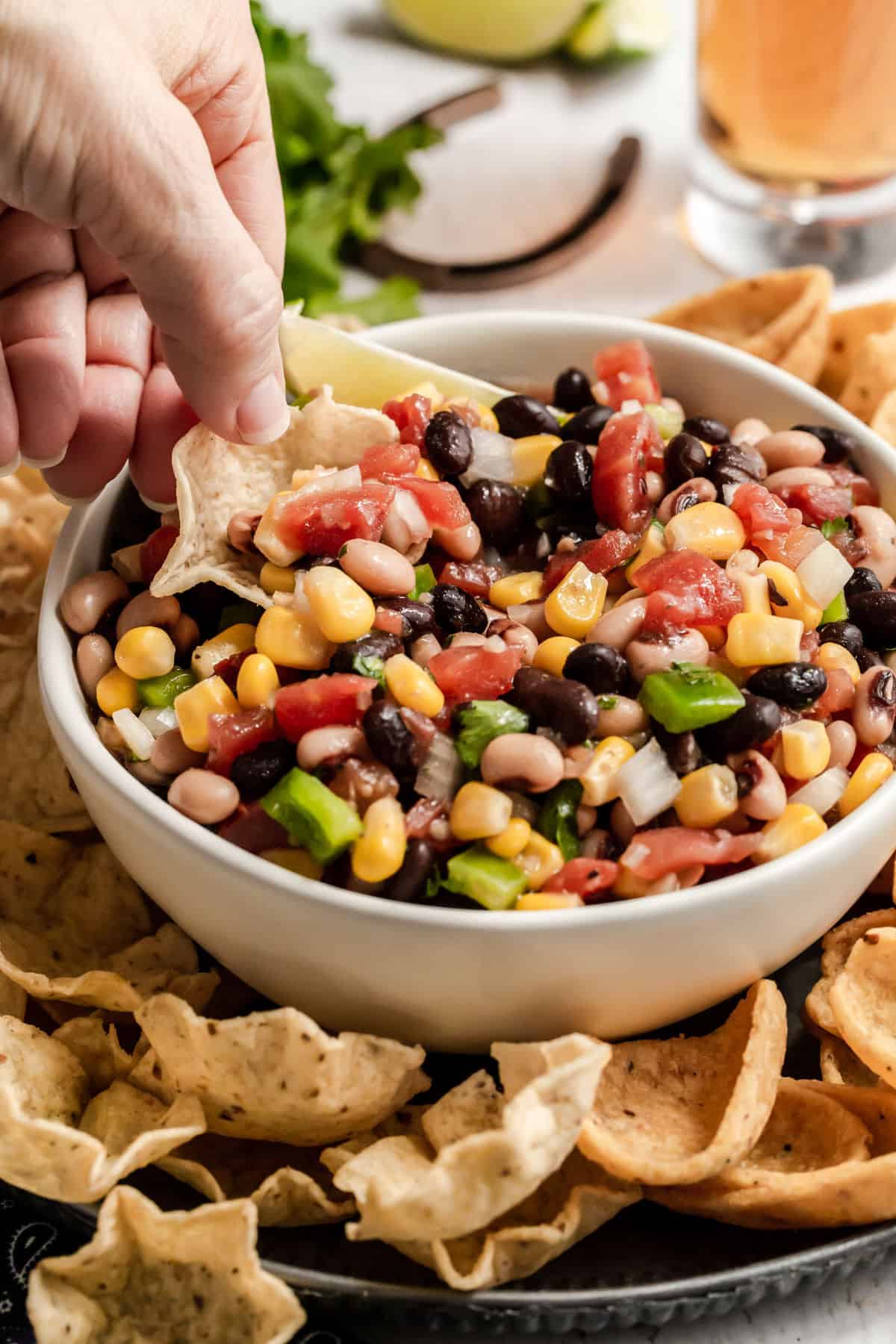 Tips & Variations
I can't say this enough, but YOU NEED TO MAKE IT AHEAD. Letting the prepared salad sit in the fridge for at least 8 hours gives the dressing and tomato juices time to completely blend together and the flavors permeate the ingredients. If you eat it too soon, it will taste disjointed.
Use Petite diced tomatoes rather than the regular diced tomatoes. The size is more proportionate to the rest of the salsa ingredients so you get a better bite.
This recipe calls for garlic salt but if you don't have any on hand you can make your own using garlic powder and sea salt. The ratio is one part garlic powder to three parts salt which would be 1/4 teaspoon garlic + 3/4 teaspoons salt.
If you can't eat cilantro you can substitute with fresh parsley instead.
Add a couple of diced avocadoes if you like.
You can store leftovers covered in the refrigerator for up to 5 days.
PARTY TIP: Black eyed peas are considered good luck if they're eaten on New Years Day. Serve this dip as a tasty way to incorporate the tradition!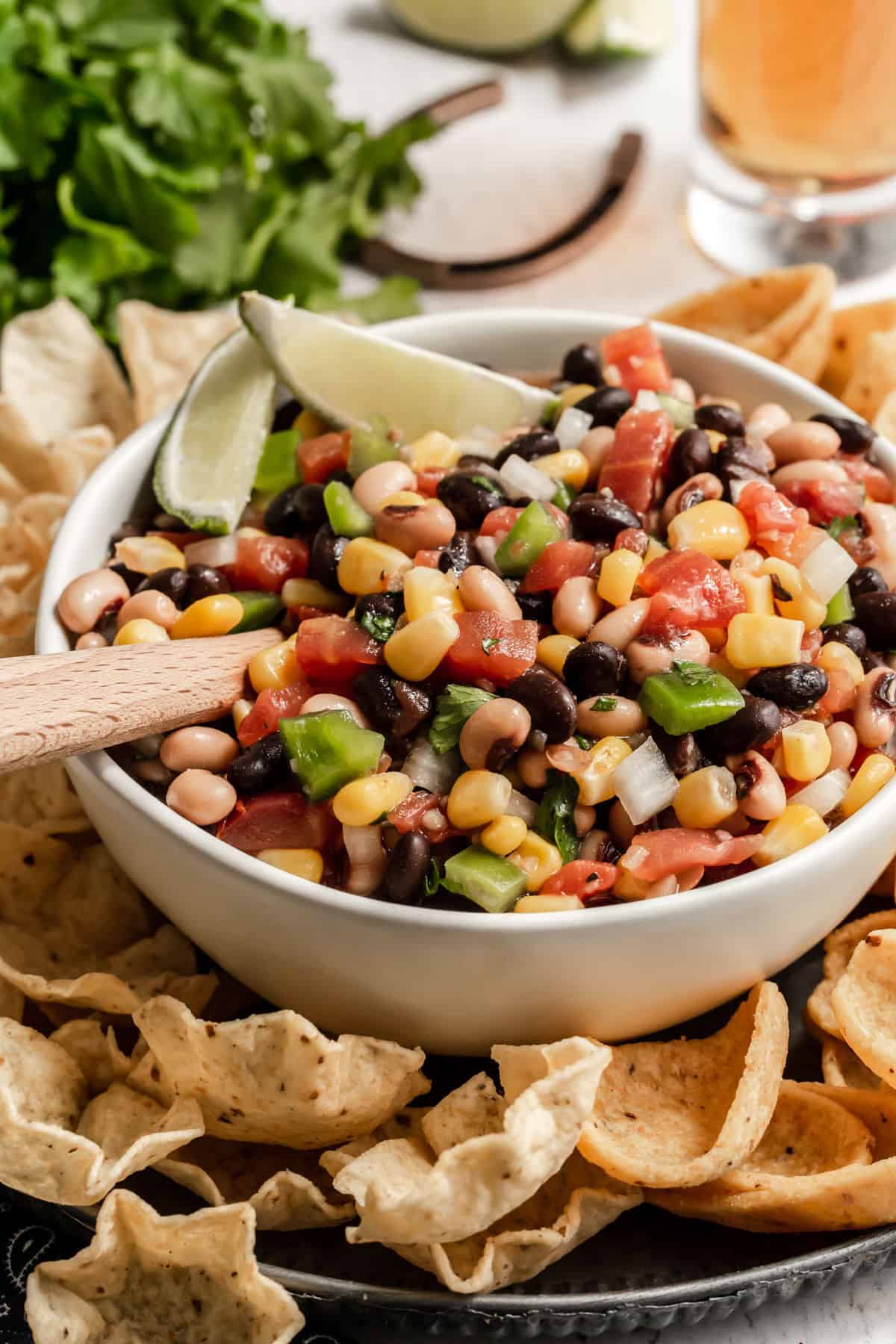 More Dip Recipes
Here are some more party dips to serve alongside this easy cowboy salsa.
If you like this post, PIN, Share, or sign up for our Newsletter at the top of the page. And don't forget to follow CAH on Instagram or Facebook. Cheers!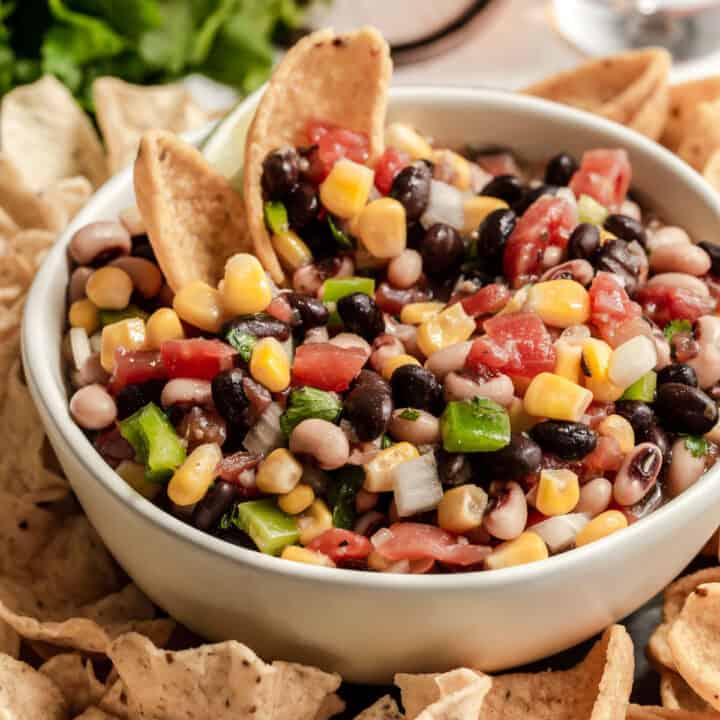 Cowboy Salsa (Redneck Caviar) recipe
Total Time:
8 hours
15 minutes
The easiest cowboy salsa party dip that everyone loves is a mixture of canned beans, corn, and fresh ingredients brought together and marinated in Italian dressing.
Ingredients
1 (15 ounce) can black-eyed peas – drained & rinsed
1 (15 ounce) can black beans – drained & rinsed
1 (15 ounce) can yellow corn – drained
1 (15 ounce) can Petite diced tomatoes - do NOT drain
1 medium onion, chopped
1 green bell pepper, diced
1 lime, juiced
¼ cup finely chopped jalapeno peppers (about 2 or 3 peppers)
¼ cup chopped fresh cilantro (or more if you want)
1 teaspoon garlic salt
8 ounces of bottled Italian salad dressing (or Zesty Italian)
Instructions
Combine all ingredients in a medium size bowl. Cover and refrigerate overnight.
Serve with tortilla chips or Fritos scoops.