Easy bean and corn salsa serves a large party crowd! This recipe combines convenient canned items with fresh ingredients, and is brought together with commercial dressing. The result is this addictive flavorful chunky salsa that's great for tailgating or summer entertaining.
Easy Party Dip
This easy bean and corn salsa is an all-purpose dip that's great for summer cookouts as well as fall tailgating and game day parties.
You may also know this by another name – cowboy caviar. I acquired this recipe from a neighbor at a backyard cookout years ago, and it's positively addictive.
It's easy to make, but be sure to make it ahead of time so the flavors can fully blend together. The result is this pretty, chunky blend of crunch and flavor.
If you love chips and pico de gallo, try this bean and corn salsa!
Best Party Salsa for a Crowd
So, what makes this recipe so great?
For starters it make a LOT. About 6 cups so it can feed any large gathering, backyard bbq, or graduation party you have.
Dare I say this recipe is somewhat healthy? It's full of fiber from the vegetables and beans, and I always rinse my canned veggies to remove any salt from processing.
You can cut the fat by using a light dressing instead of the regular version.
You can make good use of leftovers by incorporating it into lunch or dinner meals.
PARTY TIP: This chunky salsa tastes good over rice, and with fish or chicken. Use a slotted spoon to drain most of the liquid before serving it over fish or chicken.
This is a good vegetarian and vegan option for guests.
How to Make it
This is quite possibly the easiest party salsa you can make. It starts with convenient canned goods and commercial dressing. Add some fresh ingredients to give it some vibrancy and you're ready to go.
Make sure you make this at least 8 hours ahead. It needs time to chill in the refrigerator so the flavors can all blend together.
You will drain and rinse a can each of black eyed peas, black beans, and yellow whole kernel corn.
Add chopped onion, chopped green pepper, and finely chopped jalapeno peppers.
Add a can of petite diced tomatoes, but do not drain.
You'll bring everything together with Italian salad dressing and garlic salt. Then cover and refrigerate.
Serve with tortilla chips or corn chips scoops.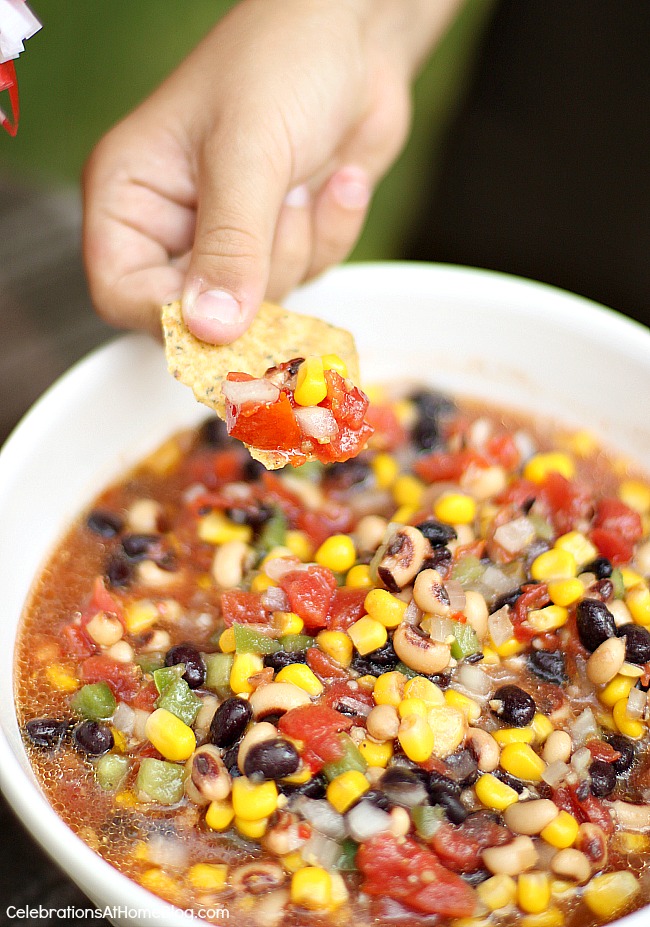 Easy Bean And Corn Salsa recipe
Total Time:
8 hours
15 minutes
The easiest party salsa dip that everyone will love is a mixture of canned and fresh ingredients brought together with a commercial dressing.
Ingredients
1 can black-eyed peas – drained & rinsed
1 can black beans – drained & rinsed
1 can yellow corn – drained
1/2 cup chopped onion
1/2 cup chopped green pepper
1/4 to 1/2 cup finely chopped jalapeno peppers
1 can petite diced tomatoes – do not drain
1/2 teaspoon garlic salt
1 – 8oz. bottle Italian salad dressing
Instructions
Combine all ingredients in a medium size bowl. Cover and refrigerate overnight.
Serve with tortilla chips.