Donut Bar with Toppings Galore!
This Donut Bar with Toppings Galore should be on your list of breakfast bar ideas! You'll love this party idea for weekend entertaining, for birthdays, baby or bridal showers, or back-to-school. Whatever it is you're celebrating, make sure to make it more fun and interactive with a donut and toppings buffet.
Brunch bar with doughnuts and toppings
I'm so excited to share this fun and delicious party idea with you guys. This donut bar with toppings is not only fantastic as a dessert table during a party or shower, but it's also a great idea for take-home party favors! What's more is you can put this together for a brunch party too. That's the awesome thing about donuts – fantastic for dessert OR breakfast!
There's a flavor for everyone and it all starts with convenient items from the grocery store, and the bakery section. See all the ideas, tips, and topping suggestions below.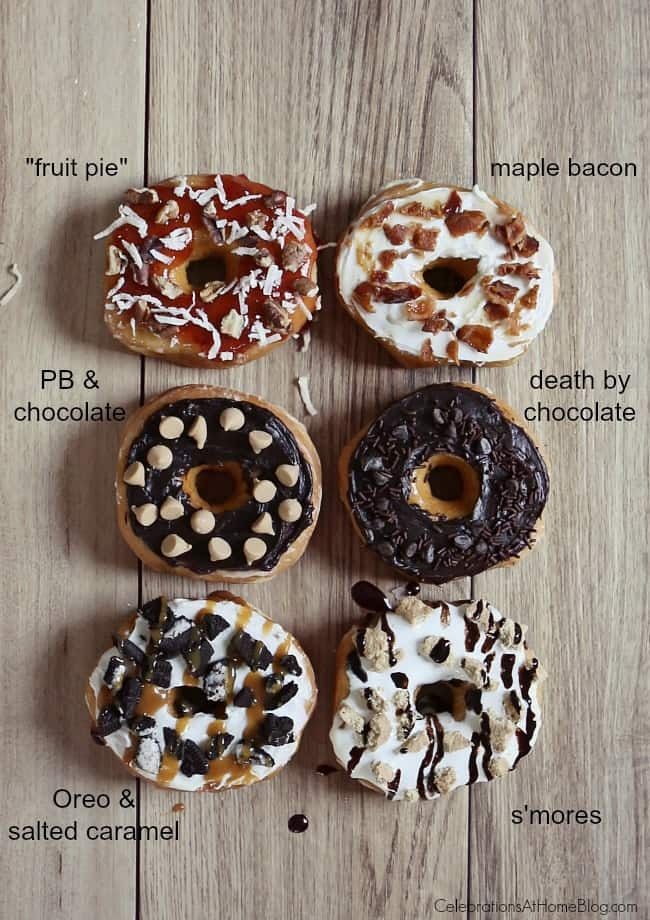 More brunch buffet ideas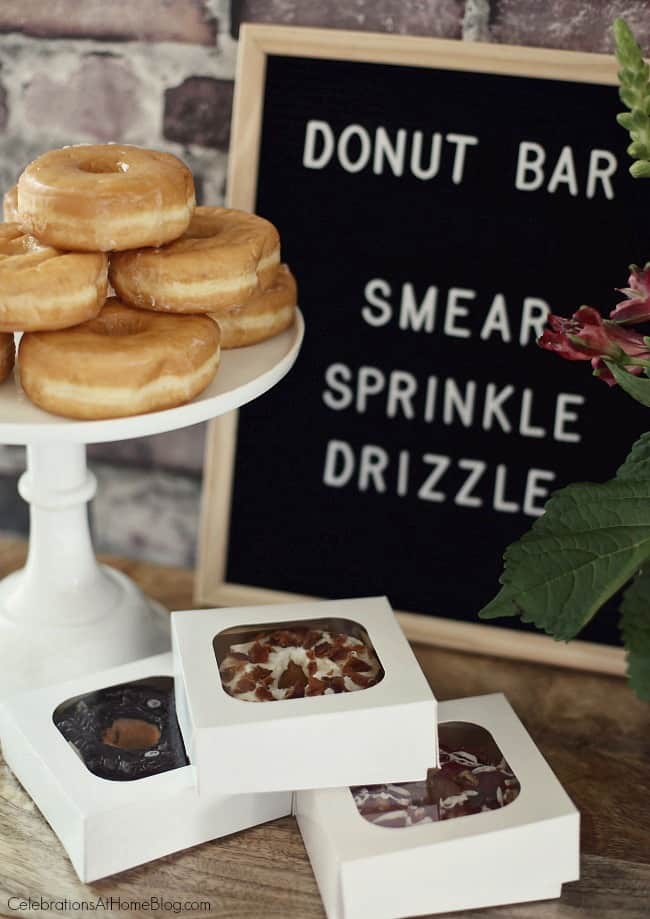 How to Set up a Donut Bar with Toppings
Get everything you need at the grocer. Stop by the bakery department of your grocery store and pick up plenty of glazed, or cake donuts. Next, gather up some delicious toppings (you may already have some in your pantry) from my list below. Finally, grab a bouquet or two of flowers to help decorate your table.
You've likely seen the popularity in gourmet donut shops lately. You and your guests can re-create that idea at home with an array of wet and dry ingredients. Here are my favorites: white and chocolate icing, marshmallow cream, crushed Oreos, crushed graham crackers, flaked coconut, chopped pecans lightly toasted, mini chocolate chips, peanut butter chips, sprinkles, chopped crispy bacon, raspberry jelly, salted caramel, chocolate fudge sauce, and maple syrup.
Let your guests know how to proceed. First add a smear of frosting, marshmallow cream, or jelly. Next, sprinkle with dry toppings. Finally, drizzle with a syrup or sauce. It's that simple, and the sky is the limit when it comes to creativity and having it your way!
Be sure to provide small plates for now, and some mini bakery boxes to place a donut in for later as a party favor, and provide small squares of parchment paper to keep hands clean while handling. I love edible favors for any party or celebration, and incorporating them as part of the festivities saves time and money for the hostess.
It's as easy as that to create a fun, interactive and delicious donut bar with toppings. I guarantee your guests will be dazzled by your hosting skills.
If you want to add some color for a special holiday check out this colorful homemade donut glaze.