How To Set Up A Coffee Bar for Entertaining
See how to set up a coffee bar for parties and entertaining. Serve it for showers, brunch parties or Mother's day, and offer up a coffee station for overnight guests. Let everyone serve themselves with special flavors and add-ins.
If your family & friends are anything like mine, coffee is a necessity of life! We drink it in the morning, in the afternoon, and some even drink it at night. But for special occasions I love the decadence of adding flavors and extra indulgences.
Adding things you wouldn't drink every day like flavored liqueurs or whipped cream are what make a coffee bar so special. Add in some chocolate treats and you basically have a marriage made in heaven. Speaking of marriage, this would be a delicious addition to a bridal shower or a ladies luncheon.
These tips for setting up a coffee bar can also be applied to a hot cocoa bar.
How to Set up a Coffee Bar
It's a good idea to set up the coffee in a place that's away from heavy traffic. A side table, desk, or counter top would work just fine.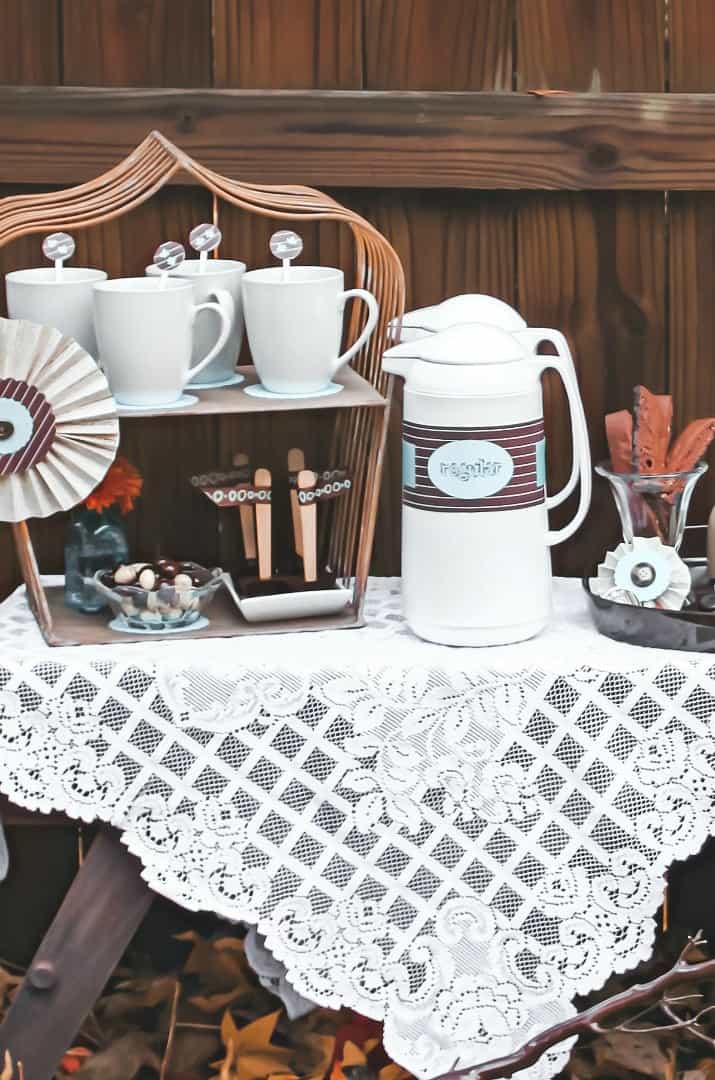 Create a total look for the display by adding DIY design touches. A vintage look is added here with lace.
Make sure to have regular and decaf coffee and label them as such.
Provide 3 flavored liqueurs for an indulgent treat. Chocolate liqueur, Butterscotch liqueur, and Irish Cream are all great choices!
You'll need to have cream and sugar for the traditionalists, and raw sugar cubes for a modern spin.
Flavored creamer is also a welcome addition.
Provide DIY chocolate stir sticks or purchase some from the store.
Chocolate is a secondary feature on this coffee bar because the two go so well together. Add some chocolate covered espresso beans, and chocolate biscotti to the table.
Place mugs so they're easy to reach and use decorative stir sticks instead of spoons. You can find inexpensive mugs at the dollar stores or home stores.
There's just nothing better after a delicious meal than a hot cup of coffee served with a yummy chocolate treat.
If you like this post, PIN, Share, or sign up for our Newsletter at the top of the page. And don't forget to follow CAH on Instagram or Facebook. Cheers!