Black & Gold Bridal Shower Ideas
These Black & gold bridal shower ideas are elegant and sophisticated for the refined bride to be. It includes a black and gold tablescape, a dessert shelf with mini treats, hostess tips, and more! See how to host a bridesmaid luncheon or bridal shower at home!
Black and gold bridal shower ideas are for the sophisticated bride who wants to celebrate with a bridal luncheon
I'm excited to share these bridal shower ideas and inspiration. The overall look and feel is a bit more elegant as it's done in a black and gold color combo. Right away the colors say "elegant."
The bridal shower decor is dark and moody which makes it great for an evening shower as well. It's beautiful for seasonal showers during fall, winter, or holiday, but certainly is not limited to that. I started with a black base and added gold highlights. Then wove in some earthy accents like greenery, wood, and stone slabs.
For more ideas check out this beautiful "Something Blue" themed bridal shower.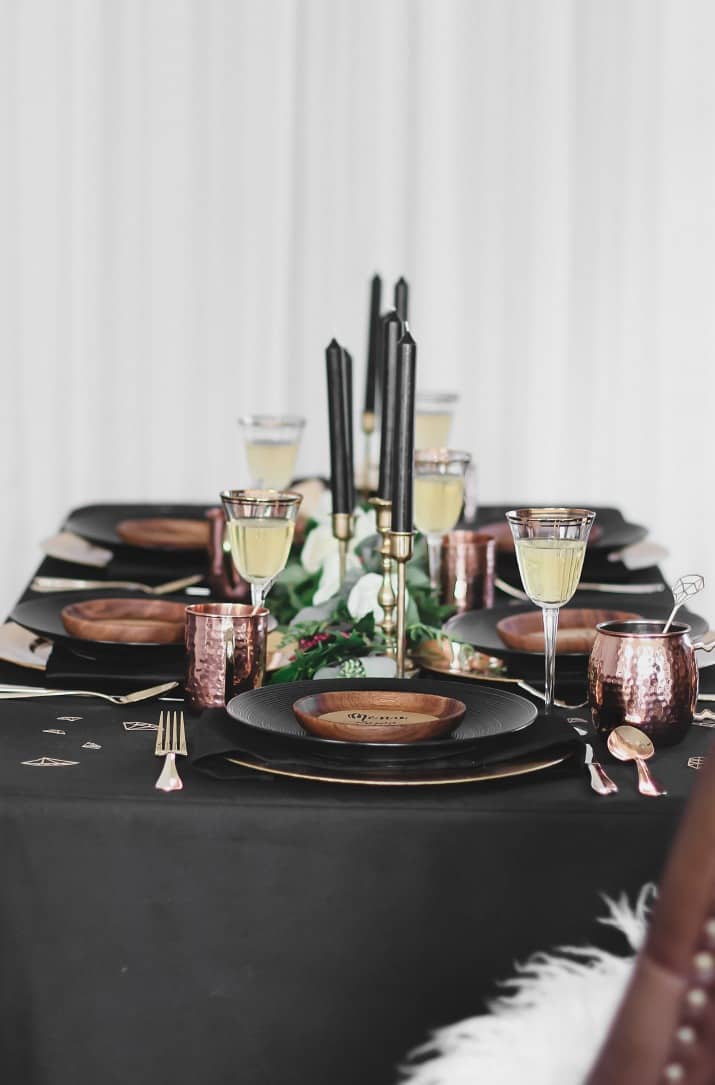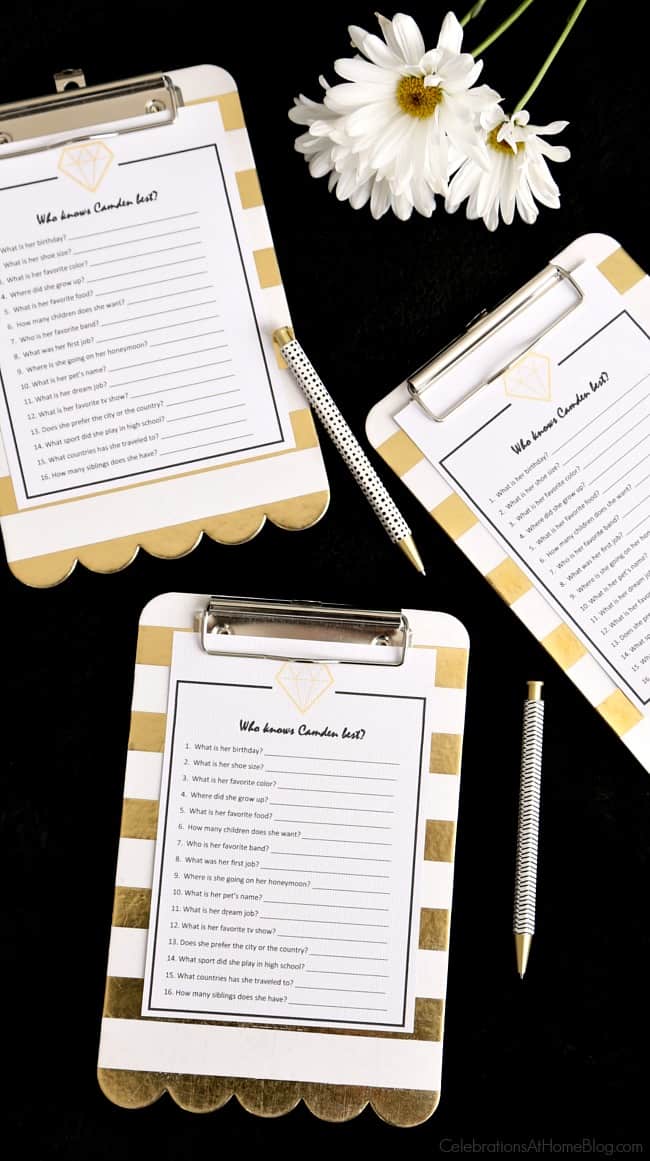 Black & Gold Bridal Shower Table Setting Ideas
The tabletop is always the starting point for me. I covered it in my black tablecloth and used black and gold items to create the place settings. Each plate is topped with a small wooden appetizer plate and a round menu card I created with the Cricut Explore Air. I LOVE round menu cards, but the thought of cutting them out by hand has always steered me away from using them. I love that the machine does the writing and cutting for me!
The centerpiece is a garland of greenery from Fifty Flowers. It's a 12-foot long seeded eucalyptus, bayleaf, & pepperberry garland. I cut it to make a runner for the table, and a hanging garland above the bar cart. I tucked in a few white rose buds and added taper candles for a lovely centerpiece that you can still talk over.
Another decorative element I added to the table were these DIY diamond confetti pieces. They are SO cute, don't you think! I chose a diamond pattern from the Cricut Design Space library, and let the machine do all the work! I just sized them so there were small ones, and larger ones so I had some variety in the confetti effect.
This bridal shower has a diamond motif repeated throughout the party. This helps give the party decor a more custom and cohesive look.
The bar cart is always a favorite gathering spot for guests. To highlight the area I hung the greenery garland overhead and made a "Love" sign by attaching gold adhesive vinyl cutouts to a wooden cutting board. It's a simple decorative element but adds so much to the small cart.
I created and printed a bridal shower trivia game with questions like, "what is her birthday," "what was her first job," "how many children does she want," etc. I continued the diamond theme with a graphic at the top of the cards, and placed one on small clipboards for guests to fill out.
Bridal shower menu plan with recipes

Each place setting has a round menu card and incorporates some delicious recipes. Place a cheese and charcuterie assortment on the table so guests can help themselves.
The main course consists of a fantastic orzo salad recipe which you can find in this al fresco dinner party menu. The salad can be made ahead for easy hosting.
Salmon makes a wonderful entree. These glazed foil baked salmon sound amazing!
Serve a hearty mix of roasted vegetables with dipping sauce to round out the menu. Get the recipes for a roasted veggie platter from this casual dinner party menu.
Display a variety of mini desserts and cake for a sweet end to the meal.
Set up a dessert display on an open shelf for a unique way to serve sweets
Who doesn't love dessert at a bridal shower! I utilized the open shelving in the space to make a sweets display that includes a cake, my black & white parfaits recipe, and mini cheesecakes from Shari's Berries.
The cake is decorated with a sleek, minimal approach using green herbs and a topper. I created a cutout that says "Love is Sweet," and included another diamond confetti cutout to accent the piece. I simply attached the cutouts to toothpicks using Glue Dots, and inserted it into the cake.
Add a framed sign to the dessert shelf to bring color and a message of love. There is a two step process to make this sign. First the machine writes out the message on card stock, and then I added a vinyl adhesive diamond cutout to the paper.
This is a great place to display the guest favor boxes. I designed diamond shaped tags using the print and cut technique on the machine. First I printed out the design using my printer, and then the Cricut Explore Air cuts it out. Easy peasy.
Set up a comfortable chair for the bride-to-be to open gifts. Follow my guide to writing Thank You notes, for after the shower!
These black & gold bridal shower ideas can be achieved by anyone with a little time and patience. I hope you'll pick at least a few of these projects to do.
For this post I teamed up with Cricut and Canon to bring you creative party ideas, including products like Canon Printers and Canon PowerShot G7 X Camera.