Black & White Parfaits Mini Desserts
These Black & White Parfaits are delicious mini desserts for entertaining at home. They are the perfect individual size so they look great added to a dessert table, or for a dinner party.
Black & White Parfaits for a Party
These layered chocolate and white chocolate parfaits are a delicious mini party dessert.
I love mini desserts! Especially when they're part of a larger offering such as a sweets table, or a dessert sampler platter.
These mini black & white parfaits are served in shot glasses, or glass votive holders. And they're just the right size so you don't feel guilty about having one…or three. Plus they leave you room to try other desserts too!
This mini dessert recipe is so easy and delicious. It has rich milk chocolate combined with layers of sweet cream and white chocolate for a winning treat for both children and grownups alike. You can make them a day ahead and cover and refrigerate until you're ready to set them out.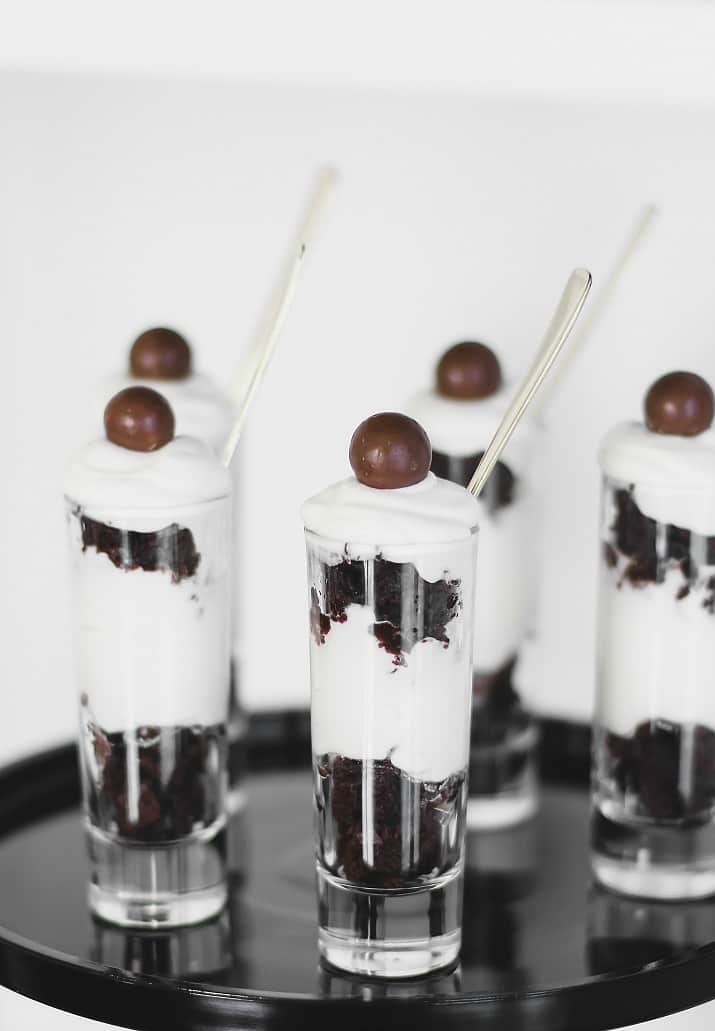 Dessert parfaits for a black and white themed party
The black and white color combination of ingredients makes them a logical choice for a black & white party.
The recipe is simple to make and can be done ahead of time for easy hosting. Add these to a bridal shower or baby shower alongside other chocolate and vanilla sweets.
PARTY TIP: If you want to make this dessert in a larger format, it's easy to do. Just put the layers in a larger glass serving dish. Or you could make larger parfaits using wine glasses or martini glasses as the vessel.
More recipes for single size desserts
Think about adding any of these singe size desserts when you're designing dessert tables for a party.
This recipe is very adaptable to serving more people. You can make more or less depending on how many brownies or cupcakes you use. And you can easily double the cream layer to make more parfaits.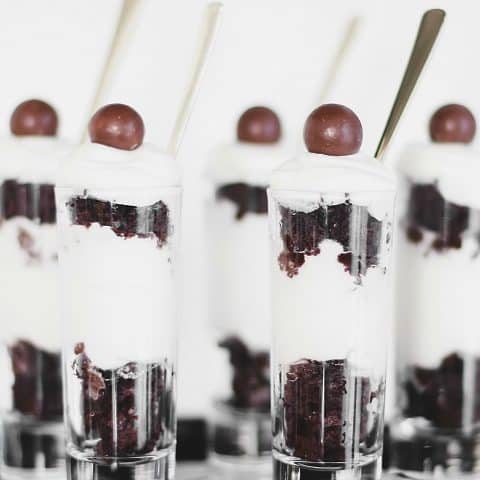 Black & White Parfaits Mini Desserts
Yield:
about 10 mini parfaits
Black & white mini parfaits are the perfect dessert for a party. Add them to your sweets table with other small bites, or serve them for a black and white themed dinner party. They're great for cocktail parties and dessert parties too.
Ingredients
1 package chocolate brownie bites, or chocolate cupcakes from bakery section
1 box Instant White Chocolate Pudding & Pie Filling Mix
1 3/4 cups Cold Milk
1/2 of a container of frozen Whipped Topping, thawed (Cool Whip)
Instructions
Break up chocolate brownie or cake pieces and place a small layer in the bottom of a shot glass. Set aside remaining pieces for another layer.
Prepare instant pudding/pie mix according to directions for pie filling, using the milk. Let it chill and set up in the refrigerator for about 10-15 minutes.
Fold in about half the container of whip topping into the prepared pie filling mixture, and combine well.
Transfer mixture into a piping bag or heavy duty zipper bag (snip off the tip of one of the corners) and pipe on a layer of the pudding mixture.
Add another layer of chocolate brownies or cake, and top off with pudding mixture.
Garnish with a chocolate malt ball if desired.
Notes
If using prepared cupcakes from the bakery, make sure to scrape off the icing before using.