Banana Pudding Mini Desserts in Cups Recipe
Easy banana pudding mini desserts recipe for parties. Add these semi-homemade mini desserts in cups to your dessert table or dinner party at home. This classic banana pudding recipe includes vanilla wafers, instant vanilla pudding, and whipped topping.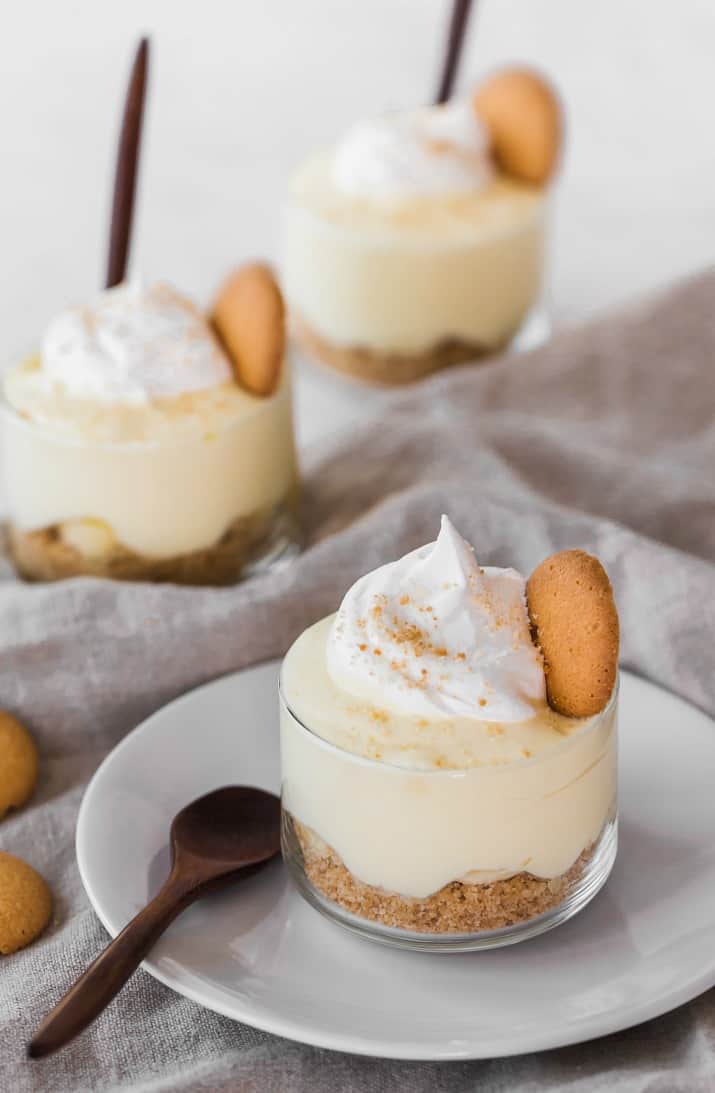 Banana pudding is a true southern tradition, but I have to admit, when it comes to a layered dessert I tend to like the other parts more! So, I'm sharing MY favorite way to make individual sized banana pudding.
When you dig into my mini banana pudding cups you'll get more creamy pudding and more vanilla wafer crust with just enough bananas to add flavor and texture. To me it's the perfect bite!
Why You'll Love This Recipe
They're a semi-homemade recipe for parties and entertaining. It saves time and just makes life easier! The recipe combines fresh ingredients with convenience products for these adorable dessert parfaits.
Make them ahead for easy hosting, and there's no cooking involved!
Bananas are delicious year round. Some fruits, like berries, are available all year but taste best during their growing season. Bananas taste great any time!
These are perfect to serve for bridal showers or baby showers, and ladies luncheons alongside other small bites when designing dessert tables. 
Make-Ahead Parfaits
These mini parfaits are awesome for a party because you make them ahead and keep them chilled. I suggest making them up to a day ahead of your party.
Once you've made the individual dessert cups, cover them and keep refrigerated. Save the whipped cream and cookie garnish until you're ready to serve.
If you have leftovers you can keep them covered in the refrigerator for 3-4 days.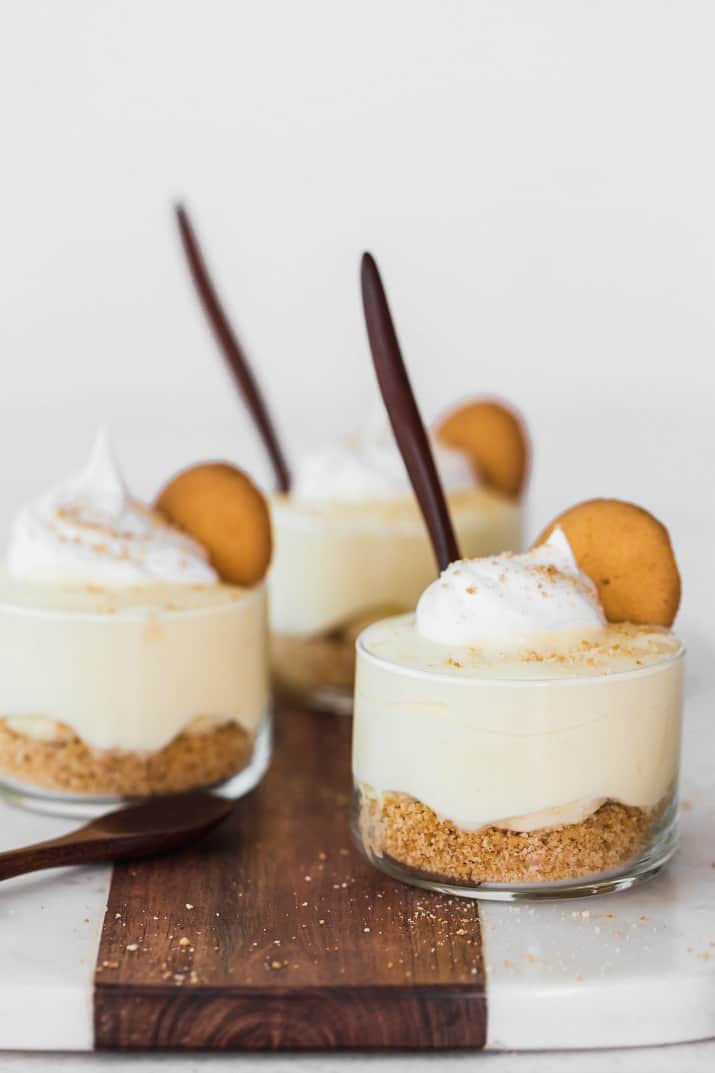 Ingredients and Variations
For this simple recipe you'll combine fresh ingredients with convenient packaged foods.
Vanilla Wafers. You'll crush them to make the crust, plus use some to garnish the top. Change it up by using graham crackers, Biscoff cookies, or shortbread cookies.
Vanilla Instant Pudding Mix. You don't have to cook the instant mix so it's so easy! Change it up by using cheesecake flavored pudding or coconut flavored pudding.
Milk. Use whatever type of milk you like, from whole to skim.
Butter. Sweet cream unsalted butter, melted for making the crust layer.
Bananas. Use fresh bananas with a nice yellow skin. You don't want them over ripe and too soft.
Frozen Whipped Topping. I use classic Cool Whip for this. Make sure it's thawed.
RELATED: Set up a make-your-own banana split ice cream bar.
How to Make Mini Banana Pudding Cups   
*affiliate links included
It's hard to serve a full size banana pudding dish at a party. That's when you reach for these cute mini desserts.
The first thing I do is make the crust layer extra thick. I use my mini food processor to grind the cookies into crumbs. It took about 60 cookies for 1 cup of crumbs. Combine the crumbs with melted butter. I find that using my fingers to do this works best. 
Next I add a single layer of banana slices. They're cut thin so they don't overpower.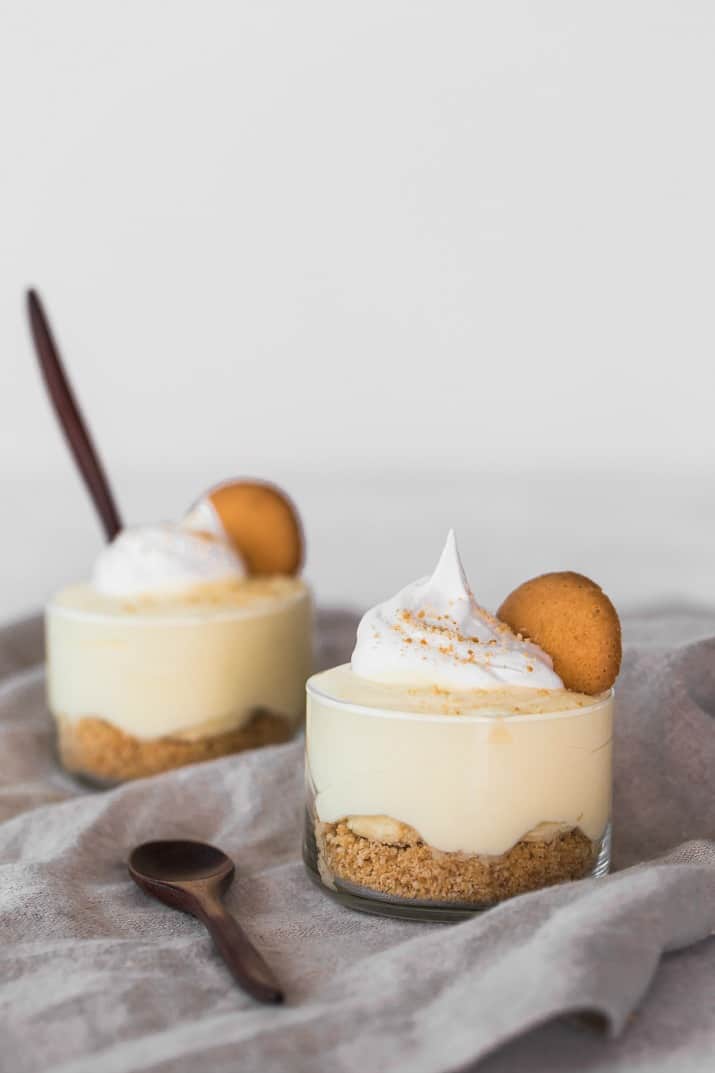 Finally, the prepared pudding gets combined with whipped topping for a light, creamy, spoon full of goodness.
Garnish the finished desserts with remaining cool whip topping and a whole cookie.
Expert Tips
You can divide these in a couple of different ways, so the servings will vary accordingly. 
You can get about eight servings using 4-ounce mini glasses like the ones I show here. Or you can get about 16 servings using these mini cups.
If you make these in 4 ounce containers they will work beautifully with these dinner party menu ideas.
You can also use 4-ounce canning jars to prepare these in. That would work great for a picnic as you can put the lid on during transport.
More Recipes for Desserts in Cups
Here are more bite size treats to serve on a dessert party table.
If you like this post, PIN, Share, or sign up for our Newsletter at the top of the page. And don't forget to follow CAH on Instagram or Facebook. Cheers!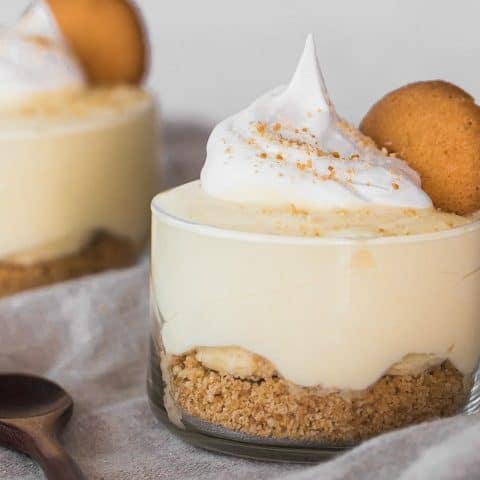 Banana Pudding Mini Desserts Recipe
Yield:
16 individual servings
Easy banana pudding dessert cups recipe for individual servings, perfect for a party.
Ingredients
1 cup vanilla wafer crumbs, from about 60 cookies
2 Tablespoons butter, melted
1 box instant vanilla pudding mix
2 cups milk called for on pudding mix directions
2 bananas, sliced
1 container whipped topping
Instructions
Combine cookie crumbs and melted butter together in a medium size bowl.
Divide the mixture evenly among dessert cups and tap down using the bottom of a smaller glass.
Make the pudding according to package directions.
Fold in 2 cups of whipped topping into the pudding, until well combined.
Layer 5 slices of banana on top of cookie crumb layer (use more slices if you want more bananas in the pudding cups).
Fill mini cups with pudding mixture, cover and chill for at least 2 hours.
Top with a dollop of remaining whipped cream topping and garnish with whole vanilla wafer cookies.