Easy Lemon Lime Mini Cheesecakes
Make this easy lemon & lime mini cheesecakes when you need a light and refreshing party dessert. These are the perfect individual size for tea parties, luncheons, even brunch. The creamy cheesecake filling is flavored with citrus and compliments the sweet cookie crust. Make these mini desserts ahead so they're ready when you are.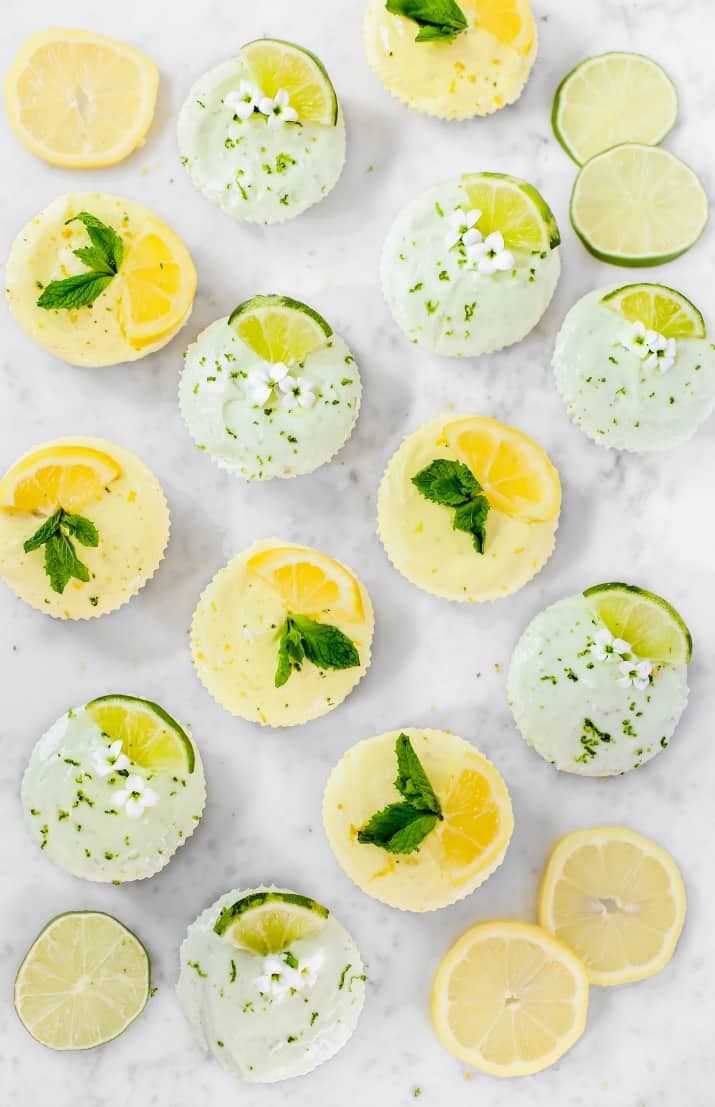 Lemon Lime Tarts
I just love the refreshing flavors of citrus. This lemon & lime cheesecake tarts recipe is so light and delicious you'll definitely want to eat more than one! This is a terrific dessert recipe for so many occasions. Make them for girls night in, a ladies luncheon, a lemon themed tea party, or a weekend brunch or breakfast bar.
I originally shared this recipe back in 2011, but I decided they needed an update. Instead of making 24 mini cheesecakes, I made 30. The balance of flavor and texture is better when divided into 30 portions.
Now you get a better balance of lemon or lime filling with the sweet crust of the cookie base. If you make only 24 you will have too much filling to crust ratio, or have filling left over… which admittedly isn't the worst thing 😉
Make-Ahead Party Dessert
This recipe is very easy to make and it's flexible too. You can divide them into the two citrus flavors like I did here, or make all of them lemon flavor, or lime flavor. We like the mix because we just couldn't decide which one we like better!
See how I coordinated the lime tarts with this green theme dinner party & menu.
Although these are perfect for summer party ideas, they're equally great for holiday entertaining.
Can I Freeze Cheesecakes?
Yes, you could make a large batch ahead of time and freeze for later. That makes party planning a breeze.
Our lemon and lime tarts may be frozen in an air tight container for up to 2 months. Wrap them tightly with saran wrap to keep them free of frost.
Thaw at room temperature for 30 minutes or in the refrigerator for several hours, before serving.
How to Make Them
These lemon and lime cheesecake tartlets are easy to make because they're a 'semi-homemade' recipe. You'll use prepared cookie dough from the refrigerator section, and you'll make the filling from scratch.
These are prepared in cupcake liners for easy cleanup and serving. You can mix the cream cheese filling while the crust is baking in the oven. And when the tart crust has completely cooled you can fill the cups with the cheesecake.
I like to remove the cupcake liner before serving these on a platter so they look pretty. You don't have to worry; once they have chilled and set up they will hold their shape.
HOSTESS TIP: Add a few drops of yellow and green food coloring respectively, for each flavor. This will intensify the color and helps to distinguish the flavors at a glance. Plus it's a tried and true way to coordinate a party's color scheme.
Flavor Variations
As I said in the beginning, these lemon & lime tartlets are versatile. See how you can change them up.
Use orange juice and orange peel to turn these into an orange flavored dessert.
Try these using pineapple juice for a tropical spin.
Use chocolate chip cookie dough instead of sugar cookie
Make the cookie dough from scratch using my shortbread cookie recipe
If you like this post, PIN, Share, or sign up for our Newsletter at the top of the page. And don't forget to follow CAH on Instagram or Facebook. Cheers!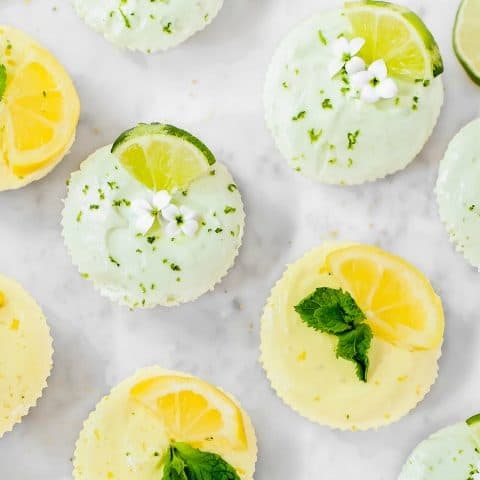 Lemon & Lime Mini Cheesecakes Recipe
Add these light and refreshing mini desserts for your next party or brunch entertaining. Lemon and lime tartlets are the perfect individual portion for your guest's sweet tooth. And they're easy to make!
Ingredients
1 1/4 pkg refrigerated sugar cookie PRE-CUT dough; each package has 24 but you'll need 30
1 can (14 oz) sweetened condensed milk
1 pkg (8 oz block) 1/3 less fat cream cheese, at room temperature
2 cups Cool Whip
1/4 cup lemon juice
2 tsp grated lemon peel
1/4 cup lime juice
2 tsp grated lime peel
Additional lemon or lime for garnish
Instructions
Preheat oven to 325 and line 30 muffin cups with paper liners.
Cut dough along pre-scored lines and place 1 piece of dough in each muffin cup.
Bake 13-15 minutes or until golden brown. Cookies will be puffy. Cool completely in pan on wire rack.
Beat sweetened condensed milk and cream cheese in large mixer bowl, until smooth.
Gently fold in whipped topping.
Divide mixture into 2 medium bowls and add the lemon juice and peel to one, and the lime juice and peel to the other.
Pour about 3 tbsp of lemon mixture over each of 15 cups, and then the lime mixture over the other 15 cups.
Loosely cover and refrigerate for 2 hours to overnight.
Decorate with lemon/lime wedges, curls, slices, or peels.
Notes
If you want only one flavor, just double the amount of juice and peel of that flavor and omit the other.
Tartlets may be frozen in air tight container for up to 2 months. Thaw at room temperature for 30 minutes before serving.
Try making these with orange juice and orange peel for a different flavor.