Quick & Easy Shortbread Cookie Recipe
My favorite shortbread cookie recipe has just 4 ingredients and makes delicious cookies that melt in your mouth. This easy recipe is perfect for tea parties, holidays, birthdays, or any time!
Easy shortbread cookies
Today I'm sharing one of my go-to recipes for a sweet treat. It's my classic shortbread cookie recipe and the cookies just melt in your mouth!
They're perfect to include in you're tea party ideas or to add to a dessert table. It's the recipe I use to make witch finger cookies at Halloween, and for a cookie exchange party at Christmas.
They also make great cutout cookies, because they hold their shape and don't spread out when baking.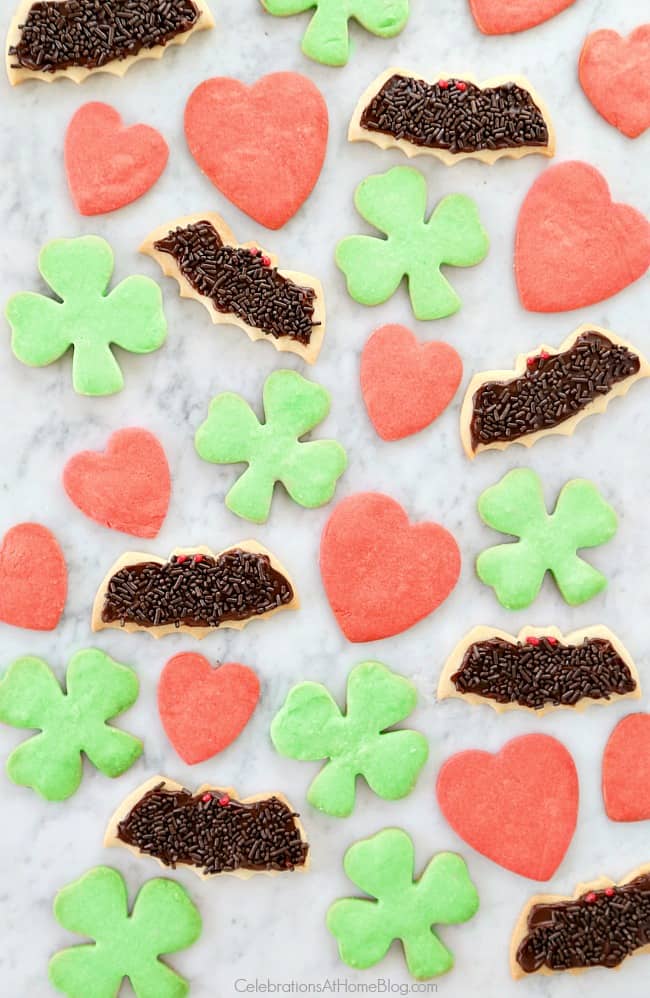 I love to add food coloring to the dough, and use themed cookie cutters to make special cookies for St. Patrick's day, Valentine's day, or Halloween. You can also decorate them for Christmas, using icing and dragées. They're so versatile!
If you don't have a cookie cutter, just roll the dough into small balls and press them down to form round cookies. You can also roll them out into log shape and then slice them into discs to bake.
More Cookie Recipes
A while back I found these great "cuppie" cutters at World Market, and couldn't wait to make my own cuppie cookies. These cookies look so adorable hanging on the side of a glass of milk or a cup of coffee. For these I decorated them using cookie icing, which is great for adding color as it dries to a hard, candy-like coating.
Best Shortbread Cookie Recipe
This is my go-to shortbread cookie recipe and has just 4 ingredients. They're light as a feather and melt in your mouth.
Ingredients
1 cup unsalted butter, softened
1/2 cup confectioners sugar
1 teaspoon vanilla extract
2 cups all-purpose flour
cookie icing if desired
Instructions
Preheat oven to 350 degrees.
In a bowl, cream butter and sugar together with an electric mixer on low.
Add vanilla and combine.
Gradually add flour while continuing to mix on low.
With your hands form a ball with the dough and then press out on a lightly floured surface. Spread dough out to between 1/4 and 1/2 inch thickness.
Use cookie cutter to cut out shapes and bake for 12 to 15 minutes.
Remove cookies with a spatula and let cool on a wire rack.
Decorate with cookie icing and sprinkles if desired.
Notes
Use almond, coconut, or orange extract instead of the vanilla to impart a different flavor into the cookies.