BEST Tips and Ideas for Designing Dessert Tables for Parties
Best tips and ideas for designing dessert tables for parties at home. Discover simple tips for dessert table design using mini desserts, cake centerpieces, sweets, and candies. Plus how to use props for decor.
Best Tips for Designing Dessert Tables for a Party
I'm excited to address the art of designing dessert tables in this edition of my Party Design Basics series. Dessert tables have become THE party staple and focal point thanks to leaders in design, like Amy Atlas and Sweets Indeed.
You can hardly see a styled party or wedding without an elaborate sweets display. And it's a great way to make your event feel special.
But for the purpose of realistic home parties and celebrations, I'm going to cover some basic design principles that are a bit more achievable.
In addition to these sweets tables, here are some ideas for setting up a pie table for a party at home. These are all great for the holidays and birthday celebrations.
Keep the Food Selection Realistic
It's no secret that I believe in using 1 or 2 designer desserts if you like, and then rounding out with more commercial items. The other items can be homemade, semi-homemade, or from the bakery.
Here's my basic dessert table formula to keep in mind. This should be more than enough to satisfy your guests' sweet tooth.
1 or 2 specialty items (show-stopping cakes, designer cupcakes, decorated cookies, etc.).
1 to 3 homemade treats, bakery items, or dressed up grocery store items.
2 or 3 candies to fill out the table.
In the anniversary party cake table above, we have a simple cake centerpiece. The rest of the table is filled in with color coordinated treats and candies. The cake is homemade, the cupcakes are semi-homemade, and the macarons are from the bakery.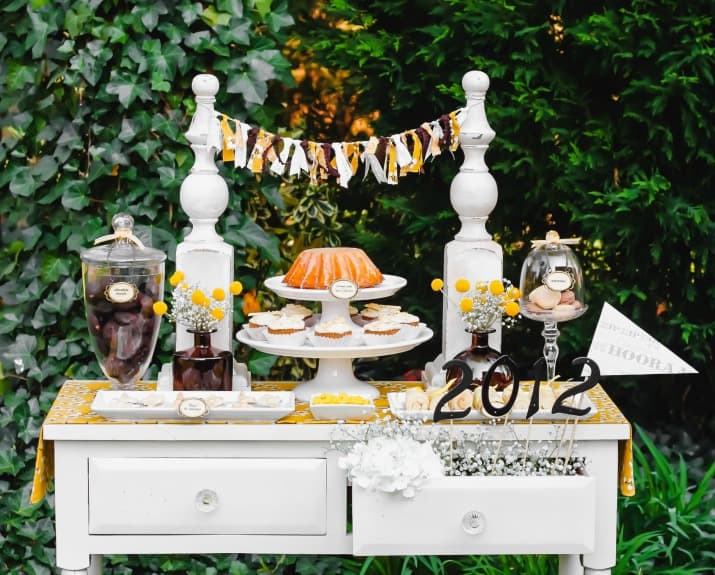 Variety is the Spice of Life
Serve a variety of flavors and textures unless of course you are specifically doing a "chocolate" party or other flavor-themed party.
Good choices that can add different flavor and texture are Cakes + Parfaits + Bars + Something Crunchy. These would make a wonderful assortment, and a taste to satisfy all palates.
You can also add different textures to a chocolate theme with creamy chocolate truffles, soft whoopie pies and brownies, chocolate cups filled with Bailey's or eggnog, and crunchy pirouettes with milk shots. The same principle can applied to fruit themes too.
In the graduation dessert table above, we had orange flavored cake, spiced cupcakes, chocolate donuts, crispy puff pastry rolls, crunchy macarons, and creamy white chocolate candies. There's something for everyone!
Height is Essential
When designing dessert tables, the main thing is to go for balance and keep the eyes moving – much like interior decorating.
You can begin designing from the center and work outward, OR from the two ends and work inward. With the balloon theme baby shower dessert table above, I worked from the outside in.
Start with the height in the back and from there you can add varying rows and levels to fill in the blank space.
Please don't set everything flat on the table! Use bowls turned upside down or boxes to put plates on to add height. In the table above, I added height with decorative items like flowers, and tall cake stands.
Space Management
One of the big mistakes I see a lot of people do is spreading all the dishes out to take up the available table space. Instead, bring it all closer together so it looks more deliberate, and it actually looks more abundant.
If your table is too large and you don't have enough food, add flowers, sculptural elements, or home decor pieces to the presentation. Some decorative items to use are vases and urns, empty frames, apothecary jars, framed printable signs, architectural elements like wood finials, etc.
You can also designate one end of the table for the desserts and the other end for something else like a signature drink, a guest book, photo display, or favors.
The rustic-modern bridal shower sweets table above was set up on a long table. I placed everything close together so it looks unified. If I had spread everything out to take up the entire length, the impact would be lost and it would look sparse.
The backdrop pieces help define the dessert buffet and the decorative items are visually connected to the food.
Symmetrical vs. Asymmetrical
One of the most fun, and sometimes trickiest parts of creating a dessert table is deciding how and where to place everything. Do you want to create sleek symmetry with one side mirroring the other, or do you like to have an eclectic unique look on each side?
A symmetrical design tends to be more classic & traditional. The thing to remember is to keep the vessels, the levels, and the colors uniform on both sides. This usually means your center point is the focal point and should be pretty special.
An easy way to achieve symmetry is to divide the dessert items in two groups. So if you have 12 cupcakes, you can display 6 on one side and the other 6 on the other side. So simple!
Choosing an asymmetrical design allows you to be a bit more free and creative since you don't have to be so precise. It also lets you create a focal point on either side, and bring in eclectic decorations to add to the overall look.
If you prefer this approach, remember to create balance by adding visual weight or height to the backdrop or opposite side. The best example of asymmetry is the rustic table, and baby shower table shown above.
I used a symmetrical design in the shabby chic dessert table above. Nothing 'matches' but everything ties in together through color and style. The height of the apothecary jars balances the height of the centerpiece, and creates a back row relative to the desserts in the front.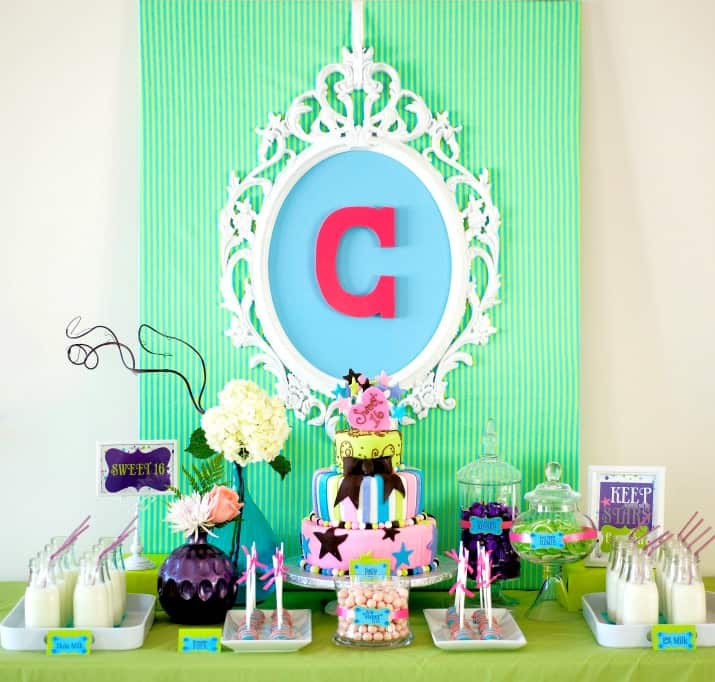 How to Create a Dessert Display
Let's see how the design tips play out in the Sweet 16 birthday party above.
Symmetry vs. Asymmetry – We have created a symmetrical cake table by dividing the brownie bites and milk bottles and placing on either side.
Food Selection – Our basic formula is used here with one fabulous designer cake as the centerpiece of the table. Next are homemade brownie pops and color coordinated candies.
Variety – The cake was vanilla flavored so we added chocolate brownie pops in our supporting role. Candies are fruit flavors and were chosen for their color.
Space – This display of sweet treats was brought together in the center of a longer table, making it more cohesive.
Height – The cake centerpiece adds height and is visually connected to the framed monogram above it. Apothecary jars, vases, and printable signs add more variations of height in the back row.
5 Ways to add Height
Add height by placing a tray on votive cups turned upside down, or chunky candlesticks.
Use large pillar candlesticks to hold small vases of flowers or candles.
Wood boxes, hat boxes, crates can all be used as risers to hold small treats or trays of sweets.
Cake stands can hold more than just cakes. Place bite size desserts on them, or mini parfaits and drink shots.
Fill apothecary jars with ornaments, moss balls, or other trinkets if you don't have enough candy to fill them, but still need the height.
Final Tips for Designing Dessert Tables
Don't go overboard with food. Just because it looks gorgeous in photos & blogs doesn't mean you and your guests will eat it all.

Add variety to your food selection with different flavors & textures.

Keep the eye moving with height, levels, and rows.

Keep your display tight. Too much space between items makes it look sparse and unfinished.

Add interest to the display with decorative features like flowers, seasonal items, and home décor pieces.

Get creative with how you display food. Incorporate unusual or unexpected pieces like old kitchen scales, vintage soda crates, garden vessels, etc. Always keep things food safe by lining them if necessary.
I'm hoping these tips will help you create a pretty dessert table step by step. And remember, you don't just have to serve sweets like this; appetizers and brunch parties also look fantastic when displayed this way!