These ham & cheese phyllo cups are a terrific party appetizer or brunch food. These small bites are a crowd please'r and I've been serving them for years. These are the perfect addition to your list of easy party appetizers for girls night in too. Make a batch or two the next time you're entertaining at home.
Phyllo Shell Appetizers with Ham and Cheese
Serve ham and cheese cups for brunch, girls night in, and cocktail parties
If you like easy and delicious appetizers then these ham & cheese phyllo cups are for you! These bite-sized cups are terrific for brunch, or for cocktail hour. I think any time you combine ham and cheese it's going to be good. After all it's a classic combo.
For more recipes using phyllo cups check out my brie party appetizer cups and my spanakopita appetizer cups. Both are SO good!
HOSTESS TIP: Don't have phyllo cups? Use slices of French bread and make ham & cheese crostini. Just spread the mixture on top and bake as directed.
Can I make these appetizers ahead?
These are fantastic make-ahead party food. You can make the filling mixture a day or two ahead and refrigerate it until you're ready to fill the fillo cups. This works particularly well if you're serving these for brunch entertaining. The pastry cups need no preparation as they can go from freezer to oven or room temperature.
HOSTESS TIP: Make the filling ahead of time and cover and store it in the refrigerator for a day or two.
I'm a big fan of these little frozen fillo cups because they're so convenient and easy to use. The crunchy shell adds great texture to anything you want to put inside. This recipe can be serve warm from the oven, but also holds up well at room temperature for easy entertaining.
Easy recipe for brunch entertaining
If you like this post, PIN, Share, or sign up for our Newsletter at the top of the page. And don't forget to follow CAH on Instagram or Facebook. Cheers!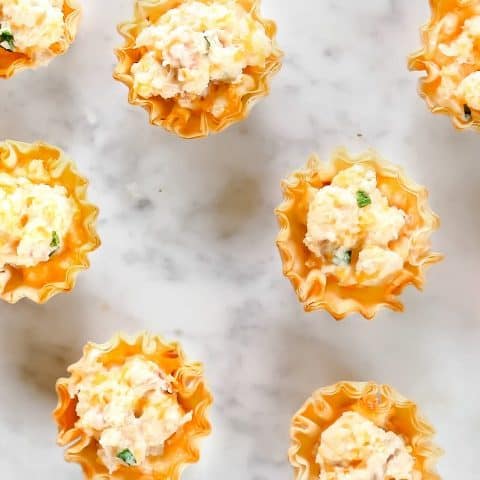 Ham & Cheese Phyllo Cups recipe
Make these delicious ham and cheese bites for party appetizers or for brunch entertaining. They can be served warm from the oven or keep at room temperature for easy hosting. Double the recipe for more if you need to!
Ingredients
1 package frozen phyllo cups (15)
1 cup shredded cheddar or cheese blend (best results if you shred your own cheese)
2 slices baked ham, diced
3 oz. cream cheese, softened
dried or fresh chives to taste
Instructions
Preheat oven to 350 degrees, and place phyllo cups on a baking sheet; set aside.
In a medium bowl, combine cream cheese, shredded cheese, ham, and chives.
Spoon mixture by the tablespoon, into phyllo cups.
Bake for 12-15 minutes or until cheese filling is melted.
Notes
Spread the filling mixture on slices of french bread to make ham & cheese crostini. Bake as directed.