This Easter Entertaining guide includes everything you need to begin your holiday planning. If you're hosting an Easter Brunch or an Easter dinner then these ideas are for you.
It includes Easter tablescapes, Easter recipes with special appetizers and sweet treats. There's also easy DIY projects and free Easter printables. Just click to view each idea and you'll be on your way to hosting a great gathering!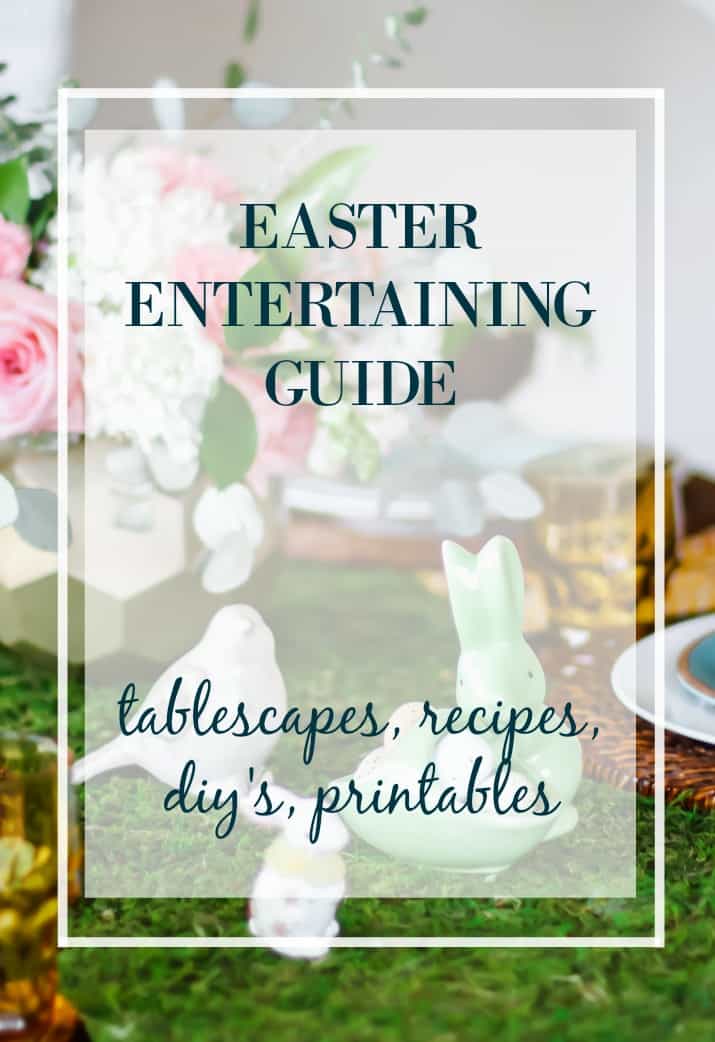 This Easter guide includes everything you need including Easter table settings, recipes, activities and projects to celebrate the holiday
Over the years I've amassed quite a few posts and ideas for celebrating Easter. So I've compiled some of the best ones here so you can get creative and start planning.
Most of the ideas can be applied to Easter brunch or dinner. But check out this Easter dinner plan for even more specific recipes. And if you are in need of quick fixes, check out these 7 quick & easy last minute Easter ideas.
Of course I love some ideas from fellow bloggers too, like the pretty layered peeps rice crispy treats. Or this Easter bunny bread bowl that you can fill with soup, dip, or veggie sticks. I'll also remind you of this Easter Peeps garden centerpiece I created many years ago. The photos are old but I promise the project concept holds up to time!
Make Easter entertaining a group effort and host a potluck meal
When you're using this Easter entertaining series, remember to get inspired by the projects. Use ideas from several tablescapes and incorporate them into your own style. Mix and match recipes as you like. Or forward one or more to your guests for them to make and bring over. I fully support the potluck party style! I grew up in a large family of 13 aunts and uncles so no one person ever cooked all the things.
Easter Entertaining Guide
Find tons of ideas for Easter entertaining in this roundup of posts including Easter tablescapes, Brunch menu recipes, special Easter desserts, and some festive diy's. This Easter entertaining series has everything you need to be the host with the most.