Baked Brie Phyllo Cups with Apple-Butter & Bacon
Easy baked brie phyllo cups are the perfect finger food for appetizers or brunch parties. A delicious combination of bacon, brie, & apple-butter make these one of our top appetizers for girls night in or cocktail parties. This 3-ingredient recipe is quick and simple to make and can be served at room temperature.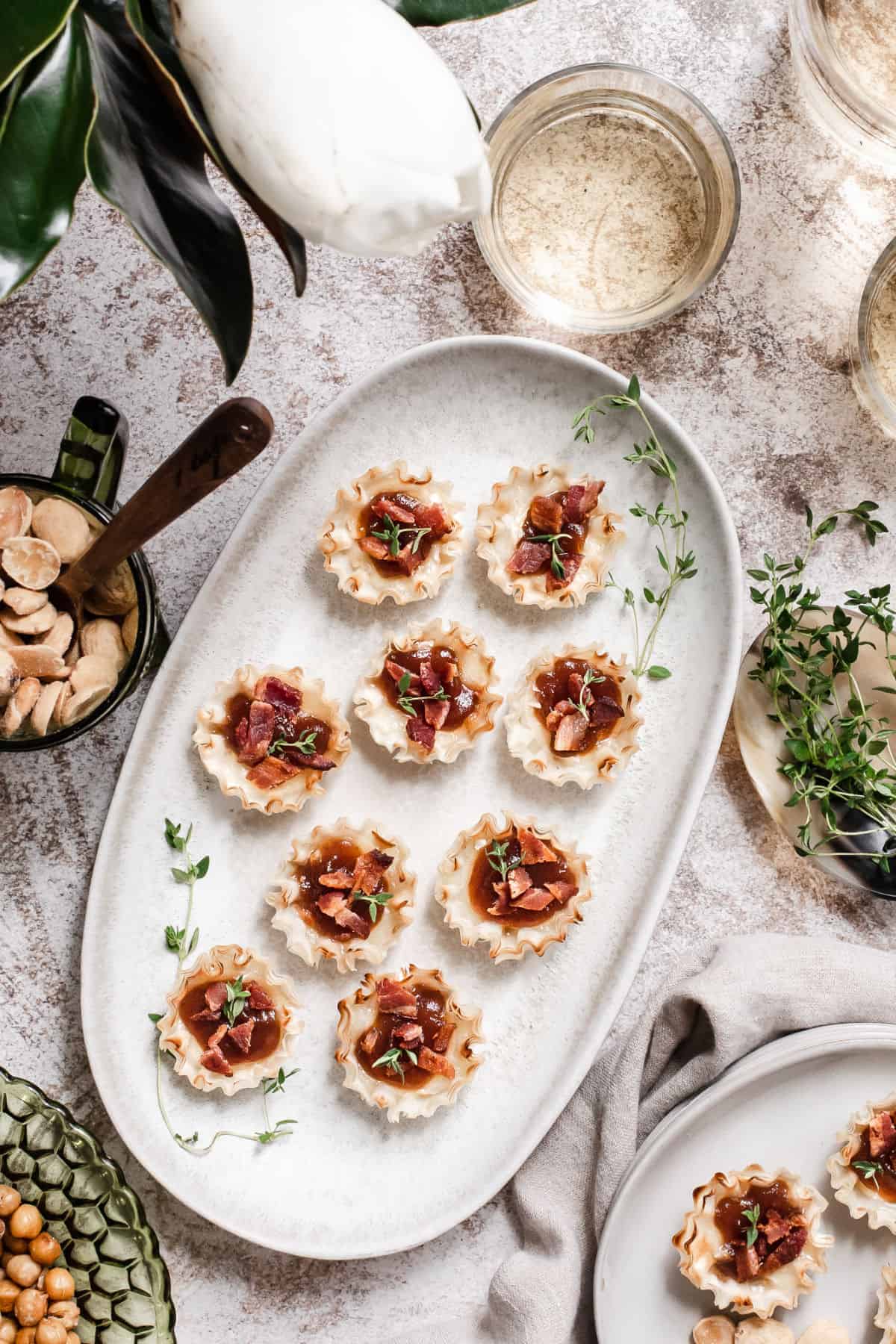 Baked brie bites
Nothing says "party" like a tray full of appetizers, and single-bite finger foods. And these baked brie phyllo cups have so much flavor you'll want them for all sorts of occasions from happy hour to cocktail parties to dinner parties.
I'm pretty sure that if you have bacon, cheese, and phyllo cups at any party, it's going to be good. This recipe just so happens to include all three!
Why you'll love brie in phyllo cups
My brie cups combine sweet and salty, along with creamy and crunchy. You basically get a little bit of everything with this recipe.
Delicious. These appetizers have a sweet and salty combo that's hard to resist.
Easy. They're super simple and easy to prepare. They're ready in less than 30 minutes!
Crowd favorite. This recipe is versatile enough for a fancy appetizer party or a casual brunch buffet.
Serves a crowd. As written this recipe makes 15 appetizers, but you can easily double or triple the recipe to serve a larger crowd.
Versatile. Serve them for elegant holiday parties, game day parties, or girls night in.
Bite size. Small finger foods are terrific to place on a buffet table, or to pass around on a tray during a soiree.
Care free. These can be served at room temperature so there's no need for keeping them cold or hot.
When you set these on a party buffet of small bite appetizers that include an array of flavor profiles, people really do appreciate the variety.
PARTY TIP: This recipe is perfect for brunch entertaining too!
Recipes with mini phyllo shells
I love using this convenient ingredient for all sorts of appetizers and desserts. Add these other recipes to your next party.
Appetizers
Desserts
How to make them
Get cooking with these three simple ingredients.
Phyllo cups – Buy phyllo dough pastry cups in the freezer section. They come in packages of 15, and most commonly found under the brand, Athens.
Brie – You can buy a cut wedge of brie in the cheese case, which might be the right amount for 15 appetizers. If you're increasing the number, you can get an 8-ounce round of brie and cut off the rind.
Bacon – Use about 4 slices for 15 bites, and increase as necessary. Oven fry the bacon to save time if you're cooking more than four.
Preheat oven and place the phyllo cups on a sheet pan. Add a small square of brie to each cup and top with a small dollop of apple butter.
Bake as directed and top with crumpled bacon after removing from the oven.
Variations
You can serve these brie phyllo cups all year long, and simply change it up for the occasion. Just replace the apple butter with one of these topping ideas. You can even add toasted pecans or other nuts too.
Fig jam
Orange marmalade
Cranberry sauce – great for Christmas and Thanksgiving entertaining
Raspberry jam
Strawberry jam
Peach jam
Apricot jam
Honey
Pepper jelly
Balsamic glaze
NOTE: When using other fruit toppings it's best to use jam or preserves. Jelly lacks consistency and texture for these.
PRO TIP: Cook your bacon a day ahead of time and refrigerate so it's there when you're ready to assemble the appetizers.
FAQ's
How do you keep phyllo cups from getting soggy?
After baking the cups, place them on a wire rack to cool. The air circulation helps them to set up and stay crisp.
Do you cut the top off brie before baking?
For these brie bites it's best to remove the rind so you get the full flavor and melted texture of the cheese combined with the other ingredients.
More brie party recipes
If you like brie you don't want to miss these brie appetizers.
I hope you'll give these brie phyllo cups a try for your next appetizer party. They're easy to make and everyone will love them.
If you like this post, PIN, Share, or sign up for our Newsletter at the top of the page. And don't forget to follow CAH on Instagram or Facebook. Cheers!
Brie Phyllo Cups with Apple-Butter & Bacon
Easy baked brie party appetizers with 3 simple ingredients. A delicious combination of bacon, brie, & apple-butter make these popular finger foods for cocktail parties or girls night in.
Ingredients
15 frozen filo cups
1 wedge or round brie
1 small jar apple-butter
4 slices bacon (cooked crisp and crumbled)
Instructions
Preheat oven to 350 degrees.
Trim rind from brie, and cut a small thin square to fit inside each filo cup.
Add a small dollop (about 1 teaspoon) of apple butter on top.
Bake for about 5 minutes or until cheese is melted. Remove from oven and top with crumbled bacon.
Serve warm or at room temperature.
Notes
Cook bacon up to a day ahead, or start cooking it before you preheat the oven and assemble the shells. The bacon should be ready by the time the phyllo cups have heated through.