How to Make a Ladies Christmas Party Special
A ladies Christmas party can be a special holiday tradition for women. These ideas will help you host a dinner party for ladies night in, or a church group. Set up a themed tablescape, party food, and cocktails on a bar cart for a fun gathering with adult friends.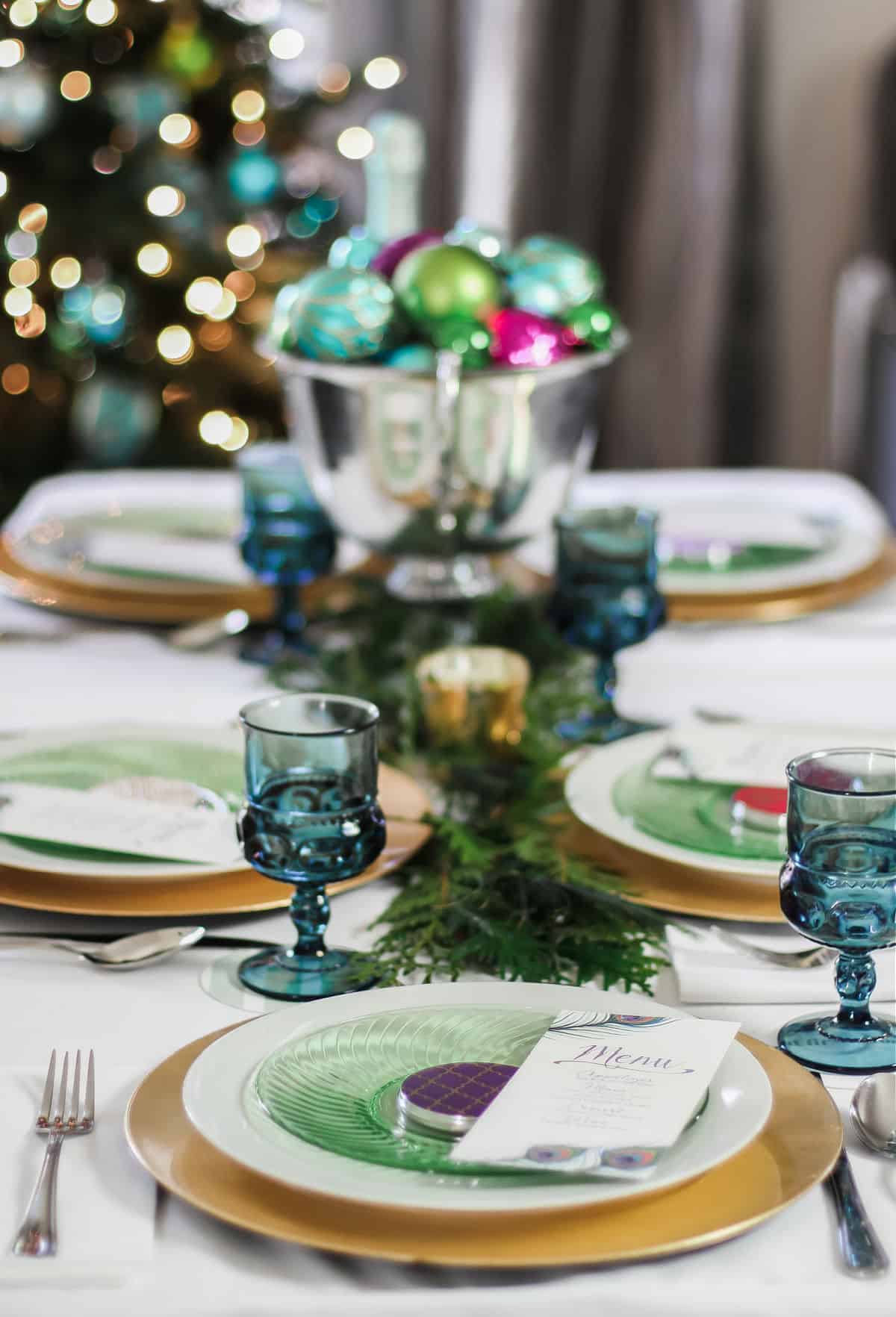 Ladies Christmas party ideas
I love celebrating ladies night in December with an elegant holiday girls night in. You can play games, follow a theme, or simply host a classy dinner party.
This "Christmas & Cocktails" dinner party has decorations with peacock feathers, and a blue, green, pink and purple color scheme.
Get ready to set the table and make your girlfriends Christmas party extra festive.
How do you make a Christmas party special?
One of my favorite ways to make a party special is to do something unexpected, or to do something you don't typically do. This can be applied to food and drinks, or decorations. Here are some favorite ideas.
Set a pretty tablescape
Pick non-traditional colors: Celebrate Christmas with your girlfriends with a festive party decorated in blue, green and pink, plus whimsical peacock feathers. Or try this pink and white Christmas table decor for a feminine girly look.
Take the party outside the dining room: Set up a table in the family room where the Christmas tree is so you can soak up all the holiday ambiance. If there's a fireplace in the room, that adds even more cozy vibes. If the party is small, set up a folding table next to the fireplace and Christmas tree.
Christmas centerpiece
Flowers are always on point for a Christmas centerpiece, but why not fill an urn full of ornaments instead.
Add cut tree trimmings as a "runner" down the center of the table, for an organic element. And tuck a few peacock feathers in for an unexpected touch.
Place settings
Create place settings with a combination of gold chargers, everyday white plates and silverware, and vintage salad plates and glassware. Each is topped with a beautiful menu designed by Jen T by Design.
Give a gift
Give each guest an inexpensive party favor. Put at each place setting, and it'll add more color and sparkle to the table.
In this case, I found compact mirrors for $1 each at the craft store. They look pretty, they're useful, and they're a sweet reminder of the party each time the guests use them.
Get dressed up
We live in a casual society so it's fun to get all dressed up for a party! Let guests know to dress to impress in cocktail attire. You can even go a step further and ask them to follow a theme like red and white, or red and green for the holiday.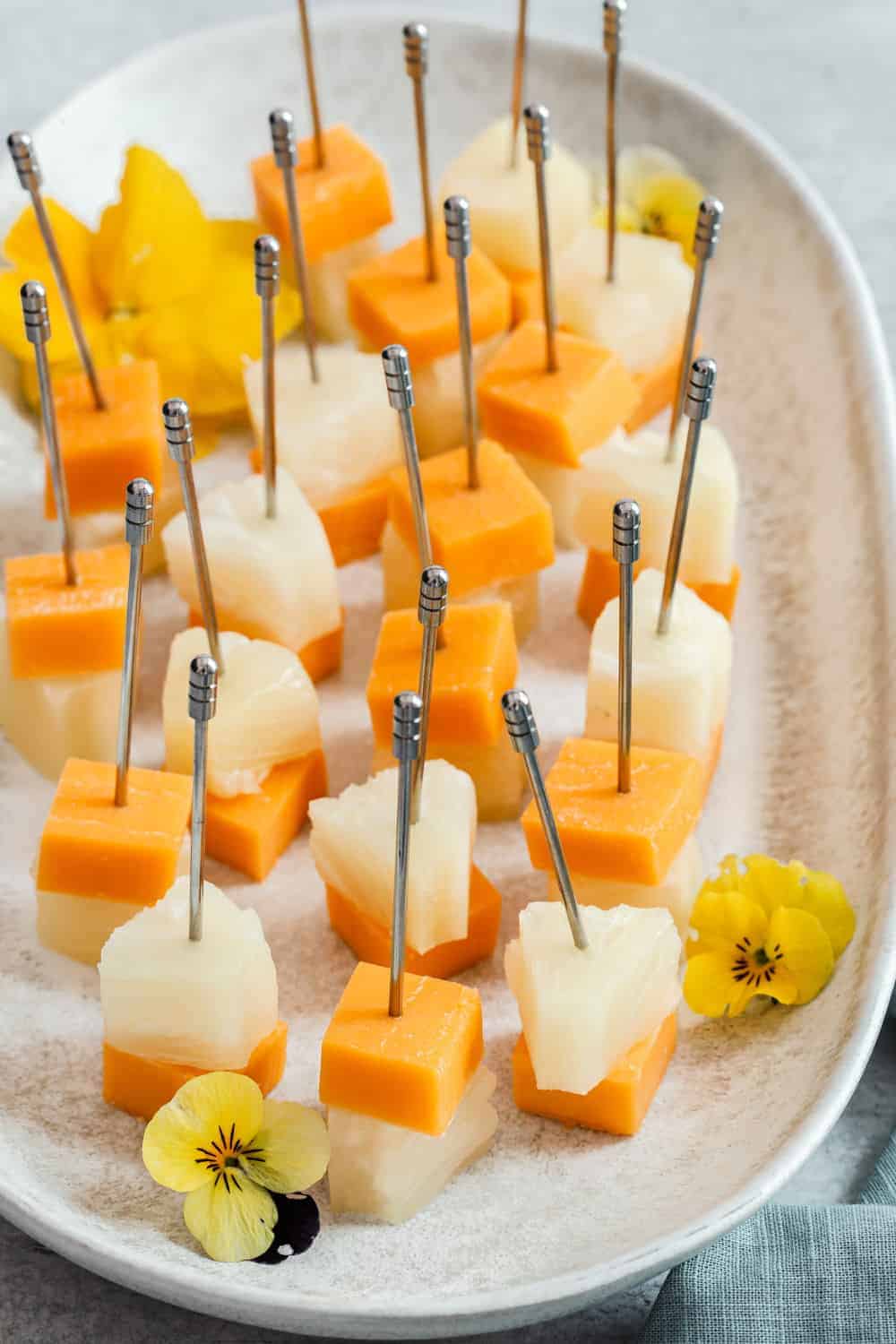 Pass a tray of hors d'oeuvres
It's traditional to set up a table with appetizers, but why not offer a tray of small bites as you walk around and mingle. Try some easy cheese appetizers or these brie appetizer cups for the perfect pre-meal hors d'oeuvre. They're small and won't fill you up!
Christmas bar cart
Setting up a bubbly bar cart creates an instant party with a cool retro vibe. Roll it into the room to serve as a drink station and add a cute sign, mini ornaments and ribbon.
Serve Champagne
Serve chilled champagne alone or mix up a signature cocktail by combining 3/4 oz. Chambord with 6 oz. sparkling brut, and 3 dashes of orange bitters. Use French champagne, Italian prosecco, Spanish cava, or domestic sparkling wine.
PARTY TIP: Serve champagne in a silver urn and tuck in evergreen trimmings and a peacock feather for a festive touch.
Coordinating party signs
You can pull together a party and make it look special by adding printable signage that coordinates with your colors or theme. Search etsy shops for almost any theme you're looking for, or look for a custom designer.
For this party I had custom menu cards and a bar sign made, with matching colors and peacock detail.
Plate an assortment of mini desserts
You may be tempted to serve up a cake or pie for dessert, but why not offer a special assortment of mini desserts instead.
Present individual size desserts like pastries, pie tartlets, petit fours, or mini parfaits, on a rectangle plate. Decorate the plate with a drizzle of chocolate or raspberry syrup (the kind you put on ice cream). Here are some recipes to try.
PARTY TIP: Drizzle the plates with the syrup ahead of time and refrigerate until ready to serve. Not only does this save time during the party, but the chocolate will firm up so it doesn't soak in to the dessert.
Have a photo booth wall
*contains affiliate links
A photo booth has become an event staple, but you can easily set one up for a party at home. Pick an empty wall space and hang a backdrop.
You can tape wrapping paper to the wall, hang a sheet or curtain, or hang party streamers. Make sure it's large enough to serve as a backdrop for a small group or 3 to 4 people.
Provide photo props like reindeer antlers, Santa hats, elf hats, etc. For an extra special touch, use an instant camera to capture the moments.
More Christmas party ideas
If you liked this post, please pin it and share with others, or leave me a sweet comment below. Don't forget to follow me on Instagram and Facebook, too. Cheers!