Host a Christmas movie party day and serve up an indoor picnic style buffet while you watch. See my top six Christmas movie picks for grown-ups, too.
I have a big affection for Christmas movies, and watching the same ones year after year never gets old. In fact it's as much a part of the season for me as Christmas music is. When KFC contacted me about how I would use their $10 bucket shares, I knew that hosting a Christmas movie party would be the perfect occasion for it!
This is a great daytime party idea, although you can just as effectively set it up for the evening too. I think a Christmas movie marathon on a Sunday afternoon, with KFC served picnic style, is ideal for the beginner or casual hostess. See my ideas for a Christmas movie party below, plus my favorite Christmas movie picks.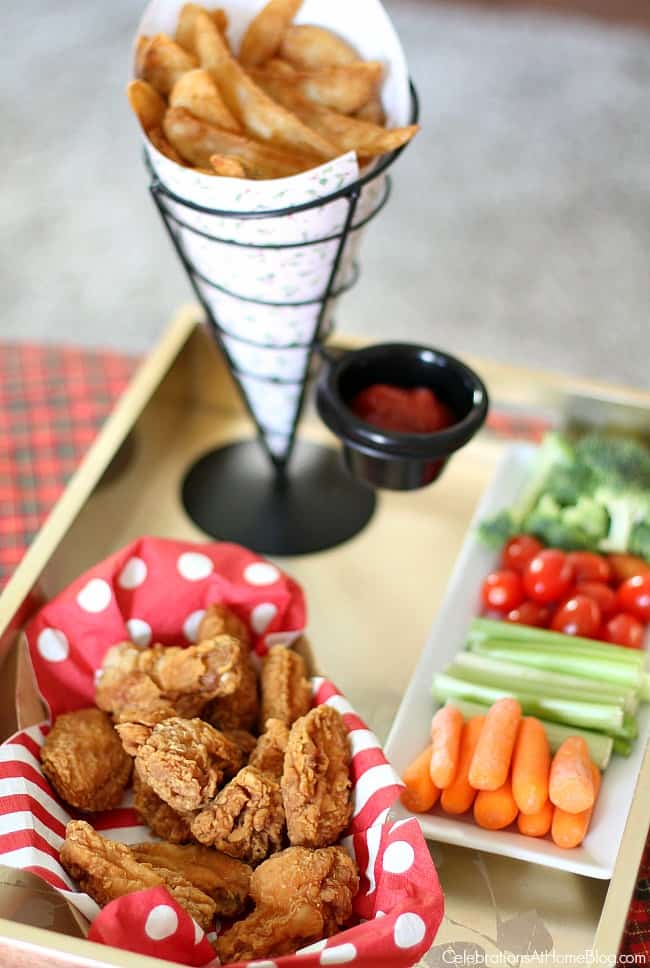 Christmas Movie Party Served Picnic-style
Set up an indoor picnic on your coffee table, cocktail ottoman, or the floor. One thing's for sure, there must be food at your party, and if this is a marathon event then it needs to be hearty and filling. KFC currently has $10 chicken share buckets in four varieties: classic chicken bucket, chicken tenders, popcorn nuggets, and hot wings. I placed them in rustic serving containers, along with their dipping sauce, and potato wedges, for a delicious lunch or dinner that's easy to grab.
Round out the meal with a crudites plate, and KFC chocolate chip cookies for dessert.
Get cozy on the floor. Place large pillows and throws in front of the tv so you can get comfortable while watching your favorite movies.
Set up a beverage bar nearby so you don't miss a scene. The opposite end of our tv console made for a convenient "bar" space. I picked up some KFC lemonade to serve, and guests can drink it as is or add in a shot of spirits to make it more festive. Tasty add-ins include vodka, ginger liqueur, or spiced coconut rum.
Let me talk about my top Christmas movie picks for a moment. When I was compiling my list I realized there were some movies that seem to get lots of notoriety, but that I'm just not that in to (Elf, Home Alone, The Christmas Story). My taste is certainly eclectic and I hope you'll give 1 or 2 of them a try if you haven't watched them before.
Christmas Movie Party movie list:

Christmas Vacation – It's our tradition to watch this every year. It never gets old, and my husband even dressed up like cousin Eddie ("sh*ter was full!" scene) for Halloween a couple of years ago!
White Christmas – I love classic movies, especially musicals, and Bing Crosby is one of my faves. Ergo White Christmas is at the top of my list. I've already watched it twice this year!
Holiday Inn – Pretty much echos what I said about White Christmas, but add in Fred Astaire!
It's a Wonderful Life – The classic tear-jerker. This was my husband's favorite for a long time…until we discovered Christmas Vacation together. If you don't cry or feel choked up during the last scene in the movie then you don't have a soul.
A Charlie Brown Christmas – This pick stands alone in a couple of ways. First of all it's more of a tv show than a movie. Secondly, it's pure nostalgia as it takes me back to my childhood. Thirdly, the jazz musical score is reason enough to hit the 'play' button. Let it play in the background during intermission between movies if you like.
Bad Santa – Because we can't live on snowflakes and good cheer alone, shake things up a bit with this dark comedy. You definitely want to put the kids to bed before watching this one.
Don't forget to pick up some $10 share buckets from KFC to keep you nourished during your Christmas movie marathon. It's the perfect casual party food!