Muddy Buddies Sweet Party Snack Mix
This sweet party snack mix can be customized to match your party theme! Start with the classic Chex™ Muddy Buddies recipe, also known as Puppy Chow, and dress it up with colorful candies! It's perfect for a baby shower or sip and see, a bridal shower, or a sports theme with team colors.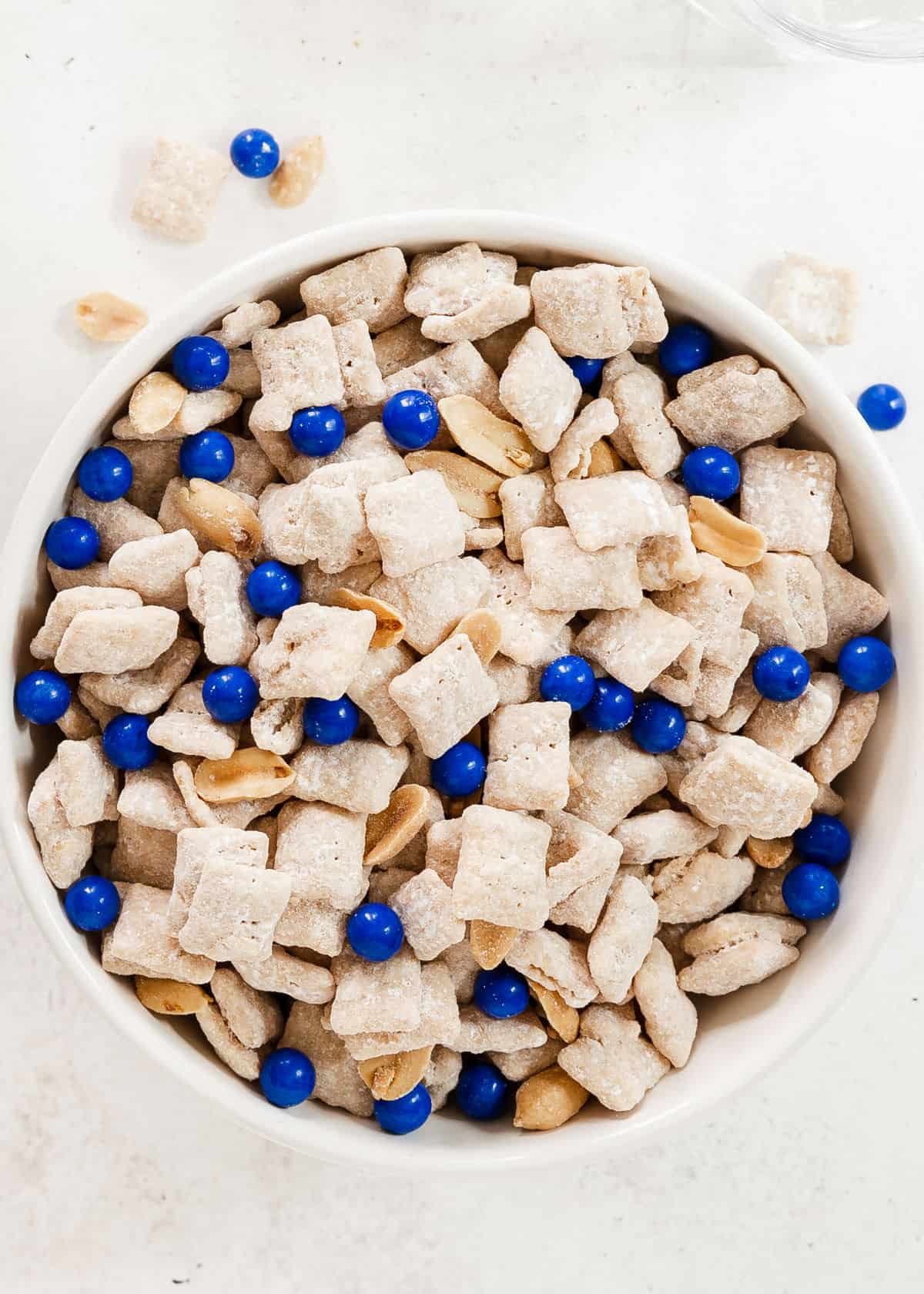 You're going to love this sweet trail mix for easy entertaining. You can make it several days ahead, you can customize it, and it's a crowd pleaser!
Take it to potluck parties, class parties, or church socials.
Muddy Buddies Varieties
The recipe is a tried and true favorite with grownups and kids alike. But I like to dress it up for different occasions by adding an array of textures and flavors.
Make it for a sip and see baby shower and add blue candies for a boy, or pink candies for a girl. Or toss in yellow or green candies for a gender neutral shower.
Serve two bowls for a Super Bowl party. Toss in candies that correlate with each of the team's colors.
Turn it into a Halloween or Thanksgiving treat by using Reese's Pieces for their fall color palette.
Mix it up for Christmas and add red and green M&M's.
Make an Easter variety and use pretty pastel colored candies or candy-coated chocolate eggs.
This sweet mix is a fantastic addition to a kids birthday party. You can pre-fill ziplock bags for individual portions.
Add it to movie night and toss in Milk Duds or Raisinets.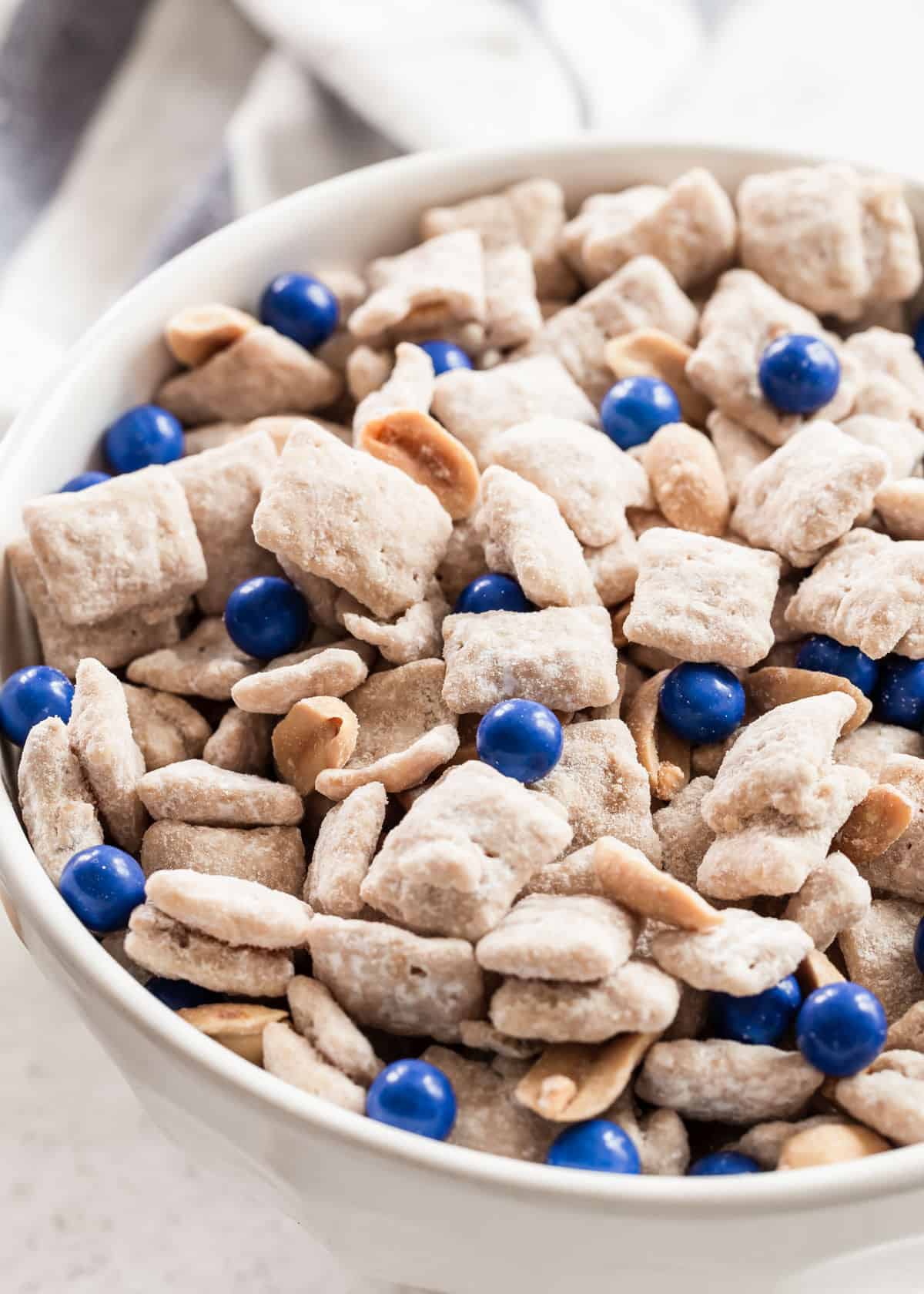 Ingredients
With a few simple pantry items you can make this no-bake crunchy sweet dessert mix.
Chex cereal. You can use either Corn Chex or Rice Chex for this. You can also substitute with Crispix cereal.
White chocolate. Use white baking chips from the baking aisle for ease and convenience.
Peanut butter. You will need to use smooth creamy peanut butter for this, and processed brands like Jiff or Skippy hold up better at room temperature. All-natural brands may be less stable since the consistency is a bit looser.
Butter. Use unsalted.
Vanilla extract.
Powdered sugar. Also called confectioners sugar.
Colorful candies. I used Sixlets here but M&M's are also a good choice.
Peanuts. You can use salted or unsalted, and either cocktail style or dry roasted. Or keep it totally sweet and use sugar-coated peanuts. It's really up to you!
In a large bowl, measure cereal and set aside.
Combine the chocolate, peanut butter, and butter together in a sauce pan over low heat.
Stir in vanilla and pour mixture over cereal and stir to coat. Transfer everything into a 2-gallon food storage bag, add the sugar, seal the bag, and shake until it's all well coated. You can also use a clean paper bag for this step.
Spread on waxed or parchment paper in a single layer to cool completely, and then mix in the candies and nuts.
Storage
Store in an airtight container for up to a week at room temperature. It doesn't need to be refrigerated but keeping it chilled does make for a delicious cool snack.
Freeze for up to 6 months. I like to use the large zipper bags so you can squeeze out the air and lay flat and stacked if needed.
EXPERT TIP: Make sure the chocolate-peanut butter coating is nice and thin on the cereal squares to keep the flavors balanced.
Substitutions
I've mentioned some variations for different themes and occasions above, and here are some more ways to customize this snack mix to your taste.
Toss in 1 or 2 of these ingredients in place of the candy coated chocolates and peanuts.
Chocolate chips
White chocolate chips
Peanut butter chips
Bite size Teddy Grahams cookies
Mini marshmallows
Sweetened flaked or shaved coconut
Mini pretzels
Cashews
Almonds
Serving Suggestions
This makes a lot so you may want to divide it up among 2 or 3 smaller bowls and set them on tables around the party space.
Fill one big bowl and provide a scoop for guests to remove it with.
Pre-fill individual snack cups so guests can simply pick it up and go.
Serve it in easy DIY paper food cones.
Give it as a gift for holidays, hostess gifts, teacher's gift, or neighbors. Put it inside a large mason jar and tie on the recipe, or use cellophane bags and tie with a pretty ribbon.
More Snack Mix Recipes
Snacks are a great addition to any gathering. Here are some more to try.
Classic Muddy Buddies is a sweet party snack mix that's great for any occasion. Make this Puppy Chow mix for themed parties or as a family treat any time.
If you like this post, PIN, Share, or sign up for our Newsletter at the top of the page. And don't forget to follow CAH on Instagram or Facebook. Cheers!
Chex Muddy Buddies Party Mix
Dress up the classic Muddy Buddies mix with colorful candies and peanuts for a sweet and salty combination that's ideal for color themed parties. Serve Puppy Chow mix for baby showers, bridal showers, or kids parties.
Ingredients
9 cups Chex cereal mix (Corn Chex or Rice Chex)
1 1/2 cups white chocolate baking chips
1/2 cup peanut butter
1/4 cup butter
1 teaspoon vanilla extract
1 1/2 cups powdered sugar
1/2 cup colorful candies to match your party (I used blue Sixlets)
1/2 cup peanuts
Instructions
In a large bowl, add cereal and set aside.
In a double boiler on the stove, melt white chocolate baking chips, peanut butter, and butter together, stirring occasionally until smooth. Stir in vanilla extract.
Pour mixture over cereal and stir until coated. Transfer into a 2-gallon resealable food storage plastic bag.
Add powdered sugar, seal bag, and shake until well coated. Spread on waxed paper to cool.
Once cooled, mix in colorful candies and peanuts and serve in a large party bowl, or individual serving containers.
Store in an airtight container in the refrigerator.