Havana Nights Theme Party
Cuban Havana nights theme party for adults with ideas for décor, food buffet, cocktails, what to wear, and more. This is fun for a themed dinner party, a grownup birthday, or outdoor summer parties.
Take your guests to Cuba with a Havana Nights party. This adult theme party is perfect for summer parties. It's full of bright colors, tropical flowers and greenery, and delicious food and drinks
Havana Theme Party Ideas
This party includes easy styling ideas you can do at home, as well as delicious food Havana is known for, traditional cocktail drinks, and fun activates.
It's a great theme to welcome spring and summer, or to host for a guys birthday celebration. Classic Cuban symbols like cigars and strong cocktails bring a naturally masculine touch to the party.
For more parties with a tropical vibe check out this green dinner party or these tropical themed party ideas.
How to Host a Cuban Theme Party
We're setting the scene for a night in Havana! By incorporating natural resources that Cuba is known for you can bring the 'feeling' of being in Havana, to your guests.
You should add fun themed props to your décor. Here's a list of items to help give you a Havana vibe.
Cigars
Coffee
Rice
Burlap
Vintage style postcards
Dominos game
Tropical flowers & leaves
Palm tree
Wood crates
Tropical fruit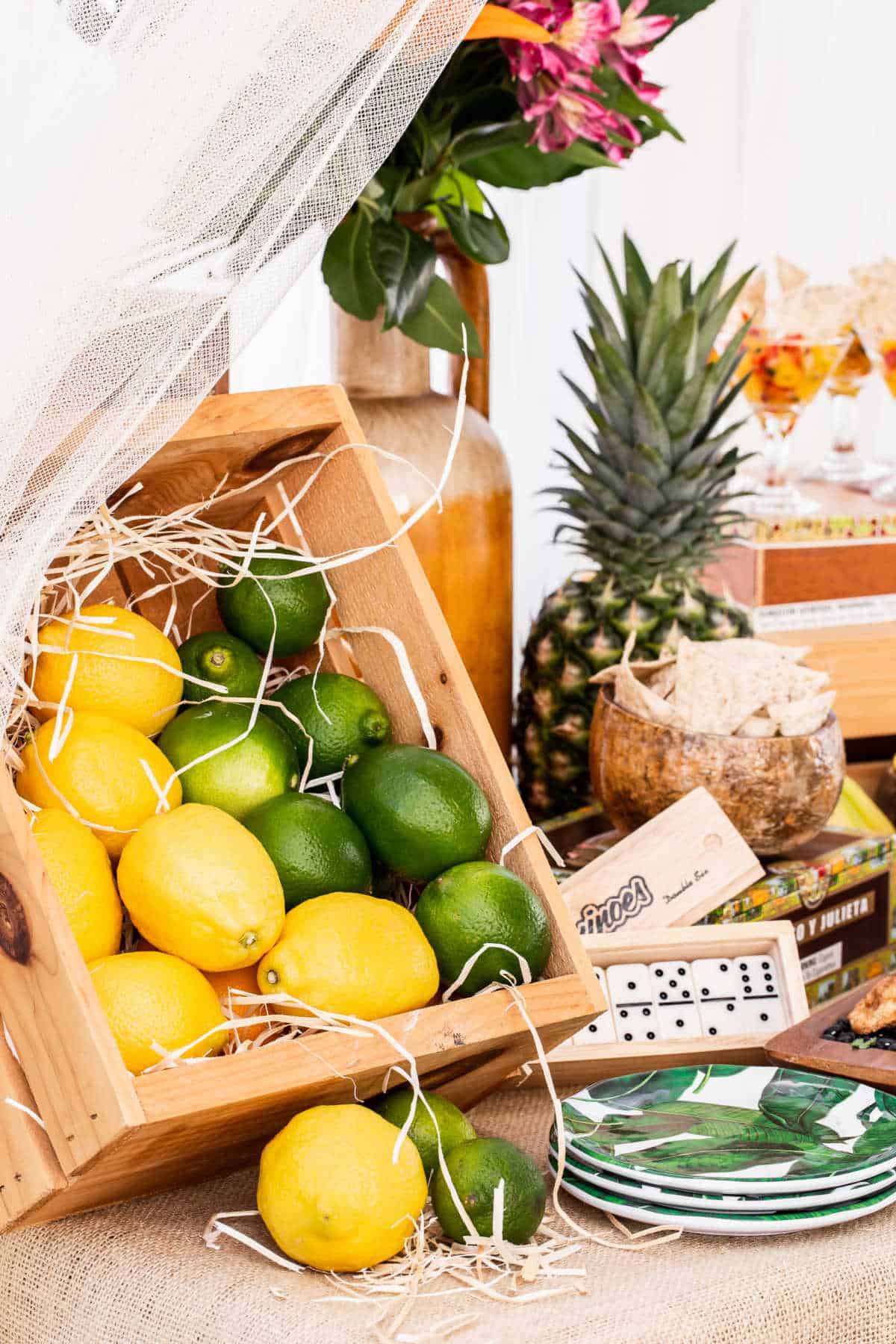 DIY Decorations
Decorate with a combination of neutral tones and bright colors to evoke that island feel.
Create the atmosphere with brightly colored tropical flowers and rustic burlap.
Use palm trees, large tropical leaves, and mosquito netting to bring in a tropical ambiance.
Pick up empty cigar boxes from your local cigar shop for just a couple of dollars each. Use them in interesting ways throughout the party. Incorporate them into the centerpiece, use them as risers for food display, and create favor boxes with them.
Using wood crates to hold fresh fruit, or as a riser to set food on.
Stack vintage suitcases as a decorative element, or use a smaller one open, to hold photo props, drinks, or dishes.
Set out fun musical instruments like ukulele and bongo drums.
Hang a tropical print backdrop using a twin size flat sheet or fabric cut right off the bolt.
Havana Theme Tablescape
Set the table with rustic and tropical items which is what comes to mind when I think of Cuba. Set your dining table with a burlap topper for a neutral base.
Add wooden table décor and coconut shell bowls filled with dried banana chips.
Use woven fans as a place mat. They work well with the theme and come in handy if you're holding the party outside in the heat. They can also double as take-home party favors.
Design each place setting with a rattan or wood charger and layer it with colorful dishes.
Add vintage style coasters or post cards that have a Cuba theme.
Centerpiece
Design a centerpiece with tropical flowers. This one is simple but eye catching.
Use a shipping-style crate and fill it with excelsior.
Hide a riser inside and place a cigar box on top, filled with flowers. The flowers are actually inserted into a smaller vase sitting inside the cigar box.
Add some cigars in the excelsior for a whimsical touch.
Cuban Cocktails
The best way to welcome your guests is with a signature cocktail! Serve up two of Cuba's most famous drinks, a mojito and a cuba libre.
Tropical flavored cocktails are also good drink ideas.
What Food to Serve
Present food on top of, and inside of cigar boxes and wooden trays. Fill them with uncooked rice or dried black bean, or tropical leaves.
Serve themed appetizers on a buffet table, or serve a meal family-style. Include a bowl of chicharrones (crispy pork rinds), plantain chips and chips with a variety of tropical salsas.
Turn the classic Cuban sandwich into mini size bites with open faced Cuban appetizer canapes. These are positively addictive!
Themed appetizers include mango salsa served with rice chips.
Tasty empanadas are a Cuban staple.
More Cuban Cuisine
Havana cuisine includes a blend of African, Spanish, and Caribbean styles with delicious spices.
Main Dish
Rice & beans
Rice & chicken
Slow cooked shredded beef & onions
Pulled pork tacos
Cubano sandwiches
Picadillo
Tamales
Fried plantains
Dessert
The most well known dessert is flan. This custard-like treat with caramel topping is easy to make and the single-serving size makes a lovely presentation placed on a bed of coffee beans.
Here are some more ideas.
Churros with chocolate or caramel sauce for dipping.
Fresh fruit mix or fruit salad.
Bananas foster or banana pudding mini desserts.
Rice pudding
Dulce de leche
Party Favors
Send your guests home with a fun party favor. Fill a cigar box with excelsior and add chocolate cigars, mini rum bottle, and match books that are actually filled with mints.
Print a simple 'thank you' tag to add to the box and your guests will have a sweet reminder of their evening in Havana.
What to Wear?
In general the look can either be white linen and cotton, or bright and bold colors for a festive feel.
Women can wear flowy dresses, tropical prints, floral prints, off-the-shoulder styles, bandeaux style tops, and wrap skirts.
Men should wear light colored or white linen suits, straw fedoras or Panama hats, tropical print shirts, loose trousers, or white crop pants.
A guayabera is a traditional lightweight button down shirt that men wear, and may have decorative stitching down the front.
Fun Activities
Play vintage Cuban music.
Dance the salsa.
Start a Conga line.
Have a limbo contest.
Share some Cuban trivia.
Are you ready to host your own Night in Havana party?
If you like this post, PIN, Share, or sign up for our Newsletter at the top of the page. And don't forget to follow CAH on Instagram or Facebook. Cheers!