Best Shrimp Boil Recipe for a Party
A shrimp boil, also known as a Low Country boil, is an easy meal to serve a crowd for a dinner party. With peel-and-eat shrimp, smoked sausage, potatoes and corn, it's simple and interactive so it makes entertaining fun!
I realize you can't write a post about a shrimp boil party without sharing the recipe for the shrimp boil. It's the ultimate interactive dinner party menu and since you eat with your hands it's totally fun!
This is called a low country boil if you're in the deep South, in fact the concept originated in Louisiana.
How to Serve It
Around here we usually serve it for a crowd, drained and poured over newspaper spread out along a large community table, and eaten family style.
Provide sliced lemons and cocktail sauce on the side so guests can use as they like.
If you want to elevate the experience for a themed dinner party you can serve individual portions in mini colanders.
PARTY TIP: Serve the shrimp boil in mini colanders for a dinner party to give it a fancier feel.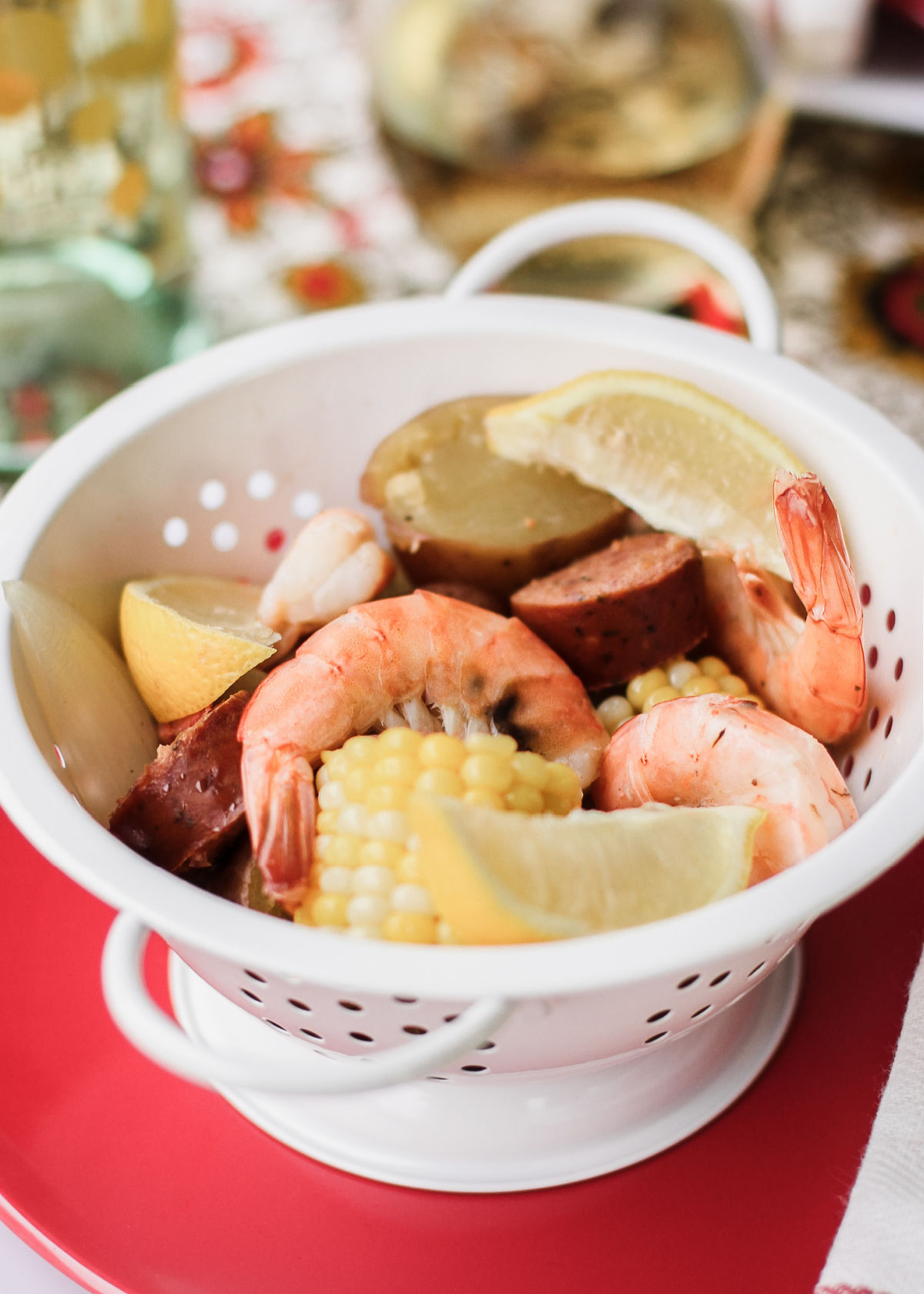 Shrimp Boil Ingredients
You can create the experience on a smaller scale by simply cutting the ingredients in half for 4 to 5 people. As written below, it will serve about 8 people.
Shrimp. It needs to be fresh and in the shell. Jumbo size is best because it will shrink slightly when cooked and this size is great for peeling and eating with your hands.
Smoked sausage. Use fully cooked kielbasa, traditional smoked sausage, andouille sausage, or even Cajun spiced or chipotle seasoned sausage. I used Hillshire Farm beef smoked sausage, cut into 1-inch pieces.
Corn on the cob. Shucked and cleaned and cut into thirds or about 1 1/2 to 2-inch pieces.
Small potatoes. Use baby red potatoes if you can, but other small potatoes will work too. Cut them in half so they're bite size.
Onion. Use sweet, yellow or white onion to add flavor and extra texture to your meal. Cut into quarters or large chunks.
Old Bay seasoning. This is the traditional seafood seasoning used all around the South.
Beer. A single can or bottle of beer adds a touch of flavor. Use whatever you have on hand although I suggest staying away from anything too dark.
Lemon. Cut several lemons into wedges or halves for garnish. Simply serve it on the side.
PARTY TIP: If you have a propane turkey fryer for outdoor cooking, you can use it for a shrimp boil too.
Fill a large stockpot full of water and add the seasoning and beer. Bring it all to a boil and add the ingredients in stages.
Gently add potatoes to boiling water and cook for 5 minutes. Then add the onion and cook for another 5 minutes. Add the corn and sausage for 5 minutes, and finally finish with the shrimp and cook until it's pink; about 2 to 5 minutes.
Remove and strain all ingredients from the water, and serve with lemon wedges and cocktail sauce.
What to serve with it
A low country boil is a complete meal in itself, but you can add some delicious appetizers and snacks too.
If you like this post, PIN, Share, or sign up for our Newsletter at the top of the page. And don't forget to follow CAH on Instagram or Facebook. Cheers!
Shrimp Boil Recipe
A shrimp boil is easy to make and feeds a small crowd for a dinner party or summer gathering. Also known as a Low Country boil, it's a one pot meal that's interactive and delicious!
Ingredients
5 quarts of water
12 ounce beer
1/3 cup Old Bay Seasoning
2 pounds jumbo shrimp in the shell
2 packages (about 28 ounces) smoked sausage or kielbasa, cut into 1-inch pieces
8 ears of fresh corn on the cob, each cut into thirds
2 pounds red baby potatoes, cut in half
2 large onions, sweet or white, cut into quarters
Instructions
Add water, beer, and Old Bay to a large stockpot, or divide among 2 large pots if you need to. Bring to a boil over high heat, then reduce to medium-high or medium to retain a gentle, steady boil.
Add potatoes to the pot and cook for 5 minutes.
Add onions to the pot and cook another 5 minutes.
Add sausage and corn to the boiling water and cook 5 minutes.
Finally, add the shrimp and cook about 2 to 5 minutes or just until they are pink.
Drain the water and pour the food onto a serving surface, like large sheet pan or newspaper-lined table.
Serve with fresh lemon wedges and cocktail sauce.