Set a Green Dinner Party with Tropical-Boho Vibes for outdoor entertaining. This table setting and menu ideas are perfect for a stylish summer dinner party that your guests will love. See our guide for even more summer entertaining ideas to try.
Create an outdoor summer tablescape highlighting tropical vibes with a boho twist.
I'm Baaack! From Italy that is, and I can't wait to share all the details and inspiration from our trip. Today, though, I'm excited to share this green dinner party tablescape with tropical-boho vibes. This outdoor summer tablescape was inspired by my neutral black & tan patio decor with greenery, which coordinated so well with these tropical plates I styled 4 ways earlier. It all came together beautifully when I added in earthy and boho elements like the wood-grain dinner plates, the macrame runner, and succulents.
I've always thought of the color green as a neutral tone. It's the color of nature so it's a great accent for almost any other color. In this case I started with neutrals and let green shine as a major pop of color. I think it turned out warm, cozy, and inviting, don't you!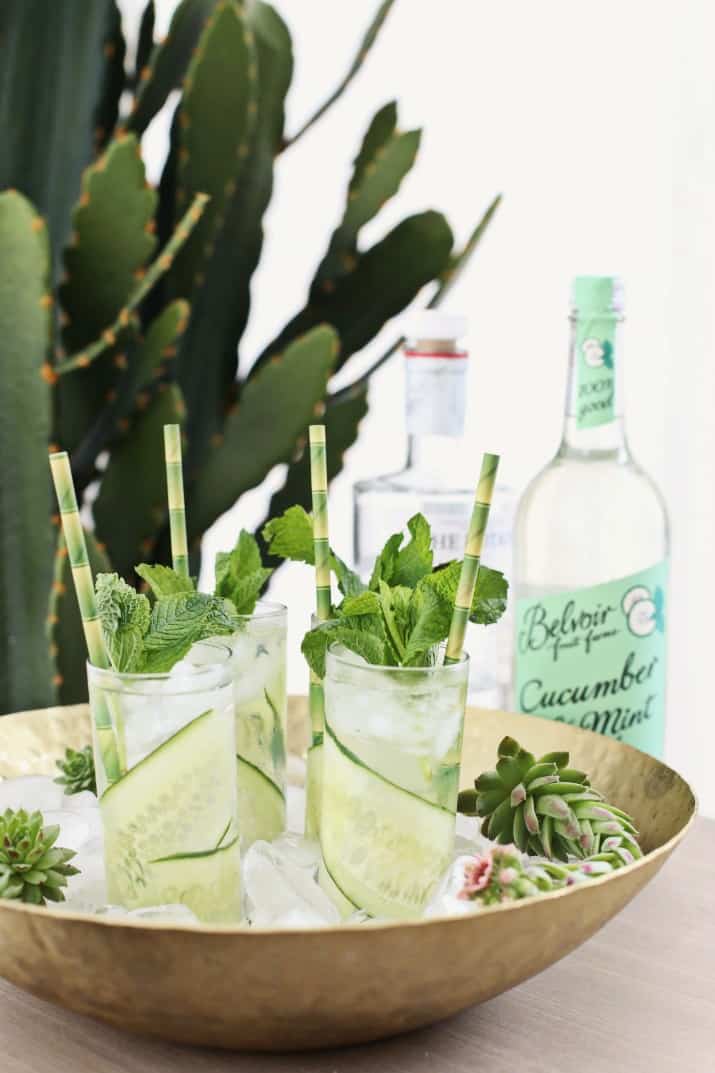 Summer dinner party menu
As with all my dinner party menu plans I like to follow a theme when possible. Since green is the color of the soiree I've chosen some appropriate food items that fit right in.
For starters, I created a DELICIOUS cocktail using Belvoir Cucumber & Mint Lemonade (affiliate link – buy it here). Simply mixed with a little gin (or vodka if you prefer) and garnished with cucumber ribbons and mint sprigs, this signature drink is so refreshing.
STYLISH ENTERTAINING TIP: Pre-pour cocktails into glasses that can be nestled into a large bowl of ice. Add some succulents to the bowl for a decorative touch. Guests can grab a chilled drink as they arrive.
For appetizers I placed a dish in the middle of the table of steamed edamame in the shell sprinkled with sea salt. I got the idea from an Asian-fusion restaurant we recently went to for a friend's birthday. It was such an interesting and interactive way to nosh on something light before dinner…similar to chips and salsa for a Mexican theme. Don't forget to add a second dish or small bowl for the discarded shells.
For the main dish I like to serve something light and easy like grilled lemon & herb chicken (from this al fresco dinner party menu). The perfect side dish is a chopped salad…I'm obsessed with chopped salads lately and have been eating them 3-4 times a week! You can just buy the bags at the grocery store and it looks like you've been chopping all day!
For dessert I chose this lime tartlets recipe. It'a a great make-ahead dessert that looks so pretty with the green decor.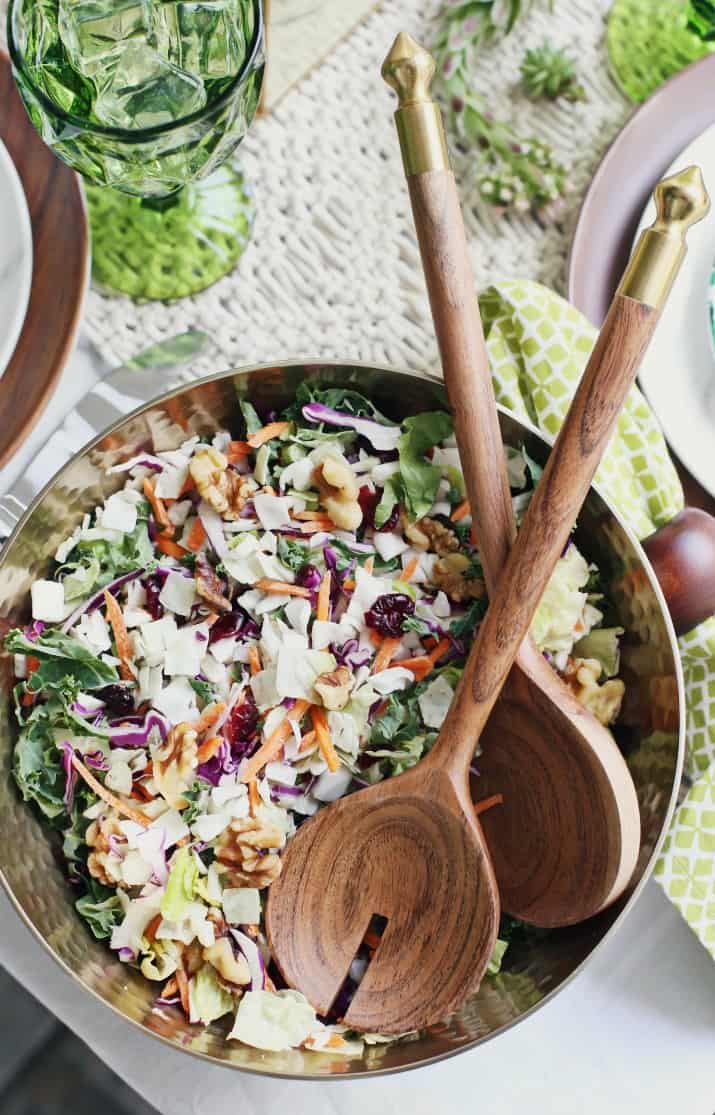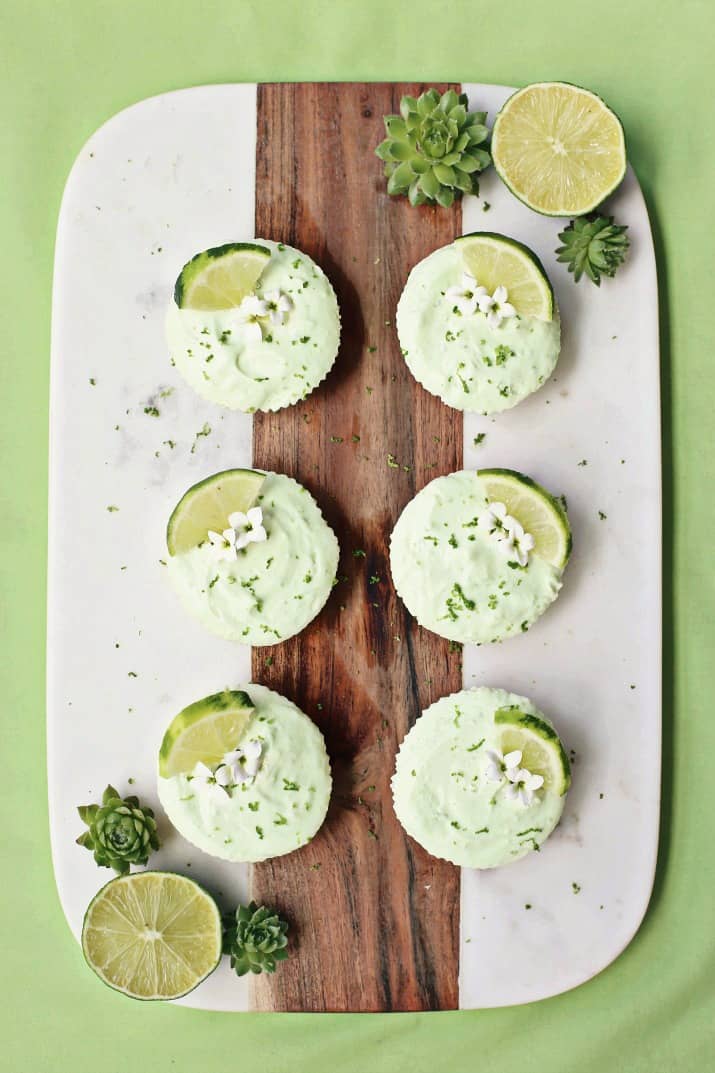 Create your own green dinner party tablescape and celebrate the summer in tropical-boho style.
Some of the notable aspects of this green party design are the addition of tropical plants and succulents to help create a "room" feel outdoors. That's also carried on to the table with a succulent "runner" and tiny sprigs attached to name cards.
Layered plates incorporate the look of wood, marble, and the tropics for each place setting. Green glasses and napkins are balanced by wooden napkin rings, and gold flatware and lanterns add "jewelry" to the table.
Another eye-catching element to the party setting is the candle chandelier draped with greenery. This draws the eye upward and adds loads of ambiance. Just make sure the greens are placed safely away from lit candles.