Easy Pitcher Rum Cocktail for Parties
Need a rum cocktail pitcher drink for a party? I've got you covered with this easy and delicious punch for adults. It has 2 kinds of rum, orange, coconut & cherry flavors, and is ideal for summer gatherings, holidays, and tropical themed parties.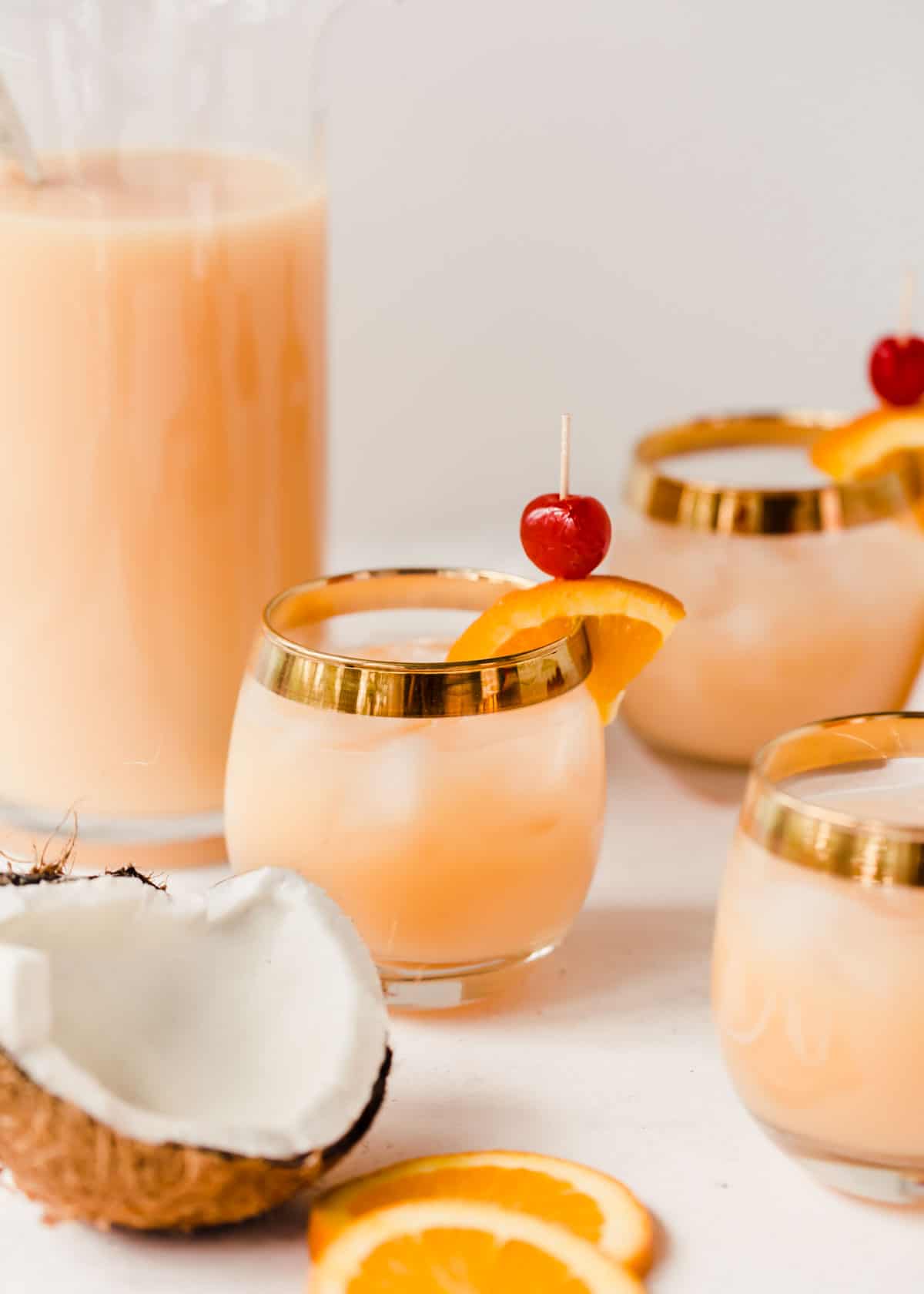 This post is sponsored by Master of Mixes
Easy Pitcher Drink for a Party
When it comes to easy pitcher cocktails it doesn't get much better than this. My rum punch recipe starts with a bottle of delicious Master of Mixes Pina Colada Mixer, and gets a kick from white rum and spiced rum.
Orange juice adds fruitiness and balances the sweet coconut and pineapple flavors from the mixer, and a bit of grenadine adds extra color and more depth.
You could compare this to a pina colada, however this boozy drink is more complex with orange and cherry notes. Plus, the spiced rum gives it something extra special! This rum punch is sweet but slightly restrained by the balance of ingredients.
Why You'll Love It
My inspiration for this recipe came from the southern traditional dish, ambrosia salad. It's made with canned oranges and pineapples, coconut, mini marshmallows, whipped topping, and of course, maraschino cherries. 
I wanted those same flavors in a party drink for summer or the holiday season. Think of it as liquid ambrosia!
Rum Punch for a Party
This pitcher of punch is perfect for entertaining, from dinner parties to holidays.
How Many Cups in a Pitcher?
A typical serving pitcher holds about 5 cups. You can get about 6 1/2 servings from this if you factor a 6-ounce serving over ice. It can hold more or less depending on the style.
Keep that in mind when you make our recipe. It makes around 8 cups so you'll need to have a second container to hold the extra for replenishing.
Our recipe is a good amount for 6 people. Perfect for small gatherings! If the party is bigger you can double or triple the ingredients for a bigger batch.
Can You Freeze It?
You can absolutely freeze this rum punch. In fact I always freeze leftover punch for last-minute gatherings.
Just pour the punch into a large plastic pitcher or storage container with a lid. Freeze it for up to 6 months. The alcohol in the recipe helps preserve the drink.
Put it in the refrigerator to thaw, when you know you're going to need it. Otherwise, you can let it stand at room temperature for an hour or so, and let it melt to a slushy consistency.
Best Party Tips
*Post contains affiliate links. I earn commission from Amazon purchases.
There are a few advantages to making cocktail pitcher recipes over punch bowl recipes. It all depends on your needs, but here are some tips.
Party pitcher drinks are typically made in smaller batches. They're great to serve for groups of 6 to 10 people.
Double the recipe in an oversize plastic pitcher and keep it refrigerated until ready to serve. Pour half of it into a pretty glass pitcher to serve at the party, while the rest of it stays cold in the plastic container in the fridge.
Use two or three pitchers so you can serve one and have the other in the refrigerator for the next round. Just switch them out when one is empty.
Have an ice bucket and scoop or tongs at the ready. Guests can add ice to their glass and then pour the cocktail over it. This way you don't have to worry about keeping the punch chilled with an ice ring or ice cubes.
Place the pitcher on a small tray to catch any drips that might occur when pouring. Add cocktail napkins for guests to grab if needed.
Start with a bottled mixer like Master of Mixes to make it quick and easy.
How to Make It
This is an easy cocktail, that most people will enjoy. And the ingredients are readily available at the grocery store and liquor store.
What You Need
White (clear) rum
Spiced rum
Master of Mixes Pina Colada Mixer
Orange juice
Master of Mixes Grenadine
Fruit to garnish, like orange slices, pineapple triangles, and maraschino cherries
Large pitcher
What To Do
Start with chilled ingredients if possible.
Pour the Pina Colada Mixer into the pitcher.
Add the orange juice.
Next, add in the two types of rum.
Top with grenadine and stir all together.
Keep chilled in the refrigerator until ready to serve.
Pour over ice and garnish with fresh fruit.
More Pitcher Drink Recipes You'll Love!
If you're looking for more cocktail pitcher recipes, these should do the trick.
You're going to love how easy it is to mix up a pitcher of cocktails using Master of Mixes cocktail mixers. They use real fruit flavor and cane sugar for that "from scratch" quality.
If you like this post, PIN, Share, or sign up for our Newsletter at the top of the page. And don't forget to follow CAH on Instagram or Facebook. Cheers!
Rum Cocktail Pitcher recipe
Serve a pitcher of cocktails at your next gathering and make it easy with this fruity punch made with two kinds of rum. The orange color makes it a great choice for fall parties and the flavors are delicious year round.
Ingredients
2 cups Master of Mixes Pina Colada Mixer
2 cups Orange Juice
2 cups white Rum
1 1/2 cups Spiced Rum
1/8 cup Master of Mixes Grenadine
Instructions
Combine all ingredients together in a large pitcher and chill.
Serve over ice with fruit garnish.