Pimento Cheese without Cream Cheese
Homemade pimento cheese spread is easy to make and it's sure to be a hit at your next gathering! It has 2 types of cheese, diced pimentos and mayonnaise, plus a spicy finish. It's a Southern classic that can be served as a party dip, or used in sandwiches, burgers and more!
This appetizer is ideal for a game day spread, a tailgate party, baby & bridal showers, or guys night in.
Old Fashioned Pimento Cheese
There tend to be 2 camps when it comes to pimento cheese recipes: cream cheese vs. no cream cheese. I am from the NO cream cheese camp! I just don't see the point, especially when you consider the early version it's based on was simply cheddar, mayo, and diced pimentos.
You'll find this recipe to be cheesy, creamy, and it finishes with a hint of heat. The key is to use sharp cheddar, and a secondary cheese for depth and complexity. Mayonnaise makes it rich and creamy while cayenne adds spice.
Why You'll Love It
It's a classic and traditional southern recipe that's perfect for showers, game day parties, and casual gatherings.
It's super quick and easy to make. Serve it right away or make it ahead and refrigerate until ready to serve.
You can use it in a variety of ways. Put it on your charcuterie board, serve as a dip or spread, or follow any of the serving suggestions below.
Ingredients
Sharp cheddar cheese. Buy a block and shred it yourself using the large holes of a box grater. If you want more flavor, use extra-sharp cheddar.
Smoked Gouda. Add depth and a hint of smoky flavor with smoked gouda. You can also use regular gouda, and make sure you grate it yourself, just like the cheddar.
Mayonnaise. If you're from the South, use Duke's mayonnaise. Otherwise, use your favorite brand such as Hellman's.
Diced Pimentos. You can find 4-ounce jars in the pickle section of the grocery store. Drain the diced pimentos from the brine they're packed in, and use the whole jar.
Pantry Spices. You'll need some pantry staples to season, including Onion powder, Paprika, Cayenne pepper and Garlic powder.
Variations
Use different cheeses like white cheddar, Swiss, Pepper Jack (no need to add the cayenne), Havarti, or Monterey jack.
Mix in some crumbled cooked bacon.
Mix in diced pickled jalapeno to make spicy pimento cheese.
Add a teaspoon of Worcestershire sauce.
Replace the cayenne with a few dashes of Texas Pete for sweet heat.
Use grated onion or shallots in place of the onion powder.
Add chopped pickles or cornichons.
How to Make Southern Pimento Cheese
Shred the cheeses and add them to the bowl of a food processor. Add remaining ingredients and pulse to combine everything together.
Once integrated, push the 'On' button to blend until you reach desired consistency. I like it more smooth and easy to dip into, but some people may like it chunkier.
Storage
Store in an airtight container in the fridge for up to 1 week. I like to place a piece of plastic wrap directly on the cheese so it doesn't dry out.
Because this has mayonnaise in it, I don't recommend freezing it.
Expert Tips
If your cheese spread is too thick, try thinning it with a little extra mayonnaise, 1 spoonful at a time.
Use a food processor to mix it up for the creamiest, and easiest integration.
If you don't have a food processor you can use a hand or stand mixer. Or, simply use your hands to combine it all together. This will result in a chunkier spread though.
Try this using all white cheddar cheese instead of the classic orange cheddar. There's a local gourmet seller that makes it and it's terrific! Combine it with Swiss cheese for extra tang.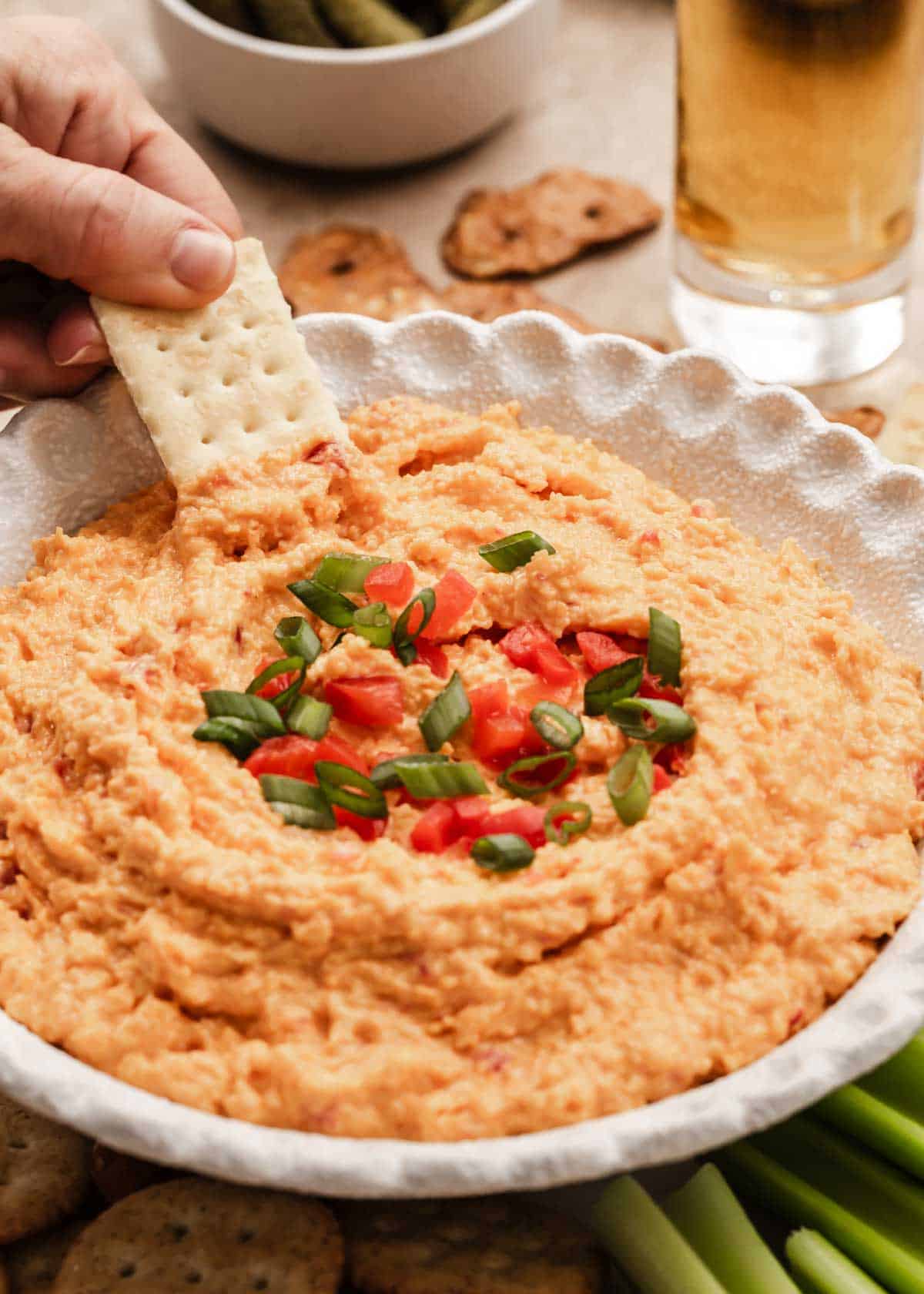 How to Serve It
My favorite crispy dippers are water crackers, pretzel crisps, and toasted crostini. Other people prefer Ritz crackers, club crackers, or classic saltines.
Spread it on Pepperidge Farm thin bread slices to make tea party tea sandwiches, or white bread for a lunch sandwich.
Spread it inside of celery sticks to make celery boats.
Fill cucumber cups for an easy hors d'oeuvre.
Stuff it in jalapenos cut in half to make baked jalapeno poppers.
Use vegetable dippers like carrot sticks, bell pepper sticks (red, green or yellow), and sliced radishes.
Make pimento cheese phyllo cups and heat in the oven for about 7 minutes.
Mix leftovers with softened cream cheese and form into a cheese ball.
Top a baked potato with pimento cheese and sprinkle bacon bits on top.
Put some on a burger instead of sliced cheese.
Make grilled pimento cheese sandwiches on sourdough slices or wheat bread.
Mix it into the cooked yolks when making deviled eggs.
Mix it into hot pasta such as macaroni or penne for a simple lunch.
More Appetizer Dips & Spreads
Spinach and artichoke dip
I grew up in the south where pimento cheese is ever present. I ate it on sandwiches for lunch, and spread inside celery sticks it was a party staple!
It wasn't until my adulthood that I actually made it from scratch, following the recipe a lady from church gave to me. I've since adapted it to our liking and serve it for all kinds of entertaining from brunch to happy hour, and everything in between.
Pimento cheese is one of those things where if you ask 20 people for the recipe, you'll get 20 different versions! I think you'll love this easy homemade pimento cheese made without cream cheese, and you can always experiment with the variations I've listed above.
If you like this post, PIN, Share, or sign up for our Newsletter at the top of the page. And don't forget to follow CAH on Instagram or Facebook. Cheers!
Homemade Pimento Cheese without Cream Cheese
Make delicious southern pimento cheese without the cream cheese! It's creamy and full of flavor because it's got 2 kinds of shredded cheese. This spread works for all types of occasions and parties.
Ingredients
8-ounce block of sharp cheddar cheese
4 ounces smoked gouda round
½ cup mayonnaise
4-ounce jar diced pimentos, drained
½ teaspoon cayenne pepper
¼ teaspoon garlic powder
¼ teaspoon onion powder
¼ teaspoon paprika or smoked paprika
Instructions
Shred the cheese yourself; do NOT use pre-shredded packs. Use the large holes on a box grater, or use the shredder attachment of a food processor.
Add everything to the bowl of a food processor and pulse several times to get everything integrated. Scrape down the sides if necessary.
Once the ingredients are combined a bit, turn to 'On' and mix everything until it's creamy and at the consistency you want. I like mine a bit finer so it's easy to scoop.
Transfer to a bowl and serve immediately or cover with plastic wrap and refrigerate for up to a day ahead.