Easy Party Punch Recipe (Peach Flavor)
This easy party punch recipe is perfect for entertaining and special celebrations. Make large batch cocktails with a few simple ingredients including peach mixer, vodka and Prosecco, plus a hint of citrus from orange liqueur! This is a great punch for bridal showers or adult birthdays!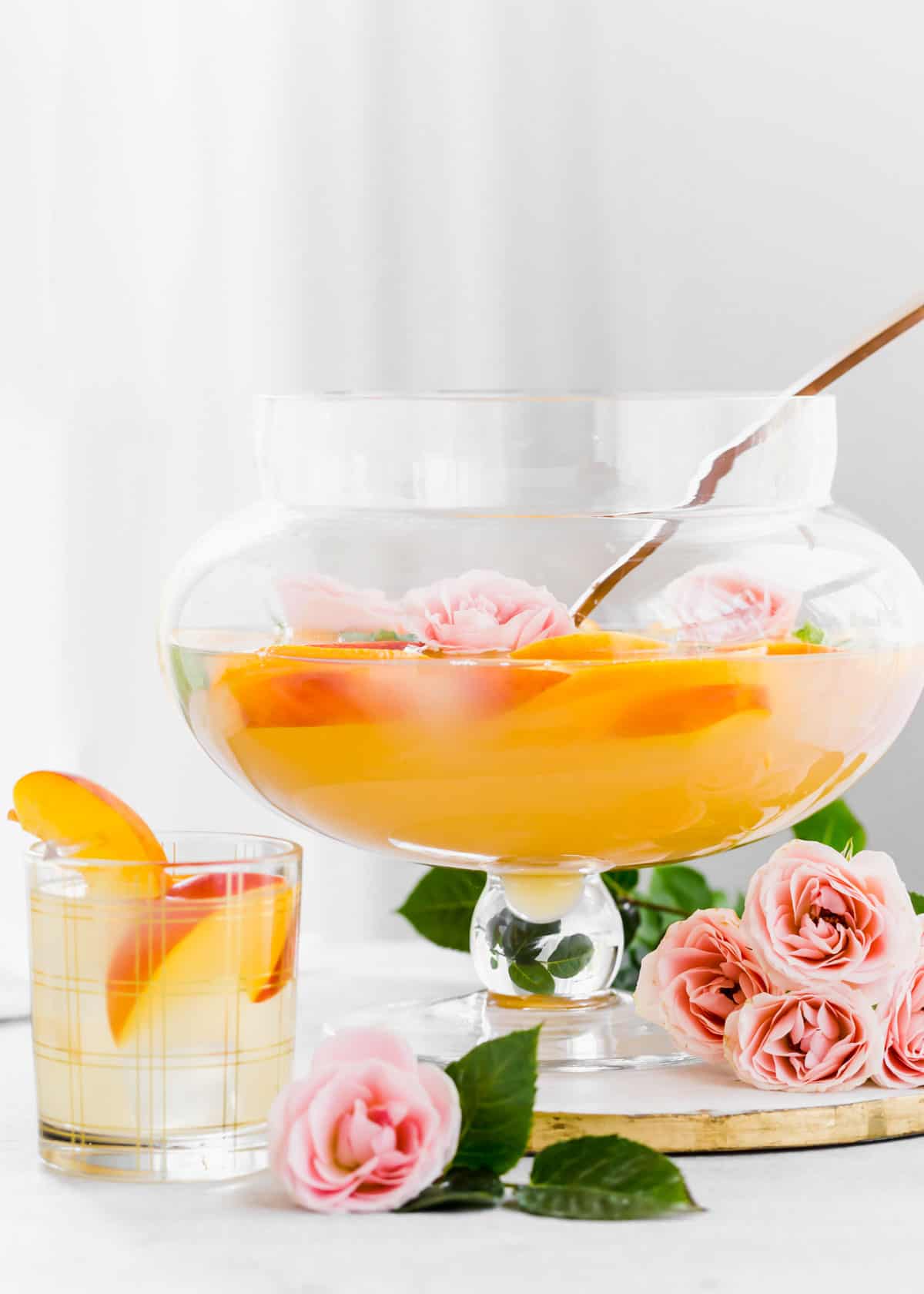 Party Punch with Alcohol
Every party host should have at least one fabulous punch recipe to serve a crowd. It should be easy to make and taste great. This peach punch fits the criteria beautifully!
I started with Master of Mixes White Peach Daiquiri/Margarita Mixer for a quick & easy solution with real peach flavor. It's a fantastic base for a punch recipe because you just use the entire bottle – no measuring necessary.
If you like bellinis, you'll love this punch. It's got the peach flavor with an added kick. You can use Champagne, Prosecco, Cava, or sparkling wine for this recipe.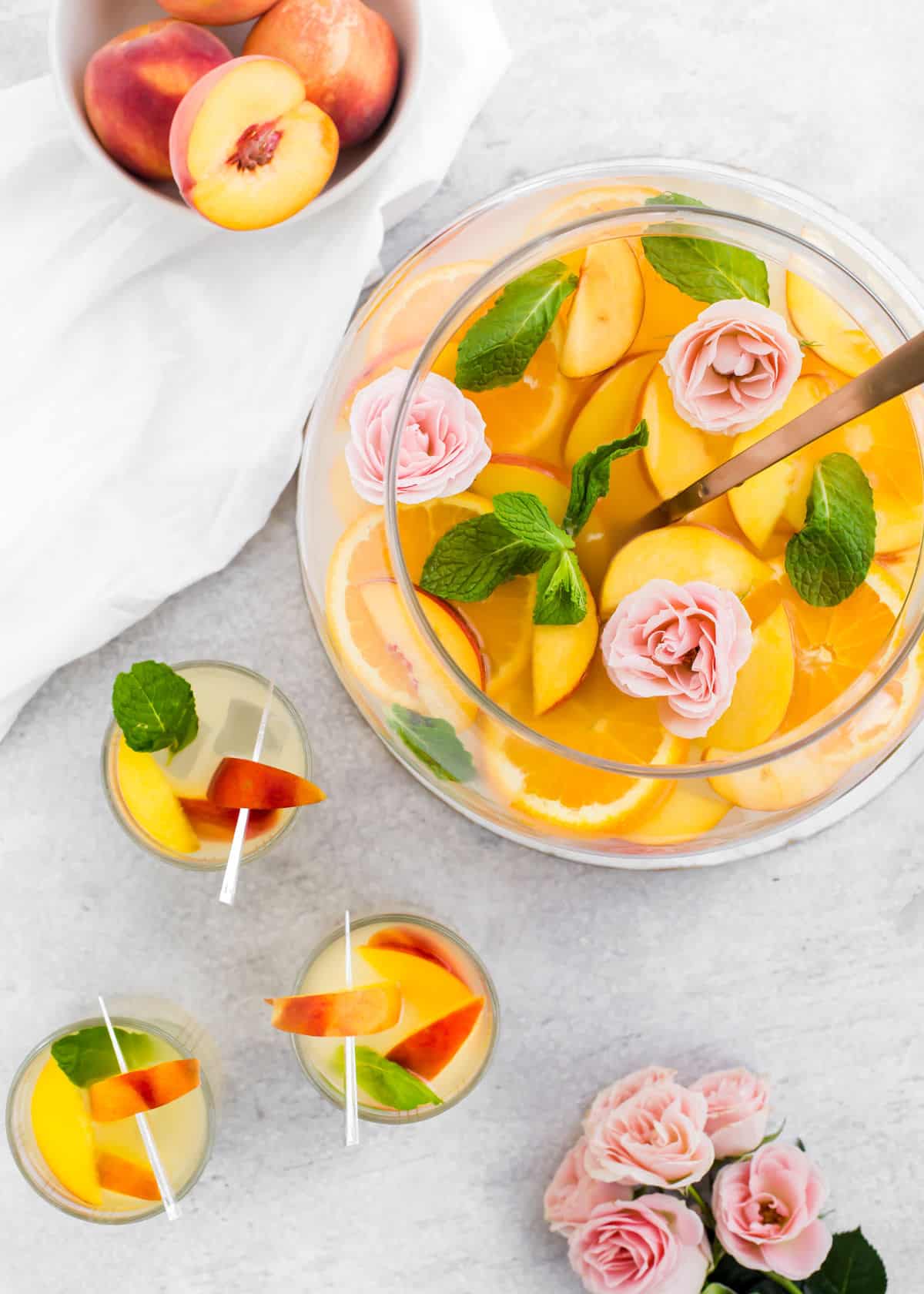 How to Serve Punch
Get creative with serving vessels by using one of these containers for the punch.
Use a beautiful large Apothecary jar like I did here, and ladle it into glasses.
Serve it from a drink dispenser that has a spout.
Pour it from a pretty pitcher.
I love using vintage or modern punch bowls for parties.
Set out a tray of pre-filled glasses so guests can grab one when they arrive.
A simple soup tureen is a fabulous way to serve punch at a party.
If you're new to entertaining and don't have a lot of supplies, a large bowl or glass vase can do the trick.
EXPERT TIP: Freeze any leftover punch. It makes a yummy slushy cocktail for later.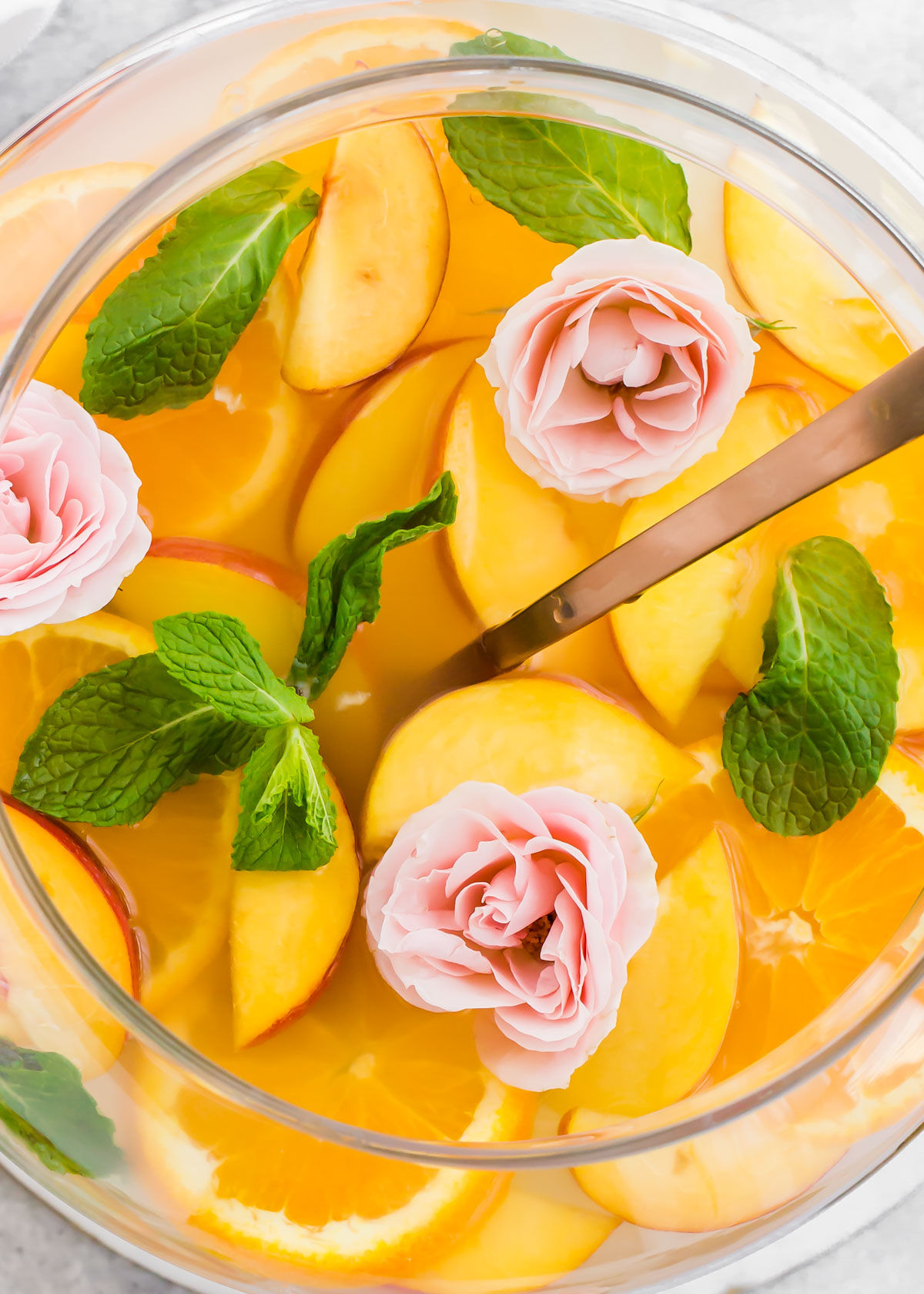 How to Make Punch for a Party
Here are the 3 most important things to remember when making party punch.
Chill the liquids in advance.
Combine mixers and liquors ahead and keep chilled. This saves time later.
Always add bubbly liquids just before serving to preserve the fizz.
Add ice and sliced peaches and oranges to garnish the punch bowl or pitcher.
5 Simple Ingredients
Peach flavored mixer. Use Master of Mixes White Peach, or substitute with peach nectar or juice.
Vodka. I love Tito's, but you can use your favorite brand.
Orange liqueur such as Cointreau or Triple Sec.
Prosecco. It's affordable and dry so it tastes great in this punch.
Sparkling mineral water such as San Pellegrino, Perrier, or Canada Dry sparkling seltzer.
EXPERT TIP: Freeze over-sized ice cubes using the White Peach Mixer. When the ice melts it won't dilute the punch.
How to Make It Non-Alcoholic
Make this completely alcohol free for a family get-together, a church gathering, or for a pregnant mom-to-be. Simply combine the Master of Mixes White Peach with 2 bottles of sparkling mineral water. Add a can of ginger ale if you like.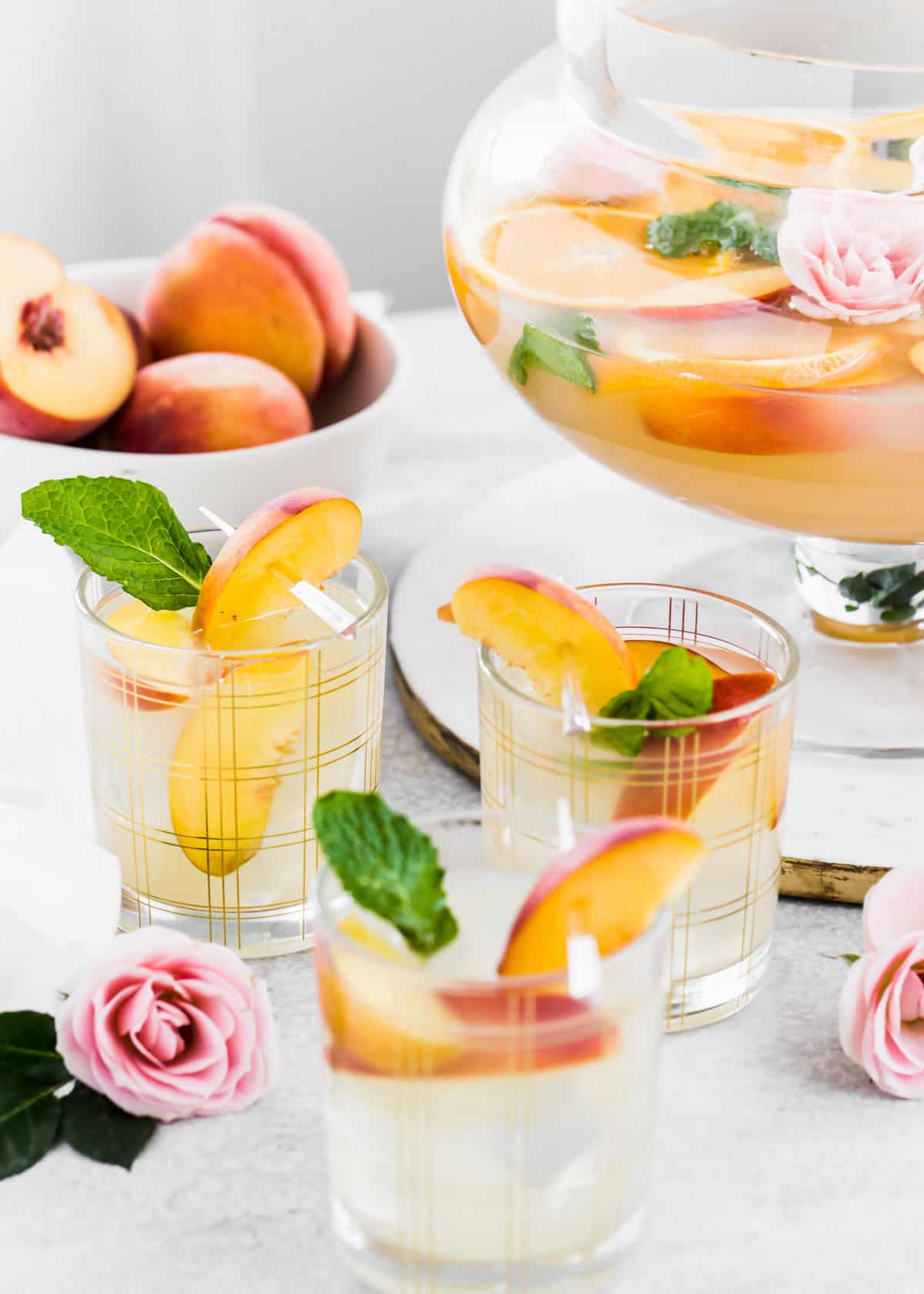 Other Variations
Try these punch substitutions to suit your needs.
Use white rum instead of vodka
Use sparkling mineral water and omit the champagne
Use half White Peach mixer and half Pina Colada mixer for an island vibe.
Awesome Shower Punch Recipe
The color of this peach punch is very versatile. It has a light golden color that would work well as a signature drink for a yellow or orange party theme. It's perfect for a baby shower or bridal shower when you need to serve lots of guests.
More Punch Recipes
If you want more party punches, try some of these fabulous recipes!
You're going to love how easy it is to mix up this delicious party punch recipe, and your guests will love how good it tastes!
If you like this post, PIN, Share, or sign up for our Newsletter at the top of the page. And don't forget to follow CAH on Instagram or Facebook. Cheers!
Easy Peach Punch Recipe
Serve cocktails to a crowd with this peach party punch that's full of real fruit flavor and effervescence. This easy recipe can be prepared in advance and chilled so it's ready when you are. It's a perfect shower punch too!
Ingredients
1 (1 Liter) bottle Master of Mixes White Peach Daiquiri/Margarita Mixer, chilled
1 1/2 cups vodka
1/2 cup orange liqueur
1 (25 ounces) bottle sparkling mineral water, chilled
1 bottle Prosecco, chilled
Fresh peaches and an orange, sliced for garnish
Instructions
Combine the mixer, vodka, and orange liqueur in a large pitcher or punch bowl, and chill until ready to serve.
Add sliced fruit, sparkling water, and Prosecco just before serving the party.