Thanksgiving Trifle (Easy No-Bake Recipe)
Easy Thanksgiving trifle is delicious layers of texture and flavor. This make-ahead, no-bake recipe incorporates fall flavors like pumpkin, ginger, and baking spices. Serve it to a crowd for Thanksgiving dessert or a fall dinner party.
Thanksgiving Trifle
This trifle is a great dessert idea for Thanksgiving because you can make it ahead and there's no baking required. That way you can keep your oven filled with side dishes like wild rice dressing or sweet potato casserole.
The presentation is beautiful with its monochromatic colors and textured layers. You should definitely use a trifle dish to show off this spectacular dessert.
There are three distinct layers in this trifle. A cake layer, a cookie layer, and a sumptuous pumpkin cream layer. While each is tasty on its own, the combination is delectable!
Why You'll Love It
You get a yummy pumpkin cake layer that's complimented by the pumpkin cream.
The pumpkin cream layer has just the right amount of pumpkin spice flavor and is lightly sweetened; not overly sweet at all.
You also get the texture and spice of ginger snap cookies. These add a tasty "heat spice" that ginger is known for and adds balance to the other ingredients.
PARTY TIP: Make the pumpkin cream using half the recipe measurements. Serve it as a sweet dessert dip at parties along with fresh fruit and cookies for dipping.
Make It Ahead
This trifle is a hostess' dream for holiday entertaining because you can make it ahead. You have a couple of options.
You can make the trifle completely several hours ahead and refrigerate it until ready to serve.
Or, you can make the pumpkin cream and refrigerate it. Cut the cake pieces and cover with saran wrap. And about an hour before your party you can assemble the trifle, breaking and layering the cookies as you go.
If you make this trifle in advance the cookies will soften, which is great! They take on that dipped-in-milk texture that goes so well with the cake and cream, and creates a complete dessert experience.
If you want to keep the crunchy texture just make this a couple of hours ahead and you should still be fine. Don't forget, you can always add broken cookies to your individual serving for that crunchy texture, too.
HOSTESS TIP: No matter which make-ahead method you use, make sure you add the cookie topping just before serving so the cookies are nice and crisp.
How to Make a Fall Trifle
*Post contains affiliate links
You'll need a clear trifle bowl for a classic presentation. In a pinch you can use a small punch bowl or glass baking dish. Just know you won't be able to see the pretty layered effect.
I say this is no-bake because I use pumpkin spice bundt cake from the bakery section. If you want to make your own cake then you certainly can.
Start with a prepared pumpkin spice cake. You can make it from a box mix a day ahead or purchase one from the bakery. Just make sure it's not frosted.
You could even use pumpkin bread for this recipe.
Make the pumpkin cream first and refrigerate for 30 minutes to an hour so it can firm up. This makes it easier to work with when you're layering ingredients in the trifle dish.
If you don't have a hand mixer to combine the cream ingredients, you can use a whisk and stir briskly.
Make sure you use canned pumpkin and NOT pumpkin filling.
While the cream is chilling, cut cake into 1-inch cubes and set aside.
Add a layer of cake in the trifle dish using half the cake pieces.
Top cake layer with broken cookie pieces Use about 8-10 cookies and break them into 1-inch pieces. You can use more or less to suit your taste.
Spread half of pumpkin cream on top of the cookie layer.
Repeat with another layer of cake and cookies and top with the remaining pumpkin cream layer. Refrigerate until ready to serve.
Add the cookie topping just before serving. Top with cookie crumbs and pieces. Push whole cookies into the cream, on their side in a circular pattern.
More Trifle Recipes
There are not many desserts that make as impressive a presentation as a trifle. Here are some other recipes to try throughout the year of parties.
And even though this 4-layer pumpkin cake isn't a trifle it has a similar flavor profile and it's fantastic!
If you're looking for a traditional pie, my easy pumpkin pie recipe is my go-to.
If you like this post, PIN, Share, or sign up for our Newsletter at the top of the page. And don't forget to follow CAH on Instagram or Facebook. Cheers!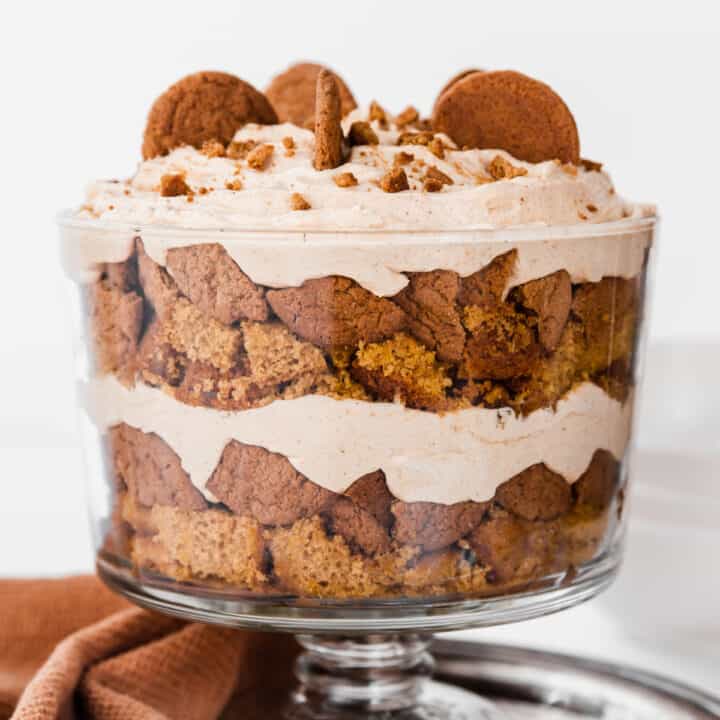 Thanksgiving Trifle Recipe
Luscious layers of pumpkin cream, pumpkin cake, and ginger snaps make this fall dessert a showstopper. Both in presentation and taste. Perfect for fall dinner parties and Thanksgiving dessert.
Ingredients
1 prepared pumpkin cake
1 box crispy ginger snap cookies
2 packages (3.4 ounces) instant vanilla pudding mix
3 cups cold skim milk
1 (15-ounce) canned pumpkin
2 teaspoons pumpkin pie spice 
3 cups frozen whipped topping, thawed (I use Cool Whip)
Instructions
Prepare cream filling by combining pudding mix and milk in a large mixing bowl. Use an electric hand mixer on low to medium to combine for 2 minutes.
Add canned pumpkin and pumpkin pie spice and continue to mix until well integrated; about 30 seconds to 1 minute.
Fold in whipped topping.
Cover and chill for 30 minutes to an hour, to set.
Cut cake into 1-inch cubes.
Layer half the cake in a glass trifle dish.
Top cake layer with broken cookie pieces, about 8-10 cookies broken into 1-inch pieces.
Spread half of pumpkin cream on top of cookie layer.
Continue with another layer of cake and cookies.
Top with remaining cream layer. Cover with saran wrap and refrigerate until ready to serve.
Top with cookie crumbs and pieces. Decorate with whole cookies if desired.