Halloween Cocktails & Spooky Drinks
Halloween cocktails are all about the Boo'ze! And of course the spooky garnishes and serving ideas. They're loaded with flavor and effect. Mix up some spooky alcoholic drinks for adult parties or ladies night in!
Take your Halloween costume party to the next level with themed drinks with fun ghoulish names.
Presentation is everything when it comes to Halloween cocktails. Add creepy "eyeballs" for garnish, or a "bloody" rim around the glass. Or make them bubbly and smoky with dry ice, but never ingest it!
Festive Halloween Party Drinks
Most of these recipes contain alcohol and are meant for adult parties.
1. Jungle Juice Halloween Punch
Need a spooky cocktail to serve a crowd? Try this green Halloween punch with flavors of melon and citrus. You can add dry ice to make it bubble and smoke, but make sure you don't touch or ingest the dry ice!
Serving Idea. Serve from a large Halloween themed punch bowl and add dry ice to get a smokey fog effect.
2. Zombie
Orange Halloween drinks are ideal for the occasion. And a zombie cocktail can pack a punch as it's typically got lots of ingredients and 3 or 4 types of rum. Serve a simpler version with this pitcher party drink that has two types of rum plus orange, coconut and pineapple flavor.
Serving Suggestion. Serve punch from a hollowed out pumpkin that's been thoroughly cleaned out. Ladle into small round glasses with pumpkin face decals attached.
3. Vampire's Kiss
Another spooky concoction looks like vampire's blood with its deep rich crimson color. This Vampire's Kiss is actually made using a delicious seasonal apple sangria or a spiced rum sangria recipe to serve a crowd.
Serving Suggestion. Use red food decorator gel and squeeze a small amount around the rim of the glass. Add plastic fangs on the side and they'll stick to the gel.
4. Black Widow
Nothing says Halloween quite like a black widow martini with a menacing spider on the side of the glass. It's made with vodka, Chambord and lemon juice. The taste is sweet and tart and delicious!
Serving Idea. Use a glue dot adhesive to hold a plastic spider onto the side of the glass. Drop in a small piece of dry ice to bubble and smoke, and let it evaporate before drinking.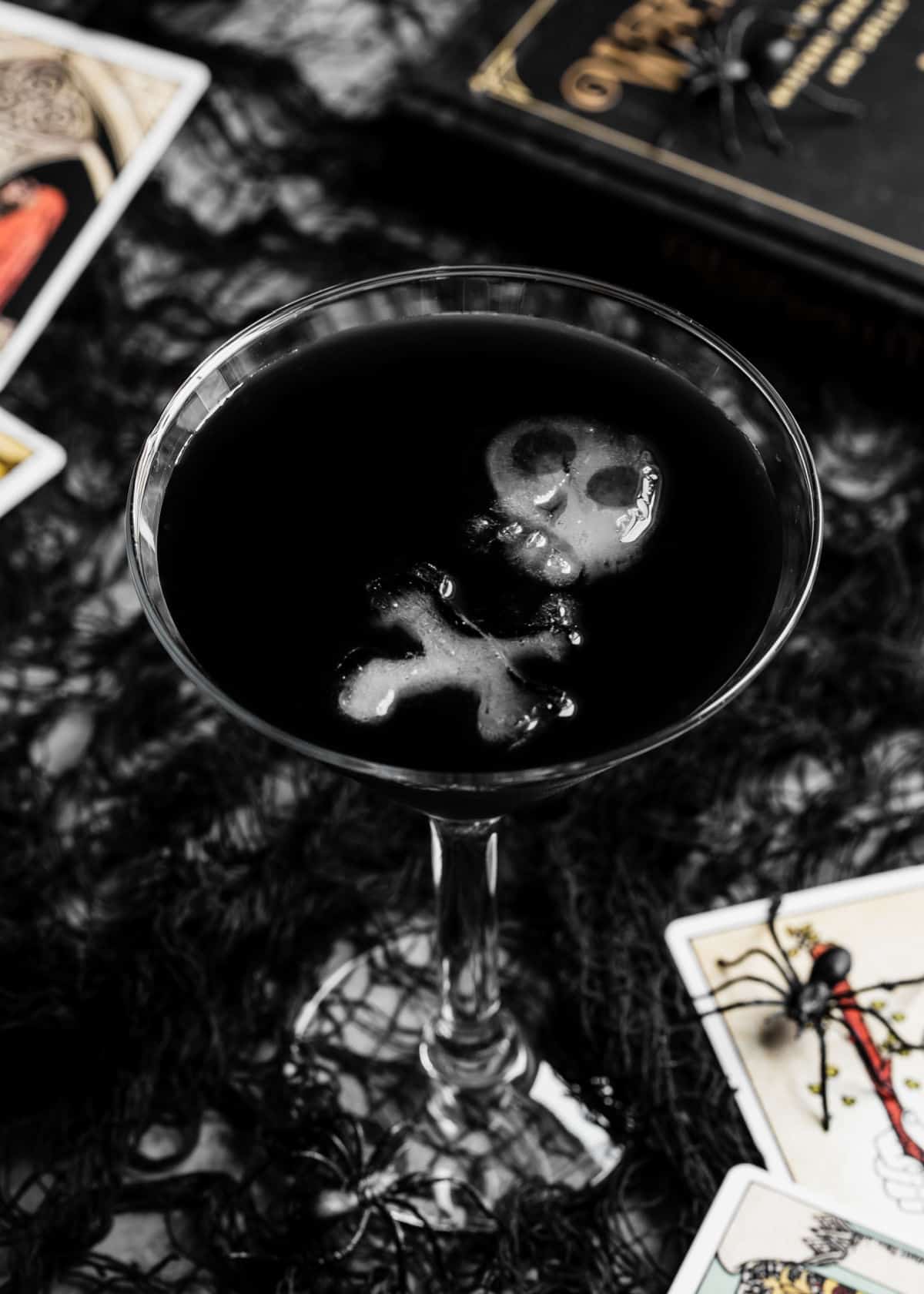 5. Black Magic cocktail
This black magic cocktail might just cast a spell on you and your guests! The black color is achieved using a little bit of activated charcoal powder. The drink itself has just 3 simple ingredients including vodka, Chambord and lime juice. It's a tasty sweet and sour martini-style drink.
Serving Suggestion. Garnish the drink simply with molded ice cubes shaped like skulls and bones.
6. Swamp Water
Another Halloween alcoholic punch can take the name, Swamp Water for it's muddy color. It's a spiced apple cocktail recipe with apple cider and vanilla vodka.
For a non-alcoholic version simply mix equal parts apple cider and ginger ale.
Serving Suggestion. Serve in hollowed out apples for an awesome presentation, and garnish with cinnamon sticks and star anise.
7. Dark & Spooky
A simple Dark & Stormy cocktail becomes Dark & Spooky for Halloween. Three simple ingredients combine for a delicious drink with ginger flavor.
Garnish Suggestion. Freeze plastic spiders inside ice cubes to add to the creepy factor all night long.
8. Bloody Mary
A classic cocktail with the perfect name for a Halloween drink. My sriracha bloody mary has a hint of spice added to this traditional vodka and tomato juice cocktail.
Serving Ideas. Serve in a tall glass with Halloween themed decals attached. Find them in the scrapbooking section of craft stores.
9. Brain Hemorrhage (Halloween shot)
Serve this gruesome shooter drink to get the party started. It may look scary but it's got the flavor of peaches and Irish cream. The key to the creepy look of these shooters is that all of your ingredients must be chilled in the fridge, not frozen. Then slowly add the layer of Bailey's on top for a curdled brain effect!
Serving Idea. Serve these up in mini beakers so they look like they're straight from the science lab.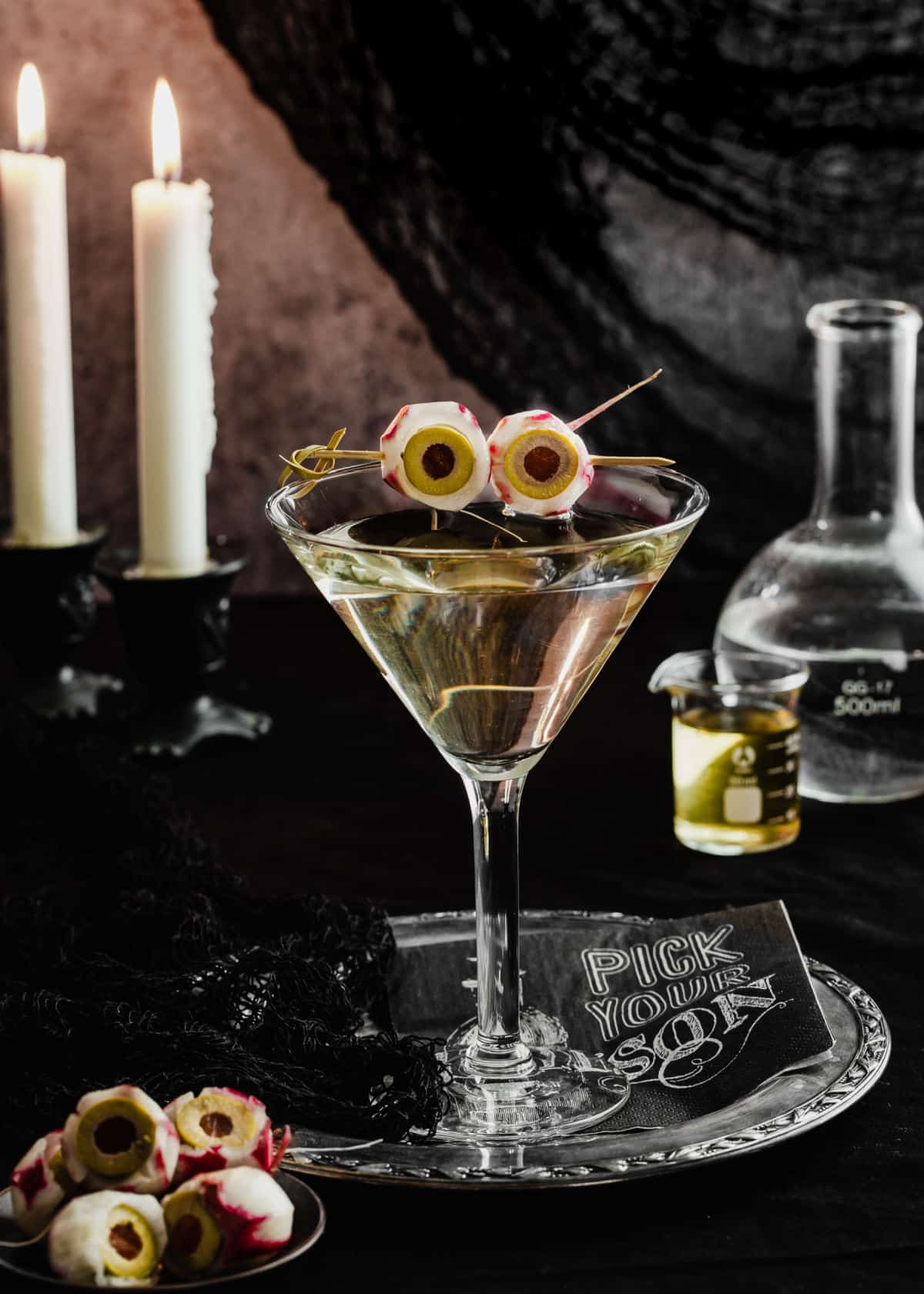 10. Dirty Martini
A classic martini or dirty martini is perfect for Halloween sipping. Halloween martinis are simple and easy to make using a good quality vodka. Sip slowly, these pack a punch!
Spooky Garnish. Add creepy radish eyeballs to garnish the glass. To make the eyeballs, peel radishes while leaving small strips of red to represent the blood vessels. Then carefully scoop out a small hole using a tiny spoon or strawberry huller tool.
Cut a green olive in half and stuff it into the hole. Attach two "eyeballs" together using a cocktail pick, and place on the rim of the glass.
11. Halloween Gin Cocktail
Serve this elderflower gin cocktail any other time of the year and it's a lovely refreshing cocktail. Dress it up for Halloween and add Lychee eyeballs as a garnish and it's a fantastic signature party drink with a name like "Leeches martini". It's got gin, St. Germain, lemon juice and simple syrup.
Garnish Idea. Stuff lychee fruit with a grape, a dark cherry, or a blueberry. Attach two side by side with a wooden cocktail pick. Find lychees in the canned fruit section of finer grocery stores. They're packed in a yummy lychee syrup.
12. Witches Brew
You may want to serve something hot for a Halloween cocktail. This witches brew is something the witches might cook up in their cauldron! It's actually my apple cider hot toddy recipe and you can keep it warm on the stove or in a crockpot.
As an alternative you could serve hot mulled wine.
Serving Suggestions. Serve from a food safe witches cauldron, or place a large bowl inside a larger plastic cauldron. Add a shallow pool of water at the bottom of the cauldron and drop in some dry ice to get a smokey fog effect surrounding the punch. If you keep the water shallow enough it shouldn't chill the hot brew.
Dry Ice Tips
Follow these tips when you're using and handling dry ice. And keep in mind a few small pieces the size of a quarter will give you a smoky effect and lasts about 3 to 5 minutes.
Store dry ice in an insulated cooler with the lid shut securely.
Allow for adequate ventilation when working with it because dry ice evaporates into carbon dioxide.
Use gloves and tongs to handle the dry ice.
Never touch the dry ice to your skin, as it can burn and irritate the skin.
Let it evaporate completely before drinking. Do Not drink or swallow dry ice!
Break larger blocks into smaller pieces using a mallet or hammer.
Don't let children play with it.
There you have lots of Halloween cocktails to choose from. Just pick your favorite flavor and garnish for a fun and festive night!
If you like this post, PIN, Share, or sign up for our Newsletter at the top of the page. And don't forget to follow CAH on Instagram or Facebook. Cheers!
Halloween Cocktails
A simple wine based Halloween cocktail with bourbon and fresh lemon juice. Serve it with spooky glass garnish for adult Halloween parties.
Ingredients
4 ounces dry red wine
2 ounces bourbon
1 tablespoon fresh lemon juice
1 tablespoon blackberry or raspberry liqueur
Instructions
Stir all ingredients together in a stem glass and serve at room temperature or add ice if you like.