Host a Halloween party 'Witches Night In' theme for ladies night. These witch themed party ideas are perfect when you're hosting girls night in, or an October birthday. I'm sharing a Halloween tablescape, witch party decoration ideas, and a tasty menu that's right on theme.
Girls Night In Witches Halloween Party
WHAT'S UP WITCHES!!! I have a fun Halloween girls night theme for you today. In fact, I specialize in ladies nights themes because I've created so many party ideas based on this ritual. I'm a BIG believer in staying connected to girl friends, even when you're knee deep in family and kids' activities. We've got to make time for ourselves, ladies!
I put together this witches party theme inspired by all those things related to black magic: Ouija boards, tarot cards, black cats, crystal ball, and spells.
I love how this party turned out and it was so easy to pull together with a few Halloween props and a click of my mouse. See all the details below along with recipes.
Cue witch cackle! EhhhHeeeHeeheeheee…….
Halloween Tablescape
Invite some girl friends over for dinner and wine, and some cackling fun! Incorporate Halloween decorations that relate to the witch theme, and conjure up some spells.
*contains affiliate links
Instead of placing a centerpiece in the middle of the table, set up a

grouping of items at the end of the table

. This way, they don't interfere with the site line and conversation.
Black and white, with pops of orange is the perfect

color scheme

to use. A black table cloth topped with a runner creates the foundation. You won't believe how I created this black & tan marbled runner. When I pulled up the vinyl chalkboard runner from this ladies night chocolate party, the sticky backing grabbed some of the kraft paper with it. As I looked at it, I thought it was pretty cool and unique so I used it for this runner. I just love the effect.
Use Tarot cards to scattered down the center of the table. I don't know what they mean, but if you're brave enough, you can do a reading on each other after dinner!
Find a corner to park your witch broom and witch hat, and place some props there.
Flying wall bats help create a spooky background with "movement."
Dress up bottles of wine with printed Halloween bottle labels.
Use tiny witch brooms as

place card holders. I found them at Hobby Lobby.

Place tiny witch hats on spoon handles and place them inside empty bowls. Cut a piece of ribbon to wrap around the base, and secure it with glue.
A full size Ouija board is kind of pricey. Instead, grab these mini Ouija board tins filled with mints. They make great Halloween themed party favors!
PARTY TIP: Here are some easy ways to dress up your drinks for Halloween, with just a few craft supplies.
Halloween Witches Dinner Menu
What does any good witch serve her guests? Homemade chili from her cauldron, of course!
I created this menu based on one I served for our ladies night Halloween party a few years ago.
First, let's get things started with a Halloween themed cheese board.
Add veggie dip bread cups so you get some vegetables in the meal.
If you want to serve a signature cocktail before dinner, try this black widow martini or a black magic cocktail.
You're going to want to serve a medium to full bodied red wine with dinner. An Italian Barbera or a Cabernet would be nice.
Get this delicious cheesy chili recipe that just happens to match the color palette too!
Be sure to make the "witches broom" bread sticks to go with the chili. You'll find it along with the chili recipe link.
For dessert, you can whip up these mini chocolate lava cakes in a jar. So quick and easy to make and tastes SO good!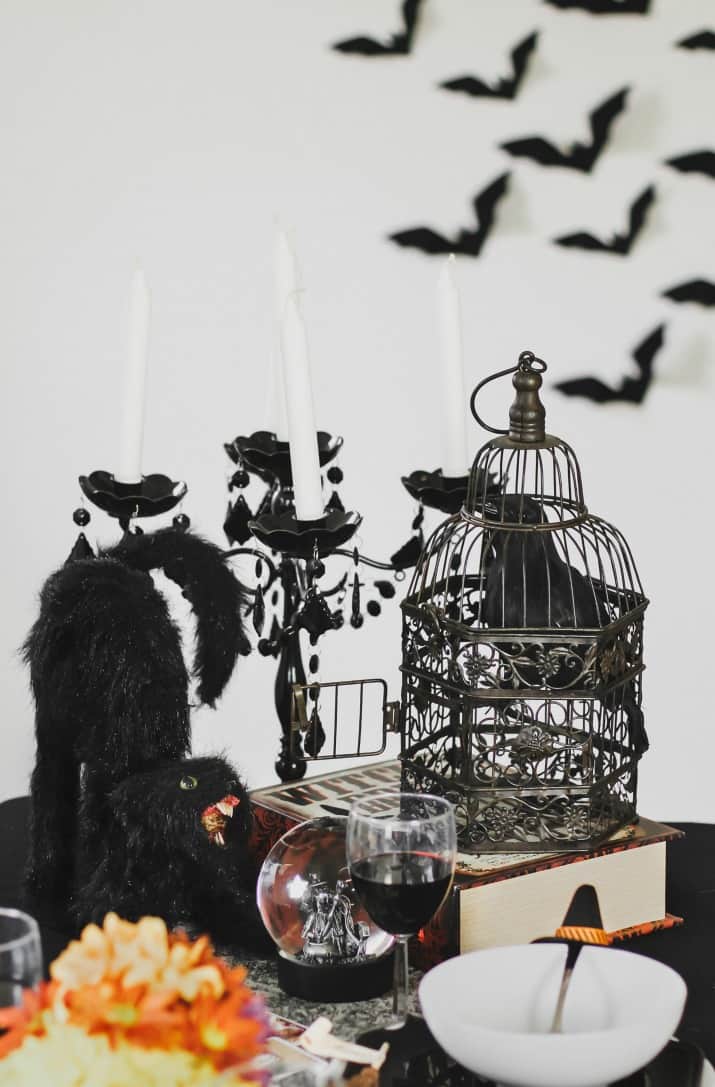 Witch Party Decoration Ideas
These Halloween decorations and party plan are exactly what you need to host a witches party.
A book of spells is a must-have item for all good witches. These are actually nesting boxes but look so real when used as a prop.

Black cats

are always hanging around witches. Add one to your party space.
A cage with a raven

perched inside

is a creepy sight for sure.
How can witches see what's going on around them without their crystal ball? We have one ready to reveal all secrets.
More Halloween Girls Night Ideas
Looking for more ways to celebrate with the girls for Halloween?
Hosting a Halloween party witches theme is so much fun to do. If you agree, PIN, Share, or sign up for our Newsletter at the top of the page. Cheers!