Black Magic Halloween Cocktail
This black magic Halloween cocktail is a delicious blend of sweet and sour flavors, and the black color makes it perfect for grown up parties. Sip this martini for a Halloween ladies night or an adult costume party.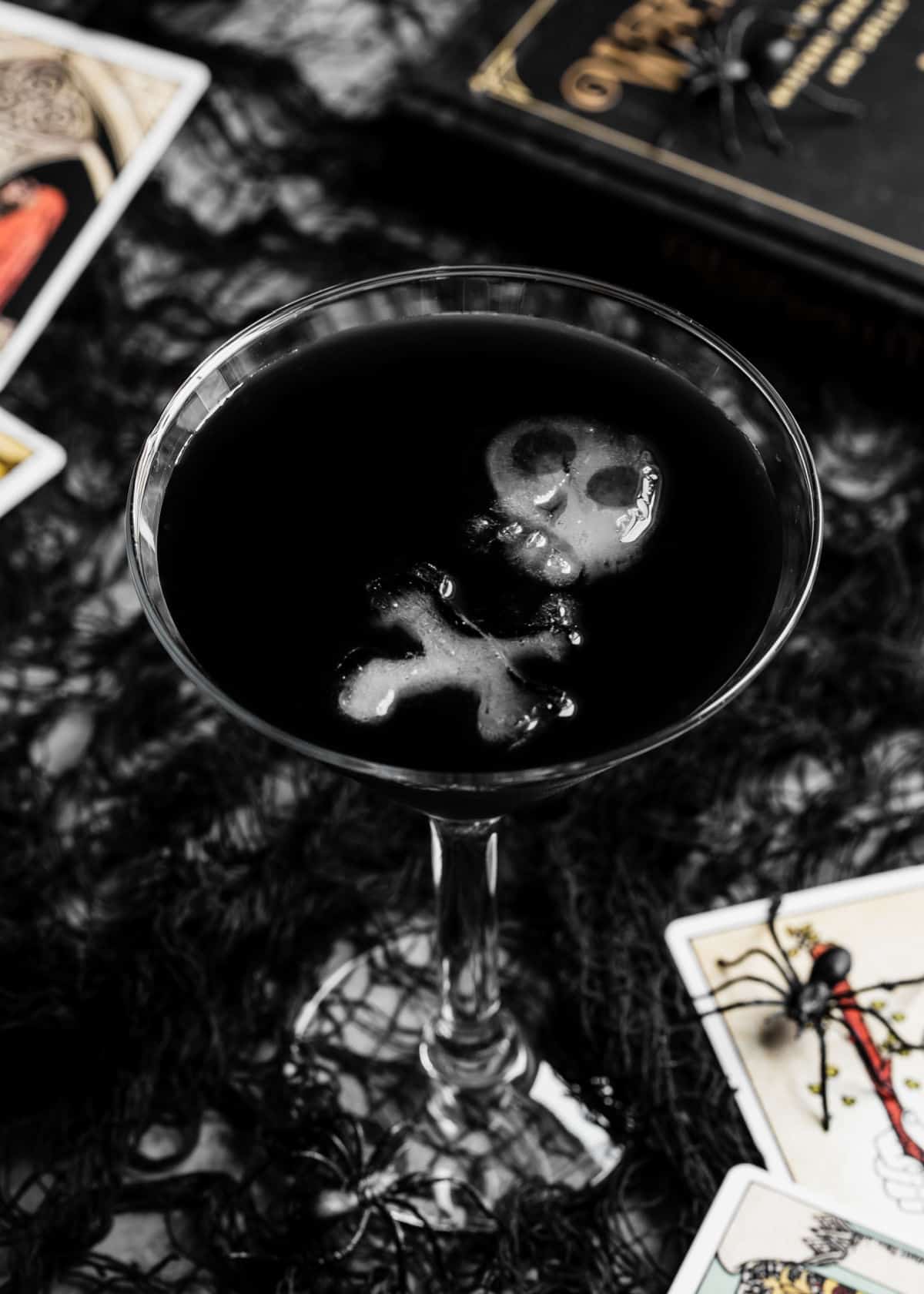 When you need Halloween cocktails for your "groan" up Halloween party, this recipe is a winner.
This cocktail is a combination of sweet and sour flavors, and it has a deep black color from a special ingredient – activated charcoal. It looks so good with these molded ice cubes floating on top don't you think?
When to Serve It
Whether you're hosting a grand party or a simple ladies-night-in, serving up this tasty martini will help get things started.
This drink is right on theme for a chic black Halloween dinner party for adults.
Conjure up some spells and this black magic cocktail at a witch theme party for ladies' night.
If you're hanging with the girls for a Halloween Gothic Glam ladies night, this is the drink to share.
Serve it without the spooky garnish for a black and white party or New Years Eve celebration.
How to Make a Black Cocktail
*Contains affiliate links
There are a few ways you can get your drink to be deep black in color.
Black Vodka. Also known by the name, Blavad it's regular vodka but black. If you can't find it you still have options.
Black food coloring. A black liquid food coloring is also an option but you have to be careful not to drip it on anything.
Activated Charcoal. This is my personal favorite way to turn a drink black. You can get it here on Amazon and it keeps for a long time in the pantry. And it's said to have healthful benefits too! You only need a very small amount to get the color you want.
For a fun presentation add shaped ice from these skull and crossbones ice cube molds.
Black Magic Martini
Vodka. I use regular vodka because I always have it on hand. Tito's is a good choice that everyone seems to love.
Blackberry Liqueur. Blackberry liqueur has a deep dark color that's great for this drink. The flavor is also delicious and sweet and you can also use it to make this blackberry prosecco cocktail. Or you can substitute with Chambord if you like.
Lime juice. I suggest you use a fresh squeezed lime. Half a lime will give you what you need for one drink. You can use this citrus press tool to make it super easy to juice.
Activated Charcoal. It's odorless and flavorless, and a little goes a long way. It gives you that dark black color that looks spooky for Halloween.
Pour all ingredients into a cocktail shaker with ice and shake vigorously for 5 to 10 seconds. Then strain into a martini glass and serve.
NOTE: If you're making only a few drinks, purchase mini bottles instead of full size bottles of more expensive liqueurs such as Chambord.
EXPERT TIP: I like this black cocktail recipe just as is but as with most cocktails, you can adjust the amounts of each flavoring to suit your taste.
If you like it a little sweeter just add a touch more of the berry liqueur. If you want more of a kick, add a half ounce more of vodka.
More Halloween Drinks
If you love Halloween cocktails, you'll want to check out these other party recipes.
If you like this post, PIN, Share, or sign up for our Newsletter at the top of the page. And don't forget to follow CAH on Instagram or Facebook. Cheers!
Black Magic Halloween Cocktail
Serve this black cocktail for adults at Halloween and costume parties. It's a delicious vodka drink with a blend of sweet and sour flavors!
Ingredients
1 1/2 ounces Vodka
1/2 ounce Blackberry liqueur (or substitute with Chambord)
1/2 ounce fresh squeezed Lime Juice
1/8 teaspoon Activated Charcoal
Instructions
Add ice to a cocktail shaker, then pour in all drink ingredients.
Replace lid securely and shake vigorously for 5 to 10 seconds, and strain into a martini glass.