Watermelon Salad with Basil, Feta and Balsamic Glaze
This watermelon salad with basil, feta and balsamic glaze is a quick, simple and delicious recipe with just 4 ingredients. It's versatile enough to be served at a summer bbq or potluck side dish, or for ladies luncheons and showers. This fruit salad also makes a great appetizer or refreshing dessert.
Watermelon basil salad
Looking for summer side dishes to round out your menu? Look no further than this easy watermelon basil salad. It's light and refreshing, and works well alongside burgers, hot dogs, and chicken.
When I was a child we used to put a little salt on our watermelon slices. This recipe reminds me of that tradition combining the sweetness of watermelon with the saltiness of feta cheese.
Fresh basil adds a boost of flavor to melons that are in season in July and August. And balsamic glaze gives this salad complexity without the need for dressing.
PARTY TIP: Place the serving bowl or platter on a bed of ice to keep it chilled in warm weather.
Or, serve in mini glasses for individual servings.
Why you'll love this salad
There are only 4 ingredients needed, and you can make it in about 15 minutes. Even less if you buy pre-cut watermelon.
It's a simple addition to buffet tables that already include pasta salad or baked beans. Serve it on a platter or place it in individual serving cups.
You can take it on Picnics or tailgating.
It can serve as a light dessert for people who don't like overly sweet food, or for the health conscious.
You can make this in a small batch for a weekday lunch or snack.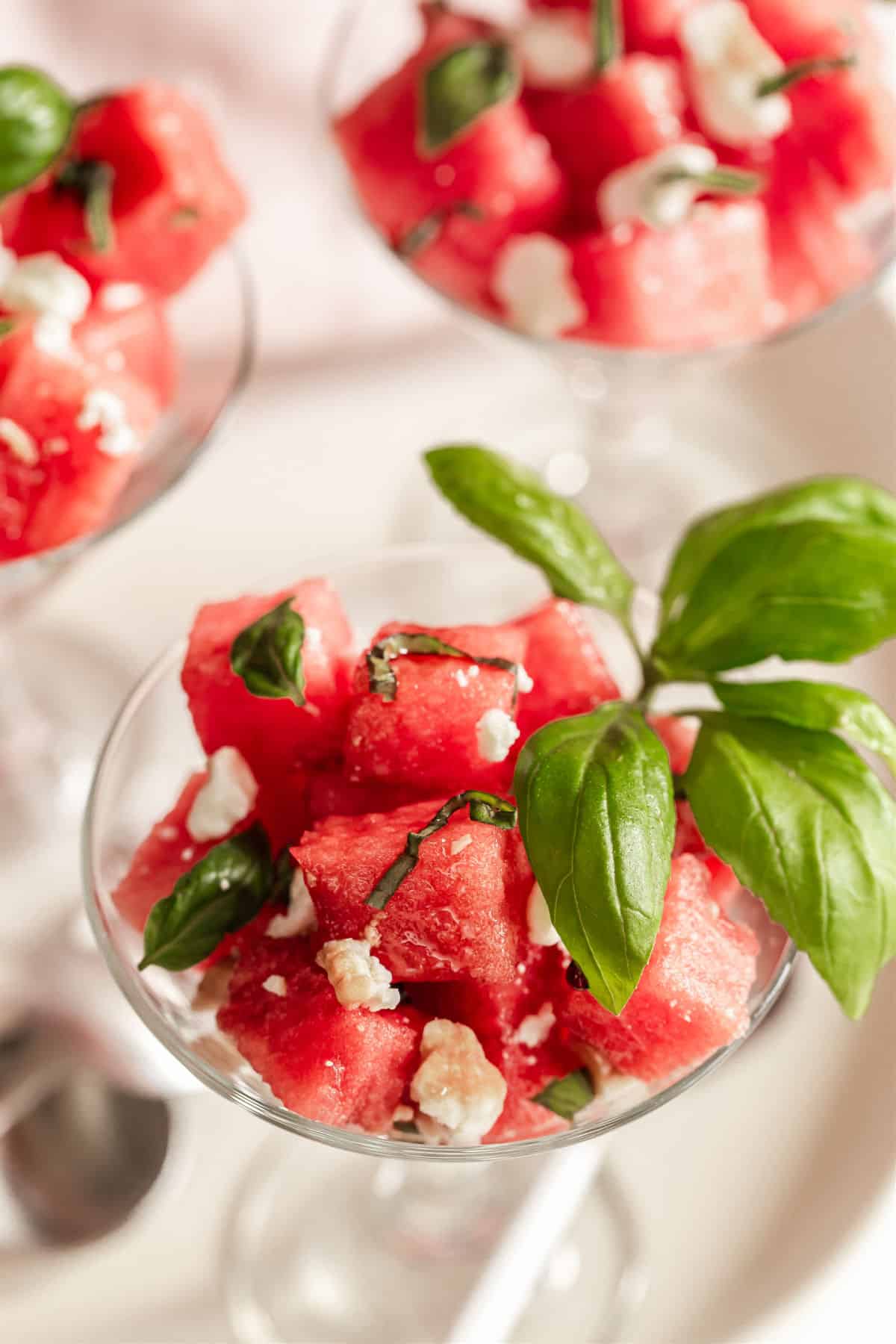 Ingredients and substitutions
Watermelon – In my opinion you can't get any better than seedless watermelon for this salad. However, some alternatives can include cantaloupe or fresh cut peaches or nectarines.
Feta cheese – The combination of salty and briny flavor in feta are superb with watermelon, but goat cheese is a very good substitute.
Basil – If you don't want to use fresh basil, you can use fresh mint instead. Or you may want to try fresh thyme or even cilantro.
Balsamic glaze – I like the richness that the glaze brings to the dish, but the balsamic glaze you find in the stores can vary greatly in thickness. Either will work well for taste, but the thicker versions will sit on top of the watermelon rather than be absorbed into it.
Add-ins – To add even more complexity to the dish, toss in some fresh blueberries, blackberries, sliced cucumber, diced avocado, or pickled red onion. Add some crunch with pistachios or walnuts.
How to make watermelon feta salad
Slice the bottom of a small watermelon to create a base for it to sit on.
Cut into the watermelon in a crisscross pattern, but do not cut all the way through the bottom.
Turn the melon on its side and then cut the slices off so you have lots of long thin slices.
Trim rind and end pieces so you have long clean rectangles. Cut into chunks.
Add fruit to a platter and top with crumbled feta and fresh basil chiffonade. Drizzle with balsamic glaze and serve.
Make-ahead – Prepare as directed except for the balsamic glaze. Cover and refrigerate until ready to serve, then add the balsamic drizzle.
PRO TIP: Chiffonade cuts are when you layer the leaves of basil on top of one another, roll them up into a log, and cut the log crosswise, all the way down so you get long thin ribbons when you separate it.
More salad recipes
Here are some more salads made with fruit, as well as some made with fresh summer vegetables.
If you like this idea, please PIN it and share it. And sign up to get my weekly newsletter, at the top of this post. You can follow me on Instagram, and Facebook, too!
Watermelon Basil Salad
Serve this light and refreshing summer salad for potluck parties. Or portion it into small bowls or glasses as an appetizer for girls night in.
Ingredients
1/2 of a small watermelon
5-6 basil leaves, cut into chiffonade ribbons
1/4 cup crumbled feta cheese
Balsamic vinegar glaze
Instructions
Cut watermelon into small, bite-size cubes. Sprinkle with basil and cheese.
Lightly drizzle with balsamic vinegar glaze and serve, OR if not serving right away, cover and chill until ready, and then drizzle the glaze on before serving.
Notes
How to Cut Chiffonade Ribbons - layer the basil leaves on top of one another, roll them up in a jelly-roll style, and cut them crosswise.