Halloween Martini Extra Dirty
Shake up some dirty Halloween martinis for adult themed parties. This recipe is just 2 ingredients and it's tailor made to your liking. Make it strong and spirited or serve it extra dirty!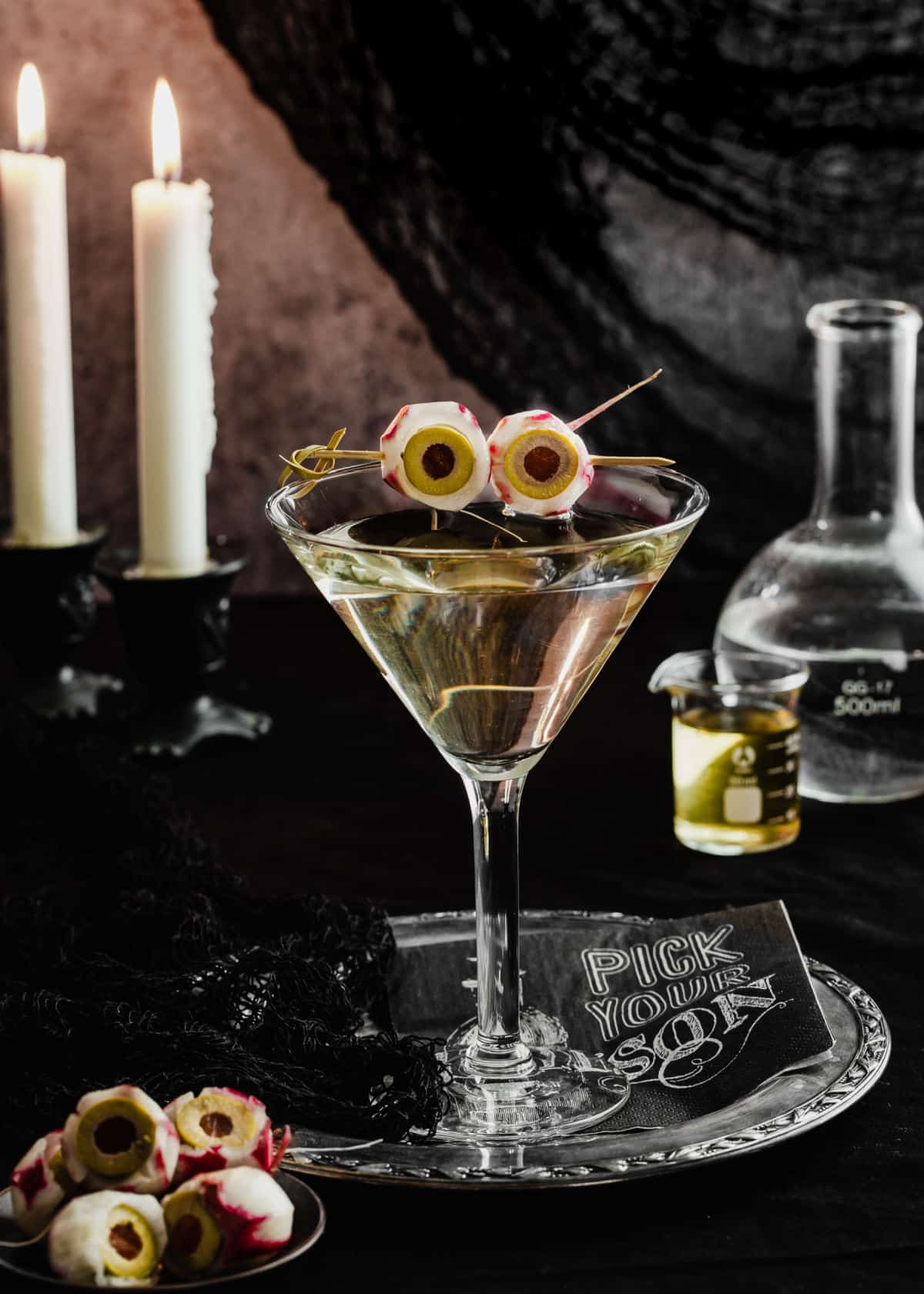 Themed drinks make any party more fun and that's never truer than with Halloween cocktails. You can take a classic drink recipe or martini and turn it into something spooky with garnishes, serving ideas, and fun effects.
This dirty martini is ideal for serving up some Halloween spirit. It's boozy, savory and delicious!
Tips
It doesn't get much easier than this classic drink. I like it bare bones with vodka or gin, and olive juice or brine.
Some people may prefer to include a hint of vermouth but I don't really feel the need for it.
Use a metal shaker for this instead of a glass one. That way it will insure your martini shakes up as cold as possible.
I find that people are either Vodka people or Gin people. You can make it with either liquor, just make sure it's a good quality brand. That usually correlates with price and may run you around $30 and up.
For the olive juice you can use a high quality brand of olives and simply pour in some of the brine. I've also had good luck with olive juice that's sold specifically for making cocktails. It's usually sold in the grocery store alongside other mixers like grenadine, lime juice, and bloody mary mix.
The recipe in the card below has a range of olive juice amounts. That's because some people want it really strong and boozy while other, like myself, like it extra dirty. You may have to experiment to see which suits you better.
Best Vodka to Use
Stoli, Gray Goose, Kettle One, Tito's, Effin, Svedka
Best Gin to Use
For the gin lovers try Hendrick's or Beefeater Gin.
How to Make a Dirty Martini
Add a scoop, about 1/4 cup, of ice to the shaker.
Pour in drink ingredients and replace the lid securely. Shake vigorously for abut 10 seconds and then strain into a chilled martini glass and enjoy.
Eyeball Garnish
Garnish with spooky radish eyeballs. They're easy to make and they look so creepy!
You'll need a bunch of radishes with their root still attached, and pimento-stuffed olives.
Use a vegetable peeler or pairing knife to scrape off the skin of the radishes. Be sure to leave streaks of red on the radish so they give the look of bloodshot eyes.
Next cut a flat piece off the rounded end. Save the end with the root attached as part of the creepy garnish.
Use a melon baller or strawberry huller to carve out a hole at the flat end.
Cut an olive in half and fit it inside the hole with the flat side facing outward and flush with the radish.
Attach 2 radishes together using a wooden pick, so they are side by side and look like monster eyes.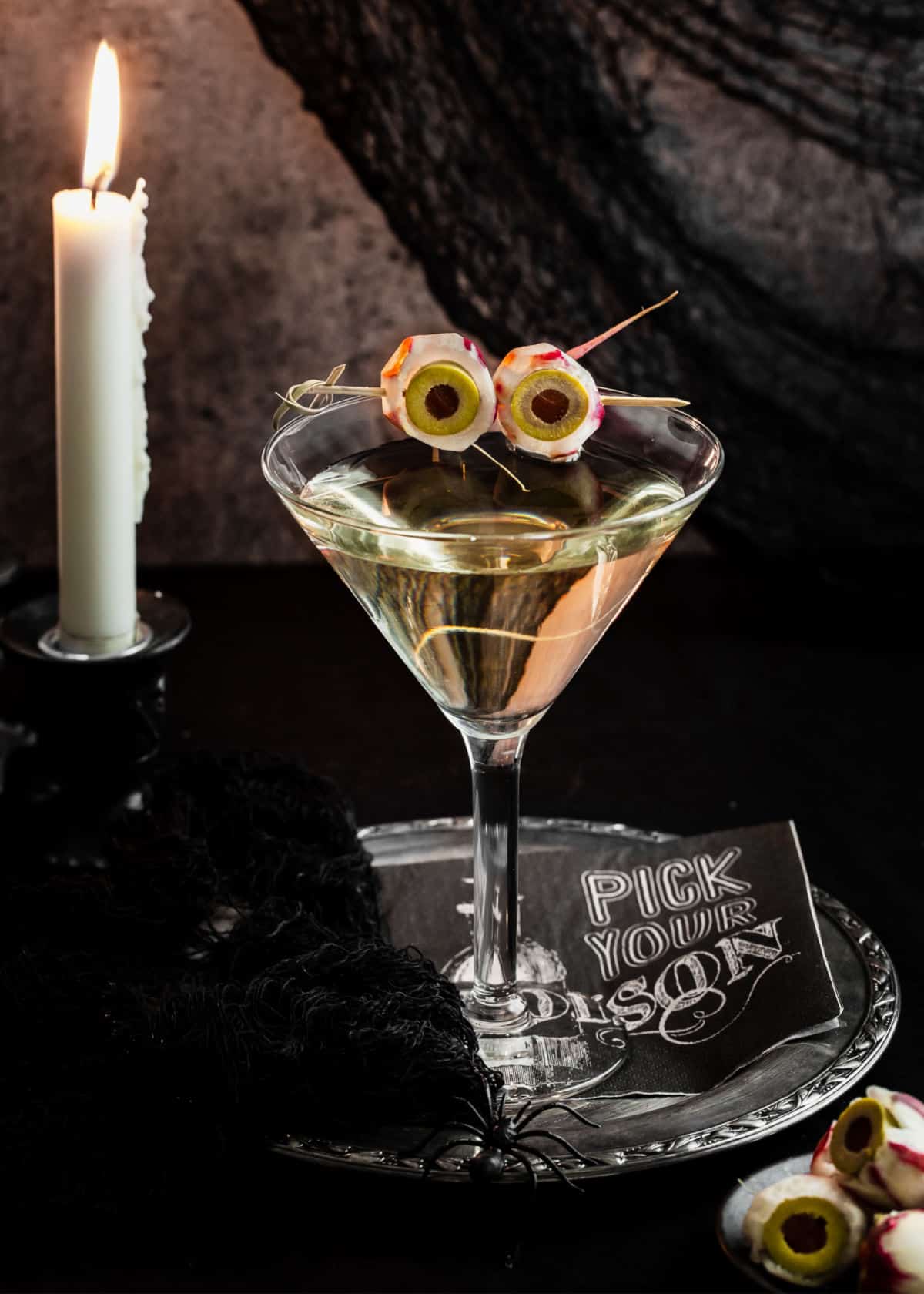 If you like this post, PIN, Share, or sign up for our Newsletter at the top of the page. And don't forget to follow CAH on Instagram or Facebook. Cheers!
Halloween Martini
Mix up a Halloween martini, extra dirty and garnish with radish and olive eyeballs for a creepy effect. This easy classic recipe has just 2 ingredients and is served ice cold.
Ingredients
3 ounces good quality vodka
¾ to 1 ½ ounces green olive juice (brine)
Instructions
Add ingredients to a metal cocktail shaker with ice. Secure lid and shake for 5 to 10 seconds to get it ice cold.
Strain into a chilled martini glass and enjoy.