Halloween Chili with Broom Breadsticks
Cheesy Halloween chili served with "broomstick" bread sticks is delicious and simple to make using Velveeta, ground beef, diced tomatoes and black beans. It's a hearty fall or winter meal that's rich, creamy, and indulgent. Serve it for a Witch theme party for ladies night in!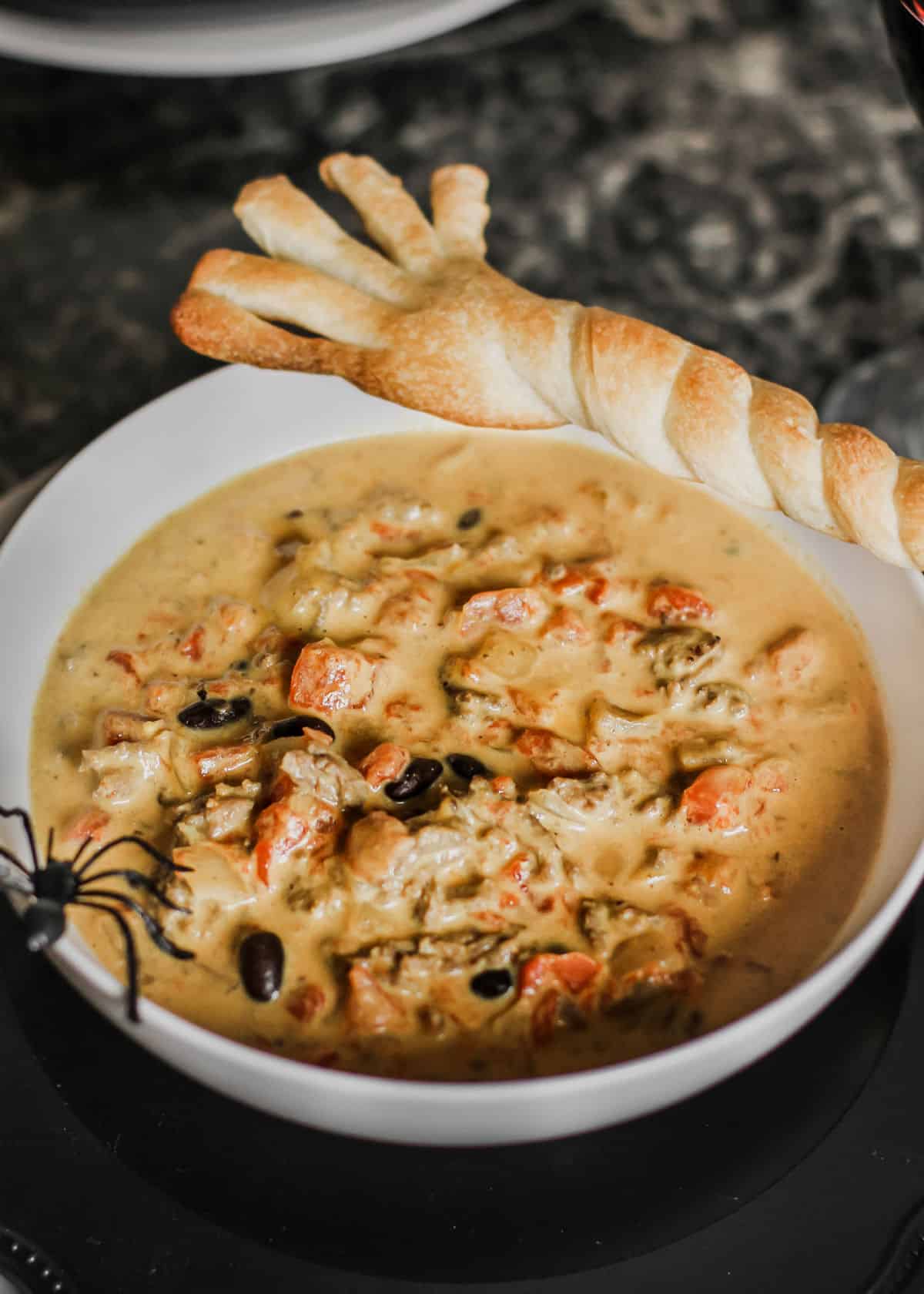 Halloween Dinner Recipe
Looking for something to serve for a Halloween dinner party or pre-trick or treating? This yummy cheeseburger soup is great for that, especially when it's paired with breadsticks that look like a witch's broomstick. It's ideal for a fun ladies night witch theme Halloween party!
Velveeta makes this chili creamy, hearty and delicious, while ground beef and black beans fill you up. It's got some spicy kick with the addition of Ro-tel tomatoes and green chilis.
When to Serve It
This recipe feeds a small crowd of hungry guests. Serve it up in mugs or paper cups for a buffet style party or pumpkin carving party.
This is a great one-dish meal, and the orange-yellow color from the cheese makes is especially fitting for Halloween parties. It's also terrific for game day parties or super bowl parties too!
Serve it along with tortilla chips for dipping, or as part of a chili bar. It's rich, and full of flavor, and will become a seasonal favorite.
Easy Chili with Velveeta
This recipe is made on the stovetop and is quick and easy to prepare. It takes less than an hour from start to finish.
Brown ground beef, onion and garlic, until it's cooked through and drain any excess oil. Use a leaner package of ground beef to keep fat content down.
Add tomatoes and beans and cook for about 15 minutes before adding the Velveeta cheese and letting it melt.
Prepare and bake the breadsticks while the chili is cooking.
MAKE AHEAD. Make the chili and freeze up to 3 months. Store in an air tight freezer bag or storage container. Thaw in the fridge overnight or heat in the slow cooker when ready to serve.
How to Make the Breadsticks
Turn ordinary bread dough into these adorable "broomsticks" for Halloween dinner. Serve them with chili, soup, salad, or pasta.
You should get 8 to 12 broomsticks depending on the size package you buy.
Start with a can of refrigerated bread stick dough. If you can't find that you can substitute with refrigerated pizza dough and you'll have to cut it into 1-inch strips to start.
For each breadstick, use a sharp knife to cut down the middle about 3/4 of the way.
Twist the two tails together to create the "handle," and cut small strips into the end to create the "brushes" of the broom. Fan them out to give it a more realistic look.
Bake as directed on the dough packaging.
PARTY TIP: Serve this cheesy chili in a witches cauldron for a Halloween party, along with a basket of "broomstick" bread sticks.
More Chili Recipes
For more chili recipes, check these out.
If you like this post, PIN, Share, or sign up for our Newsletter at the top of the page. And don't forget to follow CAH on Instagram or Facebook. Cheers!
Halloween Chili Recipe with Breadsticks
This cheesy twist on traditional chili is a welcome change when you want to serve a hearty meal for family or a party. The color lends itself well to a Halloween party, and the guys will love it for a game day party.
Ingredients
1 pound ground beef, lean
1 medium onion, diced
1 clove garlic, minced
2 cans (10 ounces each) diced tomatoes and green chilies, DO NOT drain
1 can (15 ounces) diced tomatoes, DO NOT drain
1 can (15 ounces) black beans, drained and rinsed
1 pound Velveeta cheese, cut into 1-inch cubes
Bread Broomsticks
1 can Refrigerator Bread Stick dough (8-count or 12-count)
Instructions
In a large stockpot cook beef, onion, and garlic on medium-low heat, breaking up the meat as you go. Cook until meat is cooked through. Drain any excess oil if necessary.
Add tomatoes, and black beans, and bring to a low boil.
Reduce heat to a simmer and cook for 10-15 minutes.
Stir in cheese until melted, and serve.
Meanwhile, preheat oven to according to package directions for breadsticks.
Separate bread stick dough. Each one will make 1 broomstick.
Cut a slit down the middle of the dough lengthwise, about 3/4 of the length down.
Twist the two pieces together for the "handle".
Cut several slits in the opposite end and fan out the dough to create the "sweeper."
Place on baking sheet and bake as directed on package.