Halloween Theme for Adults – Science Lab Party
Set up a Halloween Bar with Science Lab theme for a festive adult party. Get all the bar ideas, a free printable bar sign, snacks, and decorations to serve your "spirits" of choice. You'll love these Halloween party ideas to serve your cocktails in style.
Halloween Theme for Adults
Setting up a Halloween party bar opens the door to so many possibilities. There are lots of ways to turn your "spirits" into 'magic potions', 'poisons', and 'tonics.' And coming up with puns and creative names is half the fun!
I've always loved science lab themed decor for Halloween parties. And you can purchase all the fun lab supplies right from your computer so there's no excuse not to create a Halloween bar with a science lab theme.
I designed this bar to be a bit more modern and used a black and white striped fabric as a table cover. It's interesting how one simple tweak can change a design into a modern, rustic, or whimsical look.
For example, I could set up this Halloween bar theme on burlap and use old rustic frames, and it would look completely different. It would have a rustic, abandoned lab theme.
Likewise, I could cover the table in black lace and use black ornate frames for more of a Halloween Gothic-glam look. The possibilities for creating your Halloween bar are endless.
Ready to take a closer look at my Halloween Bar and get all the details?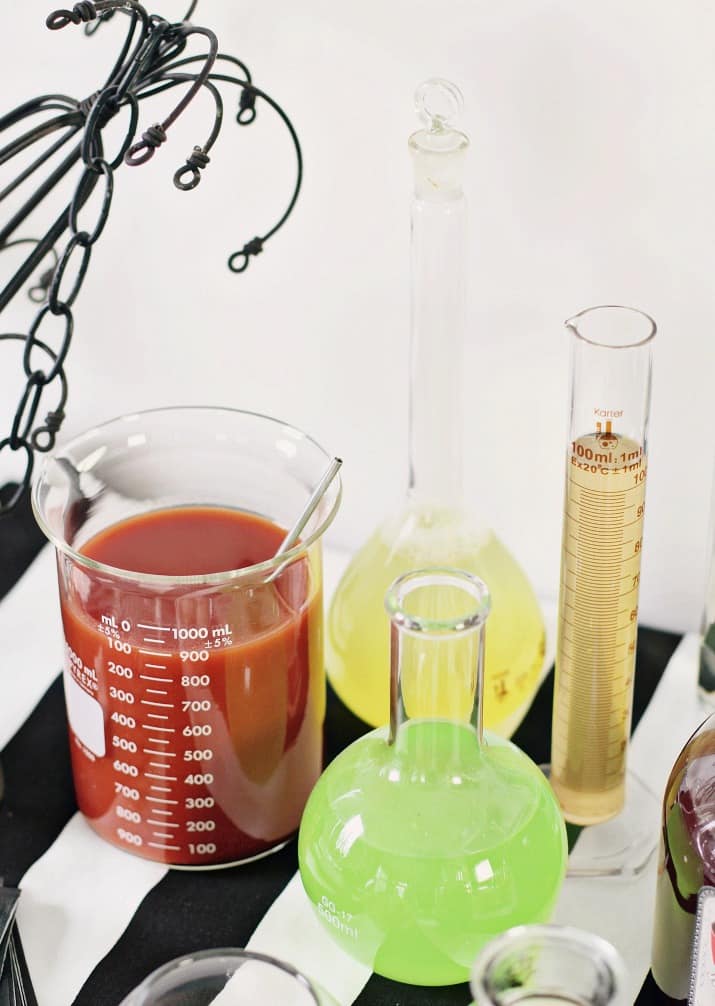 Contains affiliate links
Science Lab Party Decorations
Here's the science lab decor you're going to need to create this Halloween bar. *contains affiliate links
The bar is centered around a signature punch and a single liquor. Our friends love vodka so that's what I went with, plus it's just so versatile. I made a punch mixture of cranberry juice, orange juice, and lychee juice. Guests can use it as a mixer or drink it on its own.
I decanted the vodka into a flip top bottle, and poured the punch into a carafe. Just add Halloween themed labels to dress them up.
You can mix up a variety of cocktails using vodka as a base. Then provide mixers like tomato juice, apple liqueur, pineapple juice, olive juice, and blue Curacao. This allows guests to mix up a dirty martini, a bloody Mary, or a variety of sweeter drinks. Pour the mixers into an array of science lab vessels: a boiling flask, a large beaker, a graduated cylinder, and a volumetric flask .
For the blue Curacao I added a syringe to the large flask so it can be filled and squirted into the drink, just for fun!
A Halloween party bar wouldn't be complete without a round of shooters. A grouping of test tubes placed in a wire rack is a terrific way to display those. PARTY TIP: I spray painted the rack black to coordinate with the rest of the table.
Drinks can be garnished with olives, onions, and these diy Halloween floating eyeballs, aka 'worm warts', 'slugs', and 'monster eyeballs.'
Use Small flasks as glasses to drink from.
Small round dipping plates mimic the look of petri dishes. The "petri dishes" hold "mold" in the form of blue cheese and spinach dip.
Mini sized beakers are used to hold "brain specimens" aka pasta salad, and small cocktail forks are tucked inside.
To round out the table decoration, add an old chandelier, science books, skulls, and insects.
Party Food Ideas
Add some delicious appetizers to the bar so guests can balance out their cocktails with food.
Halloween Bar sign
The finishing touch for this science theme bar is a printable bar sign. I knew I wanted to incorporate a bar sign that used the periodic table of elements somehow. And what's more clever than using the symbols to spell out the word "bar"! Using "B" for boron and "Ar" for argon, I printed out some simple sheets that I hung using these mini spring clips. I think it looks very modern and sleek. You can use the spring clips over and over again, and they won't damage your walls.
Download your FREE printable bar sign here.
To add just a little more interest to the area I hung a mini bunting made from washi tape and bakers twine. I used banner anchors to hang it and I love how they're clear so they're unobtrusive to the eye.
More Party Ideas
So, what do you think? Are you hosting an adult Halloween party this year? If so I hope you can use some of these Halloween bar ideas.
If you like this post, PIN, Share, or sign up for our Newsletter at the top of the page. And don't forget to follow CAH on Instagram or Facebook. Cheers!