Easy Caramel Appletini (with Apple Cider)
This caramel appletini recipe is one of our best fall party cocktails. The flavors of apple and caramel come through in this apple martini made with 4 ingredients. This cocktail hits the spot when you're entertaining at home or hosting a happy hour. See more autumn cocktails to round out your drink list.
Caramel Apple Martini
I had forgotten just how good this cocktail was until I decided I needed to update the photos and give this post a fresh look. The old images I originally took in 2010 looked pretty hilarious by today's standards. But they've been pinned and re-pinned on Pinterest over 50 thousand times!
I will say this caramel appletini cocktail is worth all of those pins because it's SO GOOD. It's a little sweet with just a hint of sour, and the blend really does taste like a caramel apple.
You should make this your signature cocktail at your next fall gathering. Or serve it for the holidays along with a pie bar for dessert. The flavors make it a great choice for Thanksgiving or Christmas, and all through the cold winter months too.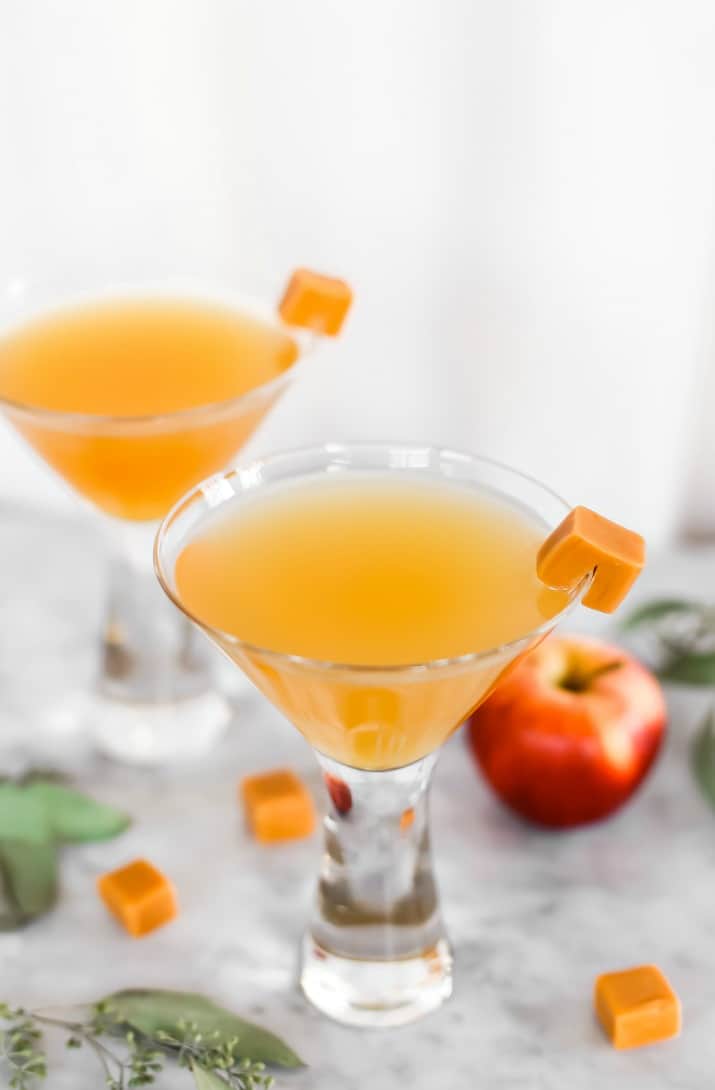 How to make an Appletini Martini
There are a few different ways to make a caramel apple martini. My favorite way is to use regular vodka (not flavored) and sour apple pucker schnapps. In fact this is one of the best drinks to make with apple pucker!
The sour apple schnapps adds sweet and sour flavor similar to Granny Smith apples. Plain vodka just gives it a kick!
Next, I add ButterShots which is a butterscotch schnapps. Even though it's butterscotch flavor, it will totally taste like a caramel apple drink when combined in this appletini recipe. Trust!
The base mixer for this recipe is apple cider. It's a little thicker and richer than regular apple juice. You could use the juice in a pinch though.
Start by adding ice to a cocktail shaker.
Add the ingredients over ice and replace the lid securely.
Shake vigorously for a few seconds and strain into a chilled martini glass.
Garnish with a caramel square or slice of apple on the side of the glass.
Party Food to serve with an Appletini Drink
Serve this caramel apple cocktail for fall entertaining or holiday parties, along with some salty or savory food to balance the flavors.
Get this delicious recipe below, and don't forget to pin it for later! *wink*
Caramel Appletini recipe
Our recipe for an appletini martini is made with vodka and apple pucker blended into apple cider for a delicious fall drink. Butterscotch liqueur turns it into an indulgent cocktail that tastes like a caramel covered apple.
Ingredients
1 oz Vodka
1 oz Sour Apple Pucker
1/2 oz ButterShots
3 oz Apple Cider
Instructions
Add ingredients to a cocktail shaker with ice and vigorously shake for a few seconds.
Strain into a chilled martini glass.
Garnish with slice of green apple or caramel candy piece.