How to Set Up a Pie Table for a Party
Now that the holidays are near, you're going to need to know how to set up these pie table ideas for a party. I've got you covered with a FREE printable pie bar sign, and a tips for designing dessert tables. You can set this pie bar up in 5 easy steps!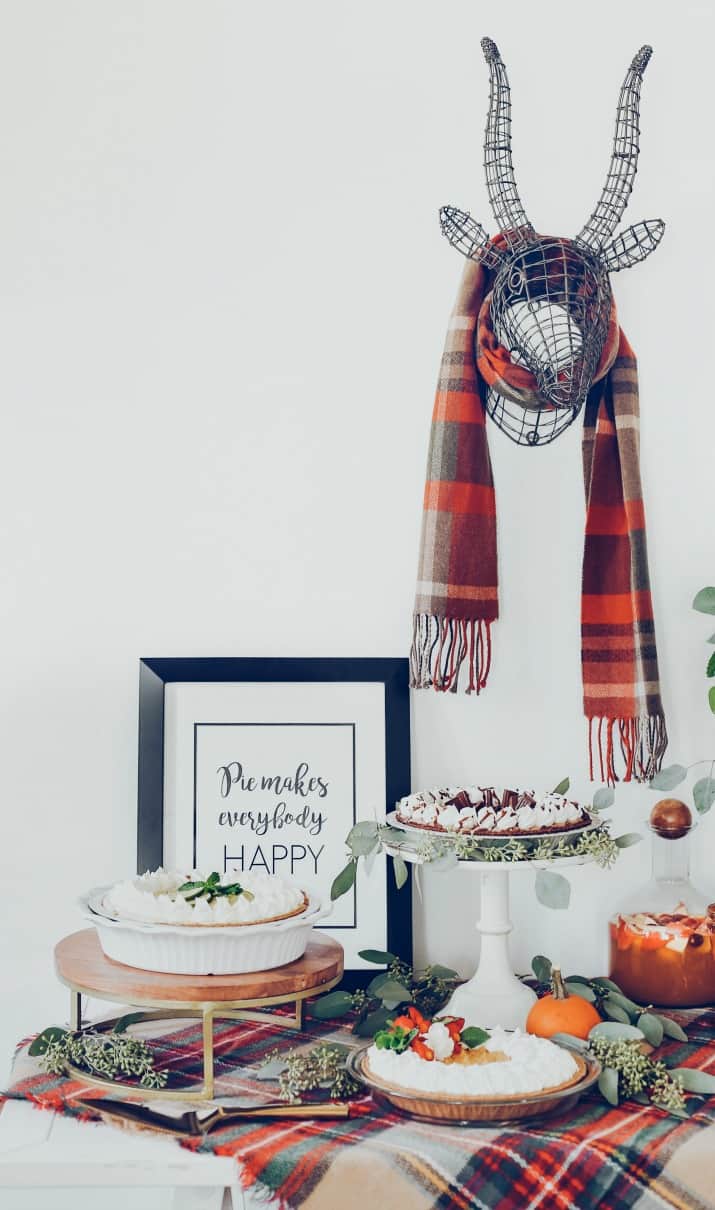 How to Set Up a Pie Table in 5 easy steps
When it comes to dessert, I think there are cake people, and then there are pie people. I am a Pie person!
I love the crust and all the variations of fillings and textures and flavors. It's only natural I would want to set up a pie bar for holiday entertaining.
For this pie bar I'm making it easy on the hostess (me) and serving a trio of Edwards Desserts. This is an excellent way to start out if you're a first time hostess, have unexpected guests, or you just want to be smart and save time.
STEP 1 – Style a Pretty Pie Table
Styling a holiday pie bar is half the fun of entertaining. Deciding what colors, patterns, and themes to use is such fun for a visual person like my self.
For a holiday table, use a plaid throw as a table topper that can take you from Halloween all the way through the New Year.
Flowers add an elegant accent but aren't overly formal. See my secrets to flower arranging here.
To add interest to the wall a whimsical deer with a scarf wrapped around his neck hangs as a nod to the season. You could also hang a wreath above the table and change it depending whether it's Thanksgiving or Christmas entertaining.
Use risers and pedestals to add height to the pie buffet. This keeps the eye moving and is more pleasing than having everything flat on the table.
Include a fall cocktail or signature drink. Some good choices would be my spiced apple pie cocktail, or hot Russian tea.
STEP 2 – Offer a Variety of Pies
Okay, I know this sounds like a no-brainer but I've talked extensively about this in my basics of designing dessert tables.
For this pie buffet I'm offering 3 pies in 3 very different flavor profiles. Edwards Hershey's Chocolate Crème Pie is as classic as it gets. People LOVE chocolate and this pie is layered with vanilla crème and topped with chocolate chips, chocolate drizzle, and whipped crème rosettes. The chocolate cookie crumb crust is heaven.
To balance the sweetness of chocolate, a fruit forward option is a must. Edwards Key Lime Pie is a party in your mouth and tastes like my homemade lime tartlets…but without the work!
Finally, you need to add a taste of the season. A taste of the holidays! Edwards Pumpkin Crème Pie is the ideal dessert for this. It's layers of cream cheese and warming pumpkin spice inside a vanilla cookie crumb crust and topped with whipped cream rosettes. It's pure bliss!
PARTY TIP: A dessert table with a variety of choices has something for everyone and delights your guests.
STEP 3 – Decorate Pies you've Purchase
A stylish pie bar for a party includes attention to details like display methods and garnishes.
I'm all about the shortcuts when hosting. But that doesn't mean you rest on your laurels. Elevate the presentation of thaw-and-serve crème pies by garnishing them with a few simple touches. Let the flavors be your guide.
For the Key Lime pie I sliced thin wedges of lime and placed them in a circular pattern in the middle of the pie. A sprig of mint in the center finishes it off.
The chocolate crème pie is already beautifully decorated. I simply added small pieces of chocolate bars to the top of the cake.
To add a festive touch to the pumpkin crème pie I added a few small flowers and mint leaves. I think it looks just like a holiday or Christmas wreath, don't you?
STEP 4 – Serve Pies in Decorative Dishes
Transferring your purchased pies to glass or ceramic pie pans makes your dessert table look more put together. I love using white or clear pie pans because they go with any style or color scheme.
For this pie bar I was able to pop the frozen pumpkin creme pie out of its tin, and place it in a glass dish. I put it into the refrigerator until ready to use.
I have a white pie dish that's a little too deep for the pie to be placed directly inside. Instead, I laid a thin cloth in the bottom of the pie dish to add height. Then the pie sat on top of the cloth, inside the ceramic pie pan.
In case you don't have extra pie dishes, you can wrap the pie tin with a ring of greenery to soften the display.
PARTY TIP: You can even pop the pie out of the tin while it's still frozen and place it directly onto a flat dish to serve.
STEP 5 – Add a Pie Bar Sign
I love using cute sayings and quotes in party decor, that express the mood of the occasion. I found this quote online and made a FREE printable sign that can be framed and placed on your pie bar. You can download and print the 8.5 x 11 Pie Bar sign here.
PARTY TIP: A printable sign for your dessert table can help pull a look together and add whimsy.
Pie Recipes for Entertaining
If you love pie as much as I do and you want to make your own to include in a pie bar, here are some delicious recipes.